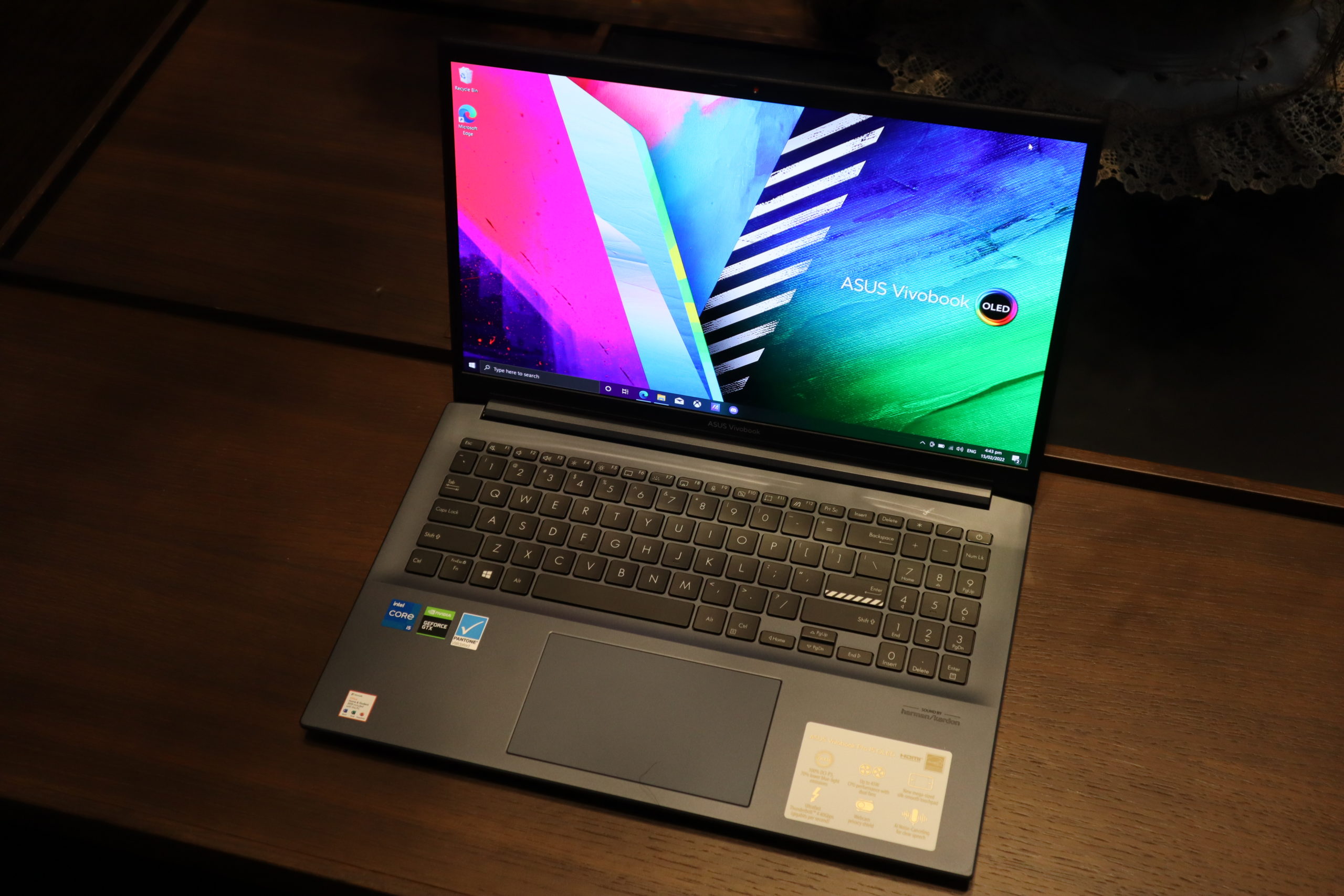 Review Verdict: The ASUS Vivobook Pro 15 OLED was obviously created for media content creators in the Philippines, as its biggest selling point is its Pantone validation, providing confidence in color accuracy and brightness. If you're not looking for the ray tracing that the upper variant can provide with an RTX 3050, then this is an amazing budget option that you should consider. 
Pros
FHD OLED display is vibrant yet certified to be color-accurate
Build quality is extremely robust yet nice to the touch
The touchpad is smooth and responsive
Physical webcam shield installed to dispel fears of hacking
Generous supply of ports
Cons
Speakers are weak
Plugged in headphones don't get very loud either
The keyboard takes some getting used to
It looks like ASUS still uses some of the best displays in the market due to their art device lineup. We're glad to see some of this technology trickle down into the budget category where they shine the most against the competition. The combination of a color-accurate screen, capable internals, solid build quality, and convenient ergonomics should make this a tempting package, especially at its relatively low price point.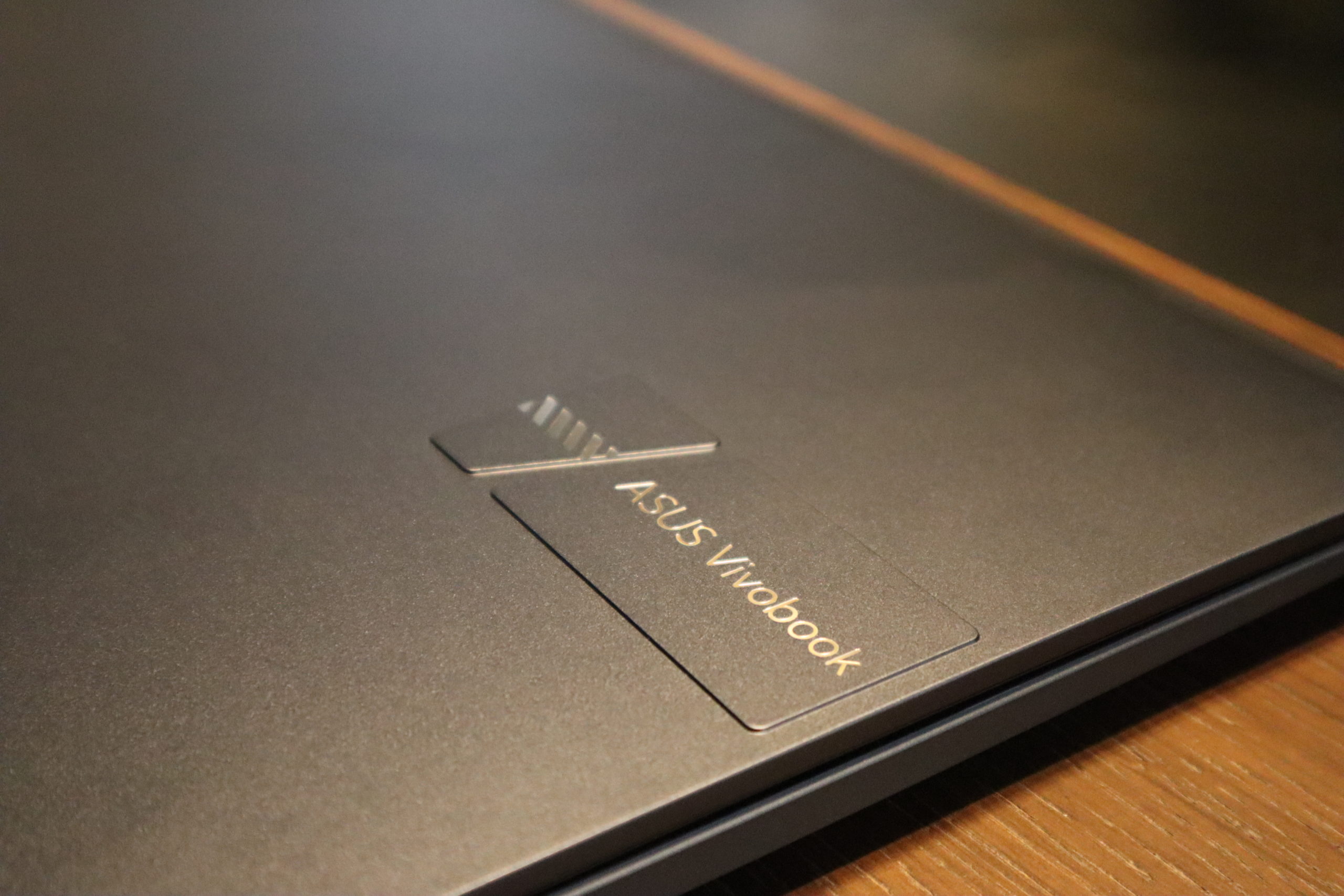 Design
We'll get this out of the way: It feels like a tank in the hand. It's very well-put-together, there are no awkward gaps to be seen or felt, and the hinge closes with a reassuring thud. Despite this, they've managed to keep the weight down, which can't be said about older and bulkier 15-inch laptops. When closed, the industrial design is sleek yet plain, with only the protruding area for the ASUS logos drawing your attention. The vents underneath form an angular design reminiscent of the gaming devices of yesteryear.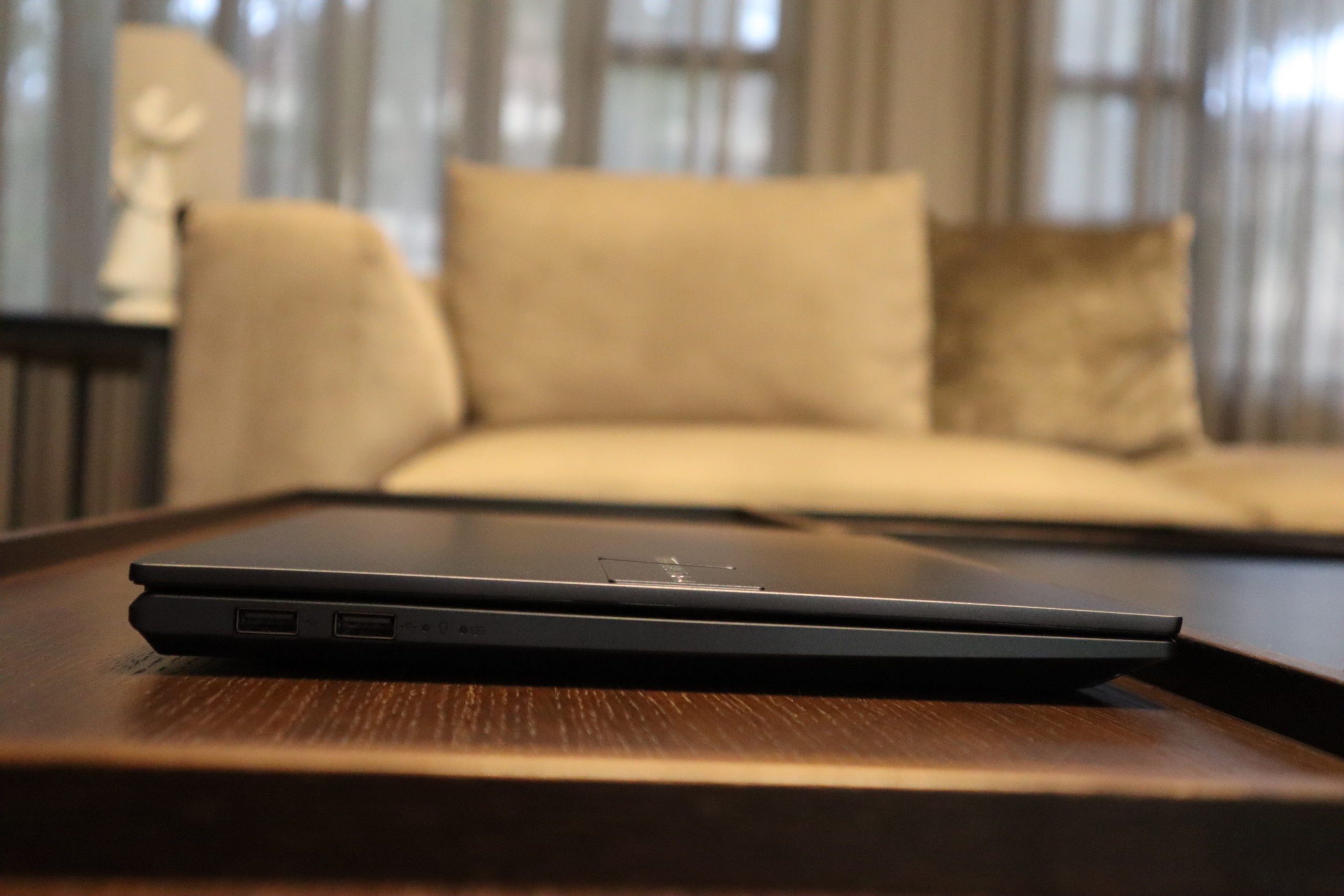 Opening up the laptop reveals no surprises. The professional branding continues throughout, with a clean metallic design and nothing much else going on.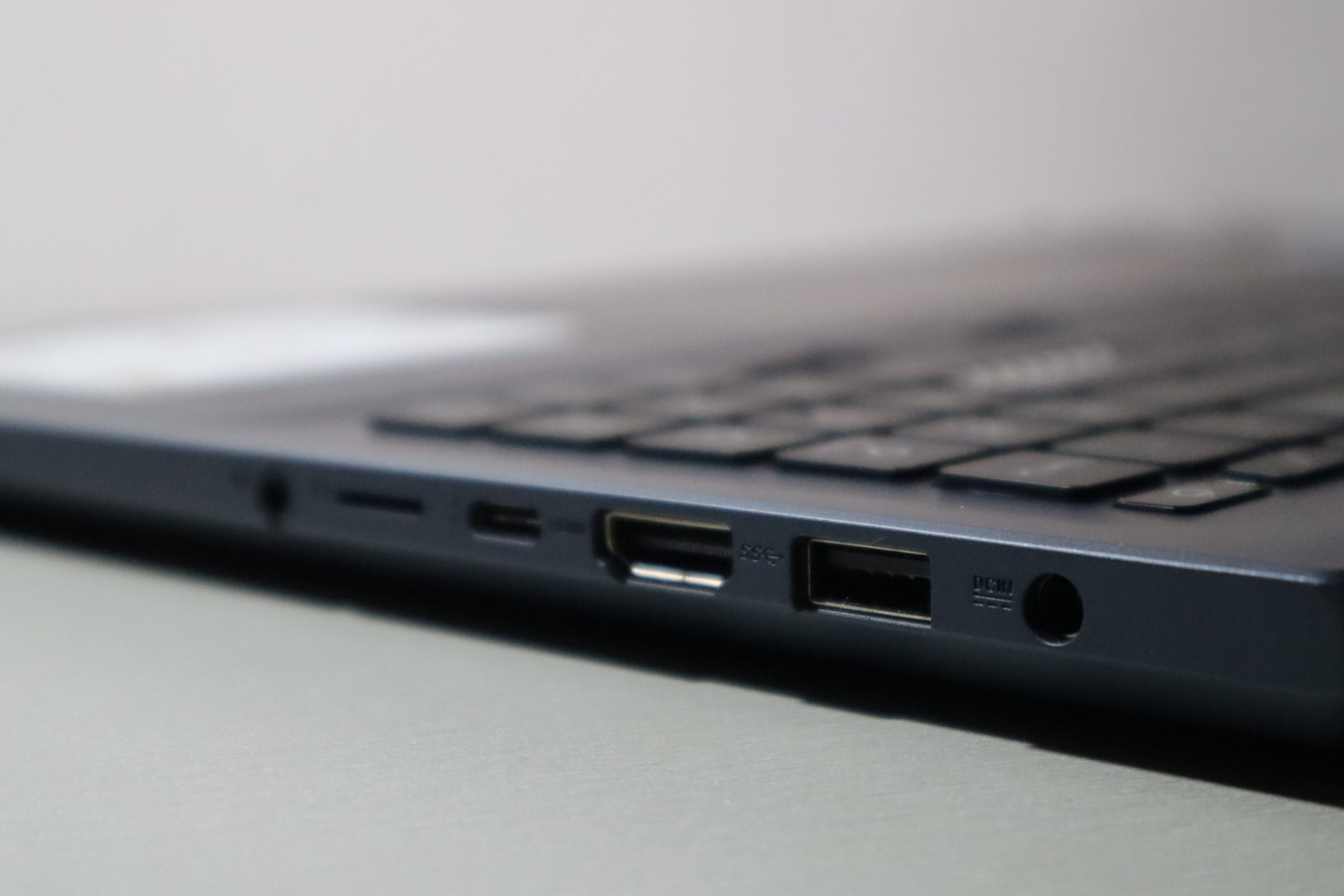 When laptops come with a larger frame, consumers expect a greater selection of ports to come along with it. The ASUS Vivobook Pro 15 OLED does not disappoint.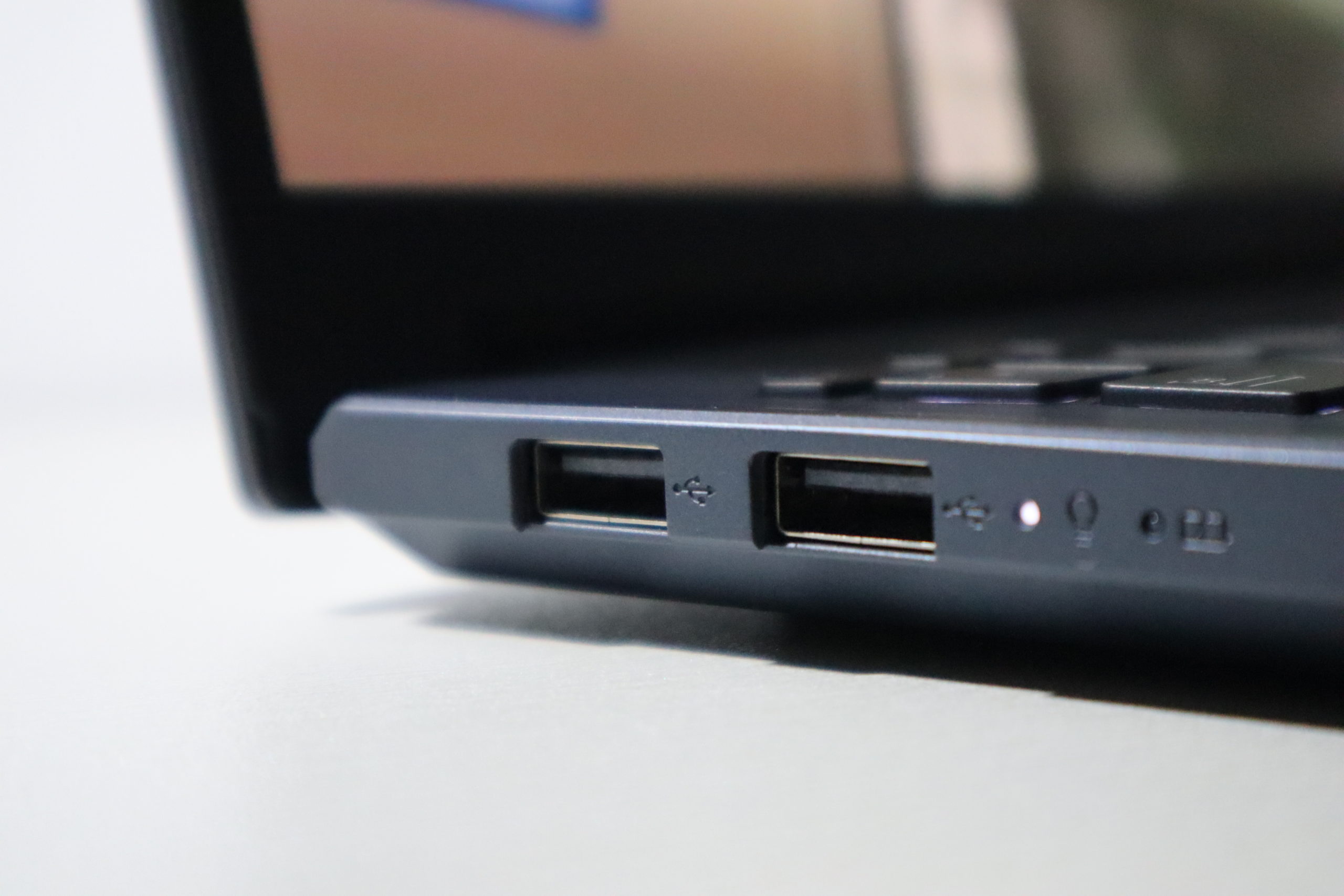 On the left, there are 2 USB 3.0 ports, with an additional one on the right side of the device. The latter side also houses a full-size HDMI port, a USB-C Thunderbolt 3.0 socket, a 3.5mm audio jack, a microSD card reader, and a charging port. This laptop is well-appointed and will not let power users down on this end.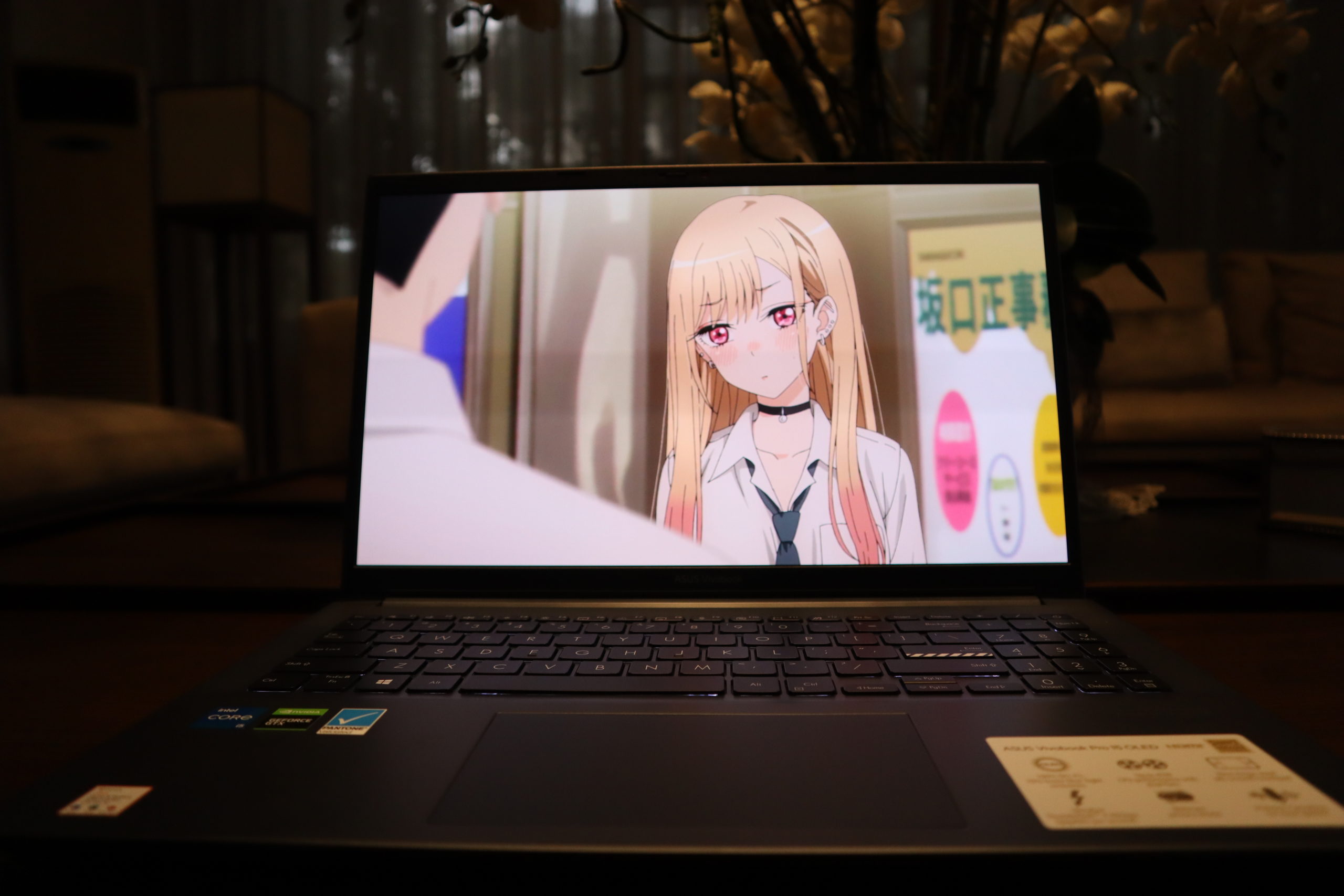 Display and Sound
Right above the ASUS Vivobook text is the 15.6-inch OLED display, wrapped in thin (but not borderless) bezels, which may have been hidden better if the laptop chassis itself were black.
When the screen turns on, the first thing you notice is how bright the colors are. ASUS has chosen wallpapers that make full use of the OLED technology, with brighter hues seemingly popping out of the display. For those who are used to high-resolution displays and are wondering whether implementing a 1920×1080 format on a 15.6-incher might be detrimental to the whole experience, we'd like to assure you that details remain to be sharp. This can probably be attributed to the brand's software sharpening as well, thanks to their Tru2Life program that gives added definition to every pixel.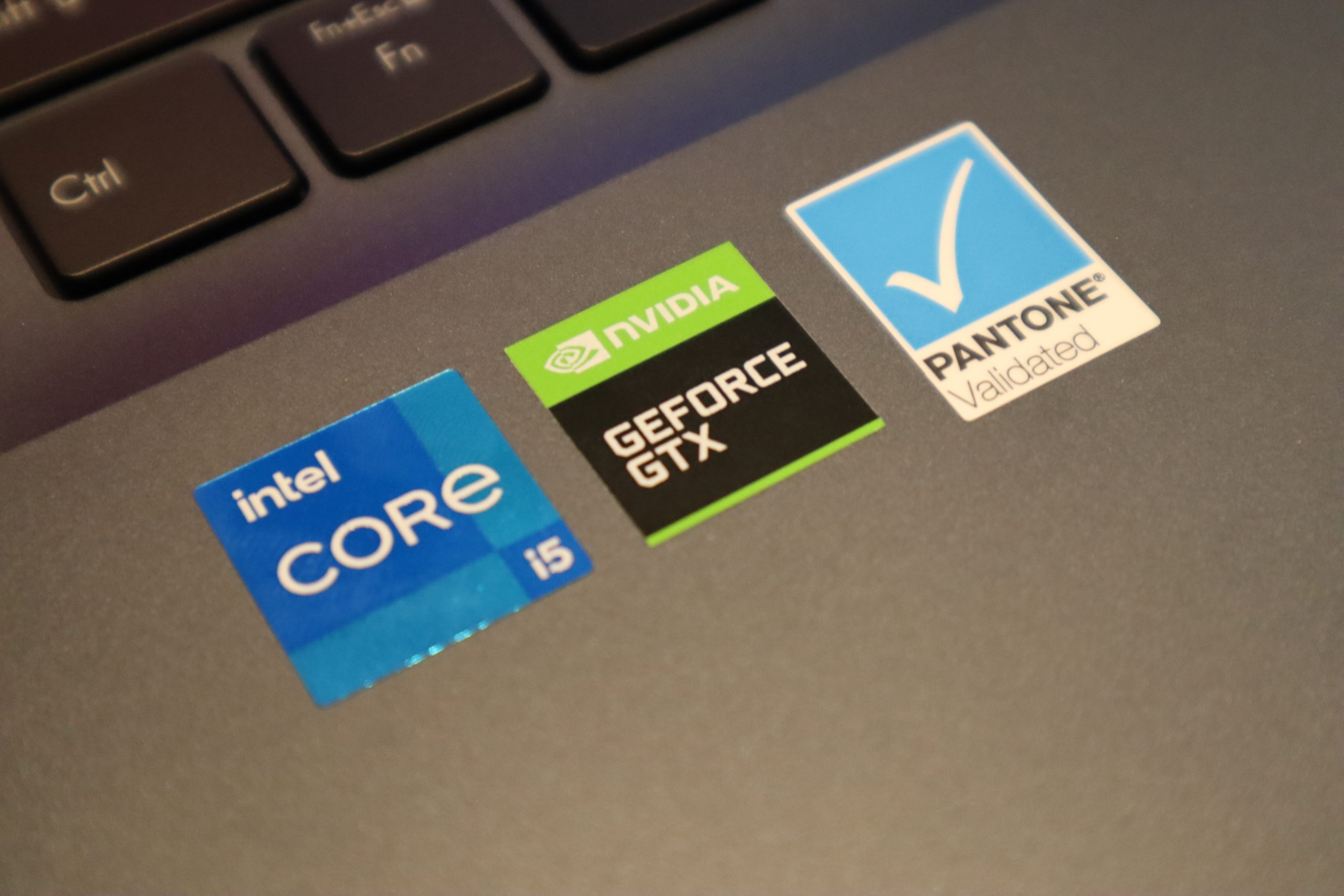 That Pantone certification lives up to its name. For the uninitiated, these certifications are given out to devices that pass rigorous color accuracy standards. It means that the screen color calibration creates an experience that is the same on all Pantone-certified devices, as well as when printed out with quality devices. According to ASUS, they meet 100% of the DCI-P3 color gamut, making for a cinema-grade experience. That's why creators can rest easy, allowing their viewers to see their content as they intended.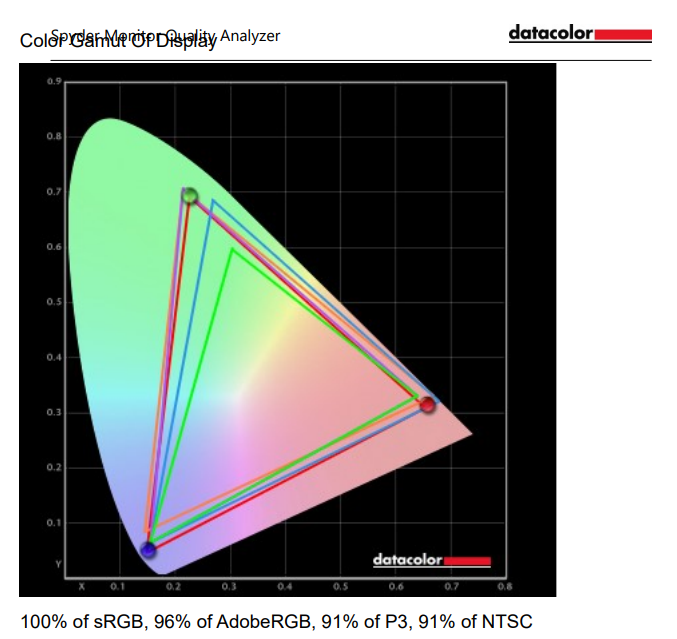 With claims like these, you have to test them. We brought out our very own trusty Spyder 5 Elite expert monitor calibration device to bring the truth to light. The results show a highly-respectable 100% of sRGB, 96% of AdobeRGB, 91% of P3, and 91% of NTSC. This means that the display can accurately represent more than 90% of all these metrics with ease.
Prior to calibration, the out-of-the-box average Delta E (the lower, the better) figure was 1.33, which definitely isn't bad at all. After calibration via the software though, this dropped to an astounding 0.95 which is below the threshold of what can be perceived with the human eye. You can check here for the specific reports.
Webcam Sample
As expected, the webcam at the top of the display isn't all too impressive at 720p resolution. What we found more interesting is the ability to block the webcam via a built-in cover, responding to the trend of aftermarket webcam hack deterrents.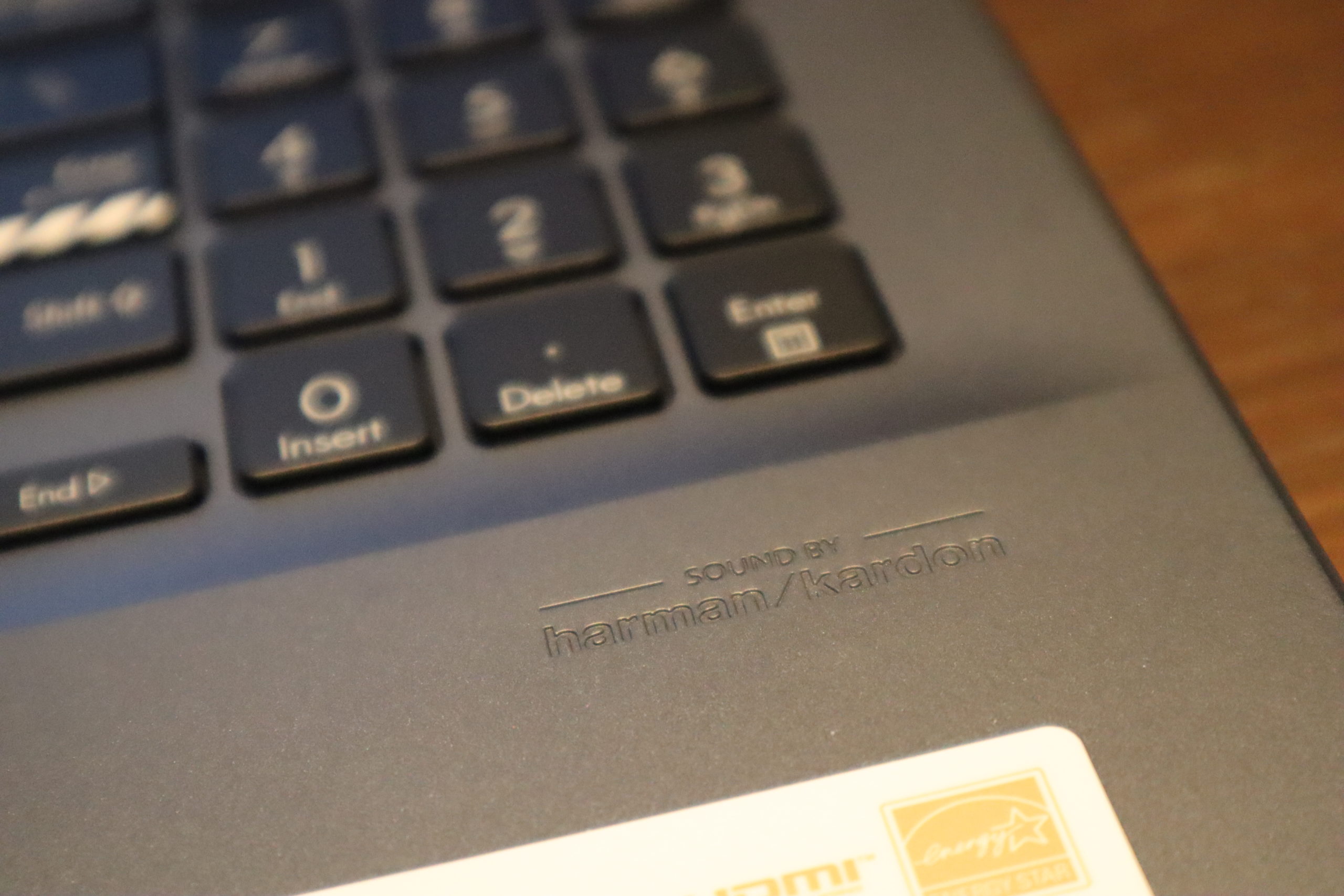 One thing you'll notice on the inside on the laptop is the "Sound by Harman/Kardon" engraving. They are a reputable name in the audio field, giving us high hopes for how they chose to tune the audio hardware on the laptop. Sadly, while the speakers sound great, they don't get very loud. In a quiet environment, they might be audible, but they would find themselves lost when background noise is present. We would still recommend plugging in speakers or a pair of headphones for the optimal media consumption experience, although the audio jack doesn't provide that much power either.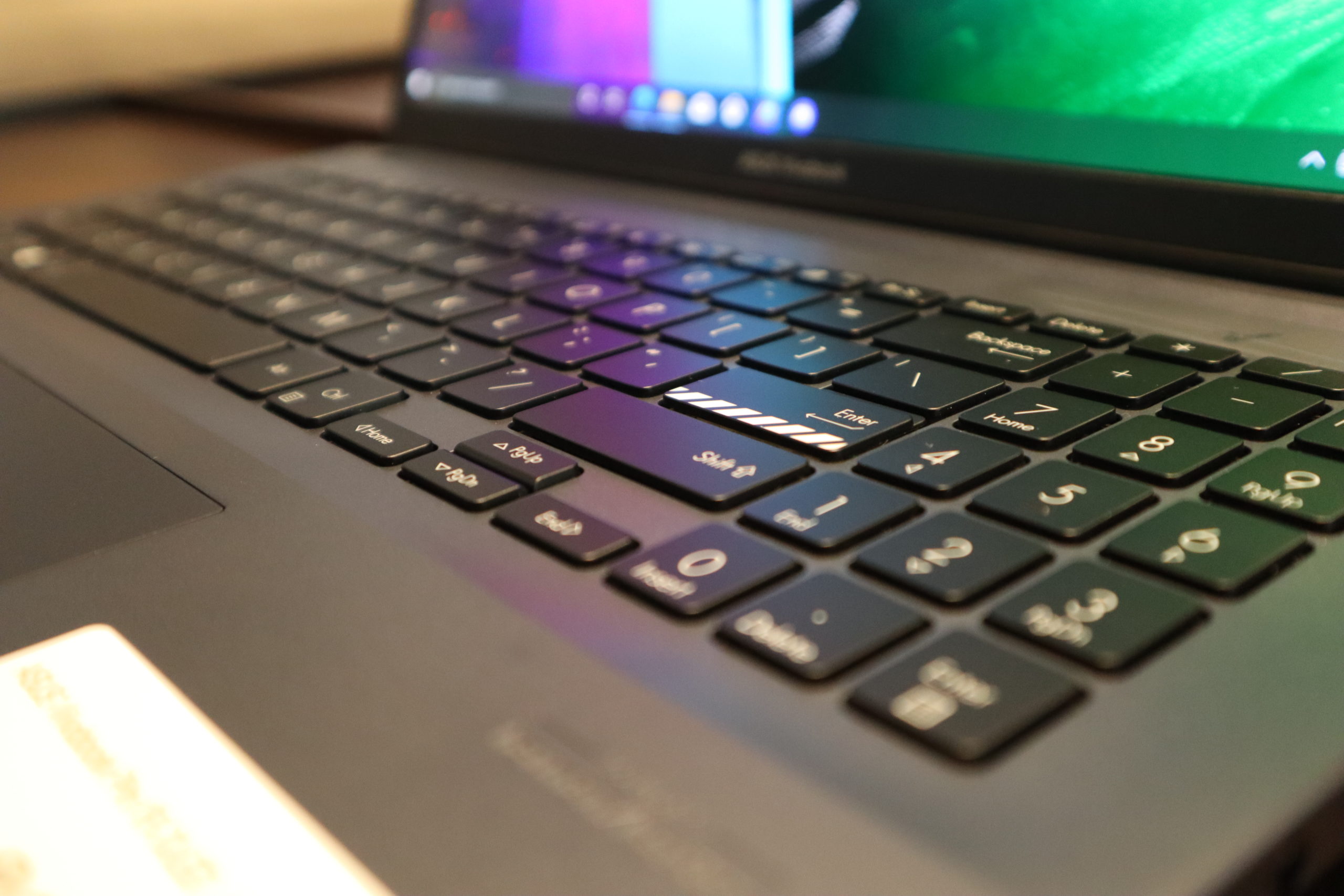 Keyboard and Trackpad 
The full-sized keyboard features even a Numpad on the side but its size is disguised well by its minimalistic approach. A striped pattern accents the Enter button, adding a sprinkle of personality to keep the inside from being dull. As expected from a thinner laptop in 2022, the keys don't really travel too far down, but they easily beat out other Ultrabooks in terms of typing feel. It feels a little bit awkward typing with a full-sized keyboard and you will probably make a ton of wrong presses if you've gotten used to a TKL layout or smaller. Like most things, it just takes some getting used to. The backlighting more than does its job in the dark.
Embedded in the keyboard power button is the fingerprint scanner. Compared to the other keys, it bounces back immediately with a satisfying click upon pressing.
It's impossible to miss the trackpad residing at the bottom. The thing is an absolute mammoth. The surface is undoubtedly made out of plastic, but it feels more like glasstic on the fingertips. The smoothness is hard to argue with, making for a comfortable experience. We're just not sure if the texture will remain over the long-term, but as it is now, it's a perfectly usable trackpad for most people.
Performance, Software, and Battery Life
This variant of the ASUS Vivobook Pro 15 OLED is the one you get when you need some grunt for creative work but you don't want to place yourself in an irredeemable financial situation. Onboard is the 11th generation Intel Core i5 processor – the i5-11300H to be exact. It's a midrange SoC built for gaming or media-intensive devices. The GPU meanwhile is a GTX 1650 Max-Q, which is a 3-year old processing unit by now but can still be considered a value graphical powerhouse. The only things it sacrifices as compared to its pricier RTX 3050 sibling are the added performance and ray-tracing capabilities. Multitasking is handled by 8GB of RAM and files are kept on the 500 GB SSD.
Keep in mind that those may not be enough for heavy usage, so an upgrade in both storage and RAM options is recommended.
The tests we conducted are the usual Geekbench 5, PCMark, 3DMark, and Cinebench R20 to get an overall feel of how this laptop fares in terms of its performance. We compared the Vivobook Pro 15 OLED to the Thinkpad X1 Nano due to similarities in the processor they use. However, take note that the latter is an ultraportable device and considerably more expensive.
These tests were conducted with the laptop on Windows 10, but an upgrade to Windows 11 was available. We're not exactly sure if this option could have improved scores, but we chose to stay with the more stable and tested current-gen software.
We then devised a trial to see how the battery performs. This involved playing videos and movies nonstop at 50% brightness and volume until the laptop runs out of juice. In this test, the Vivobook conked out after 6 hours and 46 minutes, which is decent for a laptop of this size. If you consider its portable form factor, then you'd quickly come to realize that it's an appealing package.
During the benchmark tests, we would hold the laptop at certain points to see if it got uncomfortably hot. We're happy to report that it showed average, manageable levels of warmth. This could definitely be comfortable for prolonged use, especially if the tasks aren't as intensive as our benchmarking session.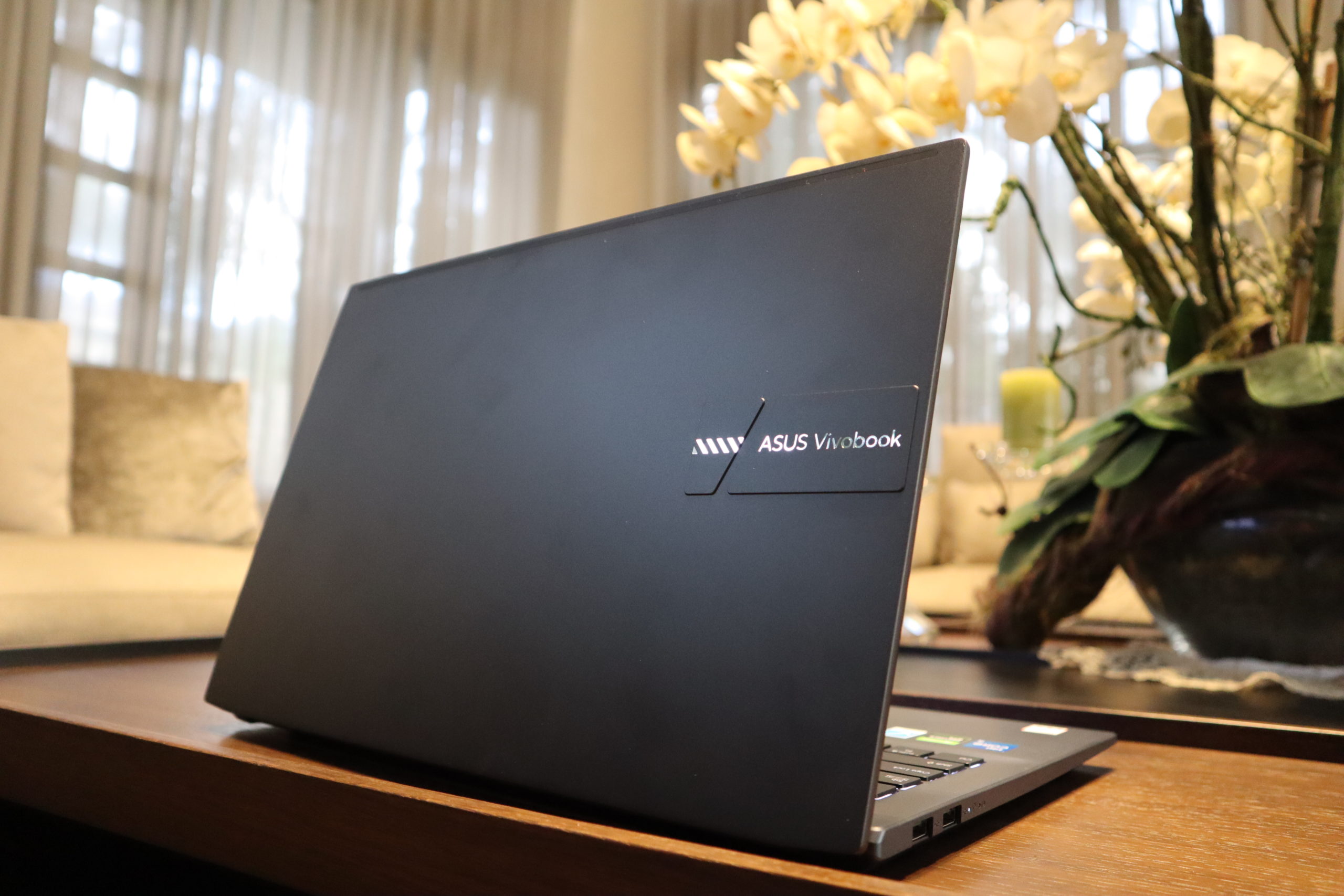 Verdict
The ASUS Vivobook Pro 15 OLED undercuts the competition, as our review unit that we got for the Philippines has a price of just Php 57,995 while carrying specs that would've been in the upper mid-range just one or two years ago. Knowing that information essentially gives the notebook a pass in the performance department, and it showed in our tests. Pushing performance parameters aside, it's light, has a decent backlit keyboard, enough ports to be practical, sizeable bottom vents for cooling, and an overall confident build. The OLED display is bright and sharp enough for creative use.
This is a nice little package for the price, and will not disappoint on-the-go creatives who need oomph, screen real estate and want to do a little bit of gaming on the side.
ASUS Vivobook Pro 15 OLED Review Philippines Price
Buy them here on Lazada. The higher-end model with the RTX can also be found here. This variant of the Asus Vivobook Pro 15 OLED is currently priced at Php 57,995. 
Comments (2)