Verdict: ASUS gets premium ultrabook right with the ZenBook S UX393EA. Its abundant use of aluminum for its black chassis and its gorgeous display make it an impressive offering–especially with its better-than-average battery life. All of its features make the ZenBook S UX393EA a compelling contender for creatives that want an accurate display along with powerful innards.
The ZenBook S UX393EA is priced at Php 99,995.
Pros
-Better than average battery life despite having a 3K touchscreen display
-3:2 3K display is one of the best in its class
Cons
-Touchscreen feature could have been omitted to reduce price and improve battery life
-Still weird for a laptop to NOT have a headphone jack
-Pricey
If you're a creative that needs a powerful laptop as well as a color-accurate display, the ASUS ZenBook S UX393EA is for you. This ultrabook has enough power under the hood to satisfy most creatives, and battery life to keep up with even the most demanding schedule. With all the things it has going for it, it easily stands out among the current crop of ultrabooks in the market today–MacBook Pros included.
Design
The ZenBook S UX393EA looks very similar to its vanilla, mid-range sibling in terms of design thanks to ASUS' trademark concentric circle design.  There are subtle differences VS its cheaper siblings though, differences that you'll only notice when you start looking up close. The ZenBook S UX393EA has different dimensions due to its 3:2 aspect ratio, and that, along with copper red accents throughout the aluminum chassis, serves to emphasize the point that this is ASUS' premium ZenBook offering.
The similarities also apply to the port selection, with the ZenBook S UX393EA also having two Thunderbolt 4 USB-C ports, a full-sized HDMI port, USB-A 3.1 Gen 1 port, and a MicroSD card reader. The omission of the headphone jack may baffle notebook users (a strange decision on ASUS' part since the UX325 ZenBook 13), but ASUS is kind enough to bundle a USB-C to 3.5mm adapter with built-in DAC out of the box.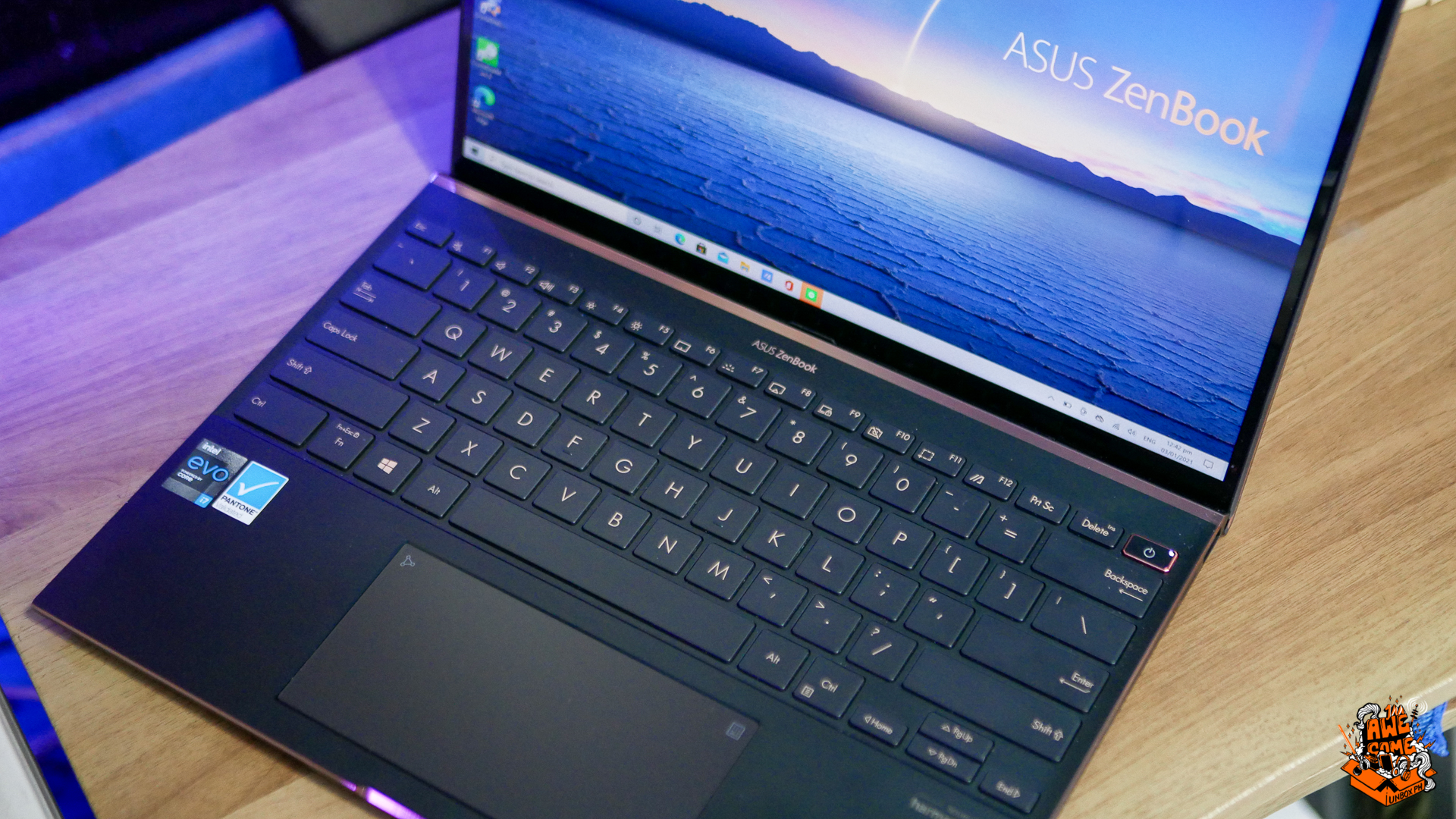 You'll notice the differences between the ZenBook 13 UX325EA and ZenBook S UX393EA once you open the notebook too. The latter has the ASUS ZenBook branding relocated to the keyboard area, along with a keyboard layout that loses a column of keys on the right side. In addition, the ZenBook S UX393EA's power button has a red copper accent to further emphasize that this is ASUS' top-end offering.
Display
While the ZenBook S UX393EA's 13.9-inch IPS panel has a lower resolution compared to the ZenBook Flip S UX371EA's drop-dead gorgeous 13.3-inch OLED panel, the former has extra skinny bezels on all four sides, giving it an impressive 92% screen-to-body ratio. Even more amazing is how ASUS managed to fit a webcam and other necessary IR sensors for secure facial recognition on the skinny top bezel.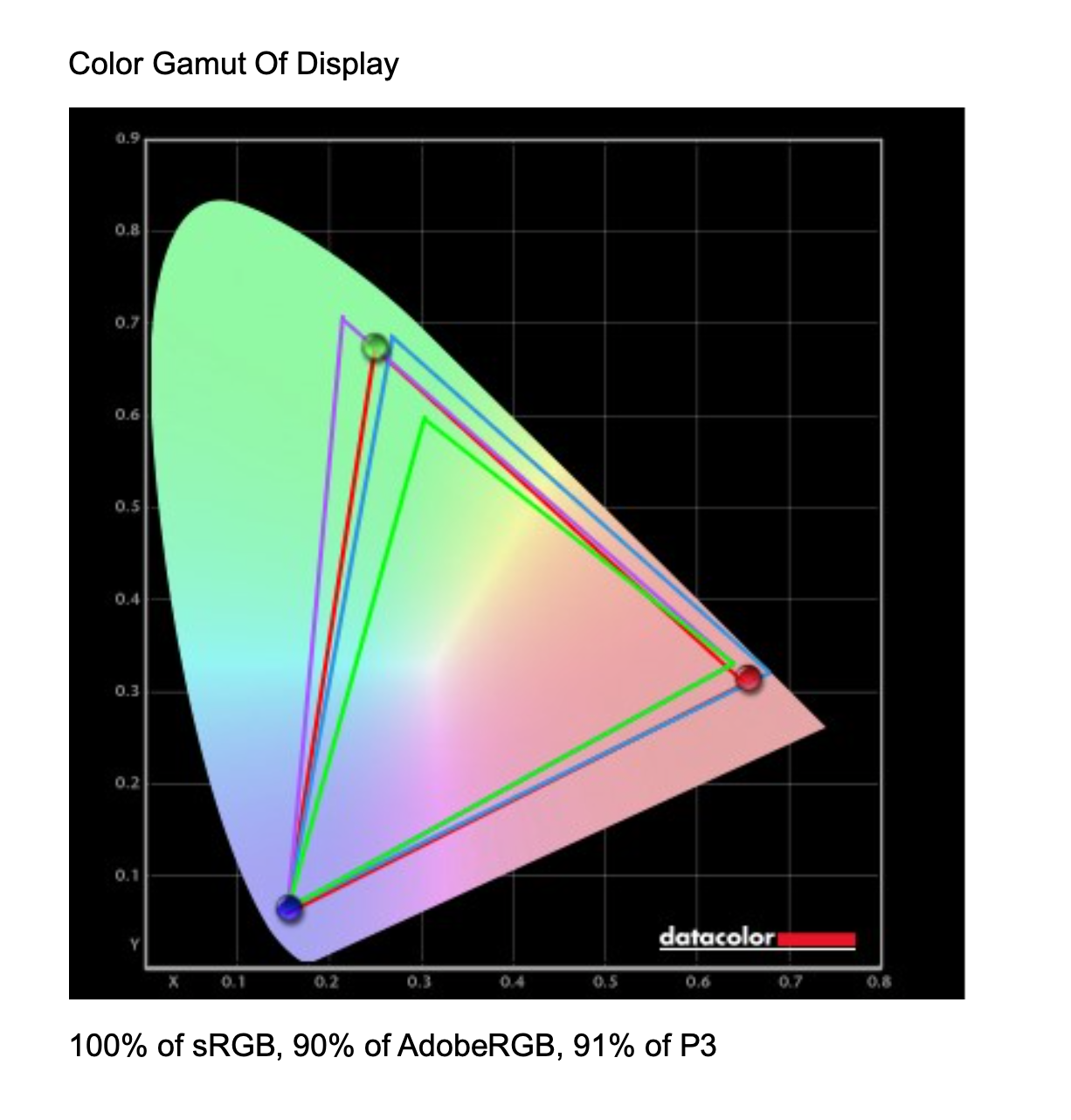 The ZenBook S UX393EA may only use an IPS panel, but it comes with a Pantone Validated certification. Our display tests show that its display covers 100% sRGB, 90% Adobe RGB, and 91% P3, making it a color-accurate display that is great for serious multimedia work.
As for its brightness, we recorded 340.8 nits, making it bright enough for outdoor use. While the numbers we got are slightly lower compared to the ZenBook Flip S UX371EA's 4K OLED display, the ZenBook S UX393EA's panel is definitely one of the better panels I have seen on an ultrabook.
You can read our full report on the Zenbook S UX393EA's display here.
As much as I personally like the ZenBook S UX393EA's display, I do think that the touchscreen feature is an unnecessary addition considering that it is not a 2-in-1. The use of touchscreen displays on notebooks with a traditional laptop form factor may be debatable, especially since they take a toll on battery life.
Keyboard and Trackpad
Like with all modern ZenBooks, the ZenBook S UX393EA uses ASUS' trademark ErgoLift hinge for a more comfortable typing position, along with ScreenPad 2.0 for transforming the large trackpad into a virtual number pad when you need to do data work.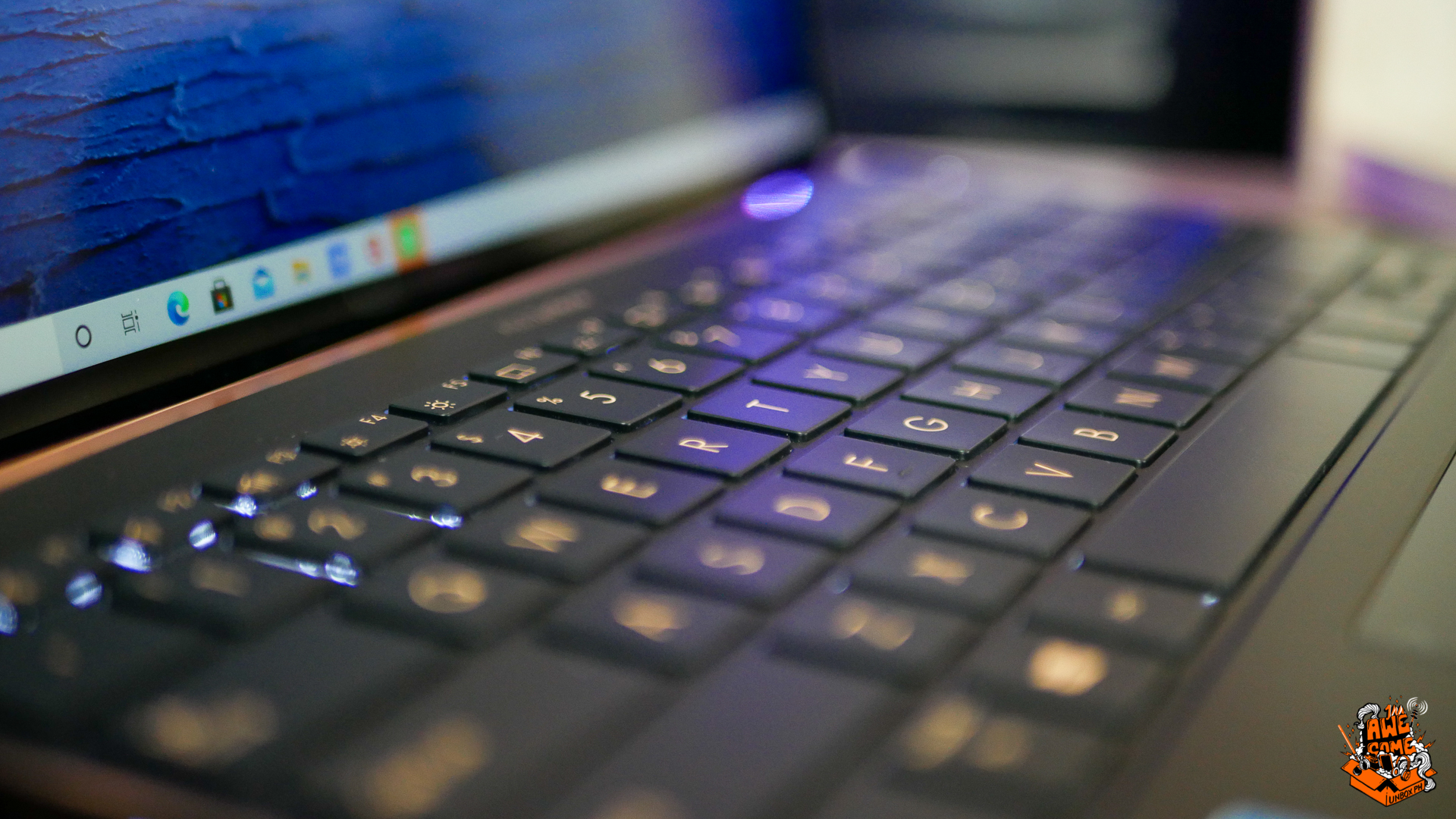 Despite losing a column of keys on the right side, the keys remain well-spaced between each other, and you still get the same edge-to-edge layout. The typing experience is the same as with its fellow current-generation ZenBook variants–key travel is decent, and the ErgoLift hinge does wonders in delivering a more comfortable typing position.
The ZenBook S UX393EA has a more sensitive trackpad compared to its more affordable siblings, and it is one of the better trackpads I have tried on any ASUS notebook. Just like the keys, the ScreenPad's brightness level can be adjusted according to your liking.
Performance and Battery Life
As ASUS' top dog offering, the ZenBook S UX393EA has the best possible specs you can ask for a premium ultrabook: Core i7-1165G7, 16GB LPDDR4 RAM, 1TB PCIe storage, and Iris Xe Integrated Graphics. While its internals is dead similar to the one used on the ZenBook Flip S UX371EA, it is a different story when it comes to synthetic benchmarks.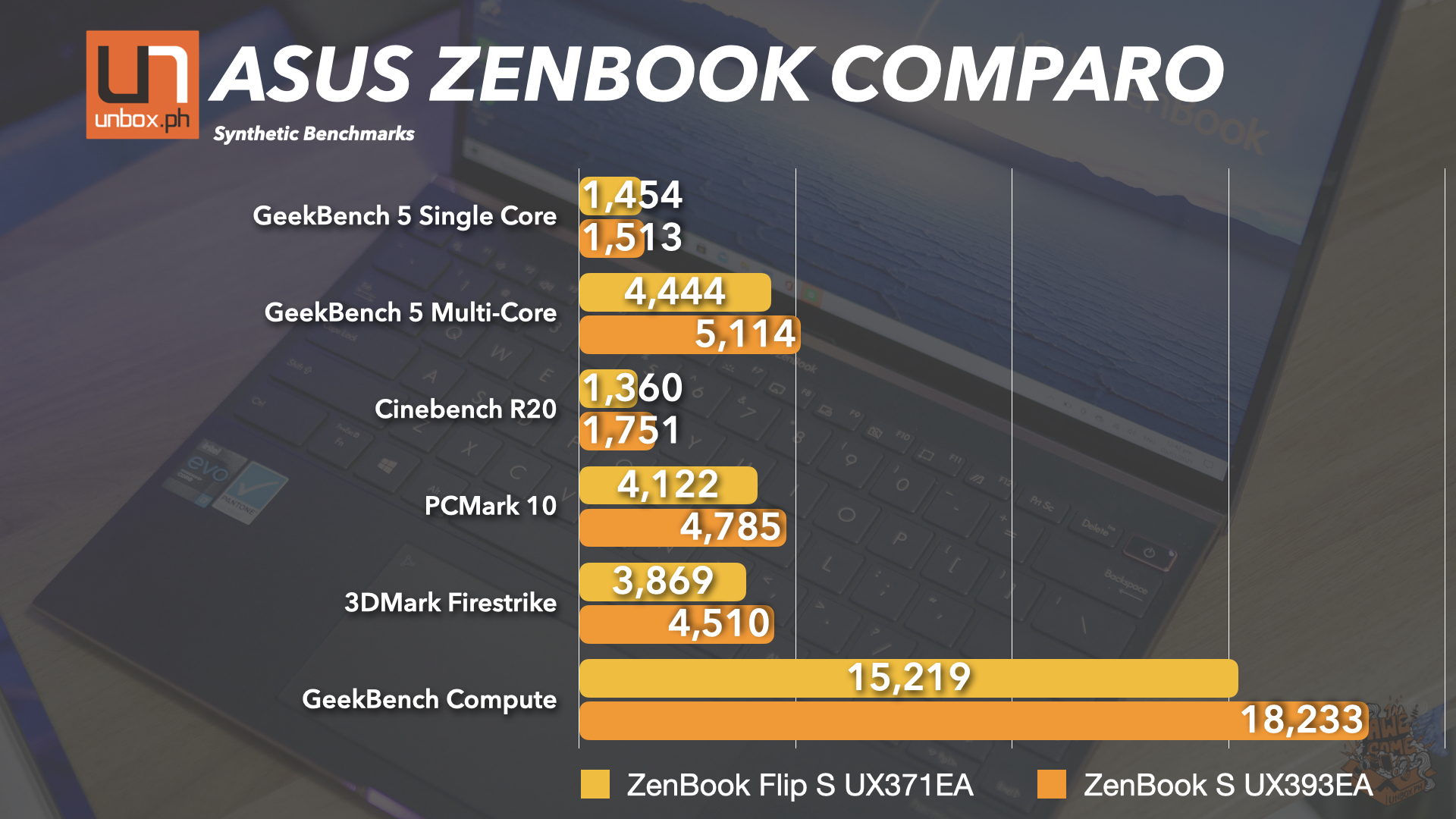 Across all of our usual benchmarking tools, the ZenBook S UX393EA beats the ZenBook Flip S UX371EA in every category. This can be credited with the former having an Intel EVO certification, where it gets better components to meet Intel EVO's standards. That being said, the ZenBook S UX393EA's overall performance is better than its premium 2-in-1 sibling, though don't expect to do 4K video editing and gaming smoothly.
On the battery department, the ZenBook S UX393EA uses the same 67wHr battery that is used on most ZenBooks. Despite having a touchscreen display with a 3K resolution, we clocked in a little over 6 hours with our YouTube video loop test, which is impressive for an ultrabook with a high-resolution display. Like what I've mentioned earlier, the ZenBook S UX393EA's battery life could have been even better if ASUS did offer a variant without the touchscreen feature.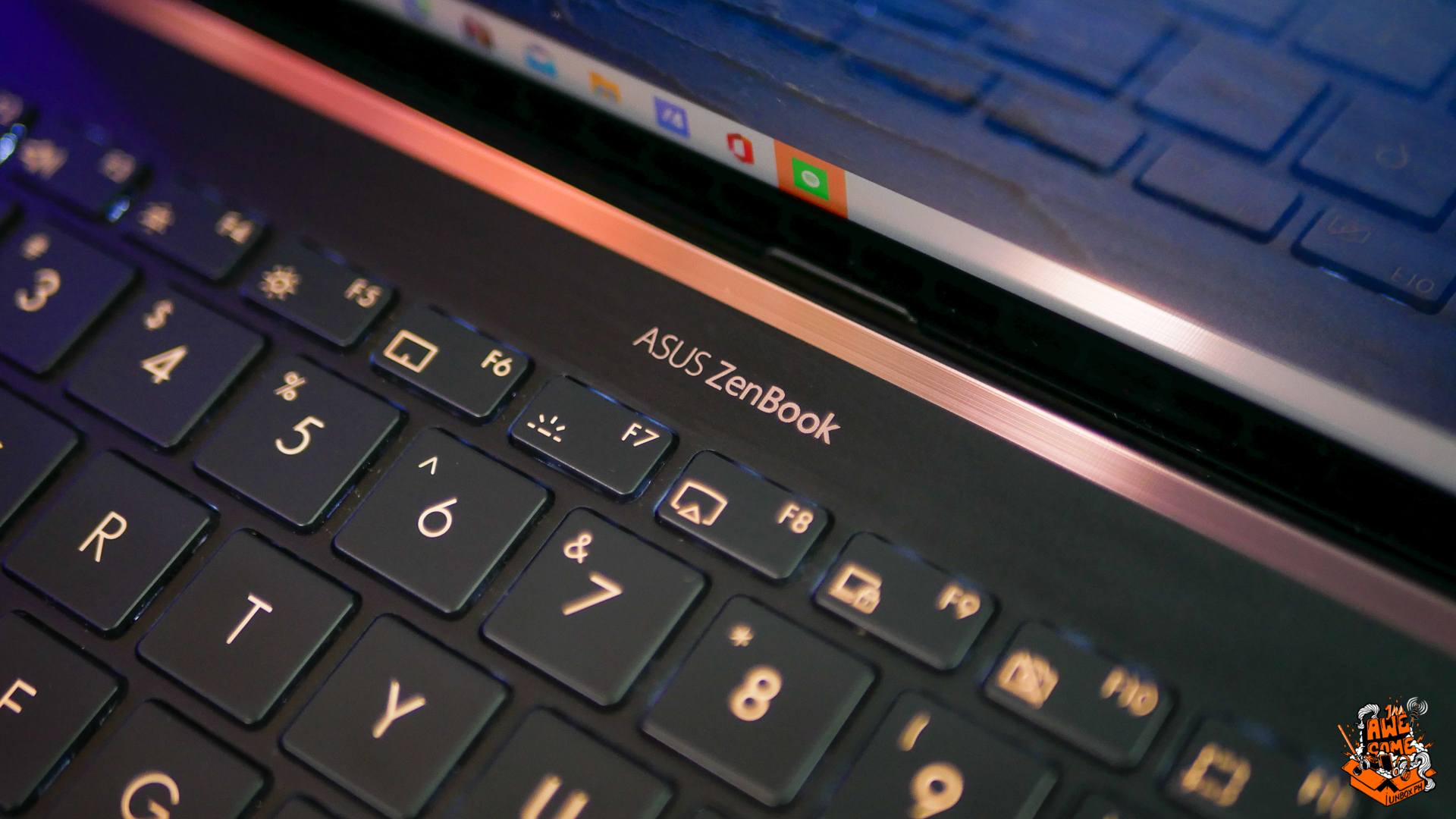 Like with ASUS' current ZenBook offerings, you get 65w USB-C charging with the ZenBook S UX393EA. As part of its EVO certification, you get fast charging–a 1-hour top-up can charge the ZenBook S UX393EA from flat to 60%.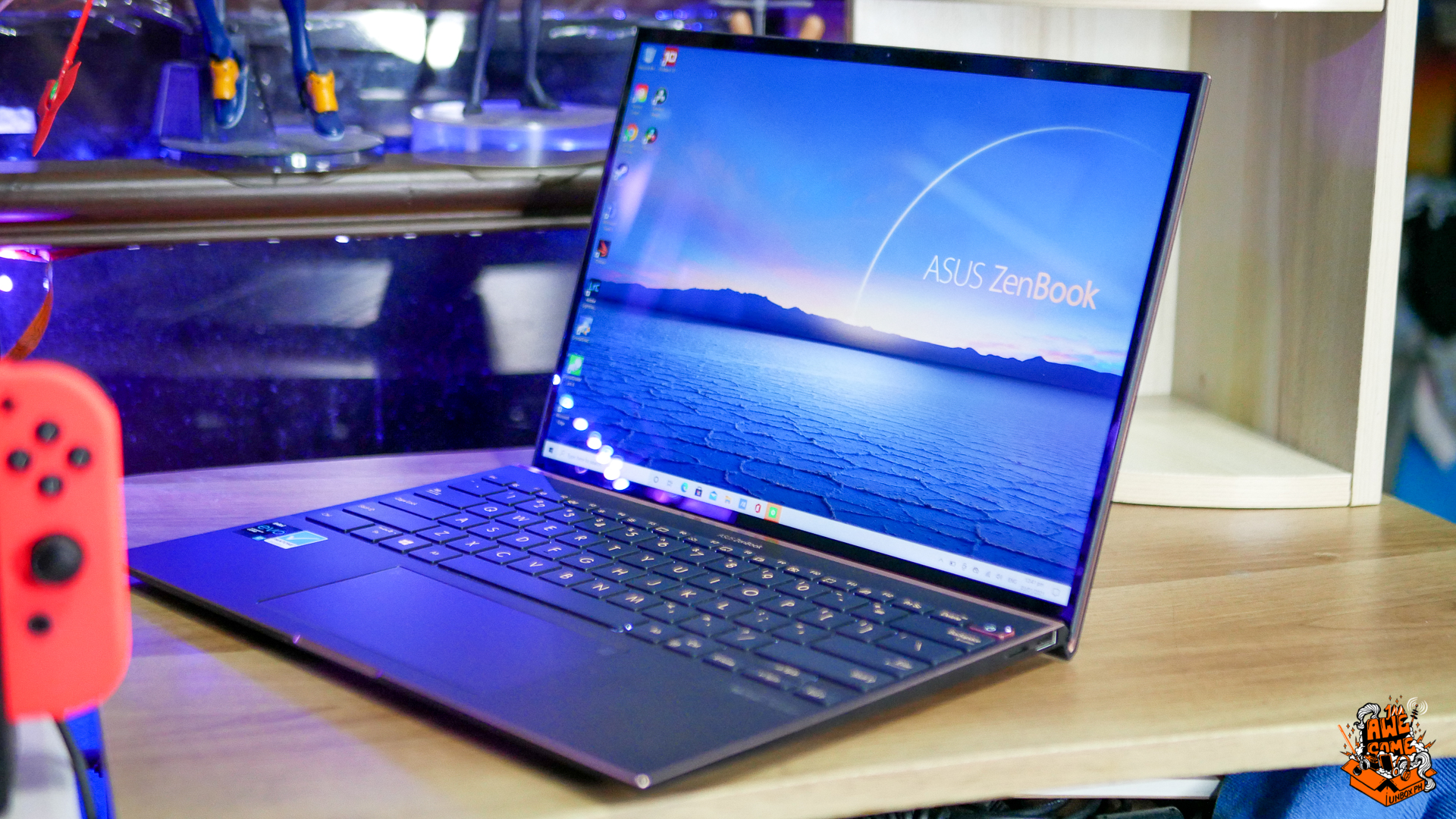 Wrap-up and conclusions
The ZenBook S is usually the model where ASUS would go all out, and its current iteration continues to impress in both looks and performance. While you have to pay a very steep price for the ZenBook S UX393EA–with a price that is close to Apple's mid-tier MacBook Pros–you get what you pay for, as this Intel EVO-certified notebook has a better set of components to let you make the most out of its battery life while enjoying its gorgeous 3:2 3K display.
The touchscreen feature is a nice addition to this premium notebook. However, we think that ASUS could have omitted this feature since not a lot of laptop users will make full use of it. Removing the touchscreen feature could have improved the ZenBook S UX393EA's battery endurance–and even reduce its price to make it more appealing to people.
Comments (0)