Verdict: ASUS has made their signature ultrabook, the ZenBook 13 UX325EA even better thanks to the addition of Intel's new 11th generation chips. The laptop has long legs, as well as extra number-crunching power thanks to Intel's new 11th gen processors.
The ASUS ZenBook 13 UX325EA retails for Php 54,995.
Pros
Premium design and finish
Powerful internals
Comfortable to type on
Cons
Display could have been a little brighter
I've seen multiple incarnations of ASUS' ZenBook line for nearly a decade now, but I've never not wanted one every time a new one comes out. The company's premium ultrabook line has gotten better throughout the years, and its 11th-gen refresh is no different. Sporting the same traditional metal-spun finish on the lid and Intel's brand-new 11th generation processors on the inside, the ASUS ZenBook 13 UX325EA is a great looking laptop that has plenty of power under the hood.
Design
ASUS has managed to keep the look of their ZenBook line more or less the same over the years, a testament on how far ahead of its time its original design was when it first launched in 2011. The Zen-inspired concentric circle design on the lid is unmistakably ASUS.
The ASUS ZenBook 13 UX325EA comes in traditional Pine Grey, as well as Lilac Mist for people who want a little bit more color in their laptops.
The chassis is made out of aluminum, and there are extra touches on the body like a chamfered finish to make it stand out visually against similarly constructed metal laptops in the market.
Once you open the laptop, you get more of the same on the actual chassis, though the concentric design is now gone, replaced by a matte finish that's designed to repel fingerprints.
As far as port selection goes, the ZenBook 13 has 2 Thunderbolt 4 USB Type-C ports, as well as a single USB 3.2 Gen 1 port, HDMI port, and a microSD card reader.
Conspicuously missing from the chassis is the 3.5mm audio jack. I'm not exactly sure if ASUS couldn't find space for this still relatively common audio interface for laptops, though to be fair they do include a USB Type-C to 3.5mm adapter in the package to compensate for its loss.
The laptop is also one of the few new devices to come with Wi-Fi 6 and Bluetooth 5.0.
Display
The laptop's small and compact size is thanks mostly to the tiny bezels on its 13.3-inch, full HD matte display.
Smaller bezels mean a smaller chassis overall, and that combined with the relatively edge-to-edge placement of the keys on the keyboard gives the ZenBook 13 dimensions of just 1.39cm by 30.4cm by 20.3cm. The laptop tips the scales at just 1.11 kilos, one of the lightest in its class.
As far as the display goes, it's alright, and thanks to the bezels the display sports an 88% screen-to-body ratio. Despite the small top bezel though you're still getting an HD webcam, as well as noise-cancellation which comes in handy during Zoom meetings.
Keyboard
One of the features I love with ASUS' more premium line of laptops is the fact that opening the lid angles the chassis slightly for better typing comfort. Dubbed the ErgoLift hinge, this small and clever design that ASUS put in their laptops make typing on them easier and a bit more comfortable compared to models that don't have it.
As far as the keyboard goes, it's pretty good, though it's a smidge small to accommodate people with bigger digits (i.e. me) thanks to the inclusion of an extra row for the Page Up, Page Down, Home, and End button at the right side.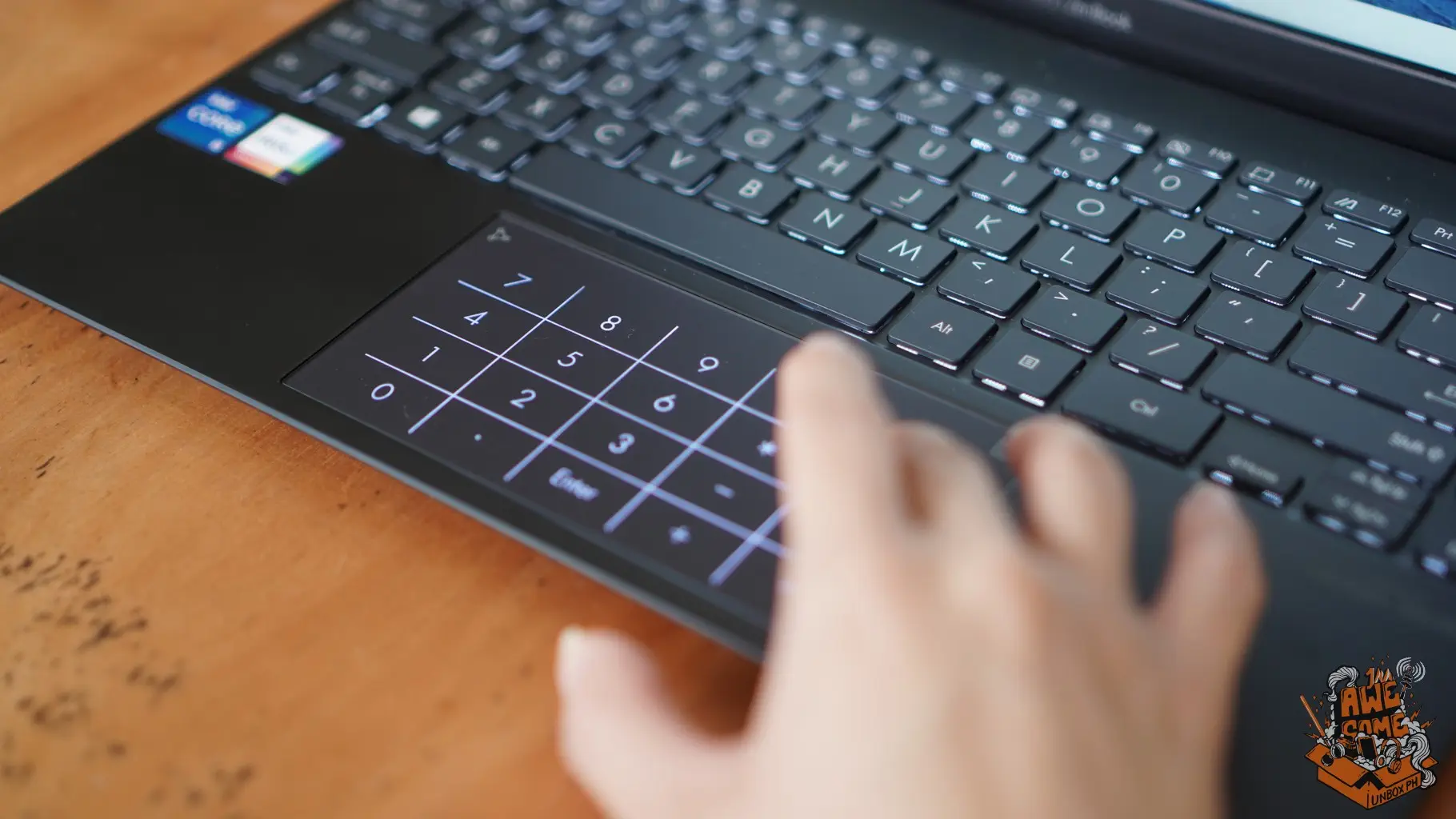 The trackpad works well enough and ASUS has made it so that it transforms into a number pad with a touch of a button – useful for people who work with numbers all day.

Performance and battery
The ZenBook 13 UX325EA is the latest laptop in ASUS' stable to get Intel's new 11th generation Tiger Lake processors which bring better performance to the fore compared to last year's offerings. Specifically, the laptop gets an Intel Core i5-1135G7 processor with 8GB 4266MHz LPDDR4X RAM, as well as 512GB PCIe NVMe storage.
Comparing the 11th gen variant of the ZenBook 13 VS the 10th gen shows just how much more performance you're getting in both single-threaded and multi-threaded applications, which translates to better performance overall.
Coming along for the ride is Intel's Xe Iris integrated graphics which gives the laptop a bit more graphical oomph when it comes to GPU accelerated tasks like photo and video editing. That also extends a little bit to casual gaming, though I'm not recommending you get the laptop expressly for that purpose.
Battery life comes in at 4:51 minutes doing our battery rundown test (YouTube loop with 50% brightness and audio) which is really good. You'll probably be able to stretch that even farther if you don't stream a full HD video all day and just stick with productivity tasks.
Conclusions and wrap-up
The Asus ZenBook 13 UX325EA has all the hallmarks of a good, premium laptop along with the performance to back it up. Intel's 11th gen processors give it a much needed graphical boost, and better battery endurance will come in handy once we're all allowed to safely go out again.
The ASUS ZenBook 13 UX325EA retails for Php 54,995 as configured and tested by us.
Comments (3)