It is a sad fact that trying to get government applications and forms is so much of a hassle, owing in part to a lack of urgency of some of our local agencies. This has proved a ripe breeding ground for fixers, people who promise to cut through government bureaucracy – for a price. While fixers have always been a problem nowadays, they've now become extra scummy thanks to the pandemic and the extra layer of hassle that comes with it. Because of the high number of scammers, fixers, as well as scammers that pose as fixers, the Land Transportation Office (LTO) has teamed up with the Philippine National Police (PNP), to hunt them down.
After the massive rise of these online-based fixers especially last year, a lot of reports involving fraud have reached the LTO. The LTO has stated that "the agency is now investigating the matter to identify these unscrupulous individuals, and those who have knowingly patronized their services, to institute appropriate criminal, civil, and administrative charges against them."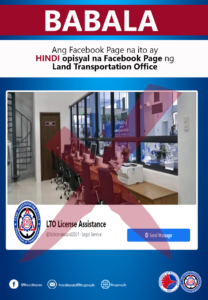 Just last week, however, an advisory made by the official Facebook page of the Land Transportation Office-Philippines warned the public of a Facebook page using the name "LTO License Assistance" claiming to be connected with the LTO. It was found that the page is offering a no-show license registration to motorists with a processing fee of P3,500 to P6,500, which very clearly breaks the law.
LTO Assistant Secretary Edgar Galvante, who is also the former PNP Director-General has revealed that they are currently working together with the PNP to catch these scammers. Their operations have already begun to bear fruit – they were able to catch a woman recently that offered illegal registration schemes to motorists in Region 6. The LTO and PNP were also able to gather a list of people in the same line of business from the arrested woman.
Tugade is continuously warning the public not to get involved with these scammers.
"Mali 'ho ito. Huwag nating tangkilikin ang ganitong sistema at iwasan natin ang ganitong pamamaraan," he said.
Aside from being illegal, these scammers may also use your personal information for other means and may result in identity theft and other unlawful activities.
Everyone is advised to go through the process legally. Motorists caught using a driver's license acquired under illegal means will be fined P3,000 and will be banned to drive for one year.
Comments (0)