HMD Global officially launches the Nokia 5710 XpressAudio in the Philippines. On the outside, it seems like a colorful feature phone with nothing much else to offer. You would be quickly proven wrong as the XpressAudio moniker carries the same philosophy of the legendary and nostalgic XpressMusic phones we all had in the past. It's mainly built for audio streaming and isn't shy about it in the least.
Looking at the Nokia 5710 XpressAudio from the front reminds you of days before the QWERTY keypad on a smartphone was mainstream, much less touchscreen generation. It has a red and black rubberized finish that pays homage to the classics through dedicated side-mounted audio control keys. This provides tactile feedback that allows you to change the track without having to take a look at your device. It's grippy in the hands too, so you don't have to be too worried of the device slipping out of your grasp.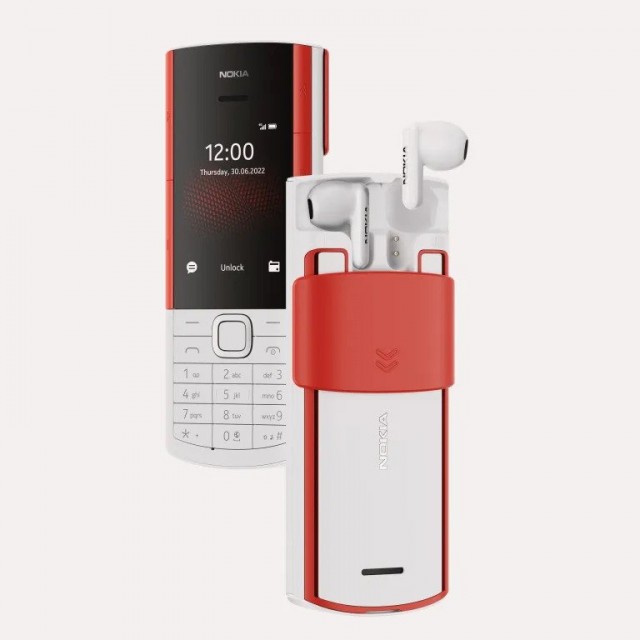 Lo-and-behold, the rear hatch slides open to reveal a pair of wireless earbuds. These automatically charge the buds upon contact and are designed specifically for the Nokia 5710 XpressAudio. That's why you can come to expect unbeatable connection quality and optimization of the buds for this feature phone itself. It also saves a bit of space in your pocket from having to carry two devices, trimming it down to one.
Music can be played from the built-in MP3 player, wireless FM radio, and other options. Sometimes mobile data can be hard to access so having this option is a relief for those in areas where a signal is difficult to secure. Call quality is also assured with support for environmental noise cancellation and VoLTE via 4G LTE capabilities.
The Nokia 5710 XpressAudio will keep going due to its 1,450 mAh battery. While that's tiny for modern standards, keep in mind that feature phones use significantly less power which can lead to several hours of music playback/calls and weeks of standby time.
Nokia 5710 XpressAudio Price Philippines
The Nokia 5710 XpressAudio will be available for a price of PHP 4,190 starting September 30. Fans of the brand can access it through Shopee from September 23-30, where they will receive a PHP 200 discount.
Comments (0)