True to MVP's promise, Cignal's satellite broadband service has officially been launched in the Philippines. The service, which is dubbed Cignal Connect uses satellite technology that gives users broadband internet via a satellite dish, which means there's no need to lay down physical cables or wires allowing its deployment almost anywhere in the country. We've managed to get the prices of the Cignal Connect Satellite Internet plans, which you can find below:
Cignal Connect Satellite Internet Plan Prices
2 Mbps – Unlimited data with 2 Mbps download and 0.5 Mbps upload – Php 6,500/ month
5 Mbps – Unlimited data with 5 Mbps download and 1 Mbps upload – Php 14,500/ month
8 Mbps – Unlimited data with 8 Mbps download and 1 Mbps upload – Php 19,500/ month
10 Mbps – Unlimited data with 10 Mbps download and 1 Mbps upload – Php 23,500/ month
Cignal's satellite internet service is currently being offered in Luzon and will eventually be offered in Visayas and Mindanao areas as well.
How to Apply Cignal Connect Satellite Internet
A fully accomplished subscriber form. Download the application form here
One (1) valid ID
Proof of Billing
Get in touch with Cignal's telesales agents through these channels:
Sales Number: (02) 8888-5555
Mobile Number: 0949 997 7600 (up to 7603) or 0917 658 5555
Sales Emails: sales@cignal.tv / visminsales@cignal.tv
Apart from the application, there are one-time fees to be paid such as the Cignal Connect Kit and installation fee. The kit costs Php 36,000 which includes a 1.2m Antenna, a 3W Block Upconverter (BUC), and an HT 2300 Modem. The installation fee, on the other hand, starts at Php 6,000 and may vary depending on your location and area requirements.
This antenna will be installed by the Cignal sales partners in your area. If you want the whole household to benefit from the connection, you have to provide your own WiFi router.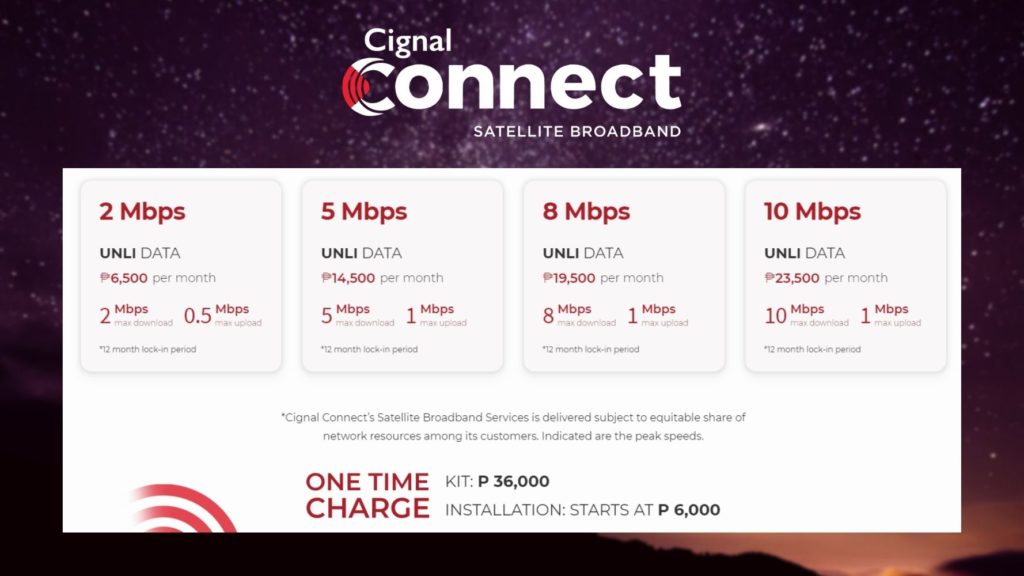 There is a 12-month lock-in period for all plans. Cignal also notes how their Satellite Broadband Services are subject to an equitable share of network resources among its customers. Listed in their plans are its max speeds.
While the Cignal Connect Satellite Internet plans are a little more expensive compared to traditional fiber prices, take note that Satellite Internet tends to cost more because of the required hardware and the lower number of customers to spread the cost around.
Comments (3)