We're seeing more foldable phones in the market recently. OPPO released the Find N2 and the Find N2 Flip, TECNO unleashed the most affordable one in the market as of the moment, and we're expecting Samsung to release their new batch very soon as well. One of the brands to have the team experience their take on a foldable phone is HONOR with their Magic Vs.
I've been using it for a little over a week now so let's talk about the highs and lows in this HONOR Magic Vs Review. Let's start with the big wins for HONOR.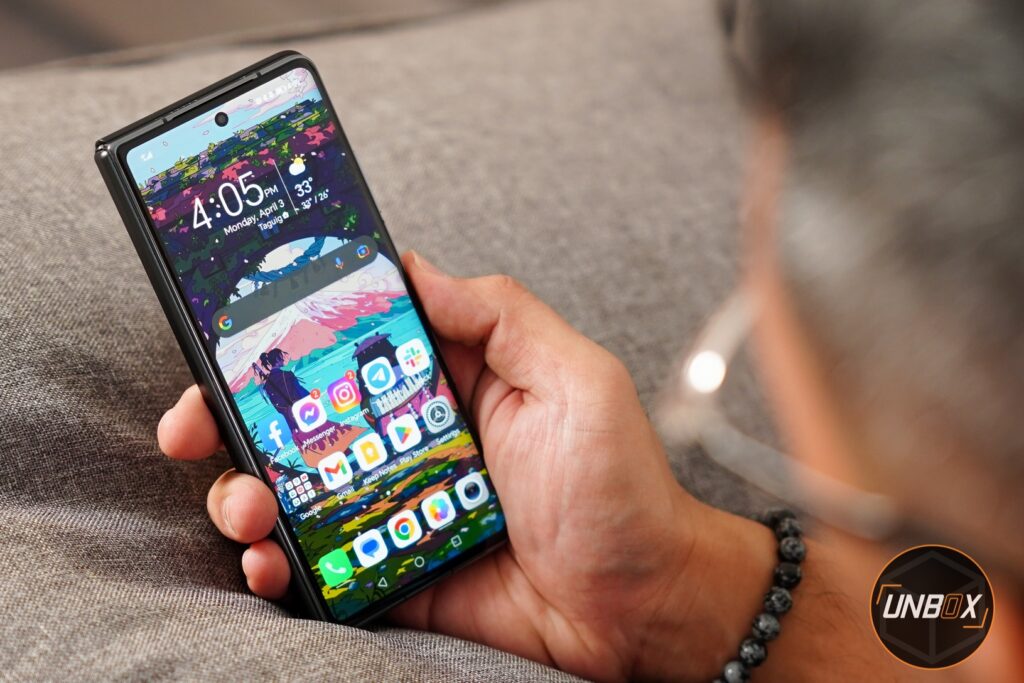 The External Screen
Without a shadow of a doubt, the cover screen on the HONOR Magic Vs is the best one I've tried on a foldable device yet and, yes, that includes the one on the Samsung Galaxy Z Fold 4. The reason behind that bold statement is simple — it's the most comfortable one to use.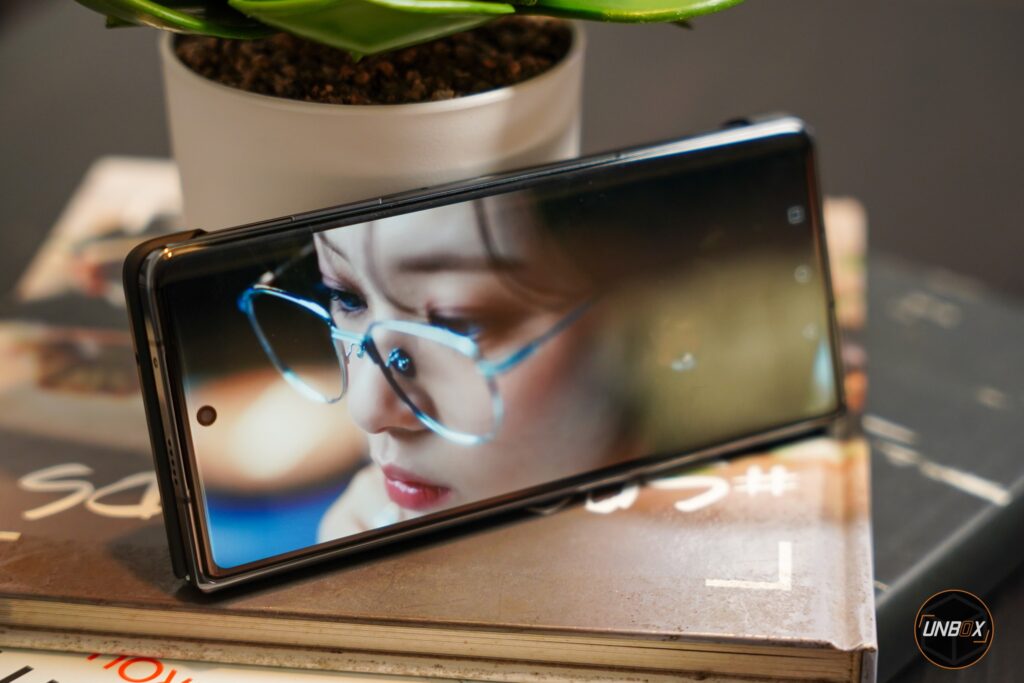 Team Galaxy had one that was a little too narrow to use comfortably and, while it was the most pocketable of the bunch, OPPO's offering was a little lacking in terms of screen real estate. The Magic Vs was just right; closely mimicking the ergonomics of a traditional smartphone; making typing out messages a lot easier with solid ergonomics. There was never a time during my HONOR Magic Vs review process did I feel the slight cramping that I did on the Fold at times.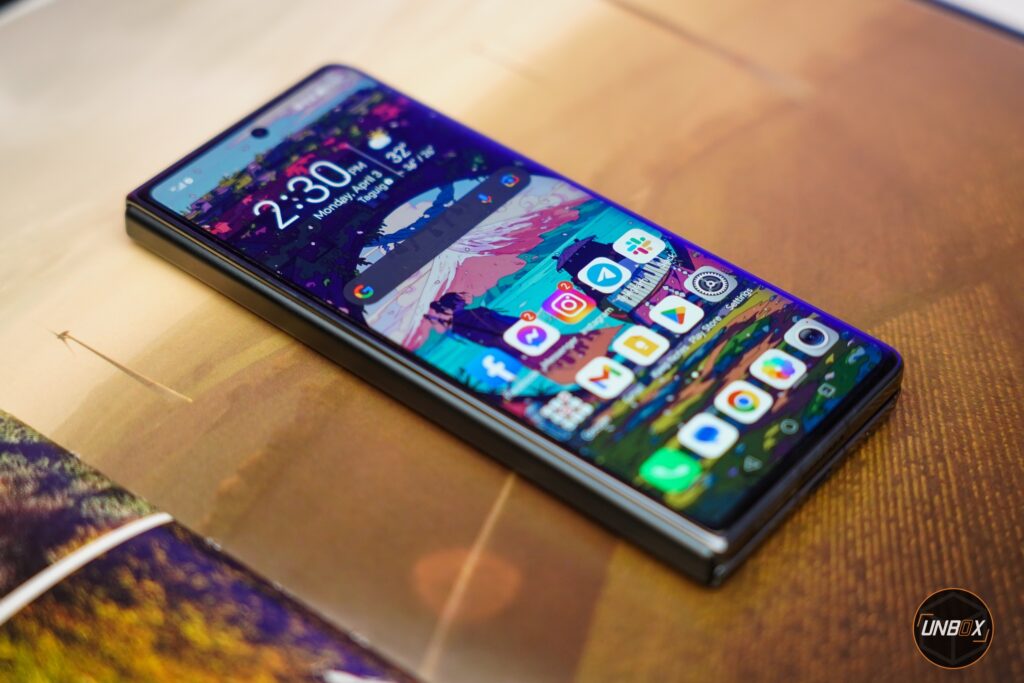 It measures 6.45 inches with an aspect ratio of 21.3:9 so if you love watching YouTube videos on your device as I do, you are getting those black bars but that's almost always the case when you're considering getting a foldable anyway.
The display is also nice and vibrant with colors that have the right amount of punch, which you can always tweak a little bit in the settings. Plus, you're getting a refresh rate of 120Hz for that zippier feel when navigating through the device.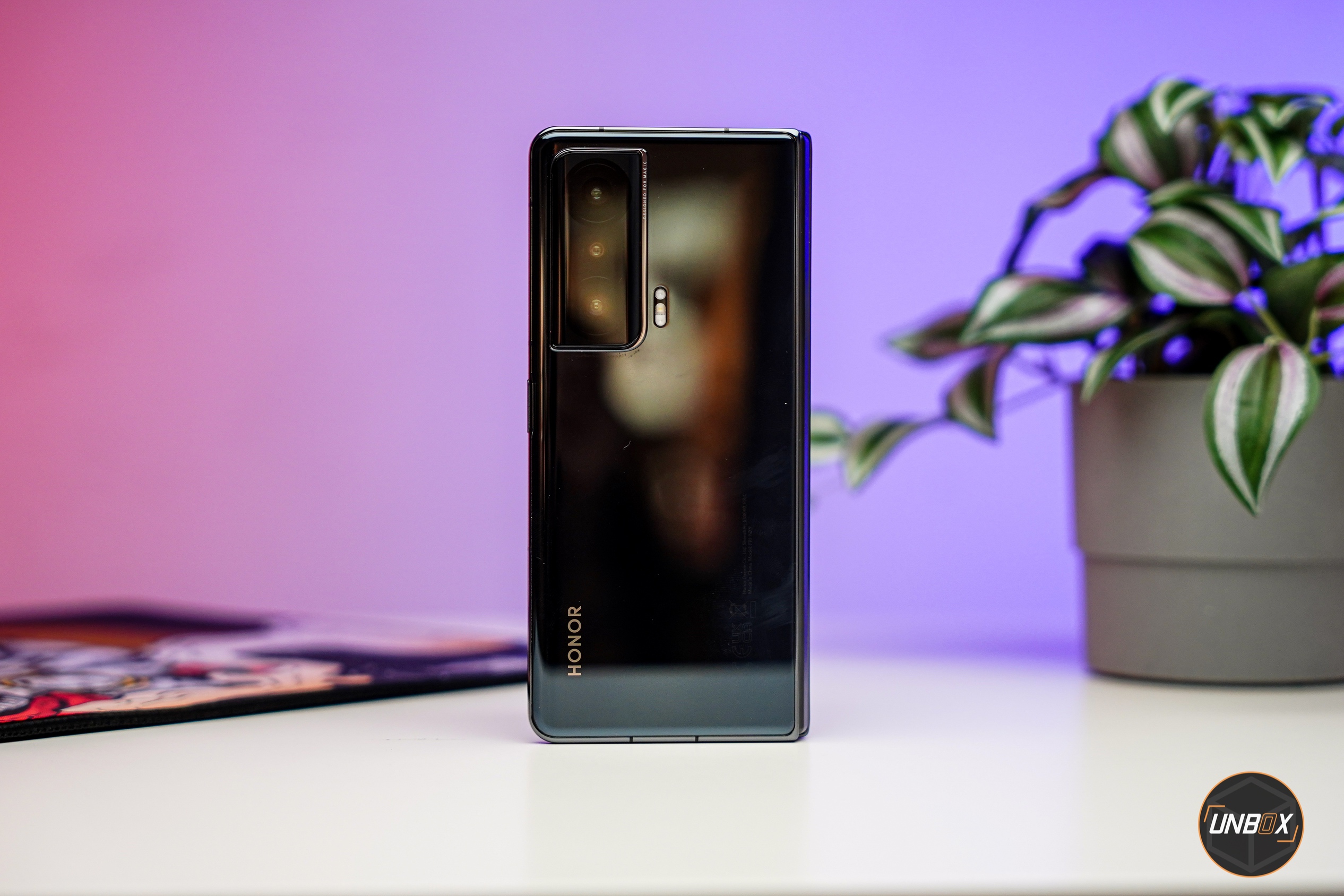 Solid Build, No Gap
HONOR also does a fantastic job with the build quality. On their site — and during their presentation — they boasted about using aerospace-grade materials to make the device lighter. It isn't the lightest one in the bunch but there's a good reason for that, which we will tackle in a little bit.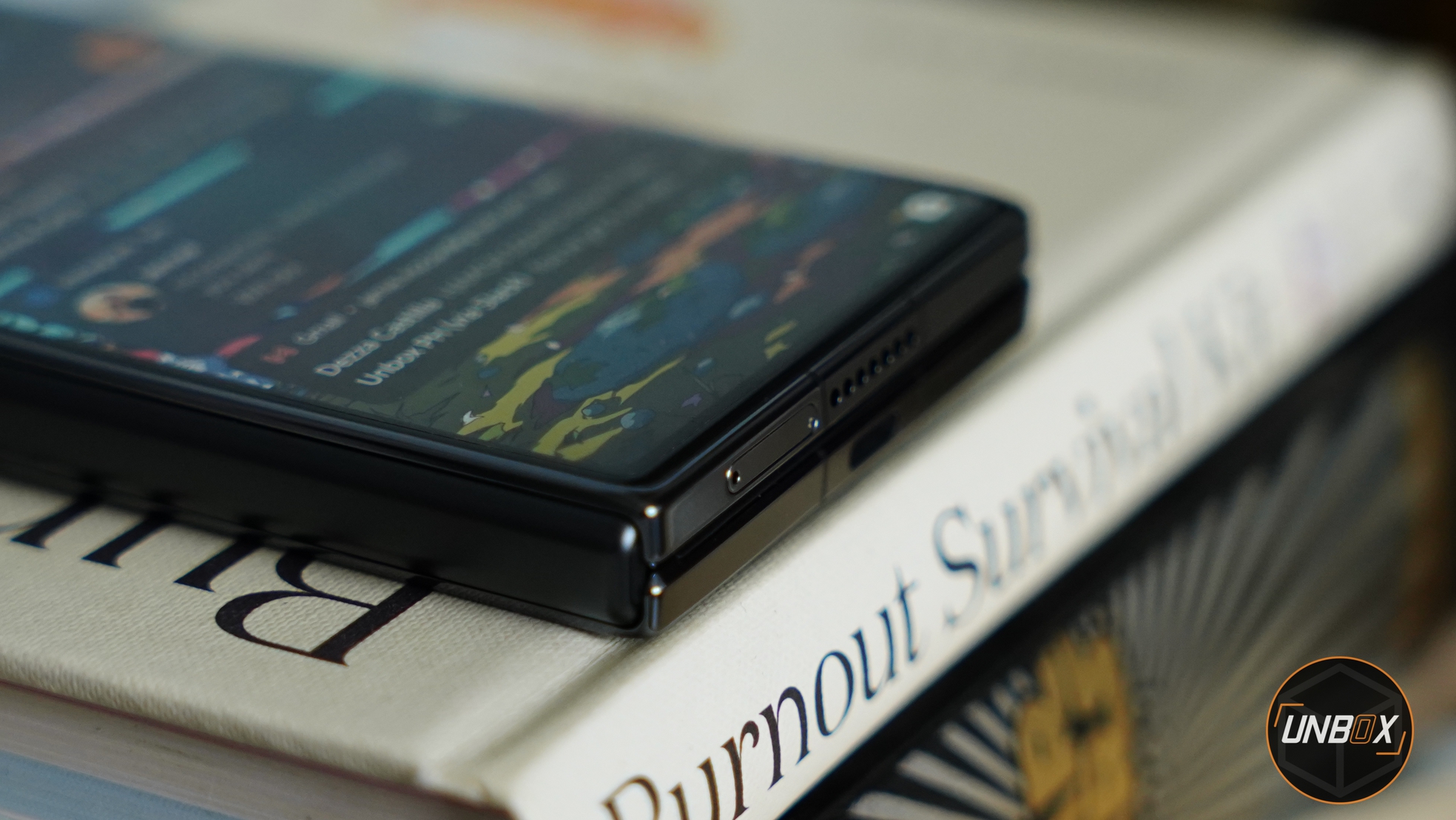 Another thing the brand also highlights is their "super-light gearless hinge", which is said to have reduced the parts they used from 92 pieces to just 4. This is something you don't necessarily feel when using the phone, but we always say that the fewer moving parts you have on a device, the better.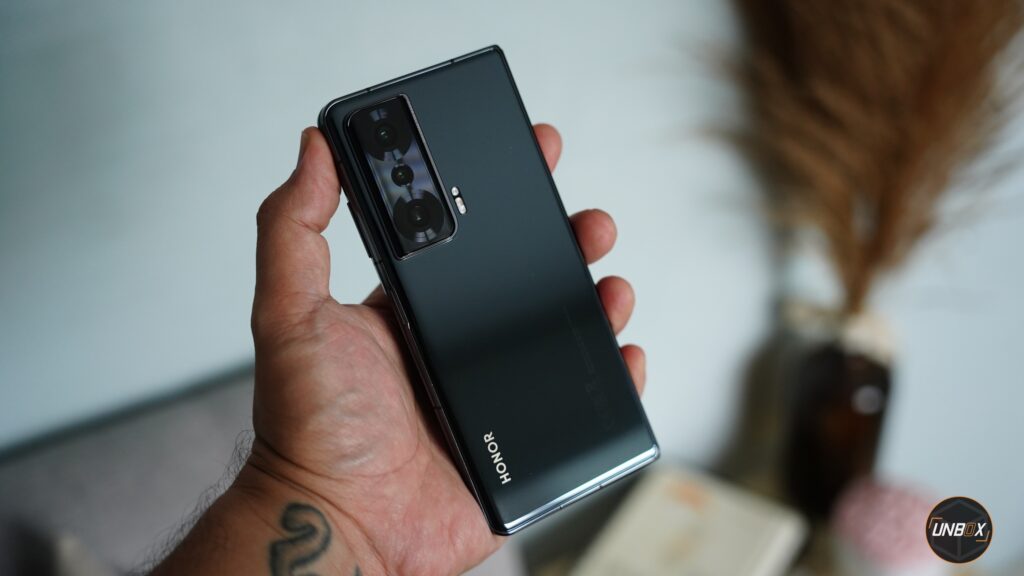 I did feel very confident about the hinge when opening and closing the device plus the bonus here is that there is no gap for use to make its way into the interior display.
Overall, the phone felt solid to use plus HONOR throws in a leather case that you can slap on from the get-go, which covers up the very glossy glass back as well as protects the device.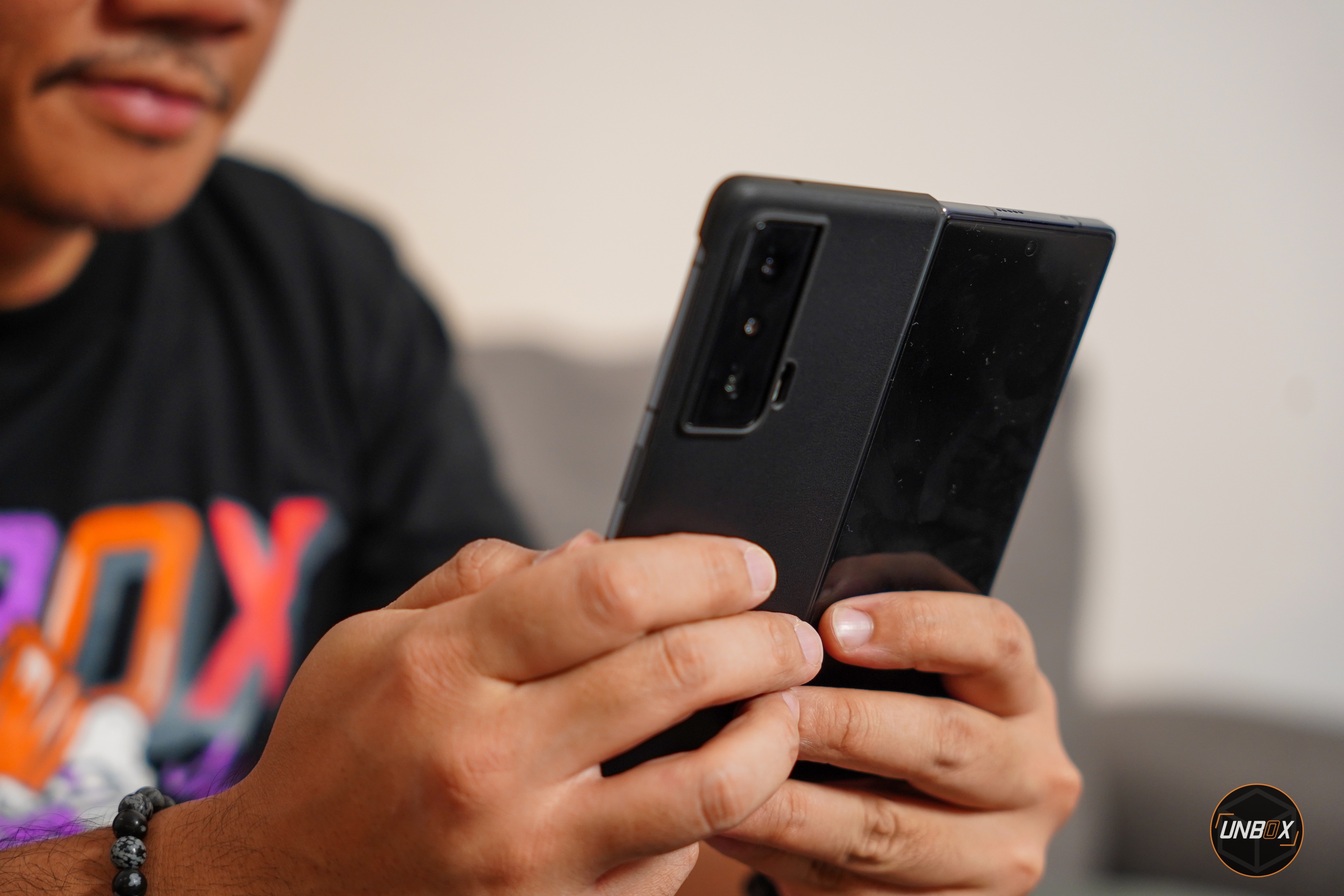 Great Internals
It shouldn't come as a surprise that the HONOR Magic Vs ships with incredible internals. It has everything you could potentially ask for.
It has a great processor in the Qualcomm Snapdragon 8+ Gen 1. It has a good amount of RAM at 12GB and great internal storage at 512GB, but the big thing for me here is the battery since it has a capacity of 5000mAh.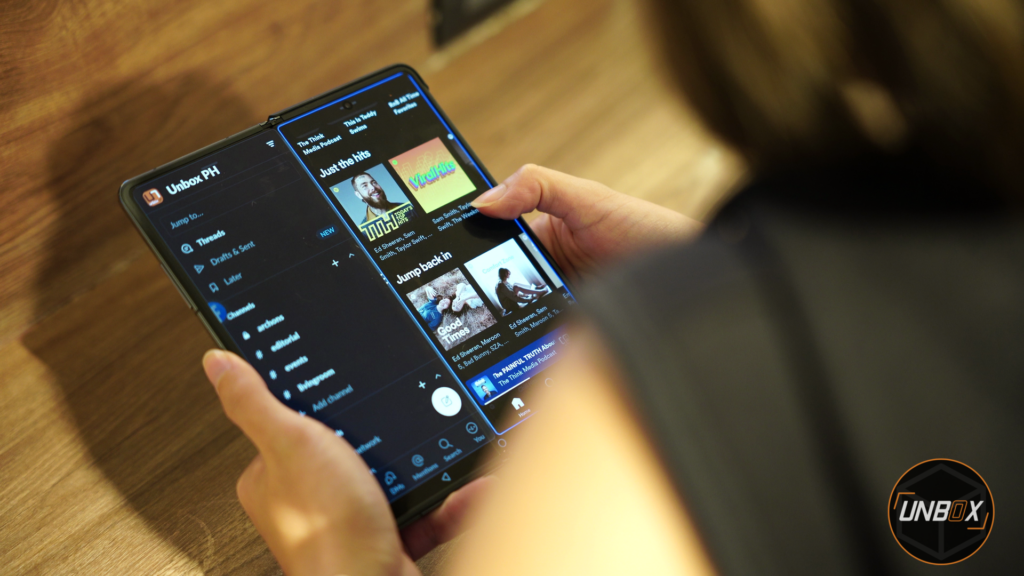 Compared to the aforementioned brands above, this puts it in a tie with the TECNO Phantom V Fold in terms of capacity and puts it ahead of the Samsung Galaxy Z Fold4. The Magic Vs does win out on charging speeds vs the Phantom however at 66W vs 45W for the latter.
After that specs dump, what does that all mean? It means that I had a fantastic experience with this device in terms of its raw computing power. I also didn't have a problem with battery life; being able to comfortably use it for a full day of work plus taking photos and videos with it as well.
Now that I've talked about the big wins I experienced with the HONOR Magic Vs, it's time for some of the things that are a bit of a mixed bag or could use more work.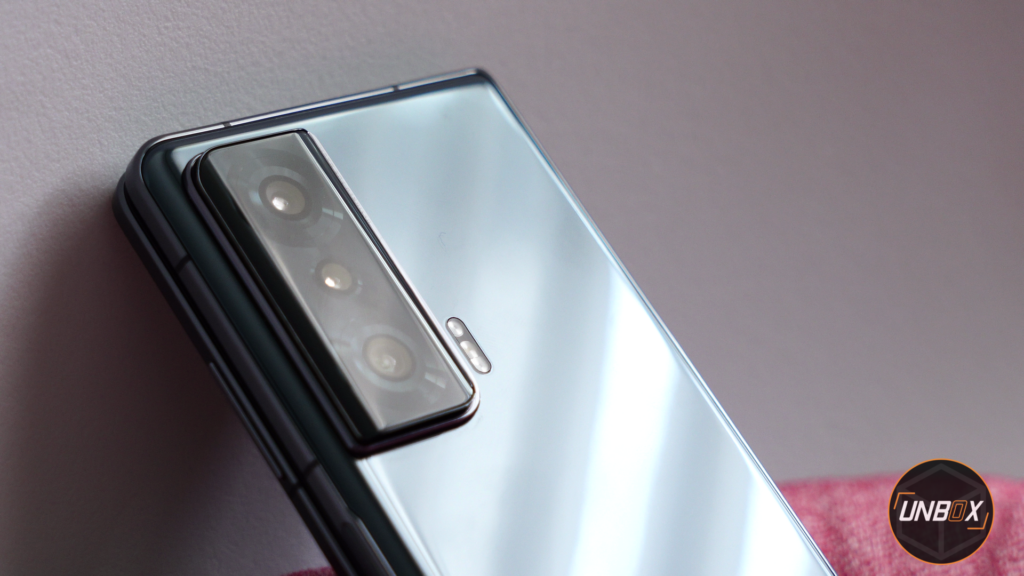 The Cameras are Good… in Certain Situations
During my time crafting this HONOR Magic Vs review, this part was a bit of a toss-up, to be honest. There are times when the shooters on the Magic Vs deliver and times when it comes up a bit short.
While details are nice and sharp on this device, colors are a little washed out; lacking that nice pop that most cameras are tuned to do when they're done processing after you take a snap. It would be great if we got accurate color output in the process but that's just not the case and, mind you, that's when you got a ton of light to work with.
The cameras start to shine when the sun goes down though. The tuning in low-light situations for this foldable phone is a lot better; even when compared to the Galaxy Z Fold4.To verify that my eyes weren't playing tricks on me, I also asked members of the Unbox Group of Companies to give their take and they all pretty much say the same thing too.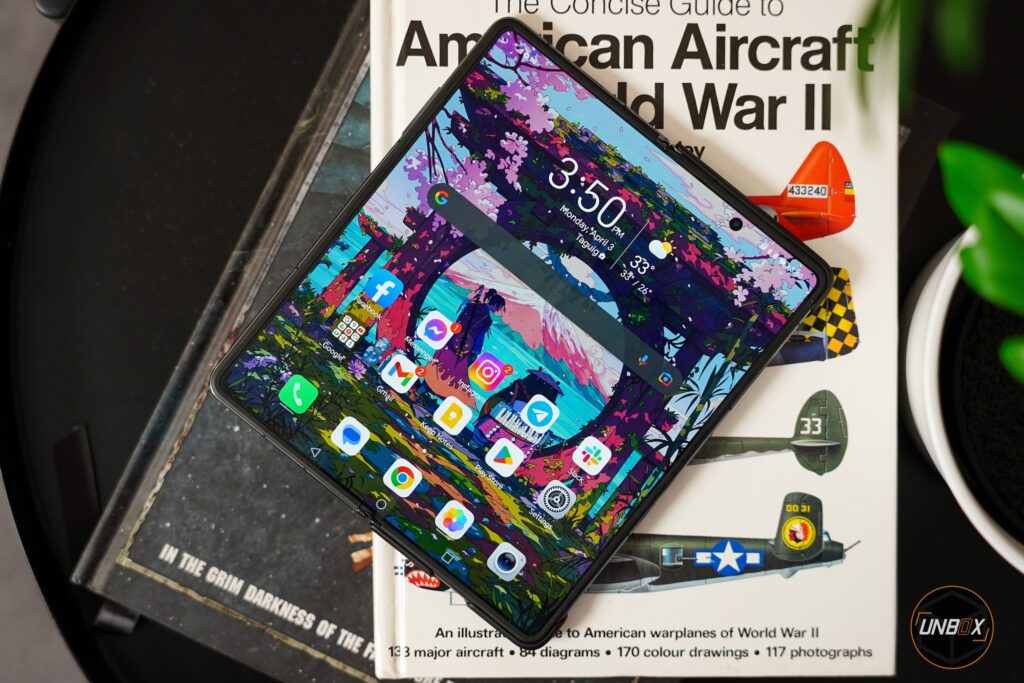 The Interior Screen is Big… And so is its Crease
It only follows that when the exterior screen is larger than usual, we're also getting a large interior display that measures 7.9 inches. It's fantastic for getting immersed in productivity tasks. I'm not big on Excel or Google Sheets but it was definitely way easier to manage all those cells when I needed to, which is a given for most foldable devices. Also a given, multitasking on this phone gets a thumbs up.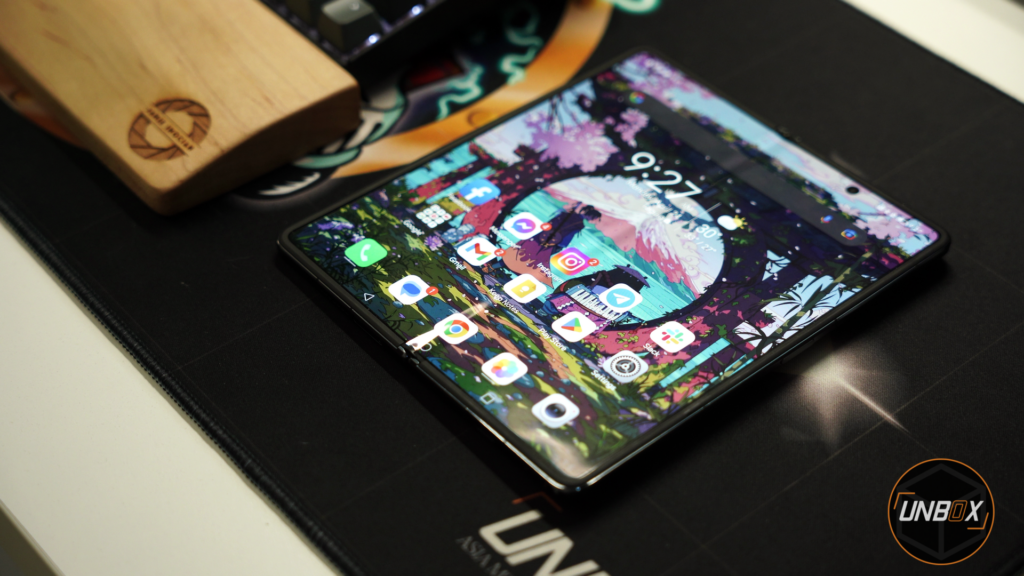 There are two downers with the inner display though. The first is the incredibly visible crease, which is not a deal breaker but it did remind me of first-gen folding phones. The second is its refresh rate of 90Hz. Again, not a deal breaker but at the price point this is being sold, I would have loved to see them go all out.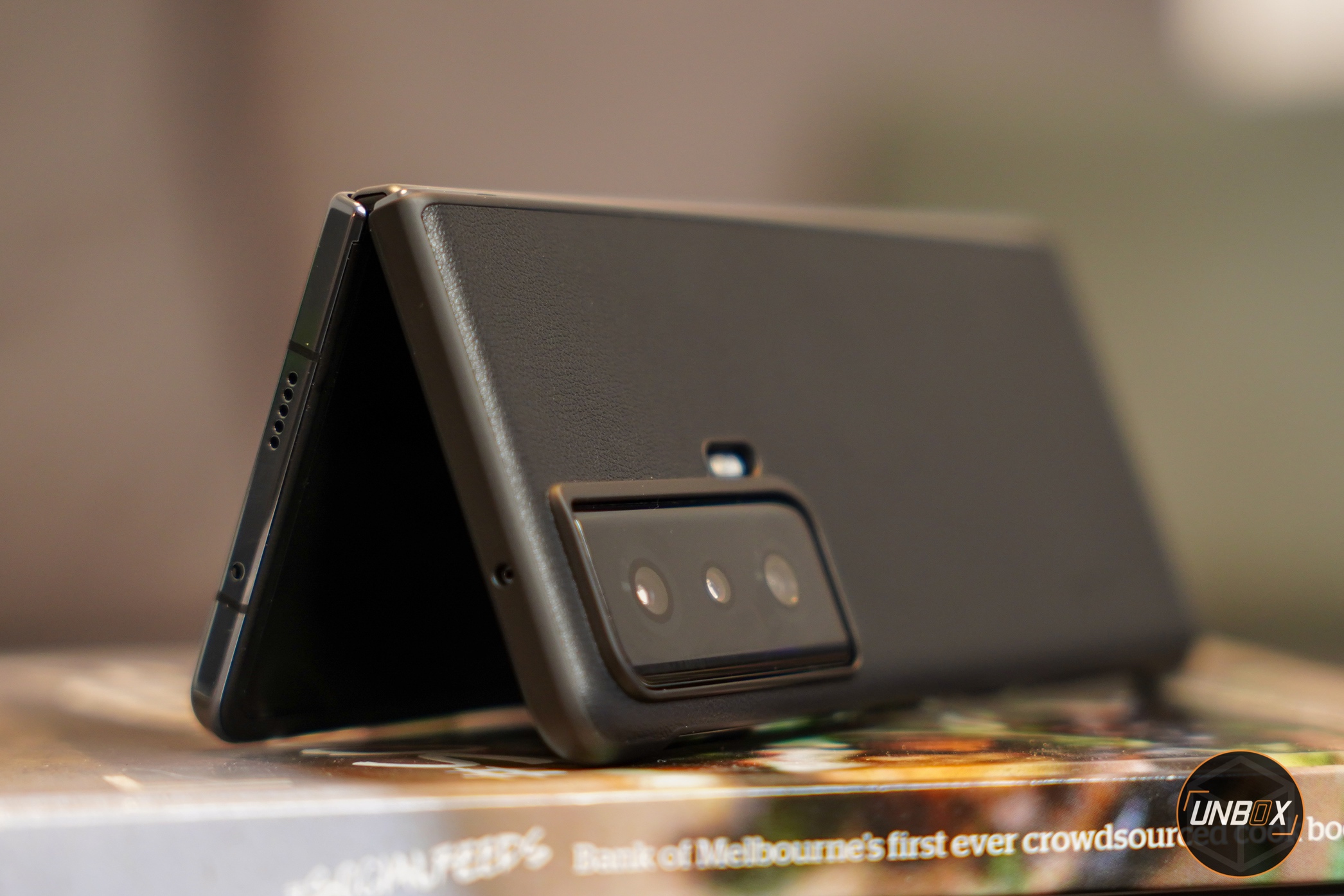 The Hinge has Missed Opportunities
Yes, I did talk up the hinge a little bit but it was very much an all-or-nothing situation with the HONOR Magic Vs; meaning you'll either use it folded or unfolded. Keep this in mind for the next point too.
This was very evident to me when I tried to take a video call on this device and tried to prop it up like a tiny laptop. It felt like it wasn't meant to be used that way. The balance of the phone was off so I had to use something to prop it up.
While solid and the smoother of the two, the hinge on the Z Fold4 that I've been using for a few months now feels like it had this use case in mind, which I feel is a lost opportunity for the Magic Vs.
You can chalk this up to preference though.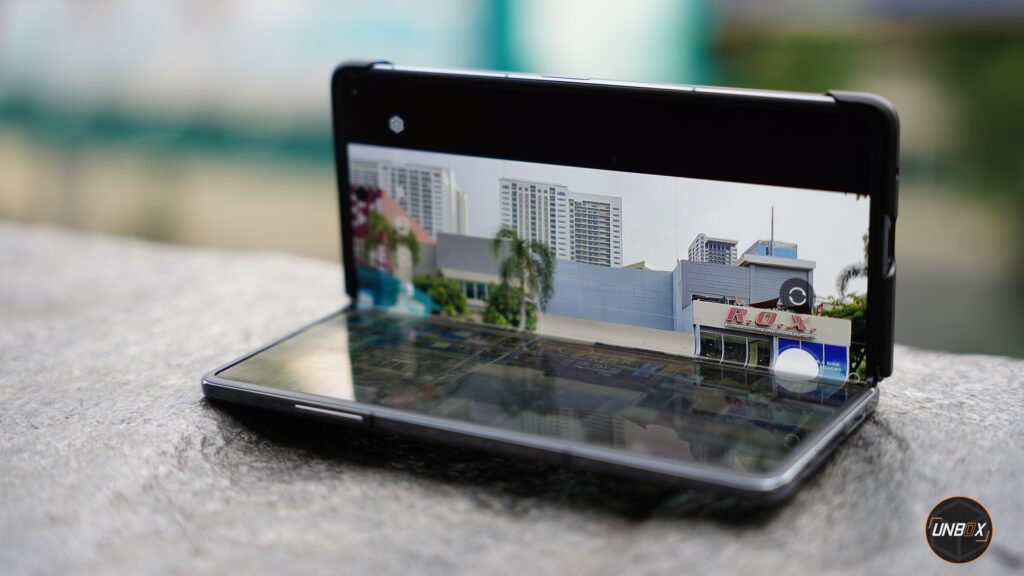 Magic OS Needs More Work for this Format
It really is hard not to compare the Magic Vs to what is considered the gold standard in foldables — the Galaxy Z Fold4 — but this is an area where I feel HONOR needs to work on to really up the game for their foldable line.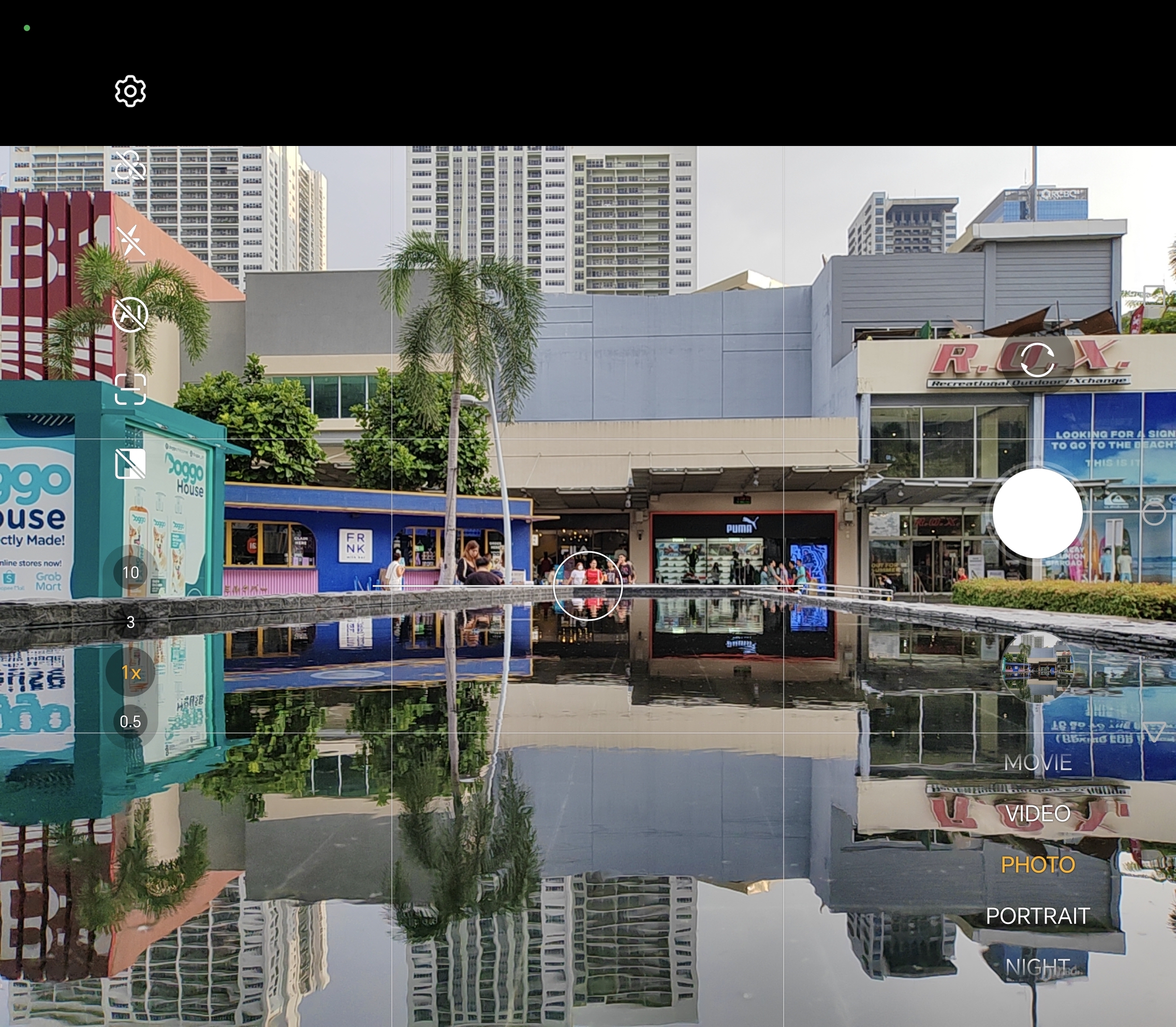 There were a few times when I would be switching from the external to the internal screen (and vice-versa) where I would receive a prompt to re-open an app for better compatibility that really dampened the whole experience.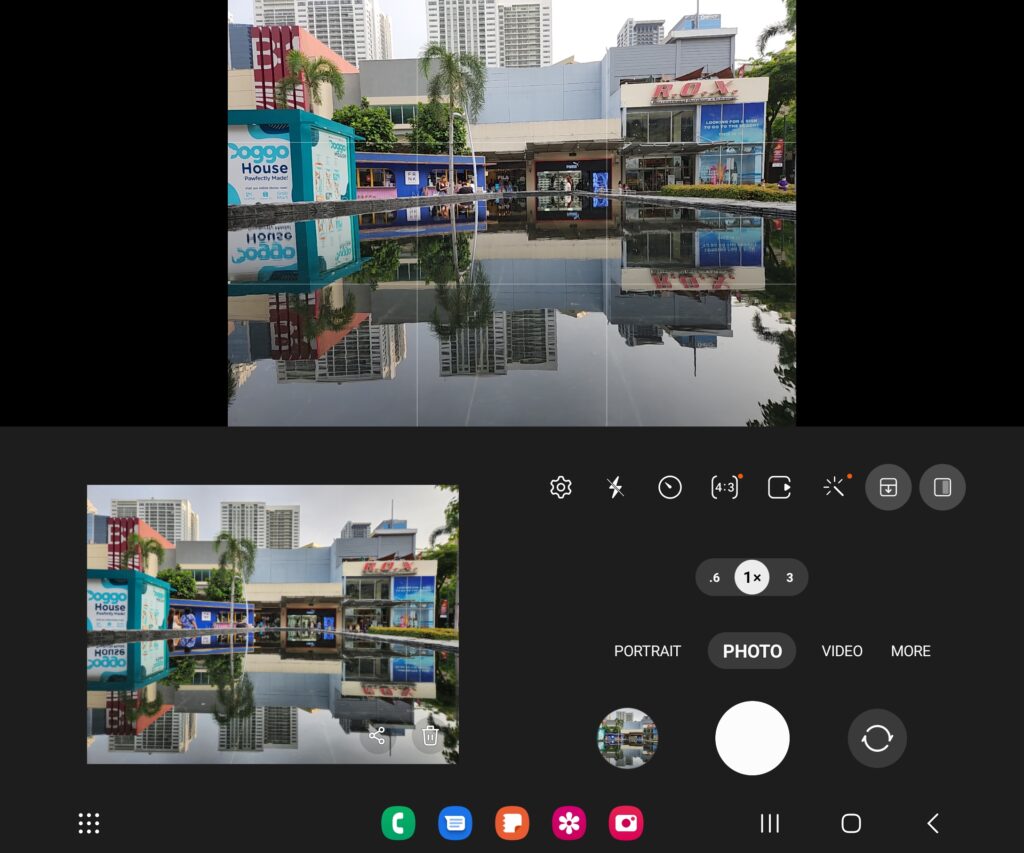 As previously mentioned, it also felt pretty much like an all-or-nothing situation with the UI as well. For example, the camera app doesn't adapt when you have the interior display folded up.
Don't get me wrong I had a great time using the device but a few little tweaks and additions could have made it much better.
It's not an Option for the Philippines
As of writing this HONOR Magic Vs Review, it will not be made available here in the country.
I'm hoping this will change in the near future; even if the local arm of the brand just decides to do a very limited number of sales because having more options will be better for consumers and will breed even more competition for the brands, which again makes the consumer ultimately win.