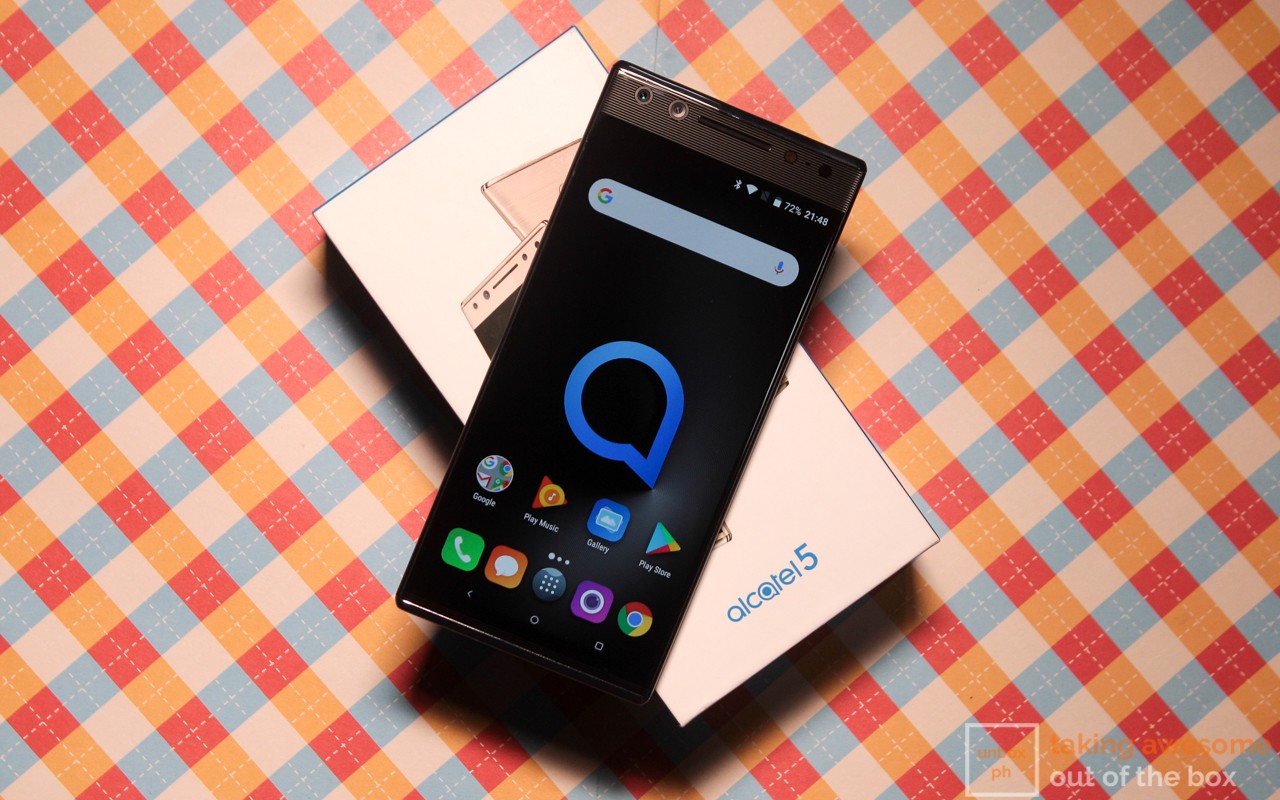 We check out the Alcatel 5!
Alcatel used to be one of those hit smartphone brands in the Philippines, especially with its Flash series. But with the rise of brands like Huawei, OPPO, and vivo and without a strong product lineup to combat the growing popularity of its domestic rivals, Alcatel slowly faded away from the scene.
That's changed this year. Alcatel is comitted to making up lost ground, rebuilding its presence and reputation in the Philippine market under new leadership.
To make that happen, Alcatel is offering several elegant, if dated offerings at budget price points. One of these offerings is the Alcatel 5. Launched during MWC 2018, the Alcatel 5 is touted as the brand's hero device with its unique design and dual front cameras.

What's in the box?
The Alcatel 5 comes in a white and blue box with the photo of the phone in front and the phone's name right below it. For our review unit, we have a USB-C cable, headset, SIM ejector tool, and 10W charger.

That design is pretty unusual.
Unlike most phones nowadays, the Alcatel 5 keeps a notchless design with a barely-there bottom chin. As a design compromise, the Alcatel 5 has a rather fat top bezel that is justified by its array of sensors and its dual front camera setup.
The Alcatel 5's premium looks continue with its metallic top and bottom frame and a brushed polycarbonate back panel. The rear panel consists of a lone 16-megapixel rear camera adorned with metal trimming. Below it is the dual LED flash and fingerprint scanner, along with the Alcatel logo.
Let's take the usual tour with the ports: you have your NanoSIM tray on the left side, headphone jack on top, and power and volume control on the right side. At the bottom, you have two speaker grilles—one being the actual speaker, and (gasp!) a USB-C port.
Is that display really tall or is it just an optical illusion?
While it is not like Sony's planned 21:9 display for the Xperia XA3 and XZ4, the Alcatel 5's 18:9 display appears to be tall because of its razor-slim bottom chin. It definitely makes the phone stand out design-wise, and thankfully it makes it manageable to use with one hand.
The brightness and color reproduction on the Alcatel 5's IPS display is decent, though we find its HD+ resolution quite limiting, especially when playing videos and games.

While the Alcatel 5 looks stunning in terms of appearance, the same cannot be said for its internals. You are getting a rather old MediaTek MT6750 processor paired with 3GB RAM and 32GB internal storage. The 3-year old processor is definitely showing its age, evidenced by its sub-50k score in AnTuTu. It is too early to judge right now, so we need to put the phone through its paces because we can give our final judgment.
Another strange thing about the Alcatel 5 is that it ships with Android Nougat out of the box—at a time where most phones come with Android Oreo, with some receiving an update to Android Pie. While we have received an update so far, there's no official word as to when Alcatel will be updating the Alcatel 5 to Android Oreo.
Keeping the lights on is a 3000mAh battery with support for 10W charging.

There must be something worth looking forward to this premium-looking device.
Absolutely. Aside from the dual front camera setup (consisting of a 13-megapixel main camera and 5-megapixel wide-angle camera), the Alcatel 5 comes with a 13-megapixel rear camera.
The Alcatel 5's dual front camera is its main selling point, as it offers an option for wide-angle selfies that is perfect for capturing group shots. Alcatel says it's the most affordable smartphone that's armed with a wide-angle selfie camera. Here's a comparison of the regular selfie shot and the wide-angle selfie shot:
For the main camera, the 13-megapixel snapper comes with an f/2.0 aperture, which should make it a capable all-around camera for its price. Check out some of the shots we took:
Other notable features on the Alcatel 5 include NFC, Joy Touch assistive button, and face unlock—a decent set of features for its price.
How much does it cost?
Touted as their "flagship" device, the Alcatel 5 sells for Php 8,499. While we admittedly love its unconventional notch-free design, its outdated processor and Android OS make us think twice about this promising device. Other brands offer better specs at a similar price or lower, placing the Alcatel 5 at a really tough place.
Hesitations aside, we will be running our usual series of tests to see if the Alcatel 5 is a worthy comeback device.
Alcatel 5 Specs
1.5GHz MediaTek MT6750 quad-core processor
3GB RAM
5.7-inch HD+ 18:9 display, 720 x 1440 resolution
32GB internal storage, expandable via MicroSD up to 128GB
16-megapixel with PDAF, LED flash
13-megapixel and 5-megapixel front cameras
Dual SIM
3G, LTE
WiFi, Bluetooth, GPS, A-GPS
Fingerprint Scanner, USB Type-C, face unlock
3000mAh battery
Android Nougat 7.0
Comments (3)