Verdict: The iPad Air finally has a solid identity with its fourth-generation model—this time as an affordable alternative to the iPad Pro. While you miss out on features like the 120hz ProMotion display, quad speakers, FaceID, Ultra-wide-angle camera, and LIDAR, the 4th-generation iPad Air comes with colorful back panel options, a newer A14 Bionic processor, and a more palatable price. 
The iPad Air (4th Generation) starts at Php 34,990 for the WiFi-only 64GB model at Beyond the Box. 
Pros
TouchID finally makes a comeback
USB-C connectivity
Great display upgrade
Cons
TouchID location takes a little getting used to
More expensive than the previous-generation iPad Air
The 4th-generation iPad Air generated much buzz when it was announced last September for good reason: consumers now have a choice in-between Apple's mainstream 10.2-inch iPad (8th Generation) and the prosumer-oriented iPad Pro (4th Generation). The new iPad Air gets some of the iPad Pro's much-wanted features as well as a bunch of new ones without having to pay through the nose for it.
Design
The iPad Air is a very different animal compared to its predecessor in terms of design. The iPad Air  adopts the squarish design used on the iPhone 12 series and the iPad Pro, with shrunken bezels that eliminate the home button that we've all gotten used to. While it doesn't have FaceID like the iPad Pro, the iPad Air comes with TouchID—located this time on the power button. With the full design makeover, the iPad Air is thinner than the 8th generation 10.2-inch iPad.
While the placement may take a while to get used to, the lock screen does give you a visual reminder of where the TouchID scanner is. Compared to FaceID, TouchID is more practical to use especially now with all the mandatory mask usage during the time of COVID.
Going through the button and port layout, you have a speaker and power button/TouchID sensor on top and volume controls and a magnetic slot for the Apple Pencil (it uses the second-generation version just like its Pro sibling) on the right side. On the bottom, you have another speaker and a USB-C. While it's sad that the iPad Air axed the headphone jack, you get a more usable USB-C port that can be used for various things—given that you have a USB-C dongle lying around.
Unlike its predecessor and its Pro sibling, the iPad Air (4th Generation) comes with more color options for its aluminum back panel that include Sky Blue and Green. I got the Sky Blue color, which looks more like a shade of grey than a shade of blue.
You also get Smart Connector pins at the bottom part of the back panel for attaching accessories like Apple's crazy cool (and expensive) Magic Keyboard. The rather large camera bump houses a new 12-megapixel f/1.8 camera—the same main camera used on the iPhone 12 series, iPhone XR, iPhone SE (2020), and iPad Pro.
Display and speakers
The iPad Air gets a bump in display size from 10.5 to 10.9 inches, along with a better Liquid Retina panel. The new panel has the same quality as the one used on iPhones, meaning you get True Tone, native support for DCI-P3, and an antireflective coating. Unlike its Pro sibling, you don't get ProMotion, meaning you are limited to a conventional 60hz refresh rate.
Save for the refresh rate difference, the display on the iPad Air (4th Generation) is better than its predecessor, the iPad (8th Generation), and the iPad Mini (5th generation). The Liquid Retina display is considerably sharper, and colors pop out better compared to regular Retina displays used on other iPads. When used with a Mac via Sidecar (more on that later), the iPad Air has roughly the same color space—saving you time and money in calibrating the panel when you intend to use it as a second display.
For the speakers, you are still getting stereo speakers, though this time it is arranged in landscape orientation. While it is not as great as the quad-speaker system of its Pro sibling, the iPad Air (4th Generation) has speakers that can easily rival those used on mid-range laptops.

Cameras
The iPad Air inherits the same main camera used on the iPad Pro, iPhone 12 series, iPhone 11, iPhone XR, and iPhone SE (2020). For general photography, the iPad Air produced great shots with accurate colors and excellent dynamic range. The iPad Air also has Auto image stabilization and Autofocus with Focus Pixels, with the latter being just as fast and accurate compared to its iPhone siblings.
When it comes to videos, the iPad Air can shoot at up to 4K 60FPS, along with up to Full HD slo-mo video at 240FPS, continuous autofocus in video, and cinematic video stabilization at Full HD and HD. That makes it a capable device for content creation—provided that you have the necessary gear.
The iPad Air also gets a selfie snapper upgrade in the form of a 7-megapixel f/2.2 camera. While photos shot outdoors produced great colors and image quality, you will need to manage your expectations in low-light situations, as you lose detail with your selfies.
Performance and Battery Life
At the heart of the iPad Air (4th Generation) is an A14 Bionic processor that is paired with 4GB RAM and either 64GB or 256GB of non-expandable storage. The A14 is the first 5nm processor for 2020 and is a powerhouse nonetheless with its hexa-core CPU, quad-core GPU, and a 16-core Neural Engine. Check out some synthetic benchmarks below:
Without a doubt, the A14 Bionic basically floors most, if not all, 2020 flagship processors with its muscle. Despite having a below-than-average 4GB RAM, the iPad Air (4th Generation) is powerful enough to handle tasks like photo editing (it is the only mobile platform to have native Adobe Photoshop), video editing, and more—basically, the iPad Air (4th Generation) can rival the performance of most mid-range laptops in the market.
To give you an idea of how powerful the A14 Bionic is, its single-core and multi-core Geekbench scores can rival a laptop with a Ryzen 7-4700U or Core i7-1065G7 processor, even if the A14 Bionic is paired with less RAM. With our benchmark data, the A14 Bionic is better than Team Red and Team Blue's offerings in single-core performance, while Team Red reigns supreme in multi-core performance—that's because the Ryzen 7 has 8 cores vs the Core i7's 4 cores and the A14 Bionic's 6 cores.
It is a different story when it comes to Geekbench Compute, as the A14 Bionic's integrated GPU beats Team Red's Vega and Team Blue's Iris Plus integrated graphics. This should best explain why Apple has decided to use its in-house chips (all of which are based on ARM architecture) for its future Macs.
Apple Debuts In-House M1 Processor with New MacBook Air, MacBook Pro, and Mac Mini
The iPad Air (4th Generation) runs on an iPadOS version of iOS, which is tweaked out to make the UI closer to that of MacOS with a dock and features like Split View, Slide Over, and Today View. Unique to iPad OS is a proprietary feature called Sidecar. Introduced with MacOS, Sidecar uses an encrypted connection between your Mac and iPad to transform the latter into a secondary display.
Regardless if you want to use Sidecar in wired (via USB-C) or wireless, the whole dual-screen experience is seamless. I've been using the iPad Air (4th Generation) with my MacBook Pro in wireless Sidecar mode, and there's barely any latency or response lag with the former. Sidecar also gives you the option to have a Touchbar on the iPad Air (4th Generation), even if your Mac does not physically have one. With an Apple Pencil, Sidecar lets you turn your iPad into a graphics tablet, which is very useful when dealing with editing apps like Photoshop and Illustrator.
For the battery, the iPad Air (4th Generation) comes with a 28.6wHr battery with 20w USB-C charging. Unlike the newer iPhones, you still get a 20w USB-C charger with the iPad Air (4th Generation). Apple advertises the iPad Air to last for up to 10 hours of web surfing, and it is the same with real-life use.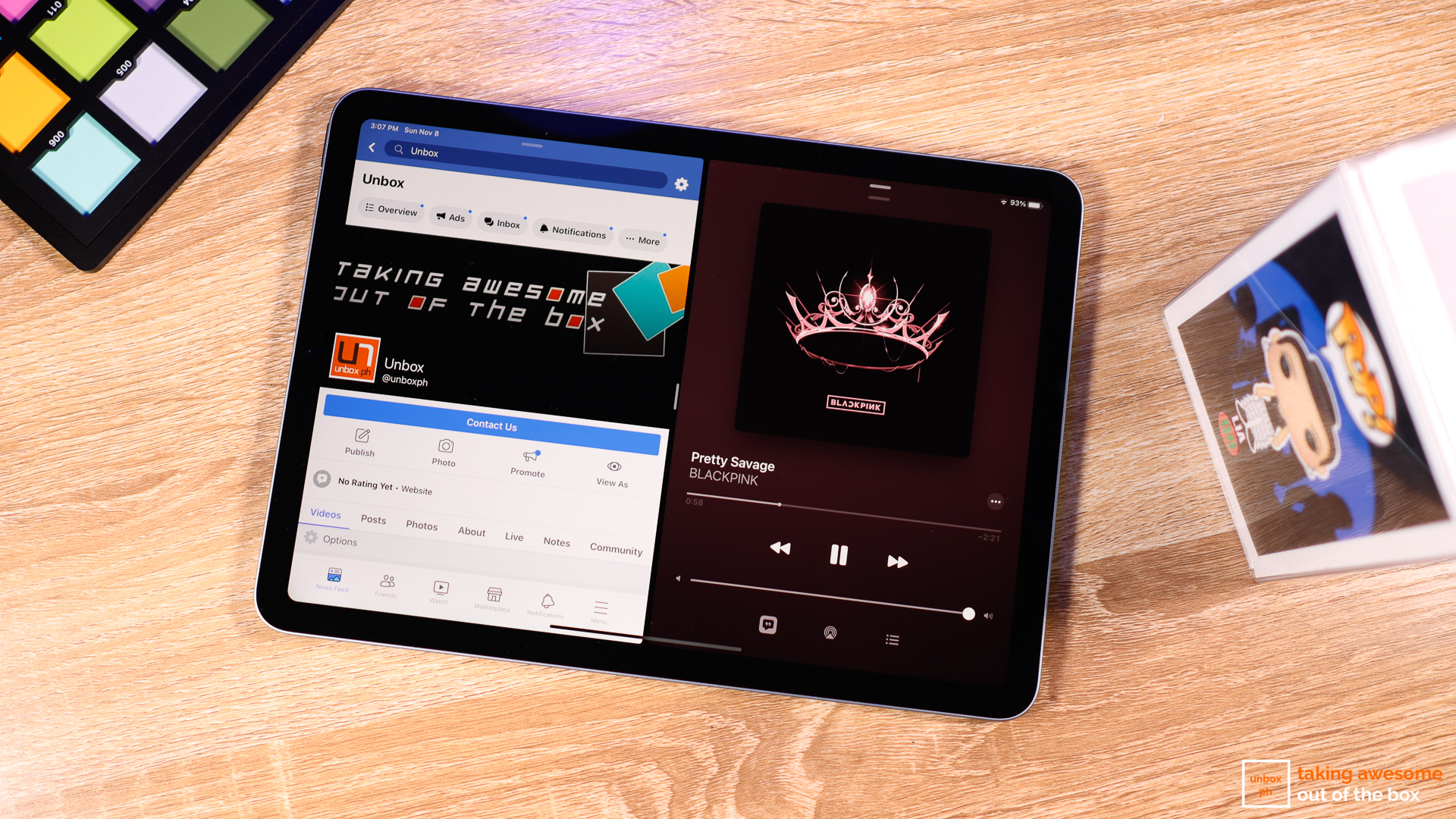 As my daily driver, I manage to use the iPad Air (4th Generation) as my secondary display via Sidecar and my music source for around 6 hours and still have some juice left to watch two episodes of Start-Up and use the iPad for checking unread emails and Facebook notifications before hitting the sack. Using the included charger, it takes around 2 hours to top up the battery from 7% to 100%.
Wrap up and Conclusions
For those who insist on getting an iPad as their tablet of choice, the iPad Air (4th Generation) is the most balanced iPad offering Apple has ever had in recent memory. Its full-blown makeover made it sleeker, slimmer, and more modern than the 8th-generation iPad and the now-aging iPad Mini (5th Generation).
While it does not have some key features of the iPad Pro (4th Generation)—120hz ProMotion, quad speakers, FaceID, LIDAR sensor, and an ultra-wide-angle camera—the iPad Air (4th Generation) has some of the features of its Pro sibling, along with a newer and more power-efficient 5nm A14 Bionic processor.
The iPad Air (4th Generation) may be Php 5k more expensive than its predecessor at launch, but its set of features makes it a compelling (if not cheaper) alternative to Apple's iPad Pro line.