Review Verdict: ASUS is re-imagining its EEE PC netbooks for the modern age via their new BR1100F in the Philippines. This value-oriented laptop performs well enough for most students. Despite its fair share of shortcomings, it works perfectly fine for online learning applications for the new normal – all under Php 20K. 
Pros:
Decent IPS display with touchscreen capabilities
Good port selection that includes USB-C, HDMI, Ethernet ports
Relatively long battery life
Cons:
Tiny onboard storage
Processor is not meant for multi-tasking
It's been years since ASUS last released a value-oriented EEE PC laptop in the market. Their ultra-budget laptop line first came into being more than a decade ago with the popularity of netbooks – ultra-affordable, small form-factor laptops meant for students – and have largely fallen out of favor in recent years. But as parents look for affordable laptops for their kids to use in blended learning brought about by the pandemic, the Taiwanese company thinks there's a market again for these ultra-affordable devices, at least for the education sector. This is where our ASUS BR1100F review for the Philippines comes in. At a hair under Php 20k, the BR1100F has a touchscreen IPS display, a garaged active stylus, and an unusual dual-camera setup-while being an actual Windows laptop for students.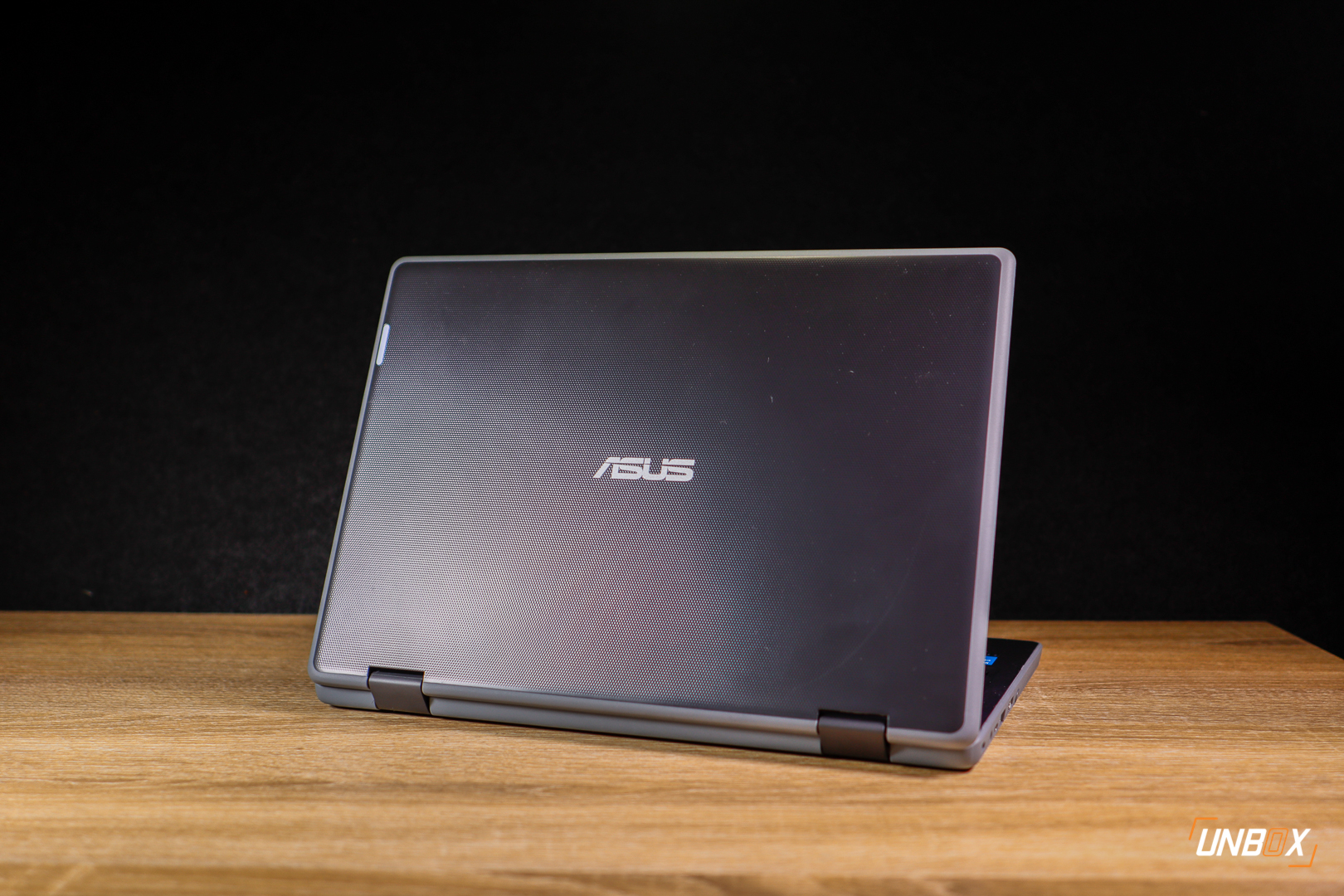 Design
Unlike with any modern laptop out there, the BR1100F has a more utilitarian look. You get that textured, hard plastic material on the lid with a rubber bumper surrounding it to protect it from bumps and drops. Yes, the rubber bumper is very important as the BR1100F's main target market is students, and students aren't exactly gentle with their gadgets (ask any mom with a broken iPad screen).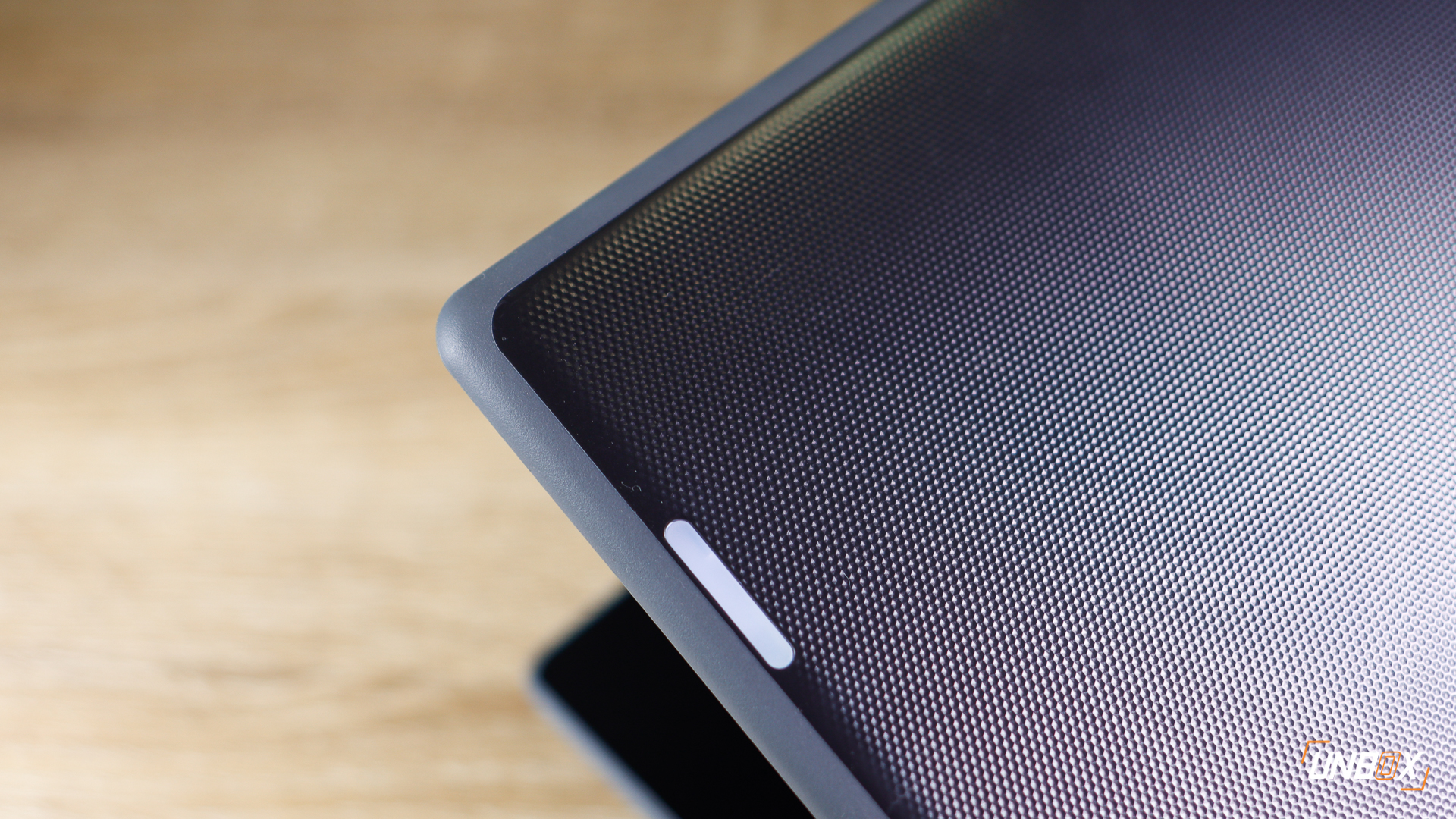 There's an LED light on the top corner that indicates if the laptop is powered on, and blinks to tell the user if there's a problem with the laptop. During my time with it, the LED was blinking when I got disconnected from WiFi, or when I was running out of juice.
You also get the same rubber bumper protecting the bottom case and the same textured hard plastic for the bottom. There are two speakers at the bottom, and you have several Philips screws as well for opening it-which is important as it makes the BR1100F easy to repair AND easy to upgrade. Speaking of upgrades, this ultra-budget laptop does have a vacant M.2 slot, which gives users room for storage expansion as the onboard storage is extremely tiny at 64GB.
Despite being an ultra-budget laptop, ASUS thankfully did not scrimp on the port selection of the BR1100F. The left side has a Kensington lock slot, barrel port for the charger, a USB-C port that also doubles as a charging port, USB-A 3.2 Gen 1 port, HDMI port, and a garaged active stylus. On the right side, you have an Ethernet port, USB-A 2.0 port, headphone jack, and power and volume buttons. The location of the said buttons is not unusual, as the BR1100F can also function as a tablet as well.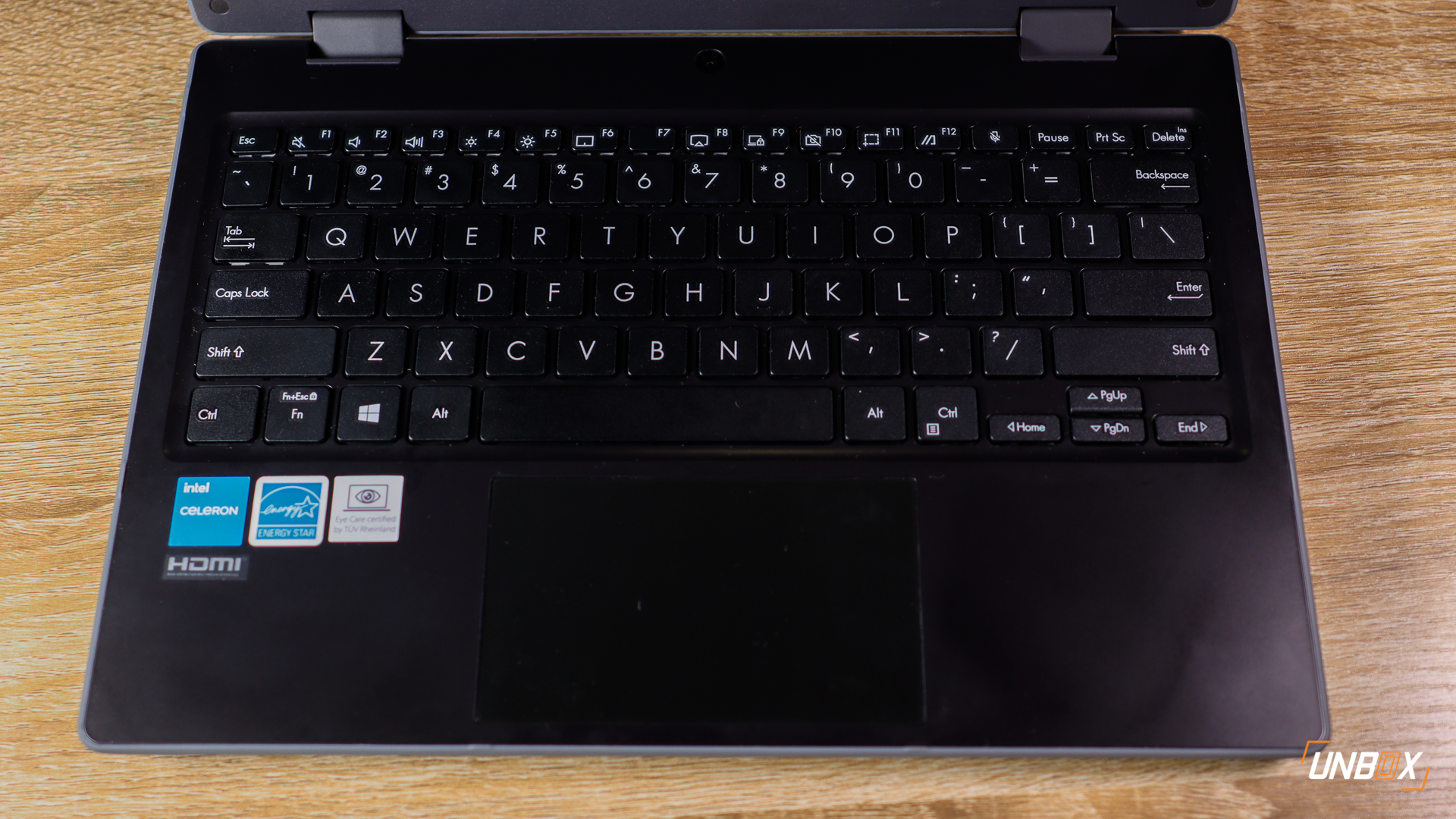 Keyboard and trackpad
Unlike the lid and bottom case, the BR1100F's keyboard and trackpad feel more premium. While it is still made of plastic, the palm rest has a semi-matte finish that attracts a lot of smudges.  You might find it weird that there's a 13-megapixel camera on top of the keyboard – take note it's meant to be used when the BR1100F is in tent or tablet mode. Ideally, the camera is meant for capturing videos of teachers teaching in their class or doing demonstrations during face-to-face classes, though it can easily be used in tent mode by the student to record themselves during distance learning situations.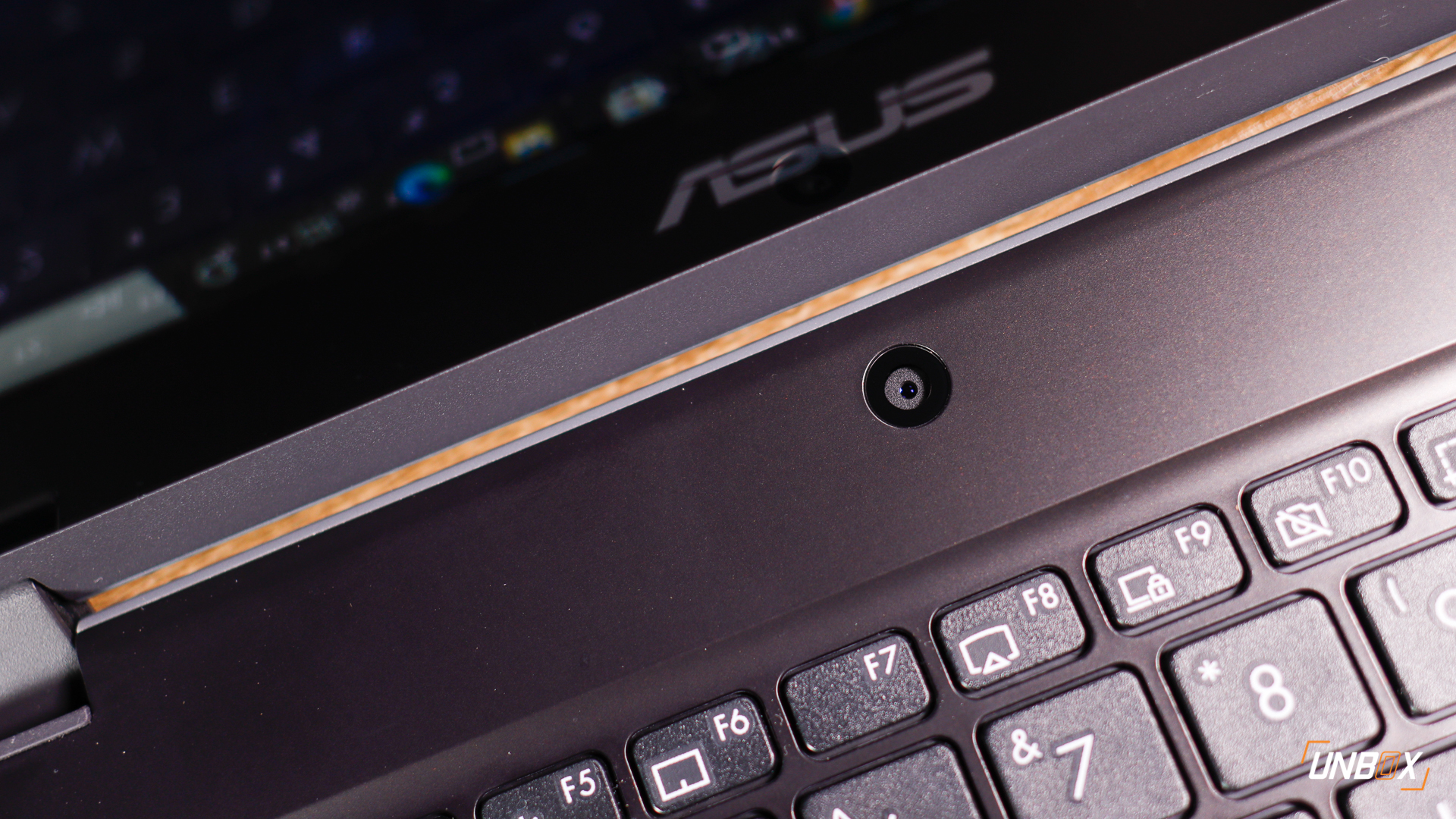 While the keyboard does feel small for my large hands, I like the key travel on them and they just feel as good as the keyboard on the more expensive VivoBook laptops. The same goes for the trackpad: while it does not have ASUS's bag of tricks like ScreenPad, the BR1100F's trackpad supports multitouch gestures and is a decent one at that for an under Php 20k laptop.

Display and Speakers
Being a 2-in-1 laptop, the BR1100F has an 11.6-inch IPS touchscreen display that has native stylus support. This gives the student-focused laptop added versatility when it comes to productivity. While the screen is not ideal for multimedia work (it only covers 50% of the NTSC color gamut), the touchscreen is very responsive, and the included active stylus pen works very well. This makes the BR1100F good for scribbling notes and a bit of illustration on the side.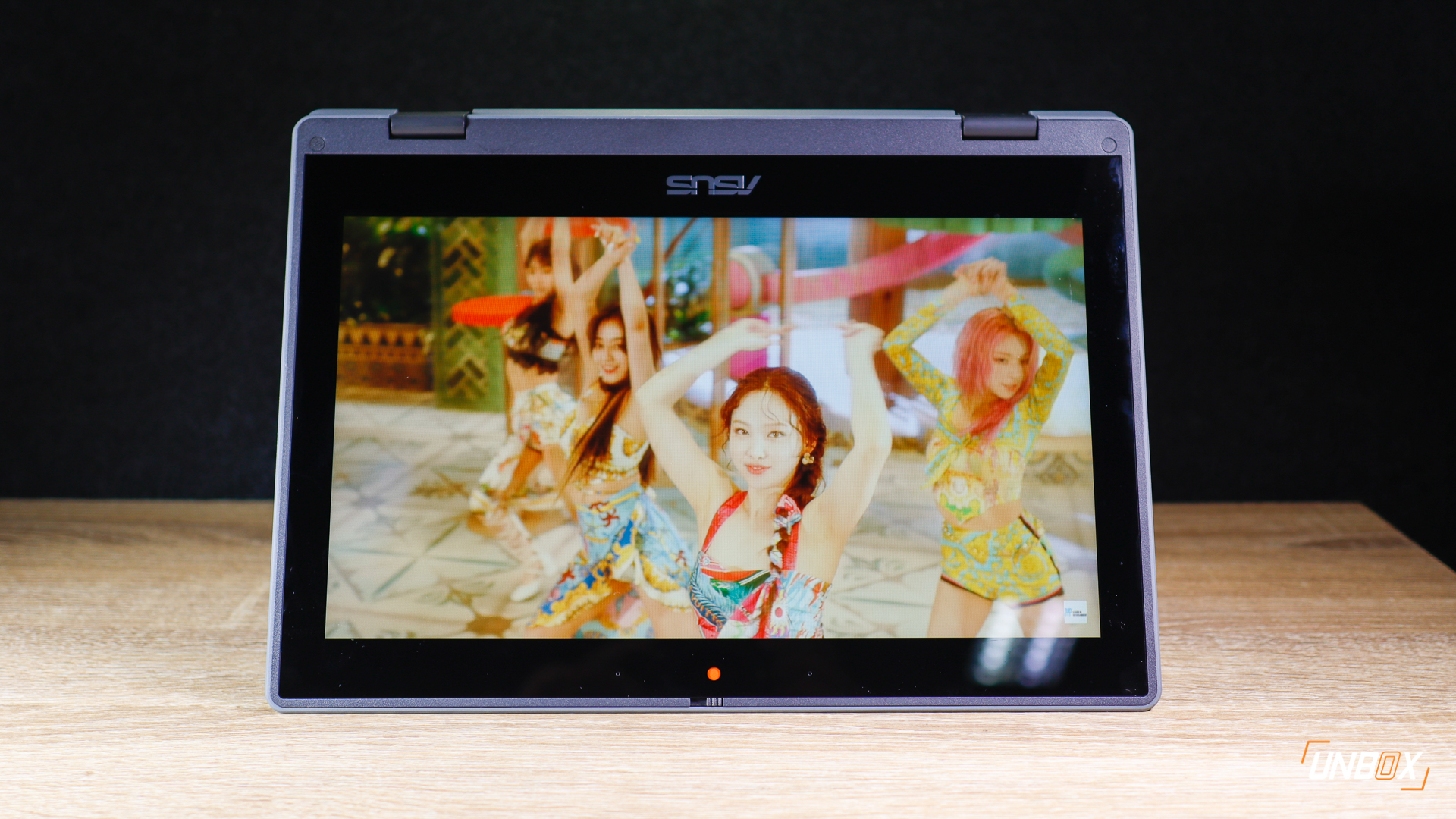 Being an ultra-budget laptop, you get thick bezels on the BR1100F, with the bottom bezel sporting ASUS branding and the upper bezel being home to an HD webcam with a physical shutter. Since it is a 2-in-1, the BR1100F can be used as a tablet, both in landscape and portrait modes. The two speakers are of the bottom-firing variety, and while they don't exactly sound great for music, they are decent enough for videos.
Internals and Battery Life
Being a laptop geared towards students, the BR1100F sports modest internals: Celeron N4500 processor, 4GB RAM, and 64GB eMMC storage. While that eMMC storage is just a tad faster than your typical hard drive (check out the speeds we got below) and is very small, the BR1100F does have an M.2 2280 PCIe expansion slot that allows you to install a faster NVMe SSD drive at up to 1TB.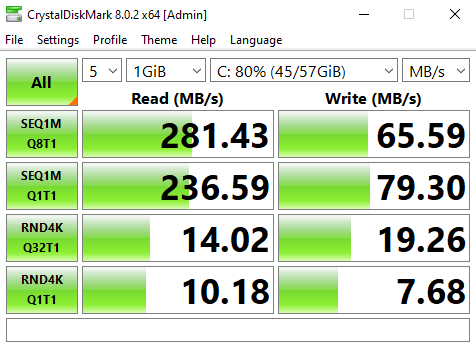 The Celeron N4500 is an entry-level processor that has dual cores and up to a 2.8Ghz maximum clock speed. Since you only have two cores and a normal clock speed of 1.1Ghz, multi-tasking is limited on the BR1100F. I used it as my work laptop of sorts in doing my usual set of articles, and I noticed that the BR1100F's optimal performance is when you have around 3 Chrome tabs open, or 2 Chrome Tabs and Spotify playing in the background.
The number of Chrome tabs open may also vary, as sites like Facebook do consume more RAM and processing power than usual, so you might want to consider that. When it comes to video playback, the BR1100F works best when streaming YouTube videos at 720p. Streaming at 1080p resulted in occasional slowdowns, which is expected given the modest power of the Celeron N4500. Otherwise, the BR1100F's modest internals should do fine for students who intend to use it mostly for online classes, along with answering some assignments in between.
What the BR1100F lacks in processing power it more than makes up for with decent battery life. Its 42wHr battery lasted a little over 6 hours with our video loop test. While that's a little far from ASUS' claimed 10-hour battery life, a 6-hour rating is a good number for an ultra-budget laptop like the BR1100F and should suffice a student for their online classes.
The BR1100F does come with a 45w barrel-port charger out of the box, though you can also charge it via USB-C with the same power rating. That's extremely useful for an ultra-budget laptop, as the BR1100F can also be charged with a power bank since its USB-C port supports USB-PD standards. That makes the BR1100F a good device for students who have to work far from a power outlet.
Regardless if you choose to top up via its included barrel-port charger or with a 45w USB-C charging brick (or a power bank that supports the same charging speeds), it takes around 2 hours to charge the BR1100F's battery from flat to 100%.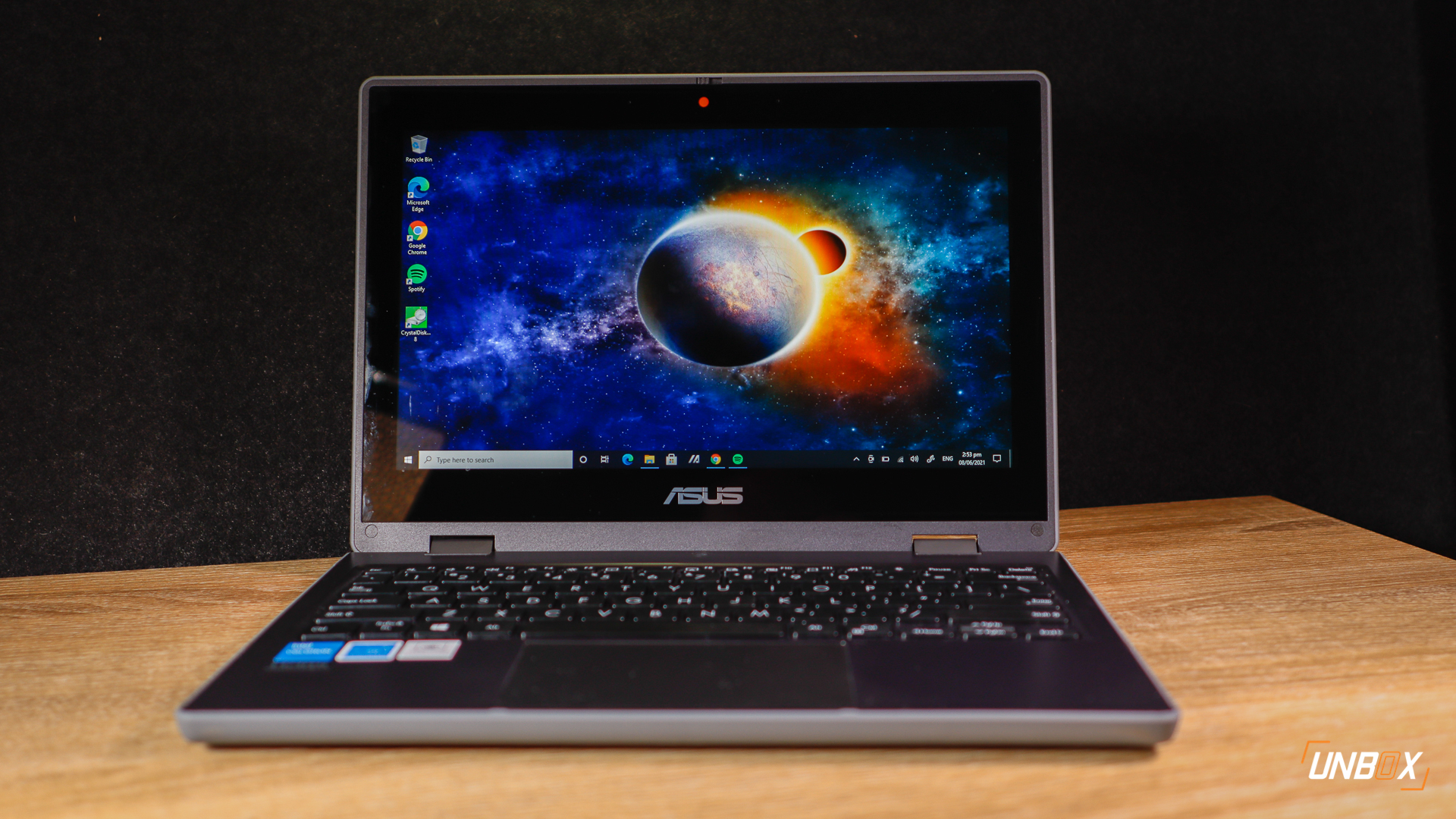 Wrap up and Conclusions
Our review of the BR1100F in the Philippines shows that ASUS has finally brought back its student-friendly EEE PC concept with a modern touch. The netbook for the future now with amenities like USB-C with PD support, WiFi 6, garaged stylus, IPS touchscreen panel, and an M.2 expansion slot. All of those niceties make the BR1100F a vastly better version of its spiritual predecessor, setting the new benchmark for ultra-budget laptops geared towards students.
People may not like the modest Celeron processor and tiny 64GB eMMC storage, but the latter is easily addressed and the former is justified by the fact that the BR1100F has a specific target market in mind.
ASUS BR1100F Review Philippines Price
The BR1100F is available at ASUS' official Lazada and Shopee stores, and at authorized ASUS retailers for Php 19,995.