SSD speeds in your hands
If you're someone that transfers large amounts of data between PCs on a daily basis, you know the pain of using external hard drives to do that job with. Traditional external HDDs are painfully slow especially when projects and files are counted in gigabytes and transfer speeds are measured in hours, not seconds.
NVMe enclosures address this particular issue, by allowing consumers to re-purpose lower-capacity NVMe drives into high-speed portable solutions. While ASUS' ROG Strix Arion isn't the first of its kind there's enough product differentiation here that gamers might actually want to pick it up over the competition.
Pros
Good styling for an NVMe enclosure
Tool-less install
Delivers near advertised speeds
Cons
No escape from RGB. NONE!
No escape from RGB
Since the Strix Arion is part of the Taiwanese manufacturer's ROG lineup, it has the same design aesthetic as most of ASUS' gaming peripherals.
The enclosure features angular, aggressive lines cut into its aluminum shell, along with an RGB strip on the top that's Aura Sync compatible. The signature ROG eye also features RGB lighting.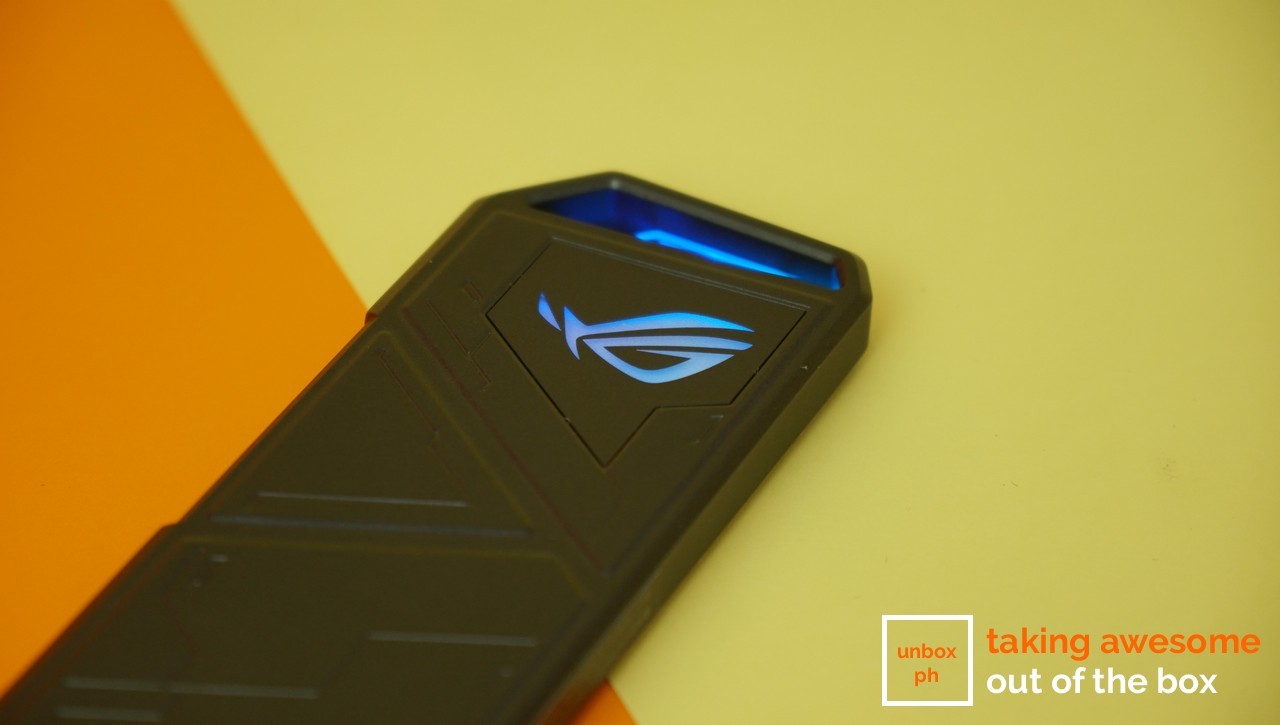 There's a single USB Type-C plug at the bottom, and the enclosure boasts USB-C 3.2 Gen 2 connectivity, with maximum data transfer up to 10Gbps when connected to compatible devices.
The Strix Arion comes with a stylish plastic bumper and a plastic carabiner-like hook so you'll be able to take it with you, though for security we suggest that you buy a metal carabiner and a lanyard to use with it instead. The plastic carabiner looks flimsy – it's probably not going to survive a solid tug on it.
Tool-less install and entry
One thing that we really like is that you don't have to have tools to swap out the NVMe drive inside the Strix Arion.
The enclosure neatly separates into two by the use of the included pin tool into the hole (kinda like how you pop open a SIM slot on a phone), allowing you access to the innards.
You can swap in SSDs using a thumbscrew, and the Strix Arion accepts NVMe SSDs with 2230, 2242, 2260 and 2280 form-factors.
Thermal pads help regulate the heat that's produced by the drive, keeping your NVMe cool during use.
Faster than a regular 2.5-inch SSD
One of the reasons why you'd want to use enclosures like the Strix Arion with NVMe drives is speed. ASUS advertises that the Strix Arion is capable of reaching speeds of up to 10Gbps, equivalent to 1250Mb/s.
That's below the maximum data transfer speed of most typical NVMe drives when connected to PCs via PCIe 4.0, though obviously they're not even close to being portable when connected that way. The Strix Arion uses the ASMedia2362 controller.
The Strix Arion was tested with Seagate's FireCuda 510 NVMe SSD, which has advertised sequential read and write speeds of 3450 MB/s and 3200 MB/s respectively.
When connected to a USB Type-C 3.2 Gen 2 port, the Strix Arion reached read speeds of 1056 MB/s and write speeds of 1035 MB/s.
While that's only 1/3 of the advertised transfer speeds of the Seagate FireCuda 510, take note that performance is getting bottlenecked via the USB Type-C port.
You also have to take note that your Type-C port needs to be USB Type-C 3.2 Gen 2 to take full advantage of this speed, and though ASUS does provide a Type-C to USB 3.0 cable in the package as well to use with the Strix Arion your speed isn't going to be the same.
Speeds are more than halved if the Strix Arion is used this way, but that's still way faster than using traditional HDDs.
Interestingly, when connected via USB Type-C, the Strix Arion is able to provide double the performance of a 2.5-inch SSD attached via the SATA interface in our gaming rig, which means that the Strix Arion is able to provide fast enough transfer speeds that you can game off of it.
As for overall heat, the Strix Arion rarely peaked above 46 degrees Celcius (external heat measurement) while we were using it.
Verdict: Fast, portable gaming enclosure for everyone
If you need a fast, stylish and easy to use NVMe enclosure, then you might want to take a look at the ROG Strix Arion.
When connected via Type-C the ROG Strix Arion managed to perform even better than our 2.5-inch SSD, making it fast enough to game on.
Take note that you'll have to provide your own NVMe drive when you buy one since you'll only be getting the enclosure when you fork over Php 2,860 for the Strix Arion.
Comments (1)