A gaming notebook never looked better
It's hard to make gaming notebooks look aesthetically pleasing to a large swath of the population, not just to PC gamers. ASUS and their ROG Zephyrus S GX502G is one of those few gaming notebooks that's designed so well that it draws the attention of everyone that sees it to it with its well-executed design and unique color scheme, all without the help of garish RGB lighting. Oh, it's a kick-ass gaming notebook as well.
Pros
Thinner and lighter than your typical 15-inch gaming notebook
Glacial Blue color is fire
Incredibly powerful internals
Full power RTX 2070 GPU
Cons
Expensive
240Hz display is overkill
Fans are loud
A design that even non-gamers will like
ASUS has done a pretty good job lately of designing gaming notebooks for a broader userbase, and the ASUS ROG Zephyrus S GX502G is no exception to this. There are no unnecessary RGB lights under the chassis or any other visual distraction on the chassis – you get a sleek, well-made notebook.
Our review unit came in a very nice-looking Glacier Blue colorway that accentuates the design of the notebook in a tasteful way.
Unlike previous Zephyrus models, the GX502G uses a typical clamshell design that gives you a wrist-rest as well as a trackpad/clickpad which was one of the main issues we had with the original Zephyrus design.
One thing that ASUS retained on the GX502G is the Active Aerodynamic System or AAS, which essentially allows more air into the chassis when you lift up the lid. It also angles the keyboard slightly for better comfort when typing.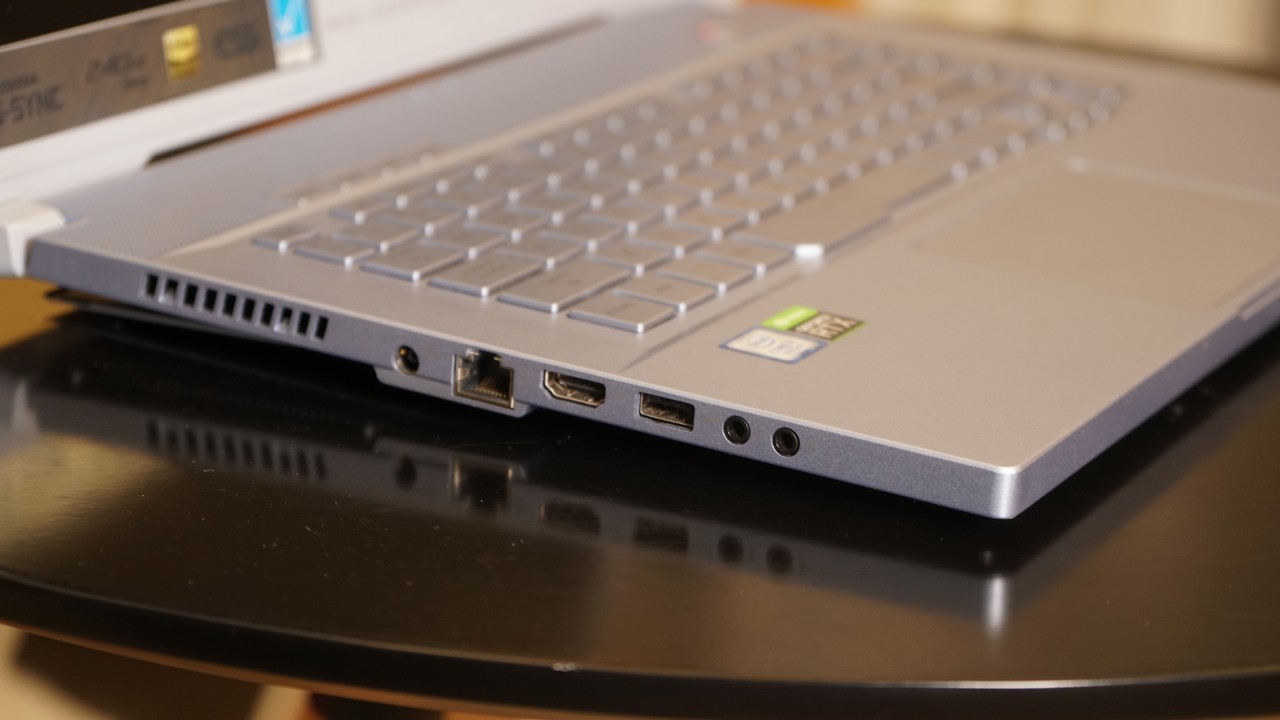 ASUS improved the GX502G's construction under the hood as well. It's pretty light for a gaming notebook, coming in at a hair over two kilos. That's made possible by the switch to magnesium alloys in certain parts of the chassis. The material switch didn't affect the build quality of the notebook though, as the GX502G barely has any flex in the body.
In fact, the entire notebook feels very solid, from the hinge to the lid to the chassis. You won't be breaking this anytime soon.
There are enough ports scattered around the chassis to accommodate most of your devices, including 3 USB 3.1 ports, a single USB Type-C port, HDMI port, Ethernet port, and a 3.5mm jack. There's no Thunderbolt port, which is a shame, nor is there an SD card reader.
The keyboard feels excellent to type on and is miles ahead of the previous Zephyrus models in terms of comfort and feel. Key travel, while a little shallow, is on par with most ultrabooks today.
Like many gaming notebooks in the market, the GX502 has RGB backlighting for its keys which you can customize via the pre-installed Armory Crate app.
The display looks great, though the 240Hz display might be overkill
ASUS offers the GX502G in two display variants: a 144Hz or 240Hz display, both using IPS panels in full HD resolution. Our review unit came with the 240Hz panel, which is a little overkill for most people. If you're a casual gamer we'd suggest you take the 144Hz option – only get the 240Hz panel if you really, really need those extra frames.
As far as the display quality goes, it's pretty good. It's a matte panel so glare isn't really a big issue when you're using it outdoors or in bright environs, and is Pantone Validated as well, making it suitable for professional work like editing photos or videos, or any other task that requires accurate colors.
What's neat about the GX502G is that it dynamically switches between refresh rates when you're plugged in and when you're running on battery. The display switches to 60Hz and uses the integrated GPU of the processor when unplugged to save power, and switches back to 240Hz and the discrete GPU when you're plugged in.
Hardware is a beast
The GX502G is a beastly notebook, running high-end hardware that'll have no problem driving modern games past 60FPS.
Our particular review unit comes with an Intel i7-9750H processor, 16GB of DDR 2666MHz RAM, 1TB of NvME M.2 SSD and a full-power NVIDIA RTX 2070 – no Max-Q here.
As usual, we ran it through our usual synthetic benchmarks and a select choice of games. Take note that all benchmarks were done in full HD with ultra settings (or settings that approximate ultra). Here are the results:
The only game that the GX502 failed to run above 60 FPS is Red Dead Redemption 2. To be fair to the notebook, Rockstar's latest horse riding simulator is extremely hard on systems and desktops, with very few PCs capable of running it above 60 FPS in ultra mode consistently. Thermals are a little hotter than we're accustomed to, with GPU and CPU temps hitting 80 degrees Celcius while playing.
One thing that's a little obnoxious is the fan, especially when the profile is set to performance. It's pretty loud, though it's not loud enough to distract from the GX502's speakers, though you'll notice it if you listen hard enough.
As for battery life, you're looking at sub 4 hour run times with normal use. A typical workday with a few YouTube clips, an episode of The Witcher and mostly working on Word documents got us an average of 3 hours and 20 minutes unplugged time, which is to be expected of a gaming notebook nowadays.
Verdict: A beautiful, powerful, and expensive gaming notebook
ASUS' has taken the good and tossed away the bad traits of their Zephyrus notebooks for their latest notebook, and the result speaks for itself.
The ROG Zephyrus S GX502G is beautiful, powerful and is a pleasure to use in both work and play, which wasn't the case for their previous batch of Zephyrus notebooks.
ASUS ROG Zephyrus S GX502G Price Philippines
But like many of ASUS' high-end gaming notebooks, the GX502G is expensive, with ASUS pricing the GX502G at 159,995 for our review sample.
That's quite a lot of cash to drop on a gaming notebook, but then again the GX502G does deliver on its promise to provide hi-end performance, so you know your money is well spent.
Comments (0)