Early Verdict: the ZenBook S UX393EA is treading on the same premium territory that the MacBook Pro plays in, thanks to its luxe exterior paired with the latest processors from Intel. ASUS's latest premium offering looks to give users the most premium experience possible while providing powerful hardware to tackle whatever tasks they need to get done.
The ZenBook S UX393EA is priced at Php 99,995.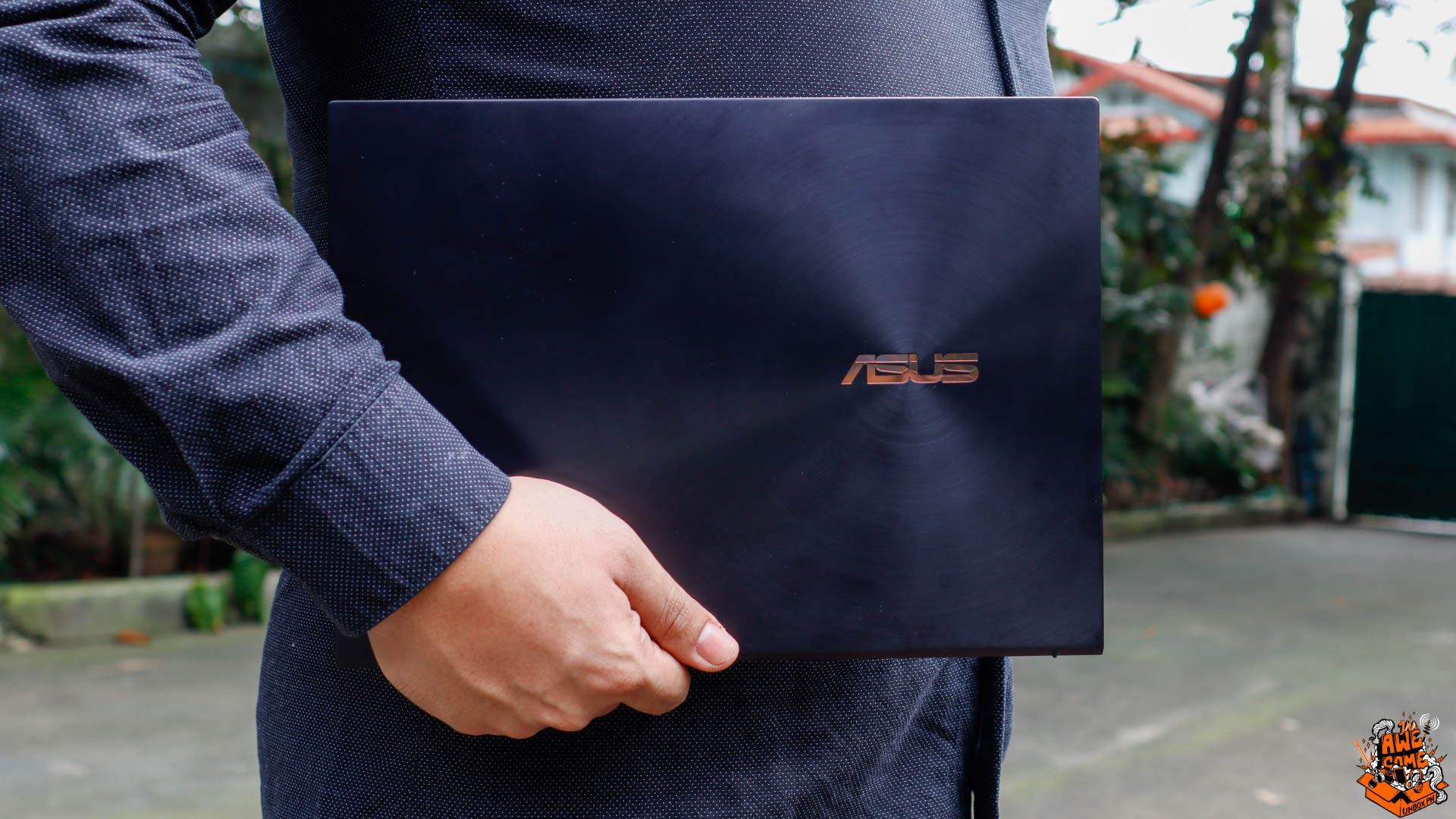 Pros
Crazy thin bezels
Gorgeous 3:2 display with 3.3K resolution
Cons
Relatively heavy for an ultrabook
Expensive
ASUS is upgrading its entire ZenBook line with Intel's 11th-generation Tiger Lake processors, and naturally, it's giving its top-end ZenBook S series the same processor upgrade. With a price that's a hair under Php 100k, the ZenBook S has the best possible set of internals and features that you can expect on a premium ultrabook.
Packaging and contents
Like its vanilla, mid-range sibling, you are getting practically the same box and contents with the ZenBook S UX393EA. That being said, you get a sleeve, a 65w USB-C charger, the usual documentation, and a USB to 3.5mm dongle. There's no ethernet dongle included with the ZenBook S UX393EA, though that is not likely a big deal since its target market will rely more on WiFi connectivity over wired LAN connections.
Design and Display
If you place the ZenBook S UX393EA and ZenBook 13 UX325E beside one another, you'll notice that they share the same design DNA. The only key differences on the exterior are the red copper accents on the chamfered areas of the ZenBook S UX393's aluminum body and a shape that is less rectangular than its more affordable vanilla sibling. The latter is due to the 3:2 aspect ratio of its display, giving the ZenBook S UX393EA a taller display that is optimized for productivity.
Because it uses more aluminum than its sibling, the ZenBook S UX393 is noticeably heavier. It is slightly on the heavy side for 2020 ultrabook standards, but I did not mind at all: the fact that it generously uses tried-and-tested aluminum means that I'm at peace as far as durability is concerned.
The only thing I don't like about its concentric finish is that wiping off smudges off its brushed surface is harder than usual–in fact, I had to spend several minutes trying to wipe off every smudge on the lid to take photos of the device.
As for its tall 3:2 display, ASUS went all-in with the ZenBook S. You get a 13.9-inch touchscreen IPS display with a 3.3k resolution (3300 x 2200), 500nits maximum brightness, and what is arguably the thinnest set of bezels ever in a laptop. ASUS claims that the ZenBook S UX393EA's screen-to-body ratio is 92%, and what's amazing is how they managed to tuck in a webcam and an array of IR sensors for Windows Hello at the top bezel without compromising the overall design.
Aside from being a bright IPS panel, the ZenBook S UX393EA has a Pantone-validated display that covers 100% of the DCI-P3 gamut and 133% of the sRGB gamut, making it very color accurate and ideal for serious multimedia work.
Keyboard and ports
Like its vanilla sibling, you get the same edge-to-edge keyboard layout with the ZenBook S UX393EA, with the addition of a red copper accent on the power button. You lose a few keys with the ZenBook S UX393EA: the home, page up, page down, and end keys are now on the arrow keys instead–and they are activated using the Fn key.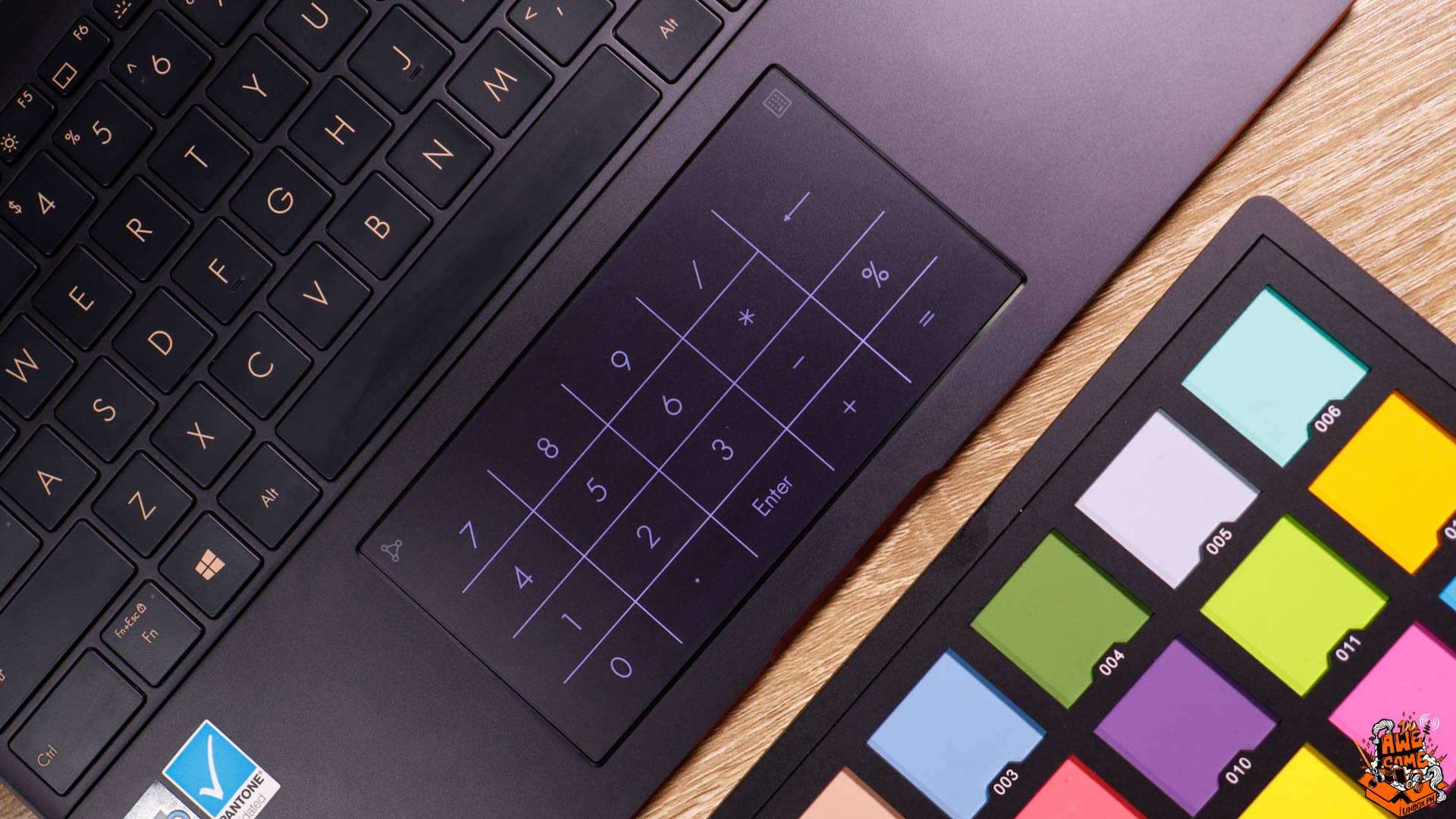 You also get the same glass-protected trackpad with ASUS' trademark NumberPad 2.0 feature on the ZenBook S UX393. The wristpad area is slightly narrower than its vanilla sibling due to the tall 3:2 aspect ratio of its display. For audio, you get bottom-firing stereo speakers that are tuned by Harman-Kardon.
Like its vanilla sibling, you get the same set of ports on the ZenBook S UX393EA: HDMI and two Thunderbolt 4 USB-C ports on the left side, and 1 USB-A and MicroSD card slot on the right. Like most recent ZenBooks, you will need to use the supplied USB-C to 3.5mm dongle if you prefer to use your wired cans.
Internals
As ASUS' top-tier offering, you get the best-possible specs on the ZenBook S UX393EA: Core i7-1165G7 processor, Iris XE integrated graphics, 1TB NVMe SSD storage, and 16GB RAM. Those are the best possible specs you can expect on an Intel-powered machine right now, and the addition of an Intel Evo certification means that the ZenBook S UX393EA passes Intel's strict standards for a modern ultrabook.
The requirements for an Intel Evo-qualified laptop includes WiFi 6 connectivity, Thunderbolt 4, Iris Xe integrated graphics, instant wake times, and at least 9 hours of battery life on Full HD displays.
Having an Intel Evo certification also means that the ZenBook S UX393EA's internals have been fully optimized, making them perform better than similarly-specced laptops that lack the said certification. We will have to do our usual tests and comparos to verify this claim; stay tuned for that in our full review.
For the battery, you get the same 67Whr 4-cell Lithium-Polymer battery found on its vanilla sibling. ASUS claims that the ZenBook S UX393EA can last for up to 12 hours on a single charge, but we will need to verify that with our video loop test. Like all current ZenBooks, you get 65w USB-C charging with the ZenBook UX393EA, and it has a fast-charging feature where it can go from flat to 60% in roughly 50 minutes.
Wrap up and early conclusions
Being one of the latest brands to shift to a 3:2 aspect ratio for their ultrabooks, it is no secret that ASUS wants to take a jab at Apple's Intel-powered MacBook Pros with the ZenBook S UX393EA. While it is one expensive notebook–considering that it is not a 2-in-1 convertible–we will have to do our usual set of tests if it is worth spending close to Php 100k for the ZenBook S UX393EA.