We review the BlackBerry Key2!
I'm not going to lie – I loved my old BlackBerry back in the late aughts. It was simple, easy to use, and that keyboard was a godsend for someone like me who wrote for a living.
But times have changed. Most of the world, including me, have learned to live with a virtual keyboard, and BlackBerry's appeal to its core audience – people who are productivity focused – has waned considerably. After using the phone for around a week and a half, the BlackBerry Key2's nostalgic gimmicks and high price tag make it difficult to recommend to all but the most ardent BlackBerry user.
Design is classic BlackBerry
If you've ever owned a BlackBerry phone with a keyboard before, the design of the Key2 will feel familiar to you. The back has a matte, textured finish similar to the phones of old, with a dual camera module located on the upper left side.
The frame of the phone is machined out of aluminum and provides a sturdy chassis for the rest of the device. The volume, power and Convenience key are all located on the right side, while the 3.5mm jack rests on the top of the phone.
The bottom of the phone holds the USB Type-C port, flanked by speaker grilles while the top portion holds the 3.5mm jack.
About a third of the space in the front is taken up by the physical keyboard, while the rest is occupied by the 4.5-inch panel. The keys are arranged in three rows, with the fourth row reserved for ancillary keys including the space bar. Speaking of the space bar, it pulls double duty as the device's fingerprint scanner, which is kinda cool.
The Convenience button is a remappable button that you can assign any function to. In my case, it launches the Google Assistant for easy use when I'm driving.
The screen makes it easy to be productive, but it's not ideal for multimedia
The rest of the front side of the phone is taken up by the 4.5-inch IPS display. Resolution is full HD, though the phone has 4:3 aspect ratio, which is rarely seen on most devices today.
We don't have anything bad to say about the display, but we don't have any praise for it either. It's a totally average panel that has decent viewing angles, and you can even adjust color profiles depending on what you want.
That 4:3 panel allows you to fit more stuff in the display when viewing things in portrait mode, which comes in handy when you're looking at websites, documents and Excel sheets on the go. It's a nightmare though when you're trying to watch videos in either Netflix or YouTube since there's going to be black bars on the top and bottom of your content thanks to the 16:9 and 21:9 aspect ratios that both services commonly use.
Keyboard is good, though most will have a bit of trouble adjusting
What would a BlackBerry phone be without a physical keyboard? The BlackBerry Key2 has a full QWERTY keyboard that's satisfyingly tactile, making a small, almost imperceptible clicking noise when you hit them.
The keyboard retains the cool hardware tricks that the KeyOne had: you can swipe up, down and across the whole keyboard when you're browsing websites, essentially turning the keyboard into one large trackpad. You can even assign app shortcuts to all 52 individual keys, for example.
While I was a pretty good typist back in the golden age if BlackBerry, I've pretty much lost my tiny button typing skills after all the years of using Android phones. I had trouble re-adjusting back to the keyboard of the BlackBerry Key2, as awesome as it was. I'd imagine most people would too.
Mid-range guts
As nice as the BlackBerry Key2 looks, it's powered by a mid-range processor: Qualcomm's Snapdragon 660, to be exact, paired with 6GB of RAM and 128GB of storage. There's a microSD slot in the phone that allows you to expand that further up to 1TB if you wish.
While the phone uses what many would consider a mid-range processor (an aging one at that) it still ran pretty smoothly during its time with us. The phone switched apps easily, and we really didn't have big performance issues with the phone while we were going about our day.
If you're seriously considering buying the Key2 you'd probably be the sort of person that would game on it, but in the off chance that you are, you'll be happy to know that the phone can handle most Android games without issues provided you turn down the graphics down a notch.
BlackBerry has provided several software enhancements that they say make the phone more secure than most Android devices available today.
There's BlackBerry's privacy shade which blacks out the entire screen save for a sliver of space that you define that helps you keep prying eyes from seeing whatever is on your phone.
The productivity tab that you can pull on the left allows you to access events, meetings, emails, tasks, and contacts quickly without having to mess with individual apps like Google Calendar.
There's also DTEK, a security suite that monitors your phone for threats and malware. It's basically an anti-virus solution on steroids.
As impressive as the phone's software credentials are, there's no escaping the fact that it is still stuck on Android Oreo 8.1. It was promised an Android Pie update, but more than 9 months since the phone was launched, the update is nowhere to be found.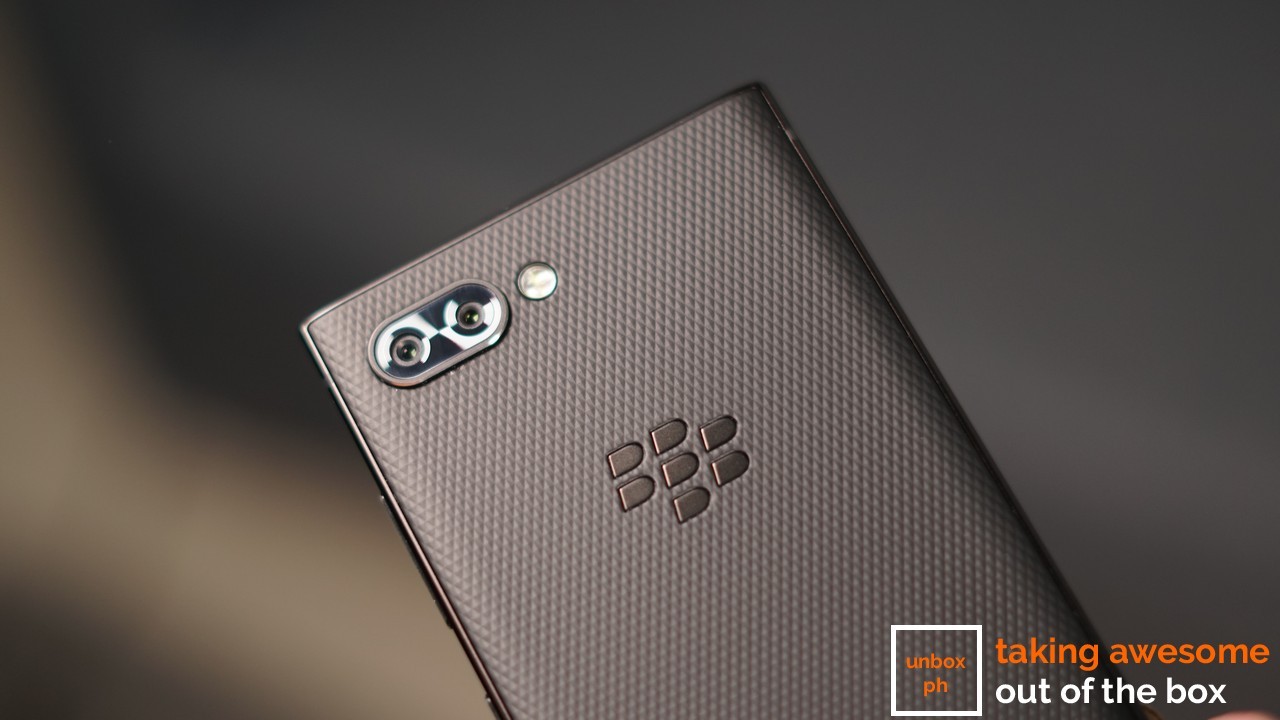 Dual cameras are OK, but don't expect miracles
The BlackBerry Key2 runs a dual 12-megapixel camera setup: the main camera has an f/1.8 aperture lens and takes care of regular shooting tasks, while a secondary camera has a f/2.6 aperture lens and 2x optical zoom capability.
Images taken with the main camera looks good, though sometimes the saturation looks a little off. Don't get me wrong, most people would be fine with the camera's color reproduction, but more discerning users may not like how saturated the photos turn out to be.
Low-light performance here is hit and miss, with plenty of noise and grain in the images that we took.

Takes forever to drain
One thing I really like about the Key2 is its longevity. While the phone's 3500mAh battery isn't going to wow you, the power-efficient nature of the Snapdragon 660 chipset means that it can go around a day and a half without having to be charged.
Verdict: A good phone for productivity that arrived too late
The BlackBerry Key2 is a good phone for people who value productivity (and nothing but that) that arrived way too late. With a price tag of Php 39,990 for the Key2, BlackBerry is essentially asking for flagship money for mid-range internals.
While the productivity-focused features and physical keyboard are compelling arguments for this phone, most enterprise customers that this device would have appealed to have already moved on from their issued BlackBerries of old to mainstream consumer phones that have work apps that they need installed.
If the phone arrived earlier, it would have had a fighting chance against its competitors in the market. In a world where there are tons of better, cheaper options in the market with more powerful hardware, the BlackBerry Key2 feels like a relic of a simpler time.
Comments (1)