Verdict: The Dere R9 Pro doesn't offer much past the bare essentials when it comes to computing power, but people with limited budgets that need a laptop for basic productivity tasks and homeschooling don't really need much more. There are some obvious corners cut to get the price as low as possible, but overall the laptop performs well enough to cover the basics without breaking the bank.
The Dere R9 Pro is just Php 12,999 for the basic 8GB/128GB variant in Lazada.
Pros
Very, very affordable
Good keyboard
Easy to access SSD slot for future upgrades
Works well enough for basic tasks
Cons
The chassis is easily scratched
Annoying touchpad
Warranty claims are a little tricky
Can't do anything else outside of basic productivity/e-learning
Laptop sales have surged in the past few months, driven by the needs of our new normal that has seen people work and study from home. Unfortunately, the sales boom more or less wiped out the stocks of affordable notebooks from the shelves of retailers, leaving only expensive models that are mostly out of reach for families.
This apparent shortage has put the spotlight on lesser-known laptop brands from China that primarily sell their products through Lazada. One of those brands is Dere, and today we'll be taking a look at their incredibly affordable, sub-Php 15K R9 Pro to see just how well it stacks up considering its price.
Design
The R9 Pro is surprisingly chic-looking, especially with the Cherry Red colorway they sent to us. The color really pops when it's on your desk, and Dere used some kind of rubberized matte coating to give the notebook that striking color.
The matte coating isn't particularly smudge resistant though, and we strongly suggest against cleaning the lid with anything stronger than soap or water. I made the mistake of trying to wipe it down with regular 70% alcohol (the same alcohol mix I use for wiping down countless products to clean before shooting) and I noticed that the tissue had a red tinge after lightly patting down the lid.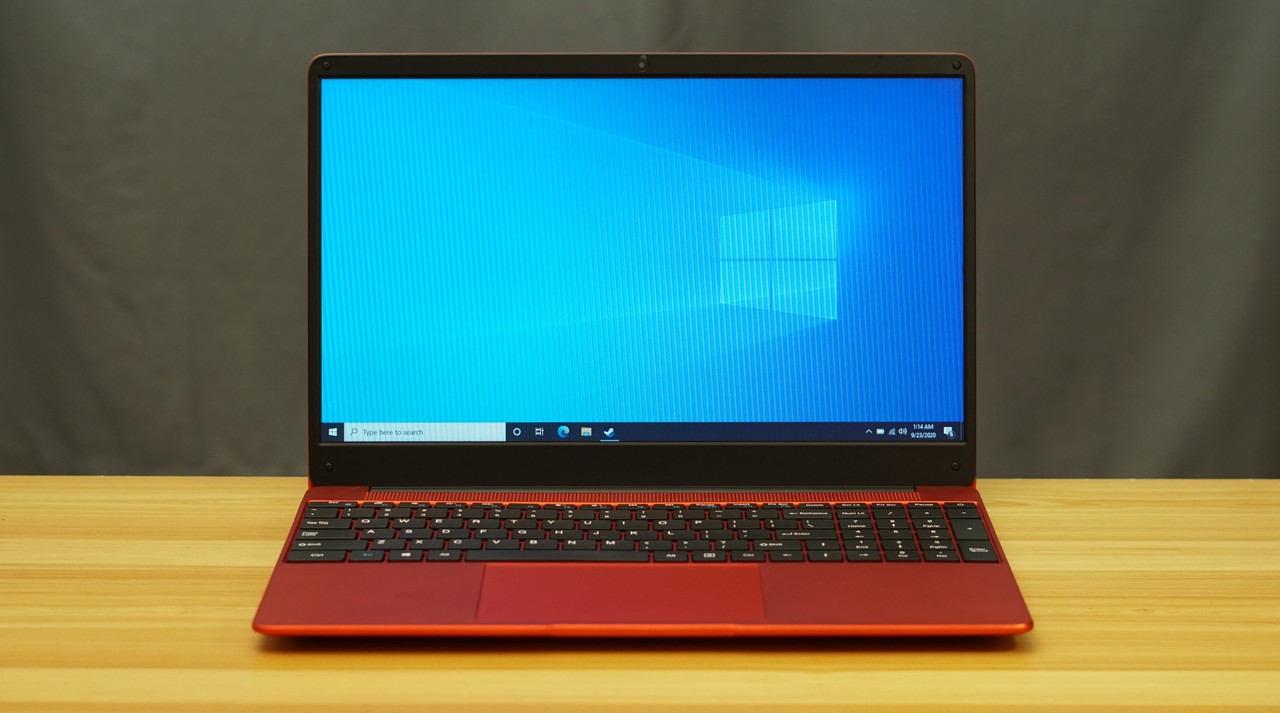 The finish also scratches easy – there's already light, circular scratch on the lid from putting a metal tumbler on it that didn't have particularly sharp corners or edges on it.
This is all understandable considering the price of the notebook, but it's still something to be aware of when you're using it.
The notebook definitely has a MacBook feel to it looking at it dead on. Overall weight comes in at 1.6 kilos.
As far as port selection goes, you're getting a good selection of them: the left side has a USB Type-A port along with an HDMI and charging port, while the right side holds another USB port along with the Ethernet port, 3.5mm jack, and a microSD expansion slot.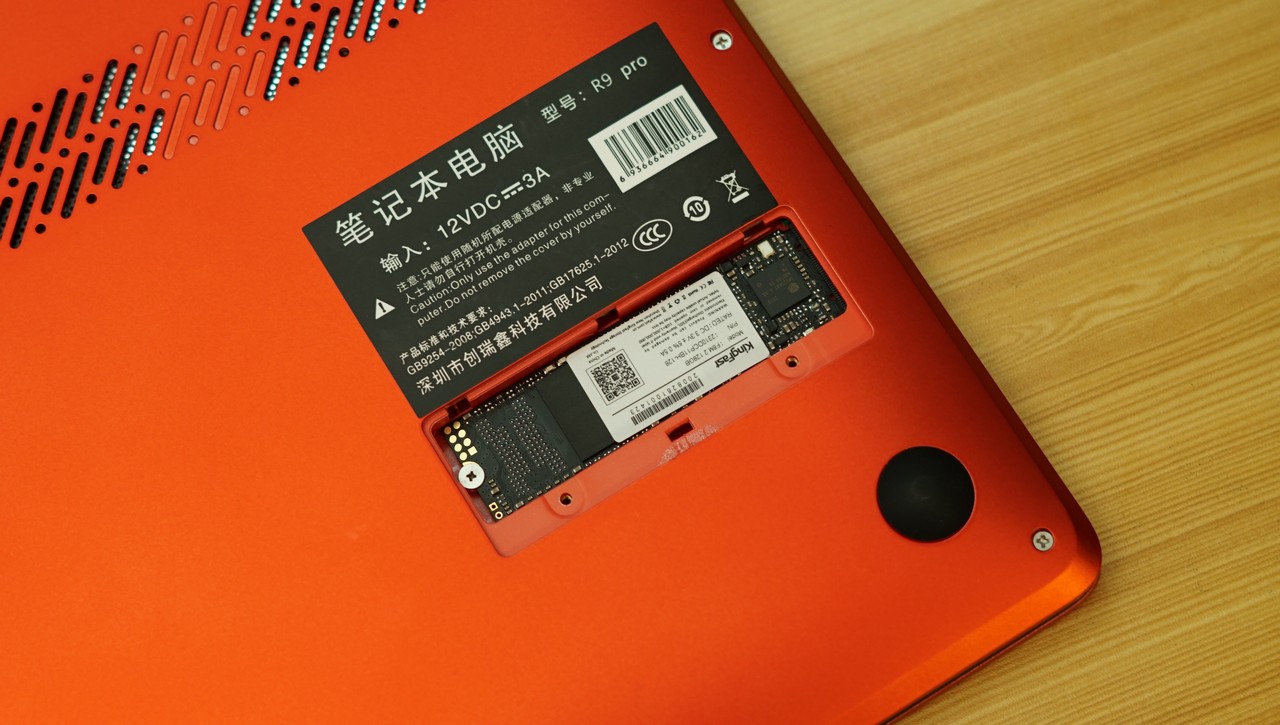 Interestingly enough Dere made it really easy to swap out the SSD drive on the R9 Pro by including a separate, easy-access bay for the M.2 SSD drive. Anyone that has had to upgrade their laptop's memory or storage recently knows that most manufacturers make it so that you'll have to take out the entire bottom panel to do so. At least this way you'll be able to swap out the SSD drive yourself if you wanted to (more on this later).
Because of the cost of the notebook, the body uses a mostly snap-on plastic chassis that makes it easier to assemble and produce. Our review unit actually had a panel out of place as you can see here, but a quick tap on the side fixed the problem easily.
Display
Dere says that the R9 Pro uses a 15.6-inch HD IPS panel, but one cursory glance makes us a little doubtful of the claim.
IPS panels typically have good viewing angles without any color shift, but that's not the case here. A simple check via this website shows that there's a significant color shift when viewing the panel off-center.
It's very likely that the display uses a VA or TN panel, and I'm leaning towards the latter rather than the former here.
With that out the way, colors on the display aren't bad, as long as you're looking at it dead on. There's a little leeway on the viewing angle but it's not that much, unfortunately. In the context of everyday use, it's perfectly usable, though anything that requires accurate color work is out of the question – mostly because of the display, but there are other things at play here too.
There's a VGA webcam at the top of the bezel. It's good enough for Zoom calls, though don't expect miracles with it.
Keyboard and trackpad
Despite having a pretty affordable price tag the R9 Pro surprisingly has a good keyboard overall. When you get the laptop from Lazada the keyboard comes with an annoying silicon cover that really messes with the typing experience, though once you remove that you'll be typing quickly in no time.
I've personally been spoiled by typing on a mechanical keyboard, but it didn't take long for me to acclimate to the keyboard. Typically my WPM is around 70, and though it dropped to only 65 using the keyboard, validated through TypingTest.com.
If I found the keyboard pleasurable, it's the reverse of the trackpad. It's not very precise, and pressing down on the middle will make you press both mouse keys at the same time most of the time. Thankfully Dere does include a freebie mouse with every purchase which you should absolutely use instead of the trackpad.
Performance and battery life
This is where it gets interesting. The Dere R9 Pro is equipped with Intel's Celeron J4115 processor, along with 12GB of 2133MHz of DDR4 RAM (validated through Aida64 Extreme) and 128GB of storage, split into two partitions of 64GB each. The OS is Windows 10.
Interestingly Dere only offers the Red chassis in configurations of either 8GB/128GB or 12GB/256GB, so I'm assuming the model sent to me is a different SKU that's not sold in Lazada.
The Celeron J4115 is a budget processor meant for basic use only, and its benchmarks reflect that. It's a fraction of the performance of Intel's more expensive processors, though at the price I kind of expect that.
The laptop isn't as snappy as some of the machines I've reviewed before, but navigating through Windows 10 is acceptable, though again because of the processor on tap you're not really going to be doing much with the outside basic productivity work and browsing.
I had trouble using Chrome with the R9 Pro, especially when I was opening around 5-6 tabs at a time but that's expected considering there's not much horsepower under the hood. However, I did see an improvement in performance when I switched to the new Edge browser of Microsoft, which fared much better performance-wise.
It's pretty much implied that you'll be sticking with mostly productivity apps like Word and Excel on this laptop since there isn't much power or space for anything else. It's meant for very basic use.
Because of the budget nature of the machine, you're looking at basic connectivity here, mainly 2.4GHz WiFi without 5GHz capabilities and basic Bluetooth, but for most people, that's more than enough.
The performance of the M.2 SSD drive on the Dere R9 Pro is typically what you'd expect from regular non-NVMe drives, and while it's not that fastest, it's still preferable to legacy HDDs. Boot-up times rarely last more than a minute and usually hover around under 30 seconds for a fresh install. I like the fact that Dere made it so that you'll be able to access the drive easily and swap in a bigger capacity drive if you need to (Kingston makes one that's just Php 2,850 for 500GB) though you are voiding your warranty if you do so.
Battery life is at 4 hours and 32 minutes on our standard YouTube loop test with 50% brightness and 50% audio, which is middling – it's not particularly bad, but it's not particularly great either. That being said, battery life isn't that much of a concern during the modern plague, and most buyers for the notebook will be using this at home anyway.
Wrap-up and conclusions
If you're looking at the Dere R9 Pro and comparing it to offerings of brands like ASUS, Lenovo, Huawei or HP, then you're missing the point of the notebook entirely. Super-affordable notebooks like it are meant for folks that need notebooks for basic tasks and home learning whose budgets are already stretched to their limits. 
For those folks, the Dere R9 Pro covers the basics well, and as long as you're mindful of its limitations, it should be able to fulfill basic homeschooling and WFH requirements well. Take note though that you'll have to do any warranty or repair claims through Lazada, so there's that.
Click here to buy it in Lazada.
Comments (1)