A Look at Huawei's Budget Offering
It wasn't long ago when phone brands were duking it out in the mid-range segment that gave us really devices that were around the Php 15,000 price range. Well, it looks like they found another battlefield to fight over as we're seeing more and more phones that offer pack pretty impressive features sets for less the Php 10,000. We're going to be taking a look at Huawei addition to this year's budget segment in the Y6 Pro 2019 that will set your wallet back by Php 6,990.
What's in the Box?
As far as packaging and the unboxing experience, everything seems to be pretty standard. You've got the white cardboard box that Huawei's phones usually come in with a photo of the phone in front of it. Now, the unit that was sent to us lacks what you're going to typically find once this hits store shelves. You have the Y6 Pro 2019 itself in its Sapphire Blue color variant plus a SIM ejector, micro USB cable, and the wall charger. We're guessing the phone will come with a jelly case too.
Huawei's Signature Styling in Plastic
Yup, let's get that out of the way from the get go. The device is made of polycarbonate plastic with smooth and gentle curves along its back and frame that make it sit better in the hand. The material choice makes the phone extremely light to handle; barely tipping the scales at 150 grams. While the ergonomics are great, we only wish that was a little bit more heft to the phone to make you feel like that it's a bit more substantial; an opinion that might change as we take this phone for a spin.
Huawei has pretty much maintained a certain look to their devices since the P20 that we've been seeing across their devices and it's the same story here as well. Like the company's previous flagship, it's also going to need a wipe down every now and again because it does pick up smears and smudges like crazy.
The back of the phone itself is rather plain with the 13-megapixel rear camera tucked on the upper left-hand side. It has an aperture of f/1.8 and is equipped with phase detection autofocus. It features very basic shooting modes so it's more of a point and shoot experience compared to other Huawei phones we've handled recently. You've also got an 8-megapixel selfie shooter on the Y6 Pro with an aperture of f/2.0.
Here's a look at a few samples we've snapped up recently.
Decent Display, Great Speakers
The Huaweu Y6 Pro 2019 is rocking a 6.09-inch HD+ Display; giving you a pixel density of 283 pixels per inch. The color reproduction on the screen is fairly decent but the resolution of 720 x 1520 does leave us wanting for sharper images.
The phone has the so-called DewDrop Display, which means it has a rather small notch that houses the phone's 8-megapixel front camera. You might have noticed the lack of a fingerprint scanner on the back of the phone too so we'll have to rely on other methods to prying eyes from going into our devices. You do have facial recognition if you want something snappier than inputing a 4-digit PIN or drawing a pattern.
One thing that we do like in terms of a multimedia experience on this device is that lone speaker that we talked about earlier. The clarity is probably the best we've heard from a budget device so far. There is a bit of distortion at higher levels but its minimal and rather forgivable.
Back to MediaTek?!
One thing you might be a tad disappointed to find out about the Huawei Y6 Pro 2019 is that is rocking a Mediatek MT6761 quad-core processor that's paired with 3GB of RAM and 32GB of storage. It's been awhile since we've experienced an MTK SoC that wasn't a Helio P60 and we're pretty curious how this phone will do in our review process.
So far though, we have noticed a few slow downs here and there when navigating through the phone but it did run rather smoothly when we tried to play Mobile Legends on it at Medium Settings. We'll have to see how it holds up as we take it through its paces but it's not too bad of an experience so far.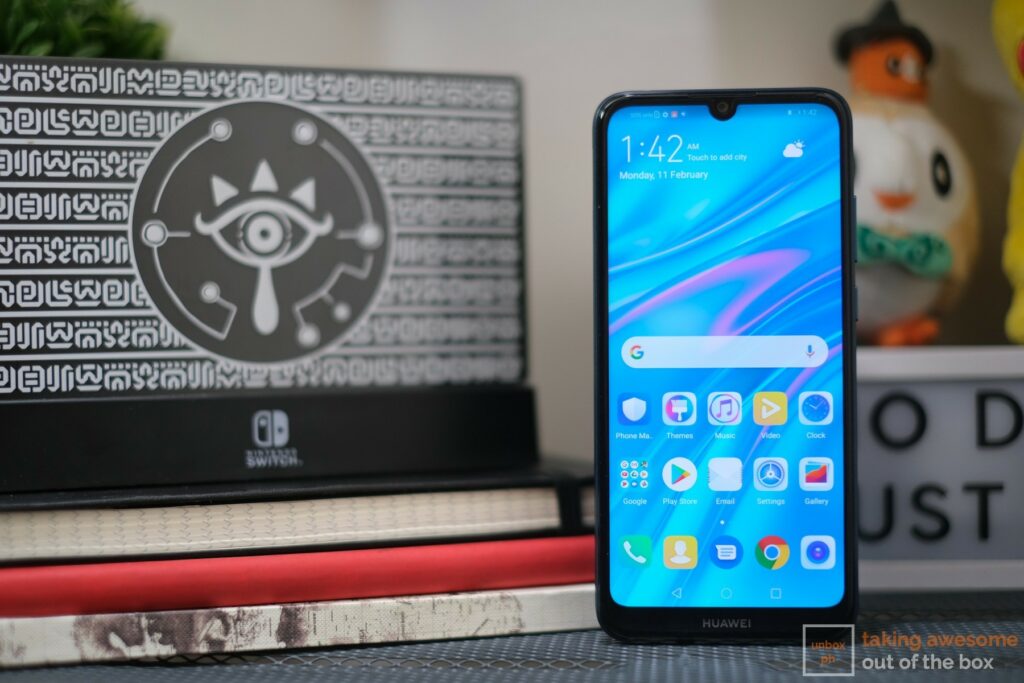 Enough Juice to Last the Day?
The Huawei Y6 Pro 2019 has a 3020mAh battery that should at least give you a full day's worth of juice but we do have a sneaking suspicion that we will be needing to reach for our powerbanks at mid-day to make sure the phone lasts through Metro Manila traffic at rush hour given I personally use phones.
The device runs on Android Pie 9.0 out of the box with EMUI 9 on top of it, of course.
As I mentioned above, the device is priced at Php 6,990, which means it's going up against some pretty tough competition. We'll be using the Huawei Y6 Pro 2019 throughout the week so we'll see if it's worth the spend to get this phone if your budget is below Php 8,000.
Huawei Y6 Pro 2019 specs
2.0GHz MediaTek MT6761 quad-core processor
3GB RAM
6.09-inch HD+ IPS display, 1520 x 720 resolution
32GB internal storage, expandable via microSD up to 256GB
13-megapixel f/1.8 rear camera with PDAF, LED flash
8-megapixel f/2.0 front camera
Dual-SIM
3G, HSPA+, LTE
WiFi, Bluetooth, GPS, A-GPS
Face unlock, USB OTG
3020mAh battery
Android 9.0 Pie with EMUI 9.0