Is the Huawei Y9 Prime 2019 Worth It?
Huawei has been in hot water recently but, given the events at the G20 Summit, it looks like things are starting to cool down. It's good timing as well since they launched their newest mid-range device a little over a week ago — the Huawei Y9 Prime 2019. The device is priced at Php 12, 990 making it the most affordable device with a pop up camera but is it all for show?
Let's find out in this review.
Stunning New Treatment
Huawei was one of the pioneers for the whole gradient trend and they've released magnificent color variants of their devices but it looks like they decided to give pause to that for the Huawei Y9 Prime 2019. It's been given a dual-tone approach in each of its color variants and it's fantastic in the Emerald Green unit that we have with us.
Many are reminded of the Google Pixel's design language but there's only a single polycarbonate panel with the difference in texture underneath it; compared to actually having two different material choices. No matter. It still looks elegant and the build quality is quite nice; not to mention that the ergonomics are definitely on point with this device.
Huawei Going All-Screen
The main feature of this phone is definitely its pop up camera but, as a result, you now have an all-screen display. It measures in at 6.59-inches at Full HD+ resolution with an IPS LCD panel. You still got a bit of a chin to it but you still have an overall aspect ratio is at 91-percent.
The picture quality is pretty much what you'd expect from a display of this caliber. Color reproduction is decent and it gets plenty bright. It's great for day-to-day use and for media consumption as well.
The speaker on the bottom of the phone gets the job done, with a good amount of volume and minimal distortion as well. We still recommend using your favorite pair of headphones whenever you can though.
Slightly Dated SoC that Still has Some Oomph
One of the biggest chinks in the armor of the Y9 Prime 2019 is its processing package that features a Kirin 710 processor that's paired with 4GB of RAM and 128GB of storage.
Don't get us wrong. It still has enough power for the typical slew of apps we use on a daily basis and a bit of gaming but it has been used for the brands mid-range devices for quite a while with a lot of consumers clamoring for an upgrade. We like that it has a huge amount of storage though so if you happen to download a lot of apps or take a lot of photos, it'll take a lot until you have to consider getting a microSD card.
We said that the Y9 Prime had enough muscle to play games but you will have to adjust your expectations accordingly. You can check out our gaming review for the Huawei Y9 Prime 2019 in the video below to see how it actually handles some of our favorite games on the Google Play Store.
Triple Cameras and a Pop-Up
Compared to the earlier released Y9 2019, Huawei has loaded up this phone with one more camera on the back plus they jumped into the whole pop up camera trend.
The triple camera setup on the back is composed of a 16-megapixel main camera, an 8-megapixel wide-angle shooter, and a 2-megapixel depth sensor. The addition of a wide-angle camera is definitely a huge plus for the Y9 Prime but we can't help but with the third one was a telephoto one for a bit more versatility.
The resulting photos from the rear cameras are pretty good when you have great lighting. You do see a dip in detail when using the wide-angle but just having the option is great. In low-light, the images have a lot of noise and overall sharpness takes a huge hit but, thankfully, you do have night mode available to negate some of those shortcomings; all thanks to the AI magic that Huawei is known for. One thing to note though is that the Night Mode feature only works with the main camera.
For selfies, you have that 16-megapixel front camera that rises up from the phone's chassis. Huawei has slowly been working on their selfie game and you can definitely see it in the photos we took.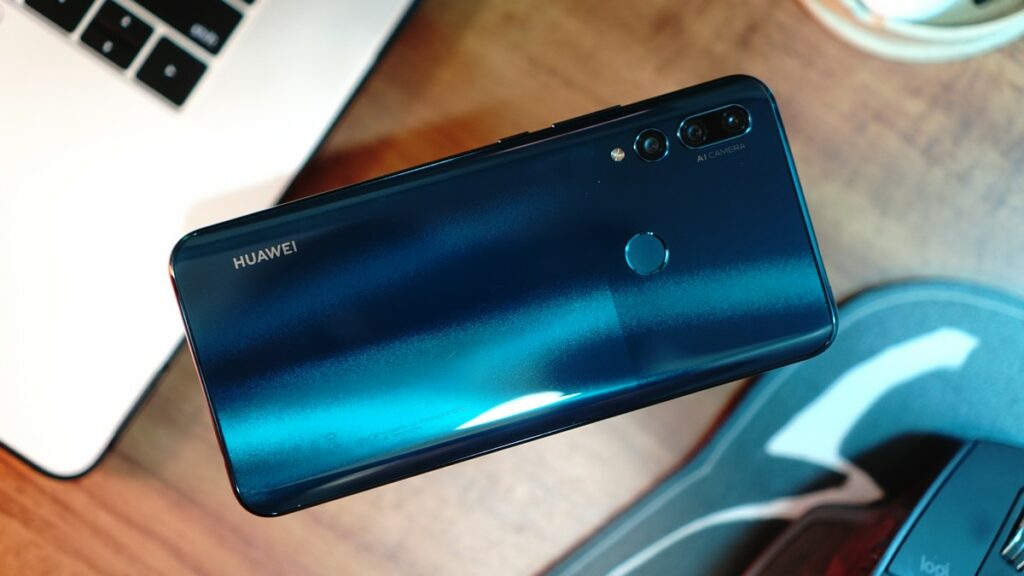 Extremely Long Battery Life
The Huawei Y9 Prime 2019 has 4000 mAh battery. Their flagship — P30 Pro — is hailed by many as the Battery King and we're glad to see that the battery management of their flagship has trickled down to their mid-range devices.
Our battery benchmark of choice doesn't play well with EMUI but the battery stats on the phone has our usage pegged at 13 hours and 50 minutes from 100 to 20 percent, which translates into nearly two days worth of juice.
Just make sure that you manage the apps you need all the time manually so you get notifications because EMUI is known to be a little eager about shutting down apps running in the background.
Verdict: A Bunch of New Features
The Huawei Y9 Prime 2019 definitely has a better feature set than its base Y9 sibling. The addition of a wide-angle lens definitely brings more to the table for your mobile photography needs and the killer battery life of this device is great for those particularly long days out on the road.
The pop-up selfie camera might seem like they're just jumping on the bandwagon but that brings an almost all-screen smartphone and the extra real estate is very much appreciated; especially for digital nomads like myself.
The biggest letdown here is the SoC — the Kirin 710. As I mentioned above, it does have a good amount of muscle for heavy lifting but consumer demand for more oomph under the hood may leave heavy gamers a little wanting.
The Huawei Y9 Prime 2019 is a great smartphone with a good feature set but competition in its price range is tougher than it has ever been. They've had to make a couple of compromises to achieve the Php 12,990 price tag but all the bits and bobs they've managed to cram into this mid-range device does make it worthy of consideration.
Huawei Y9 Prime 2019 Specs
HiSilicon Kirin 710 octa-core processor
Mali-G51 MP4 GPU
4GB of RAM
6.59-inch Full HD+ IPS LCD Display; 1080×2340 resolution
128GB of expandable storage
Triple rear cameras: 16-megapixel f/1.8 main camera with 6P lens; 8-megapixel f/2.4
ultra-wide-angle camera; 2-megapixel depth sensor; with AI Scene Detection, PDAF, LED
Flash
16-megapixel pop-up front camera
4G, LTE
WiFi, Bluetooth v4.2
Fingerprint Scanner, Face Unlock, USB-C
Android Pie 9.0 with EMUI 9
4000mAh Battery
Php 12,990