Early verdict: The Motorola Razr 5G looks to be quite an improvement over the first generation, sporting better specs, better hardware, a gorgeous display as well as 5G capability. We still need to look at how the phone performs when it comes to photography and day-to-day use, and the price is going to be a factor as well. If Motorola can make it competitive to the pricing of Samsung's Galaxy Z Flip, then they might have a winner here.

After a 2-year hiatus, Motorola is finally coming back to the Philippines. And the brand is bringing over their second-generation RAZR foldable phone to make their return even grander than before. The Motorola RAZR 5G is a massive improvement to the brand's 2019 efforts, and if they play their cards right, it might just be the foldable folks buy come this holiday season. We managed to get our hands on a review unit, so let's take a look:
Pros
Iconic RAZR design
Useful and versatile 2.7-inch outer display
Solid overall design and construction
5G capable
Cons
Lower resolution main display
Small battery
Expensive
Design and display
If you've owned 'ye olde RAZR phone at any time of your life before, getting your hands on the Motorola RAZR 5G feels oddly familiar. The company has done a great job of retaining the trademark feel of their iconic flip phone on this foldable, which, as an older millennial, I truly appreciate.
The Motorola RAZR 5G folds into a pretty neat package when it is closed, which makes it easy to carry around in your pocket with you wherever you go. There's a small 2.7-inch display on the outside that we'll go into detail later, just know it's one of the things that make the Motorola RAZR 5G so awesome.
The flipping action is pretty cool, though there isn't a "flex" mode like the one in the Galaxy Z Flip, which allows you to use the phone in a 90-degree orientation, which is a bummer.
As far as the chassis is concerned, the phone feels rock-solid despite being a foldable model. The frame is made out of aluminum, while the hinge is steel. The front and back panel is made up of Gorilla Glass 5. Motorola promises a 200,000 fold lifespan for the hinge mechanism of their new foldable – a number that most people will never hit.
The phone has its fingerprint sensor in the back, which took a little getting used to especially with the folding mechanism but wasn't too bad. The trademark Razr chin holds all the necessary antennas for the phone, including the one for its sub-6Ghz 5G capabilities.
Unlike its rival, the phone's functionality isn't limited when it's closed since there's a 2.7-inch outer "quick view" display that works as a small secondary display.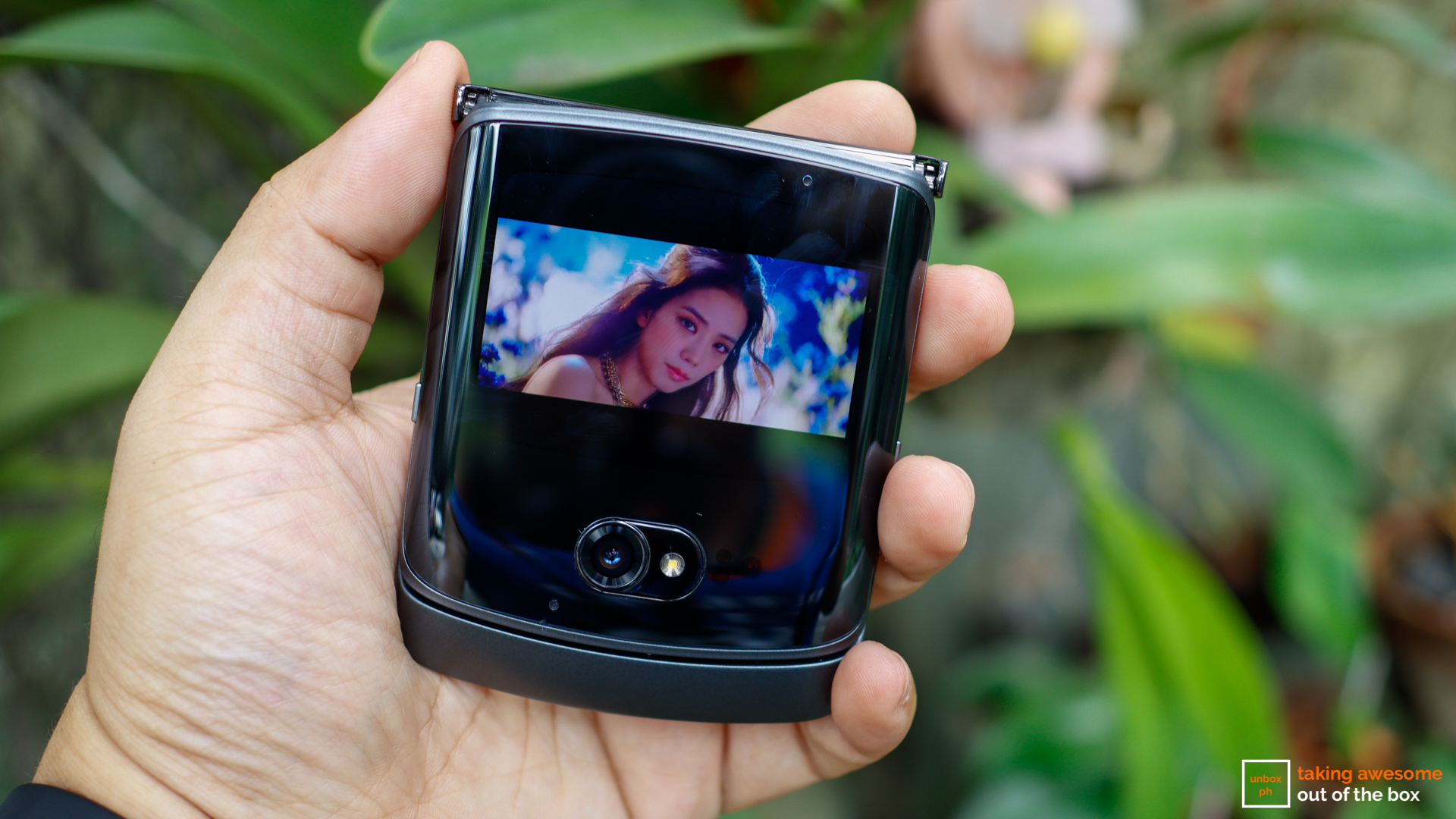 That secondary display can be used for a lot of things, like checking your notifications, as a viewfinder for the rear camera for selfies, etc. You can even answer messages on it since it comes with a small keyboard you can type into, and it can generally do many of the things that the main screen can as well. It's a really clever feature that we absolutely love with the phone.
The main display measures 6.2-inches when fully extended, and is a P-OLED panel with HD+ resolution. Like many foldable phones in the market, there's a small crease at the center where the hinge lies but it's not that big of a deal, to be honest – it's just something you'll have to live with when it comes to devices like these.
There's a traditional notch at the top for the 20-megapixel selfie camera, which feels a little out of place nowadays considering that most phones nowadays use punch-hole notches to hold their selfie units.
Camera, performance, and battery
The Motorola RAZR 5G has a 48-megapixel f/1.7 main camera with OIS in addition to the 20-megapixel f/2.2 front selfie camera. We're not impressed by the megapixel count on the phone, as we expected something more..substantial for the expected price range. But to be fair, Samsung's Galaxy Z Flip didn't have that good of a camera either.
On the hardware front, the Motorola Razr 5G comes with a Qualcomm Snapdragon 765G processor, along with an Adreno 620 GPU.
The choice for the processor is a little disappointing for power users looking for Qualcomm's flagship chipset, but there are better phones in the market if you're looking for that sort of stuff. And to be fair to the phone, Qualcomm's mid-range 5G chipset is a pretty good chipset and is powerful enough to keep the phone running smoothly. RAM and storage for the device are 8GB/256GB, which is good enough for a phone of this caliber. The phone is 5G-ready, so all it needs is your 5G-enabled SIM and you'll be enjoying fast downloads in no time.
We'll have to see how it stacks up performance-wise to other devices later on in our full review though.
As for battery capacity, the phone sits at the low side – it only rocks a 2800mAh cell, and fast charging tops out at just 15W. It's unfortunate, but understandable considering the limited space in the body. The Galaxy Z Flip also suffered from a lower than average battery capacity as well – it's just something you'll have to live with if you go with a foldable phone.
Wrap-up and early conclusions
Motorola's return to the Philippines is with a bang thanks to its flagship foldable.
There's plenty to like about the phone: the iconic RAZR design, the super-useful 2.7-inch secondary display, as well as its 5G capabilities and folding capabilities.
However, the lower resolution main display, non-flagship processor as well as seemingly weaker cameras might be a deal-breaker for some, but we'll have to see how those features fare in our full review before we pass our full verdict.
We have no pricing information on the Motorola RAZR 5G as of yet, though in the US it's priced at $1,399, which is around Php 67.8K in our currency.
Comments (1)