Team Red All the Way
If you've been paying attention to PC World lately, then you know that AMD has bounced back and has made a killing this year by providing a great price to performance ratio with their Ryzen and Navi products.
It's been a while since I've tested out gear from Team Red so when MSI asked if I wanted to test out one of their newest releases that are armed with a Ryzen CPU and their 7nm Radeon RX GPUs — the Alpha 15 — I had to jump on the chance to check out myself to see if it was worth all the hype it was getting.
Pros
All the ports you'll ever need
Great keyboard with per-key RGB
120Hz Display with FreeSync2
Cons
Speakers don't give the advertised "Giant" feel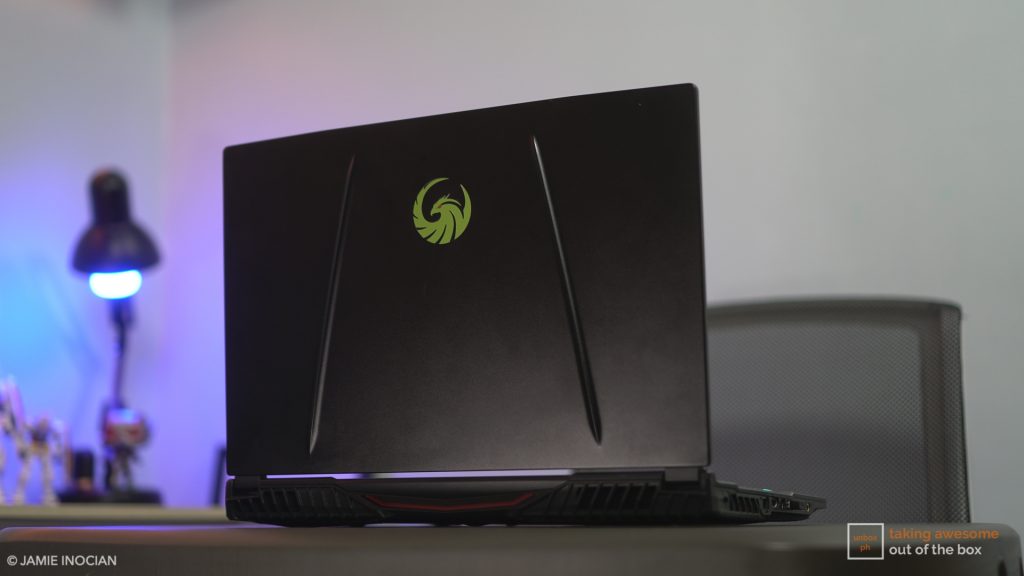 She's a THICC girl
One of the first things I noticed about the MSI Alpha 15 is they aren't using the usual dragon emblem on the lid. They've nixed the usual we've come to associate with the brand and replaced it with a Phoenix. According to the brand, it's a way of distinguishing their fully AMD notebooks from their G series offerings. I do have to warn you that the decal they used did start to peel off after just a week of taking it in and out of my backpack.
The second thing was that the notebook is thick; thicker than a 15-inch MacBook Pro with a Huawei Mate 30 Pro on top of it. Thankfully though, it's much lighter than it appears to be and that's because the chassis of the Alpha 15 is primarily made out of plastic; save for the lid.
This also means that this laptop doesn't leave you wanting when it comes to its I/O ports; complete with illuminated USB ports and an SD card slot that's not always available on gaming notebooks. This is something that creators like myself appreciate since it means that I don't have to worry about forgetting to bring my card reader.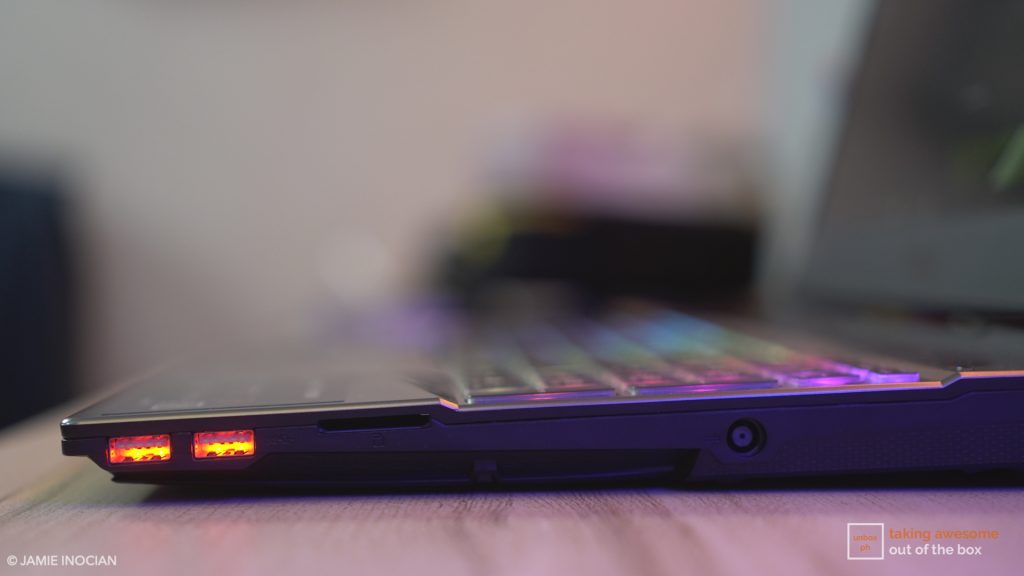 By the way, the placement of the USB ports on the right side is closer to the bottom of the notebook and can be a bit bothersome if you have a smaller table to work on. It can also be a bit of an eyesore if you value cable management.
Great Display, Audio Is a Let-Down
The MSI Alpha 15 is equipped with a 15.6-inch Full HD 120Hz display that supports FreeSync2. It certainly gets the job done if you watch videos on your laptop and the refresh rate should definitely help out with some of the more popular eSports titles.
One thing that MSI advertises as one of the key specs of the Alpha 15 is the "Giant Speakers" and, while they were pretty large, the sound quality wasn't worth writing home about. You'll most likely be using a pair of gaming cans anyway but I was expecting a lot more out of them.
A Keyboard for Higher End Laptops
One thing that the folks over at MSI were proud to highlight was their continued partnership with SteelSeries and being able to deliver per-key RGB lighting for that little bit of gamer flex. This is a feature that they usually reserve for their G series notebooks so it's good to see it make its way on this notebook.
Of course, none of that matters if the typing experience isn't good. Thankfully though they came through and I quite enjoyed typing away on the Alpha 15. The keys are spaced out just right, with the right amount of travel in case you have to bust out a quick report or two.
Sadly, the same cannot be said about the trackpad on this laptop. It is a little lackluster but you're most likely going to have a mouse on hand anyway.
The First 7nm Technology Gaming Laptop
The main draw for the Alpha 15 is definitely the fact that they've gone all-in with AMD for this notebook.
You've got a Ryzen 7 3750H at the heart of it with an AMD Radeon RX 5500M that utilizes 7nm tech. This is rounded out with 16GB of DDR4 RAM (base model comes with 8GB) and a 512GB NvME SSD for the review unit that they sent out to us. I was very eager to see what the performance would be like on this device so I tested it on a couple of games that have been on my backlog.
As you can with the charts above, gaming performance was OK. I was honestly expecting a little bit more oomph but I reminded myself that MSI was positioning this as an entry-level to mid-tier offering. It's still pretty decent though and, if you're mostly into eSports titles, I can definitely see the Alpha 15 crushing those games easily.
Temps were pretty good though with the GPU hovering at around the mid-'80s. Admittedly, I wasn't able to check out the temps if the laptop wasn't sitting flat on the desk but, given that you have a lot of mesh on the bottom, I can see it do wonders for airflow if you have a stand.
Battery Life is as Expected
Let's face it. Gaming notebooks aren't meant to go the distance but you are getting a fair amount of juice with the MSI Alpha 15. I did a video loop test to see how long it took for the notebook to go from 100% to 20% and I got a solid 4 hours and 35 minutes with Airplane Mode enabled, the display at 50%, and the volume at 50% as well.
With heavier tasks such as typing up articles, responding to email, and watching a couple of YouTube videos, I got about 3 hours out of this laptop.
Verdict: Ride the AMD Wave
There's a lot that MSI got right with the Alpha 15 and they definitely have a good amount of checks on the plus column.
You've got a healthy selection of I/O that doesn't leave you wanting, a great keyboard with even better RGB (if that's your thing), and a display that puts it at par with other notebooks in its price bracket. You're also getting decent performance out of the hardware in terms of gaming. You will have to keep within Medium presets for the most part, which is a bit of a bummer since we've seen other configurations slightly edge out this purely Team Red build.
I do have to give props to MSI for outing a fully AMD configured laptop that's the first to utilize the 7nm Radeon RX GPUs as well. If you like what they've been doing so far, you might want to ride the wave and put this on your list of notebooks to consider if you're in the market.
MSI Alpha 15 Price Philippines
The MSI Alpha 15 is priced at Php 62,995 for the base configuration that comes with 8GB of RAM. It also comes with the AMD gaming bundle with each purchase that allows you to choose from games like Borderlands 3 and The Outer Worlds.
MSI Alpha 15 Specs
AMD Ryzen 7 3750H
15.6-inch 120Hz IPS Display with FreeSync 2 support
8GB DDR4 RAM (64GB Max.)
512GB NVMe PCIe Gen3x2 SSD
7nm AMD Radeon RX 5500M, 4GB GDDR6
Killer LAND E2600/802.11ac WLAN
1x USB 3.2 Type C Gen 1, 3x USB 3.2 Type-A Gen 1, HDMI 2.0, Mini DisplayPort, Mic-In, Headphone Out, SD Card Reader, Ethernet Port
180W/6-cell battery
Comments (0)