Is MSI's entry-level, content creator-specific laptop any good?
While MSI is known for its gaming laptops, the Taiwan brand is looking to expand its customer base and now wants to cater to creatives as well. Enter their new, MSI Modern 14 notebook. It's their new entry-level offering under their Creator line that offers important features that professionals and creatives look for in a notebook – things like a color-accurate display, heaps of RAM, and a decent graphics card –  in a relatively reasonable price range.
Together with a slim chassis, 10th-generation Intel Core i7 processor, and a balanced port selection, the Modern 14 positions itself as an affordable alternative to the Apple MacBook Pro. For almost Php 76k less than a similarly-specced MacBook Pro, is MSI's offering any good?
Pros:
Color-accurate display

Balanced port selection (2x Type-C, 2x Type-A)
Fast NVMe SSD storage
Cons:
Trackpad not precise enough

No fingerprint scanner or Windows Hello

 
Sleek and subtle in silver
Throw out what you know about MSI's notebook designs out of the window, as the MSI Modern 14 is the anthesis of the brand's design methodology. Instead of aggressive angles and corner cuts, you get a subtle, refined design that easily blends in with most corporate offices today. Instead of gloss black and red color schemes, the Modern 14 comes in a more sedate (and dare we say boring) silver colorway. There are also no RGB lights anywhere in the Modern 14's body – the only thing that'll clue you in that MSI made this is the dragon logo on the lid.
The body is built with a mix of aluminum and polycarbonate, which is acceptable, but we would have preferred it if the brand went for an all-aluminum chassis especially for the price range the notebook sits at.
You'll see the stereo speakers placed above the keyboard area when you open the lid, along with the power button placed right smack in the middle of the speaker grill. The white indicator lights are located on the left side of the laptop, and you get a white backlight for the keyboard.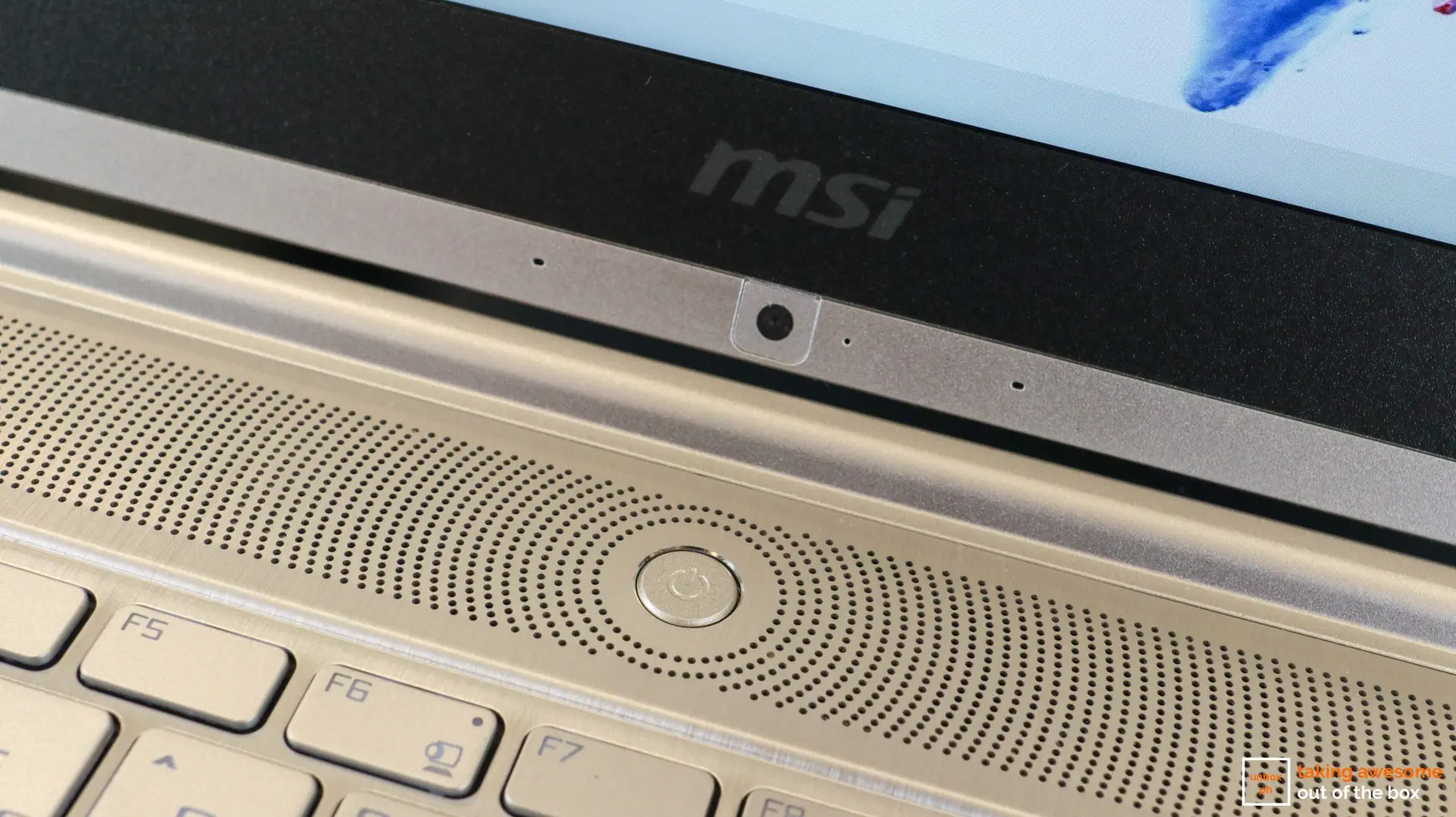 While there's a switch to turn off the webcam (it is Fn + F6), I find it strange that the Modern 14 does not come with a fingerprint scanner, considering that our review unit costs above Php 80k. That being said, your best option to keep the laptop secure is through the old-school password or PIN method.  
There's plenty of ports on the Modern 14, and its one of the few notebooks in the market that has two USB-A AND two USB-C ports—all being USB 3.1 Gen 1. The good mix of ports allows you to connect newer devices that uses the Type-C standard and older, legacy devices like mice and other peripherals. Other ports include an SD card reader, HDMI port, combo headphone jack, power supply, and Kensington security lock. 
Display that's perfect for watching movies AND editing media content
Despite being an entry-level laptop for creatives, MSI made no compromises with the display. Measuring 14-inches, the full HD, IPS-grade panel comes with MSI's True Pixel Display tech that lets you adjust the display's colors according to your needs. At its default sRGB setting, the Modern 14's color accuracy closely matches the MacBook Pro when editing photos through Photoshop and Lightroom.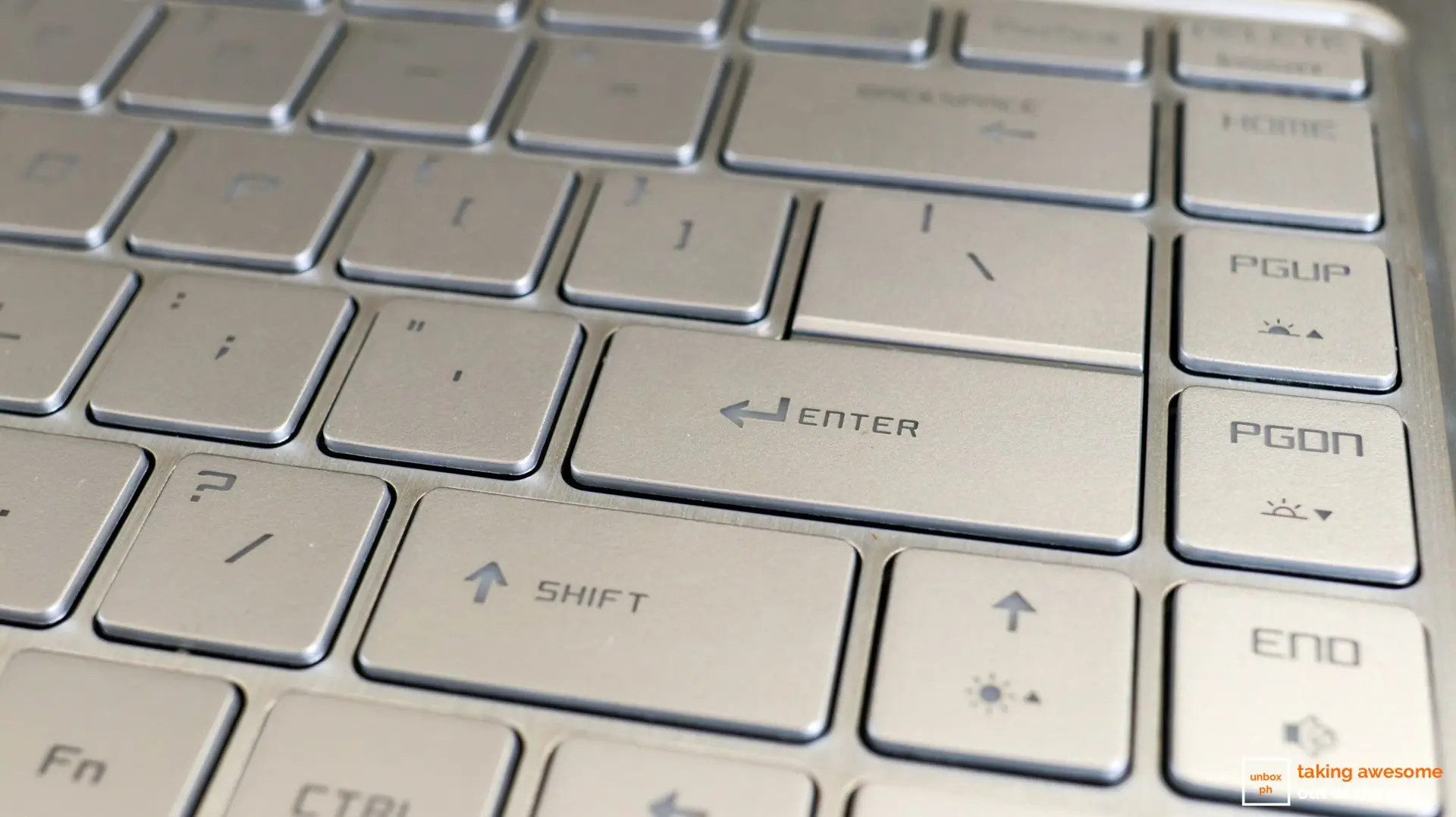 Aside from the display, the Modern 14's keyboard is a pleasure to use. While it may have lower key travel compared to other notebooks, the Modern 14's keyboard is better than Apple's infamous butterfly keyboards. I've typed this review (along with several other articles for the site) with the Modern 14, and it made writing my articles more efficient and less prone to accidental key presses compared to the butterfly keyboard on my MacBook Pro.
However, as much as I like the Modern 14's display and keyboard, the same cannot be said for its trackpad. Aside from lacking Windows Precision gestures, the Modern 14's trackpad feels a bit stiff, making it difficult to do precise photo edits. You are better off using a mouse instead if you need that extra precision when editing footage on a video timeline or getting the right mix of highlights and shadows when editing photos. 
Latest internals deliver good performance
The current line of Modern 14 laptops come with the latest 10th-generation Intel Comet Lake processors, and our review unit is the top-tier variant that comes with a Core i7-10510U processor, 1TB NvMe SSD storage, 16GB RAM, and MX250 discrete graphics.  On CineBench R20, the Core i7-10510U fared better than a third-gen Core-i5 desktop CPU, which shows how much laptop processors have evolved through the years. 
Aside from the display, one of the main selling points of the Modern 14 is its NVMe SSD. With CrystalDisk, we got read and write speeds of 3376.5mbps and 2219.5mbps respectively, which is fast for a non-gaming notebook and faster than what you get on a MacBook Pro. Paired with 16GB RAM and an MX250 discrete GPU, editing photos via Photoshop and Lightroom is a breeze with the Modern 14.  

As for battery life, we clocked in roughly 5 and a half hours with our video loop test, and around 4 hours with real-life usage that consists of photo editing via Lightroom and Photoshop, word processing, Spotify music, and web browsing. Charging the battery takes around two hours with the supplied 65w charger. 
Verdict: A suitable Windows alternative to the MacBook Pro
With an SRP of Php 80,995, the Modern 14 is an affordable alternative to the MacBook Pro with its color-accurate display, superior keyboard, fast SSD drive, and more diverse port selection. While it is not perfect—the trackpad is so-so, lacks a fingerprint scanner, and has no Thunderbolt 3 support—the Modern 14 is a great response from MSI in addressing the needs of content creators, whether it's graphic design, photography, or video editing. 
Currently, the Modern 14's closest rival is ASUS' ZenBook Duo, which is Php 6k more affordable than our review unit. While the Zenbook Duo has an extra display for improved productivity and faster USB-A 3.2 Gen 2 ports, it comes with a 10th-gen Core i5 processor, less SSD storage, and an unconventional MicroSD card reader.
MSI Modern 14 Specs Philippines
Intel Core i7-10510U quad-core processor

 

14.6-inch Full HD IPS-level Display, MSI True Color

 

16GB DDR4 RAM (32GB Max.)

 

1TB NVMe PCIe Gen3x2 SSD

 

NVIDIA MX250 GPU, 2GB GDDR5 RAM

 

2x USB-C 3.2 Gen 1, 2x USB-A 3.2 Gen 1, HDMI 2.0, Headphone combo jack, SD Card Reader

 

Nahimic

 3 Audio, MIL-810G certified

 

50wHr/4-cell battery, 65w charging

 
http://unbox.ph/gadget/msi-alpha-15-review-phoenix-rising/
Comments (0)