Review Verdict: the OPPO Reno6 5G almost hits a home run in the Philippines thanks to its stellar looks and powerful Dimensity 900 processor, but fumbles at the end thanks to recycled optics and lack of optimization for gaming.
Pros
Unique design
The main camera performs well
Fairly powerful chipset
Cons
Lackluster cameras accompanying the main rear camera
Chipset not yet optimized for games
Launch SRP more expensive than its predecessor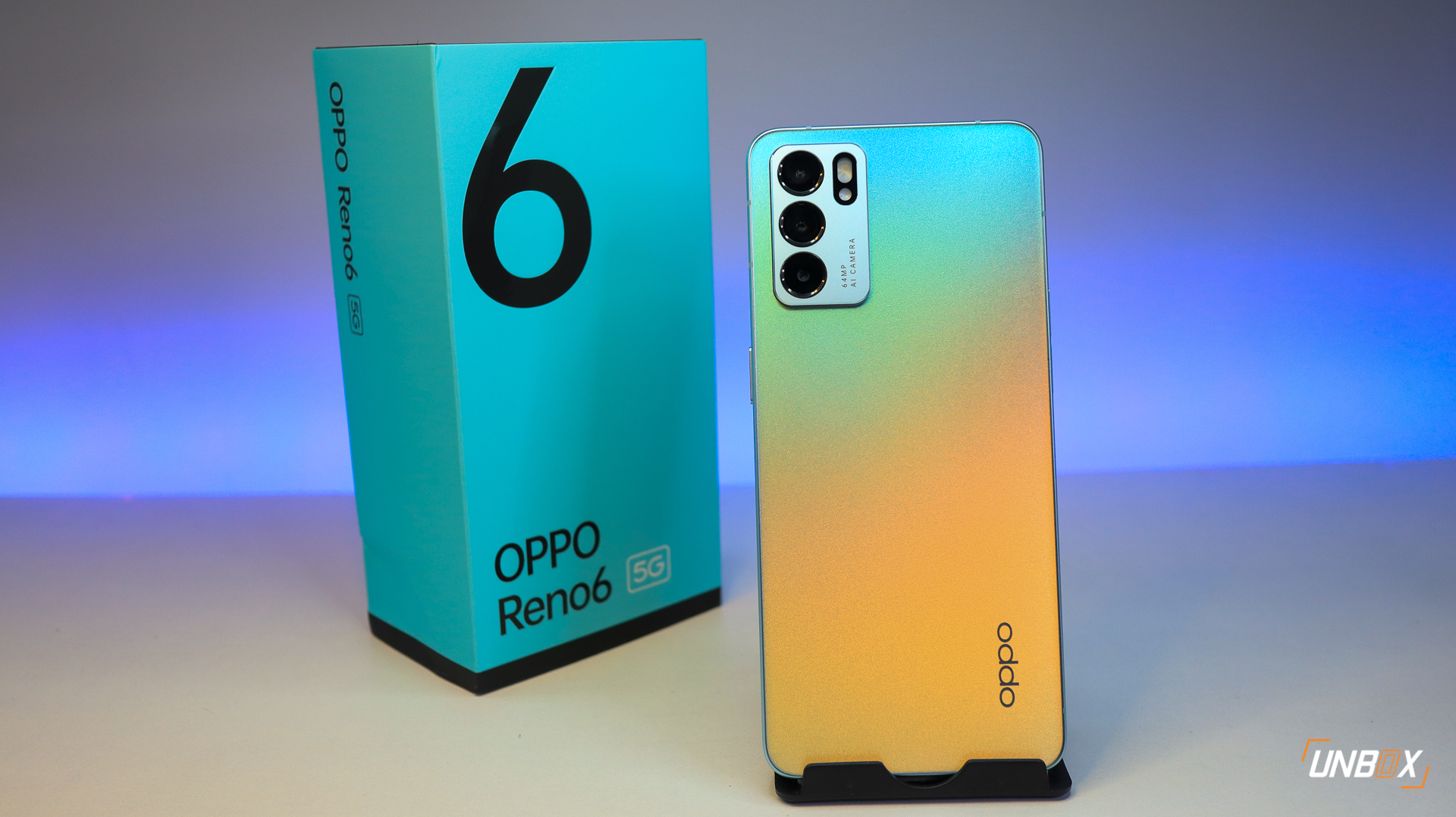 OPPO Reno6 5G Review Philippines Specs
Dimensity 900 processor
8GB RAM
128GB storage
6.4-inch Full HD+ AMOLED display, 20:9 aspect ratio, 90hz refresh rate
64-megapixel f/1.7 main camera with PDAF, 8-megapixel f/2.2 ultra-wide-angle camera, 2-megapixel f/2.4 macro camera
32-megapixel selfie camera
4G, LTE, 5G
WiFi, Bluetooth 5.1, in-display fingerprint scanner
4300mAh battery
65w fast charging
Android 11, ColorOS 11.3
OPPO is replacing its 6-month old Reno5 5G with a brand new model today. The unsurprisingly named Reno6 5G has a brand-new design language, striking new look, and introduces several new features to the brand's premium mid-tier offering. But should you fork over cash for OPPO's new hotness?

Design
Unlike most Android smartphones out there, the Reno6 5G breaks away from the current design trend of curved backs by utilizing a flatter, more utilitarian design reminiscent of iPhones of old–and the current iPhone 12 series.
That heavily contrasts with the Reno6 5G's shimmering glass back, dubbed "Reno Glow" a colorway that's achieved using 50 steps done over a 14 hour period. Aside from the aesthetically pleasing appeal of our review unit's Aurora colorway, we love how this glass back is both fingerprint and smudge resistant, saving you the frustration of constantly wiping your phone.
Unlike the Reno5 5G, the Reno6 5G ditches the headphone jack, with a SIM card slot taking its place instead. Thankfully, OPPO did include a pair of USB-C earphones–something not usually seen included in the package–for people who prefer listening to their music using a wired connection.

Display
Like the Reno5 5G, the Reno6 5G also has a 6.4-inch AMOLED panel that has a punch-hole placed on the top left corner, 90hz refresh rate, a Full HD+ resolution, and an in-display fingerprint scanner. Echoing our impressions on the Reno5 5G's display, the Reno6 5G has a great panel that has great viewing angles, along with impressive contrast ratios and vivid colors that every movie junkie will love.
You only get a mono speaker, however, which we find disappointing considering the pricing of the Reno6 5G. OPPO's inclusion of a pair of USB Type-C earphones in the box softens the blow of the phone not having a headphone jack.
Cameras
The Reno6 5G has virtually the same camera setup as its predecessor but omits the mono camera for a more straightforward triple rear camera setup, which we find rather underwhelming. Considering the Reno6 5G's SRP is higher than its predecessor, OPPO could have opted to upgrade the ultra-wide-angle camera or even add OIS to the main camera to differentiate it from the previous generation.
In general, the Reno6 5G's camera performance is slightly better than its predecessor, which can be credited to the additional processing power of the Dimensity 900. There are inconsistencies when it comes to autofocus, but it is not bad enough that you have to keep your hands steady always to keep those shots sharp and detailed. Like the Reno6 Z 5G, we appreciate how OPPO makes sure that the exposure and color accuracy of photos taken using the ultra-wide-angle camera is consistent with the main camera despite having only 8 megapixels to deal with.
The selfie camera scales down to 32-megapixels, but overall image quality is just as good as the Reno5 5G–proof that the Dimensity 900 is one of the best upgrades for the Reno6 5G.

Internals and Battery Life
Powering the Reno6 5G is a Dimensity 900 processor, with our review unit coming with 8GB RAM and 128GB internal storage. As a successor to the Dimensity 800/800U, the Dimensity 900 is based on a 6nm process and uses a 2/6 core configuration: two Cortex-A78 cores at 2.4Ghz and six Cortex-A55 cores at 2Ghz.
With a more modern manufacturing process and more powerful Cortex-A78 cores, the Dimensity 900 offers a big performance boost over the Dimensity 800U. Compared to the commonly-used Snapdragon 765G, the Dimensity 900 is ahead in both Geekbench and 3DMark.
It is a different scenario when it comes to games, however. Because the Dimensity 900 is relatively new–it only became official last May–not all games are optimized for the 2021 mid-range processor. Based on data obtained using Gamebench, Wild Rift could not go beyond 30FPS when we enabled HFR mode for 60FPS gaming.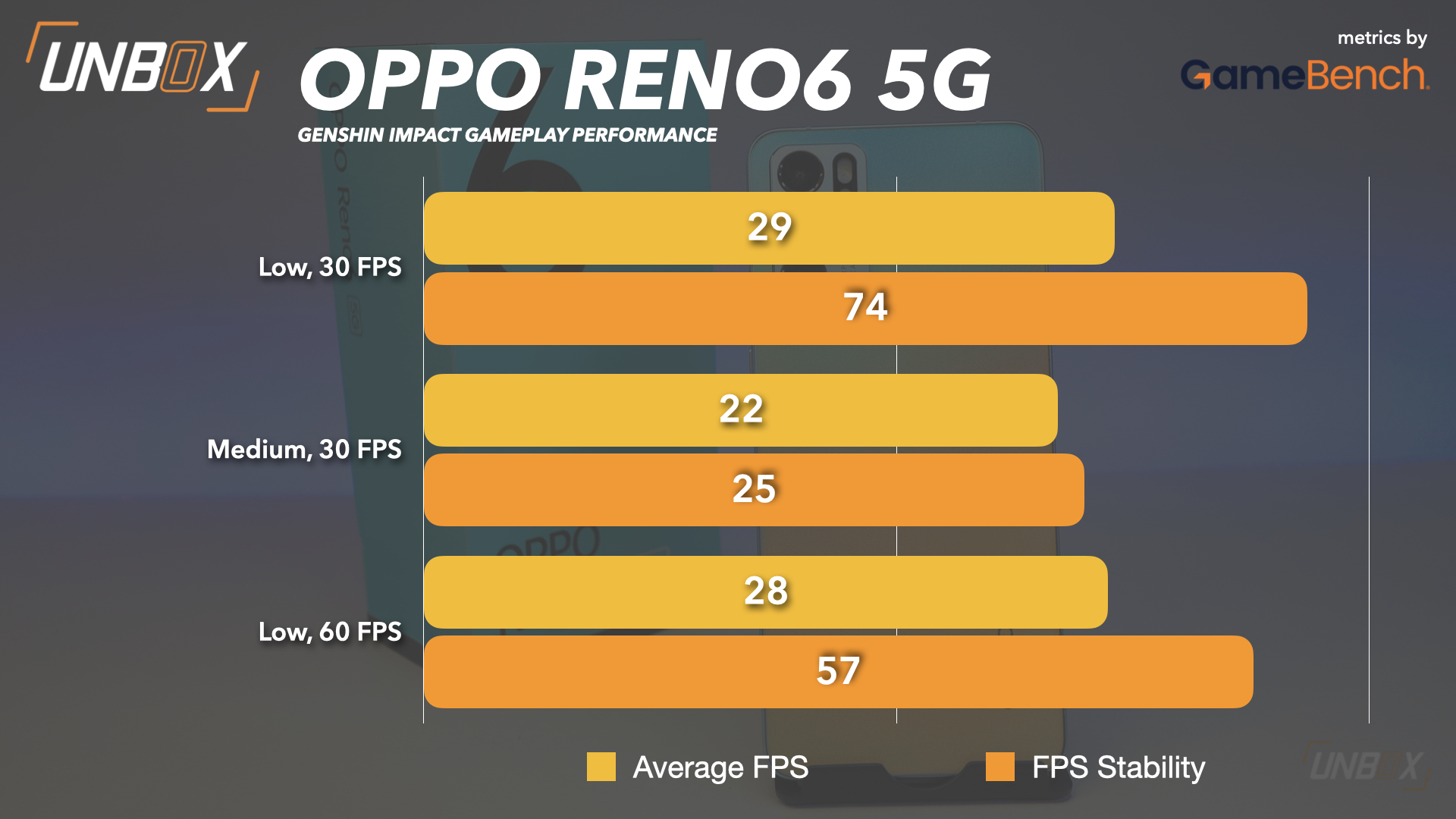 The optimization problem is more evident with Genshin Impact. In this popular open-world RPG,  the Reno6 5G had difficulties running the game in medium graphics settings. At low graphics, 60FPS mode, the Reno6 5G could not breach the 30FPS mark, while things are relatively stable in the game's default low graphics, 30FPS mode.
Expect OPPO to roll out updates in the coming months to further optimize the Dimensity 900 for other apps, so this is something that is too early to worry about.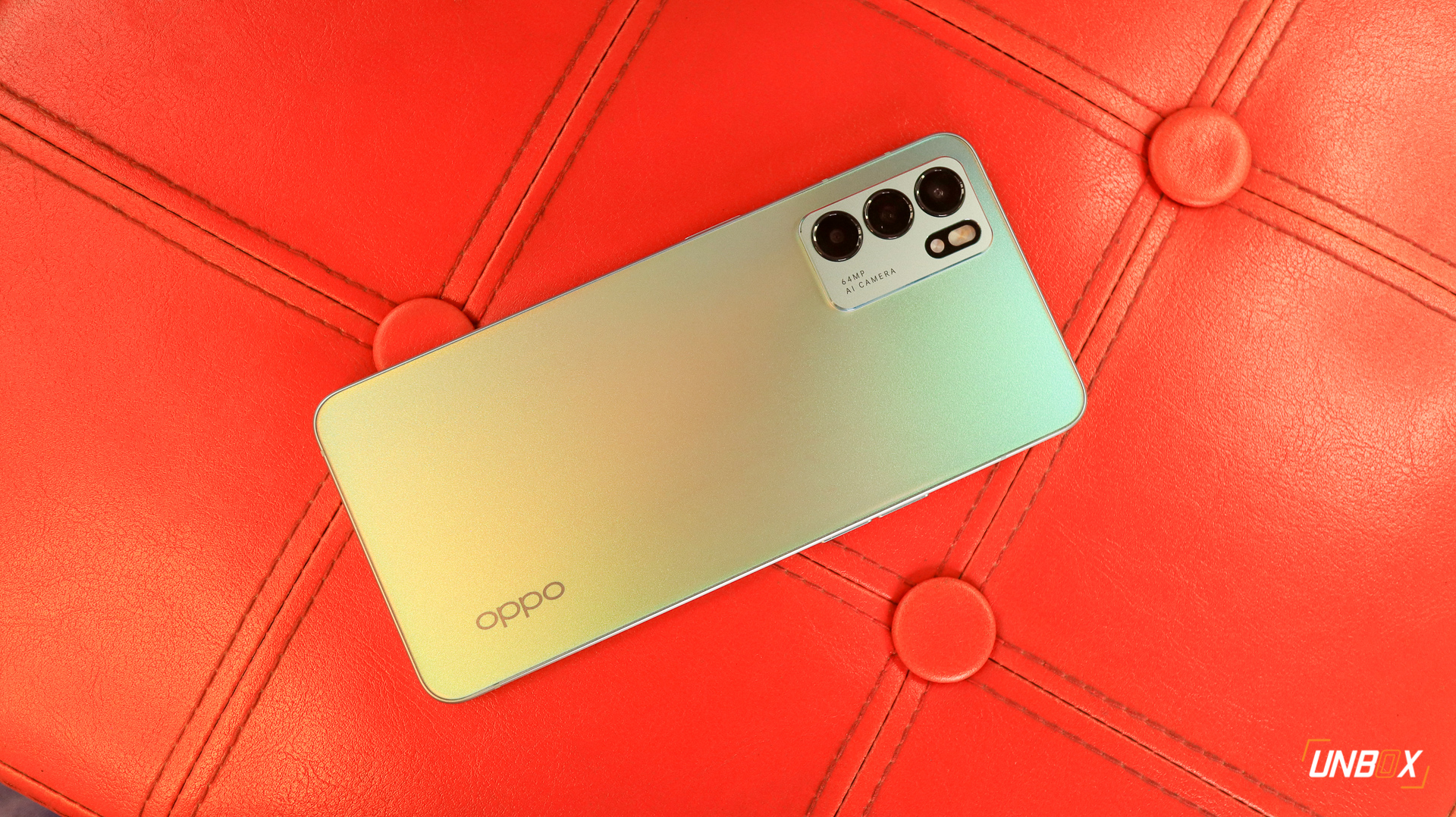 Gaming optimization issues aside, the Dimensity 900's 6nm process translates to better power efficiency. In our video loop test, the Reno6 5G lasted us for a little over 11 hours. That is fairly good for a phone with a 90hz AMOLED panel, and it shows that MediaTek is working hard in making its processors more efficient when it comes to battery life.
While a 4310mAh battery may sound small for 2021 standards, the Reno6 5G comes with 65w SuperVOOC 2.0 charging, which can easily top up the battery in under 40 minutes.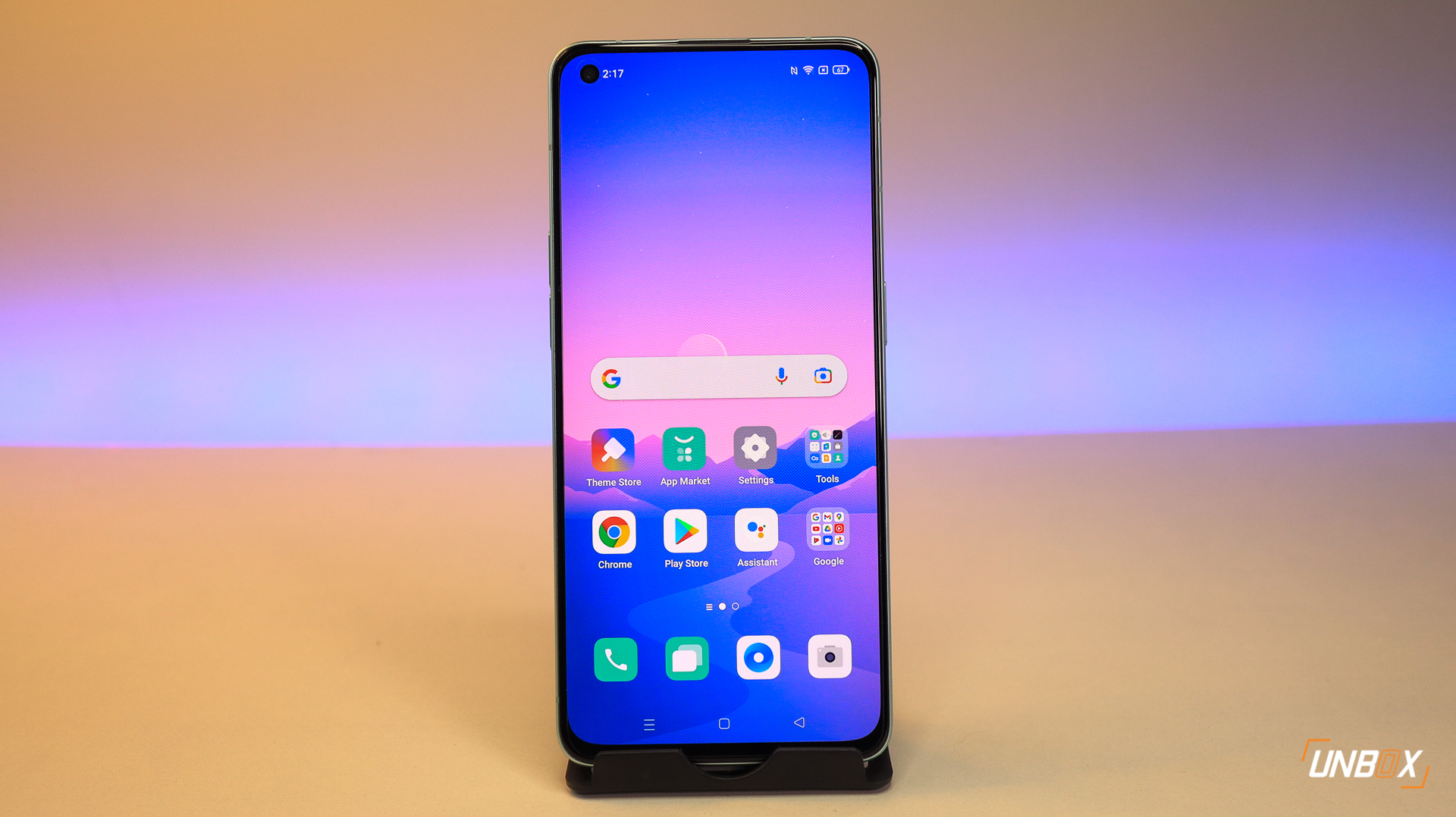 Wrap up and Conclusions
Our review of the OPPO Reno6 5G shows that while the Dimensity 900 processor and a more unique boxy design make it a compelling upgrade over the Reno5 5G that launched in the Philippines several months ago, we have mixed thoughts on OPPO choosing to recycle the rear camera setup and not giving substantial upgrades to it. There's also the concern for optimization when it comes to games, but we're confident that these will be addressed in the coming months.
With the Reno6 5G being more expensive than its predecessor, it seems that OPPO wants to market it as a premium mid-range 5G device instead of one that fits more into the mainstream mid-range category.
OPPO Reno6 5G Review Philippines Price
The Reno6 5G is priced at Php 26,999. Preorders for the Reno6 5G will be from August 7 to August 27. Those pre-ordering will get the Enco Buds together with their purchase.