Review Verdict: Samsung has done a great job at updating their A-series lineup this year. While a lot of people might be looking at its bigger brother — the Samsung Galaxy A72–you shouldn't sleep on the A52. It benefits from most of the upgrades that the A72 gets and comes with a more affordable price tag.
That being said, it also has the same drawbacks. It uses the same Snapdragon 720G processor that we saw in last year's mid-range offerings. Now, there is a 5G version of this device available but be ready to pay a premium to get faster mobile data if it's available in your area.
Samsung Galaxy A52 Specs:
Qualcomm Snapdragon 720G processor
8GB RAM
128GB/256GB storage, expandable via MicroSD
6.5-inch Full HD+ Super AMOLED Infinity-O Display, 90hz refresh rate
64-megapixel f/1.8 main camera with PDAF and OIS, 12-megapixel f/2.2 ultra-wide-angle camera, 5-megapixel f/2.4 macro camera, 5-megapixel f/2.4 depth sensor
32-megapixel f/2.2 selfie camera
4G, LTE
WiFi, Bluetooth, NFC, in-display fingerprint scanner
Stereo speakers, IP67 rating
4500mAh battery
25w charging
Android 11, OneUI 3.1
Pros
Fantastic display and audio for watching videos
The screen finally has a higher refresh rate
Refreshing design with a lot of color options
Cons
Price is steep for a Qualcomm SD720G-equipped phone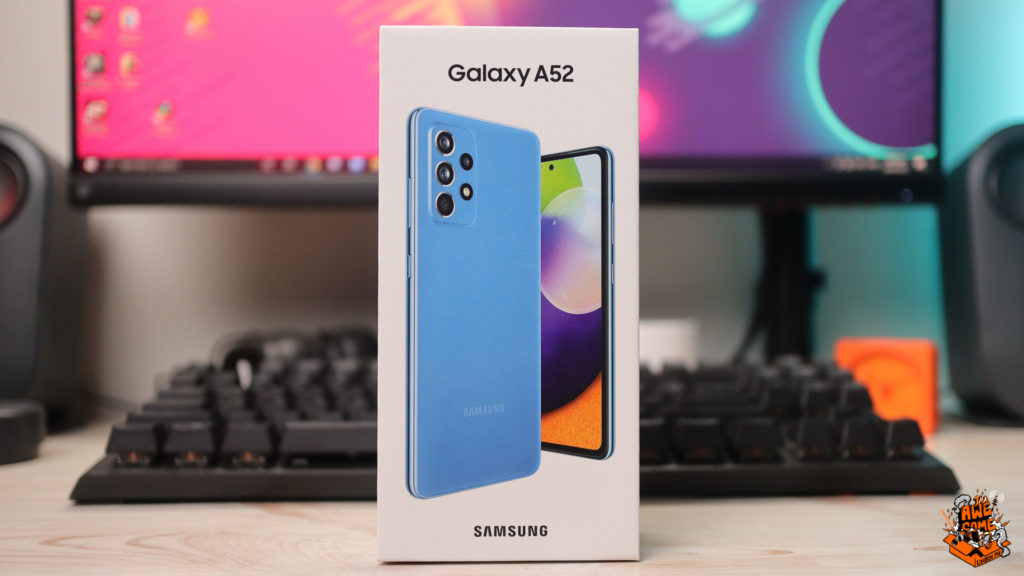 After months of waiting, we finally have Samsung's newest mid-range offerings in their A-series lineup. The A51 was one of their best-selling smartphones from last year but with how fast-paced the tech scene is nowadays, the hype for that device faded in favor of other smartphones that were more packed with more features.
Enter the Samsung Galaxy A52. One of the newest mid-range offerings from Sammy to reach our shores that has some pretty significant updates. The question is: Are the upgrades enough to make you spend that dough?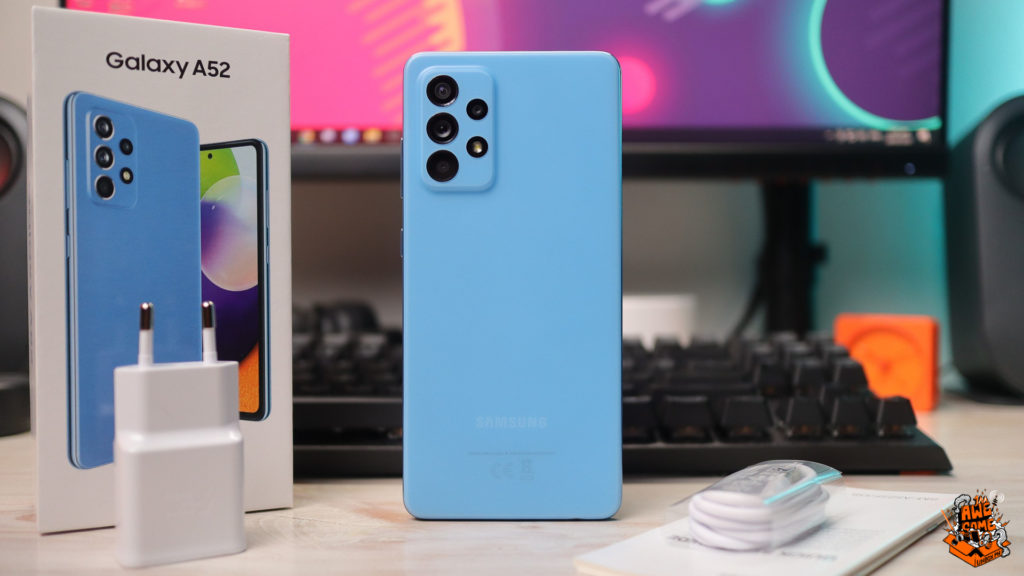 Unboxing and Package Contents
Similar to what we've been seeing from Samsung recently, the box of the A52 has been kept simple. You're getting a clean white box with the photo of the device in front, which should show you the colorway of your choice. It's a nice little detail given that we've been given a ton of color options with the new A-series devices.
Inside the box, you have the usual set of accessories that accompany the device. You have the documentation, a SIM ejector tool, USB-C cable, and the 25W charging brick. We should note that it will also come with a free jelly case, which wasn't included with our review sample.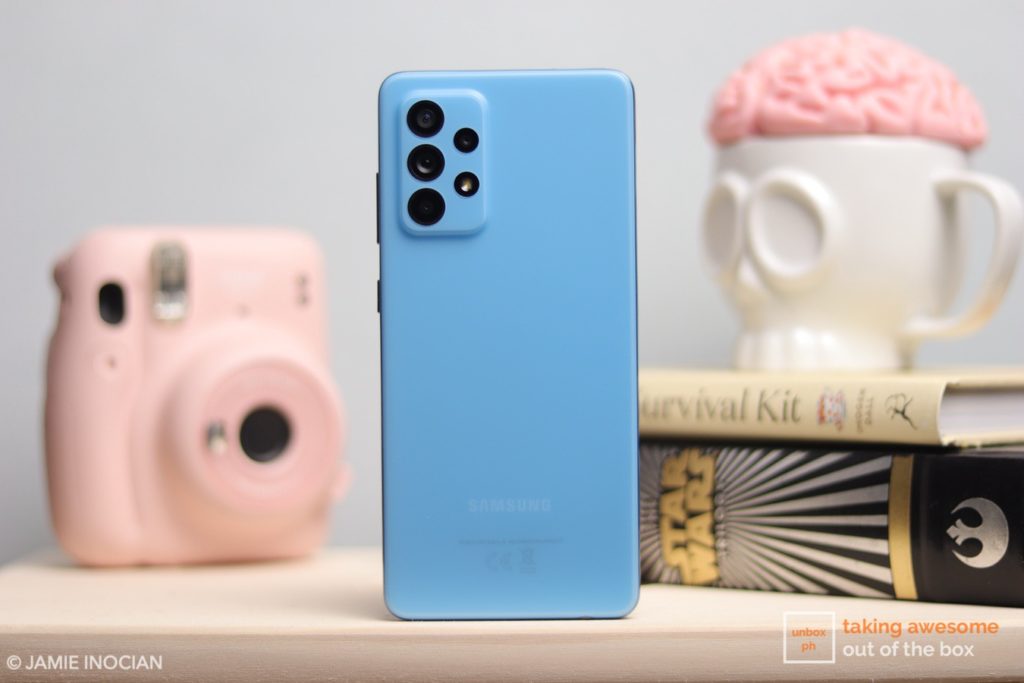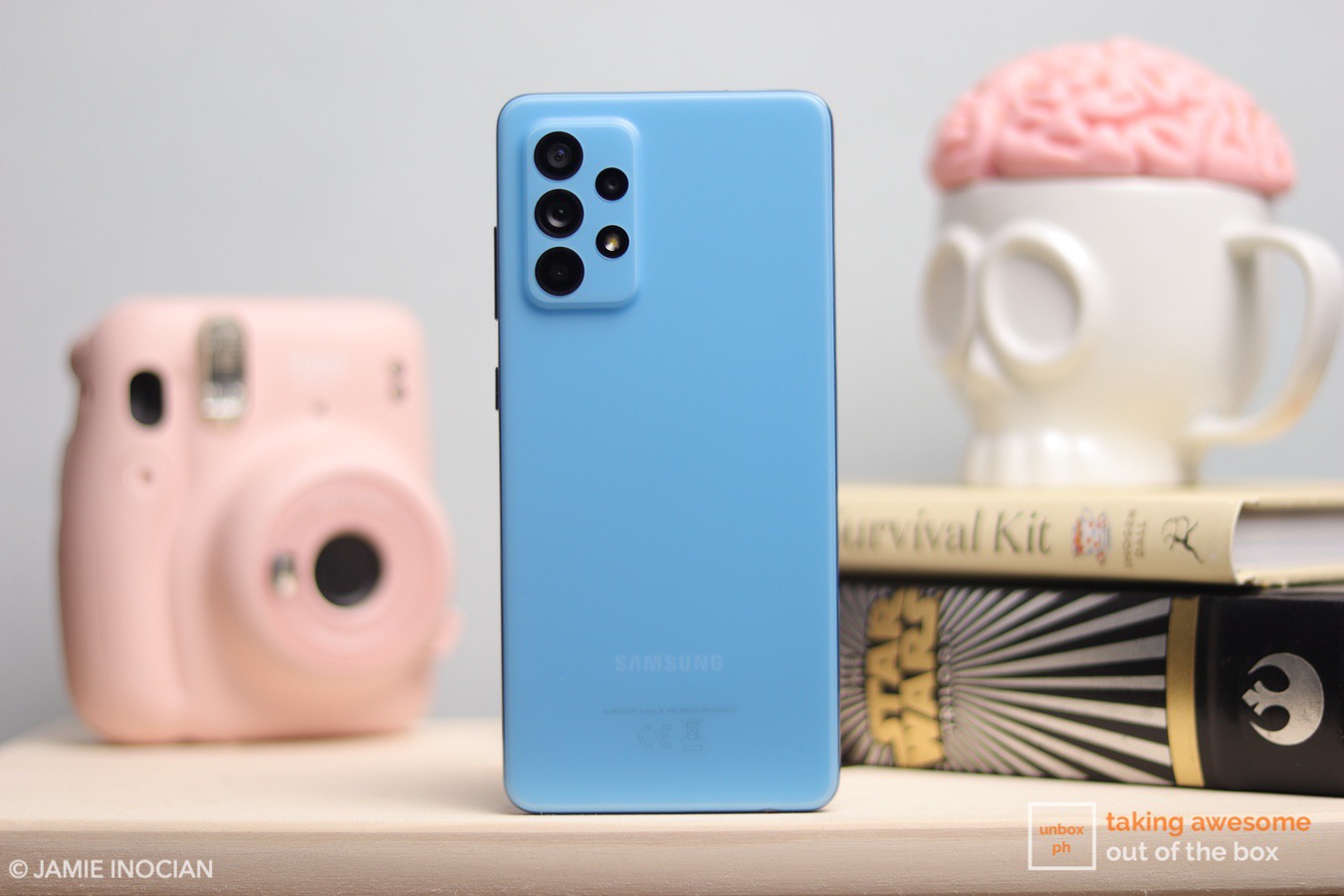 Design
While other brands may decide to use the same outer shell for each new version of a smartphone, Samsung has completely revamped the design of the Galaxy A52 and we absolutely love it. The camera module has been integrated into the back panel of the device to give it cleaner lines and, as I mentioned, you have more colors to choose from to match your aesthetic.
It should come as no surprise that they're still using polycarbonate plastic here — since even the base models of their flagships use this material — but they've really learned to use it well.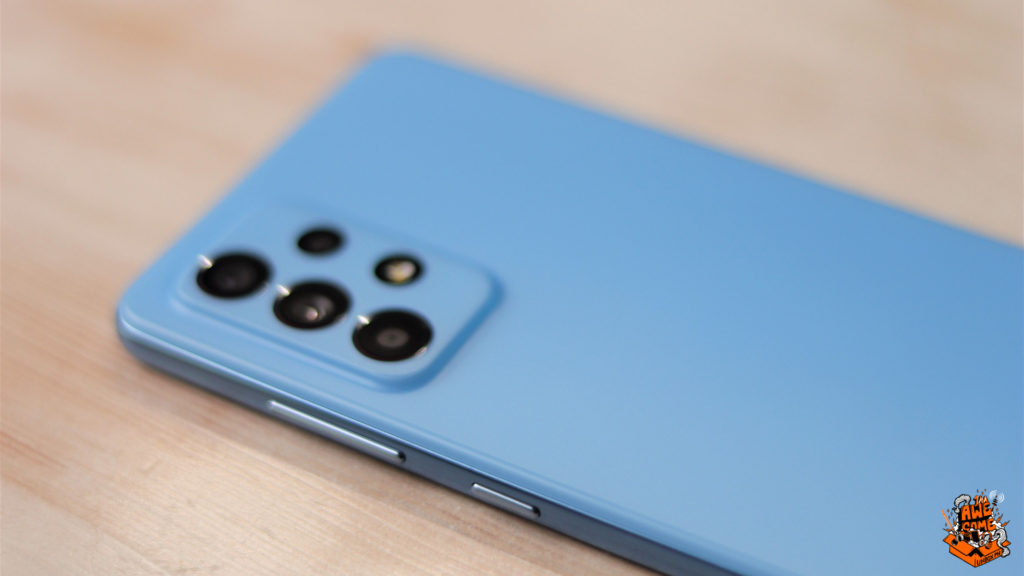 Instead of the high gloss finish that we got before, the A52 is matte so no more "glasstic" here. We really appreciate the shift in finishes because it not only stops it from being a smudge magnet, but it feels better in the hand as well. Unfortunately, the frame will still need a wipe down though the case is there to prevent all of that.
Samsung has also given the A52 an IP67 rating for dust and water resistance so it'll survive a quick dunk in the pool should accidents happen or more specifically — up to 1 meter for 30 minutes.
Display and Speakers
The Galaxy A52 has a 6.5-inch screen at Full HD+ resolution. If you're a long-time reader then you should know that we are a bit biased when it comes to Samsung displays and that's because their Super AMOLED panels are some of the best in the business.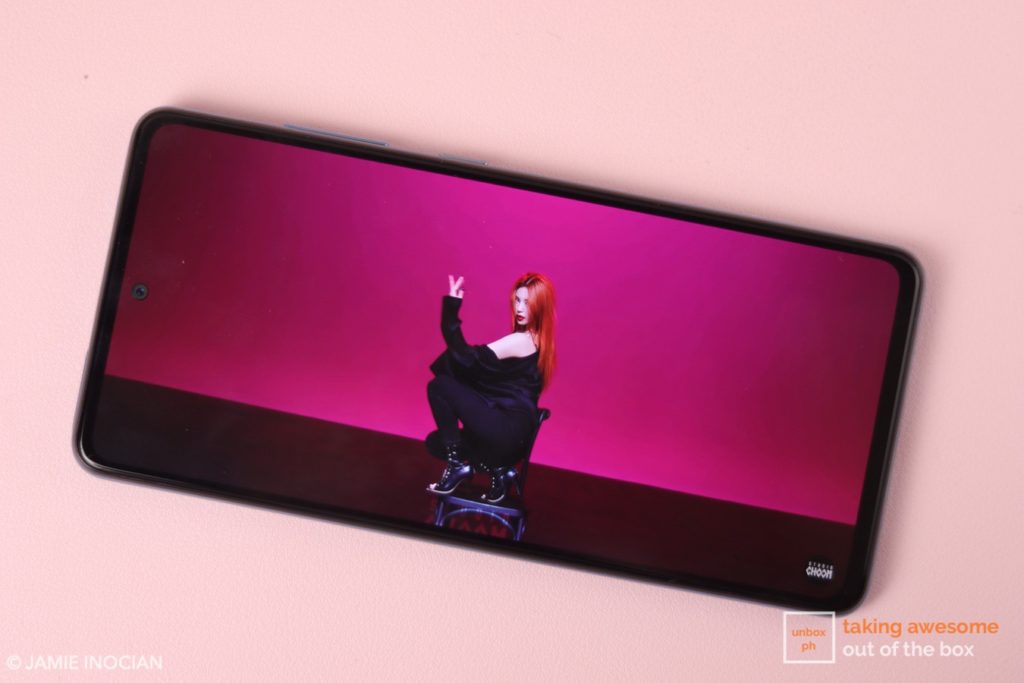 You've got all the usual characteristics here that make it great with the deep blacks that allow for more vivid colors, which makes for a great time if you're going down that YouTube rabbit hole to keep yourself entertained during ECQ Season 2.
The thing here is that they've finally bumped up the refresh rate to 90Hz to give us a smoother experience while navigating the device or scrolling through feeds. It may not sound like a big deal but it was one of the things on our wishlist when we got the Galaxy M51 and their other offerings at the same price point.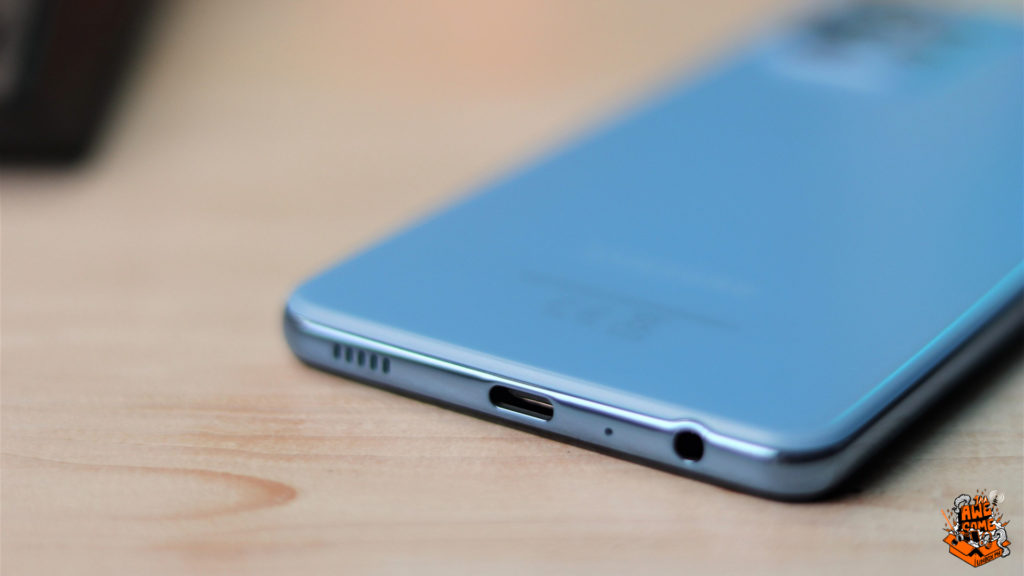 To pair with the screen, they've also thrown in stereo speakers on the A52 and its siblings to make your binging watching even more enjoyable. They sound fantastic but the downside is that they're don't get loud, which could be a deliberate move on their part to maintain the audio quality.
Thankfully, you still have a headphone jack here if you really want to zone out or you can always pair it to your Bluetooth speakers if you want to blast those tunes.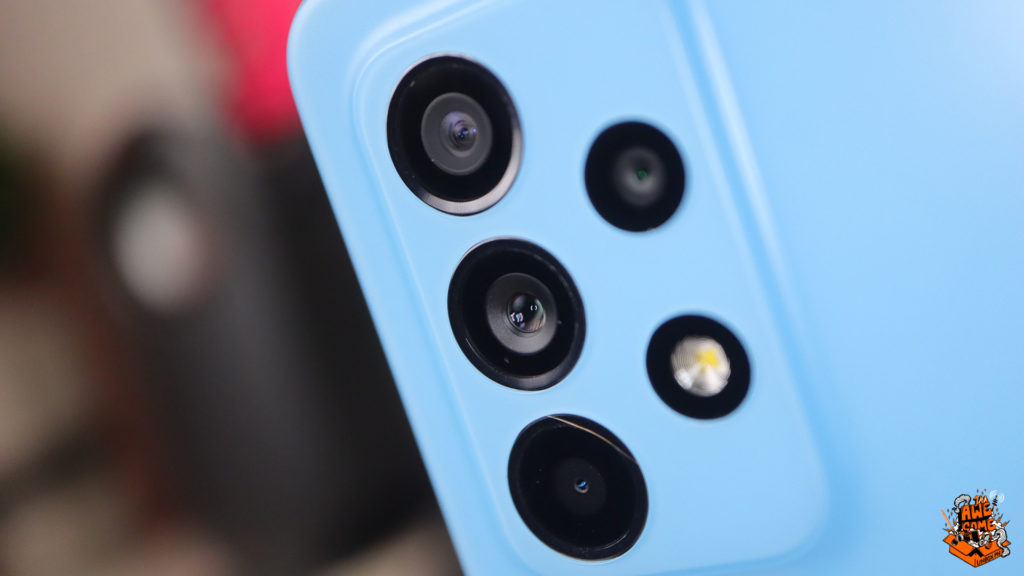 Cameras
The new A-series smartphones have a quad-camera that pretty much has the same setup. The A52 features a 64-megapixel main camera at an aperture of f/1.8 with phase-detection autofocus and optical image stabilization, a 12-megapixel ultrawide at f/2.2, a 5-megapixel macro, and a 5-megapixel depth sensor instead of the telephoto that you would find on the A72.
Based on the photos we're able to take during ECQ, we're pretty happy with the performance of the snappers overall. Images have a good amount of detail and we like that the white balance on the main camera and the ultrawide stay relatively the same.
Like most smartphone cameras, you are getting some post-processing happening in the background to give colors a lift and a bit of sharpening as well but it's relatively tame compared to some of its competition that can go a bit overboard.
The addition of OIS also means that we are seeing better photos in low-light as well so indoor photos from the main cam do come out wither better exposure and less noise but we would still recommend getting creative if you need to take nighttime photos.
For selfies, a 32-megapixel front camera across the board produces great results provided that you have great lighting.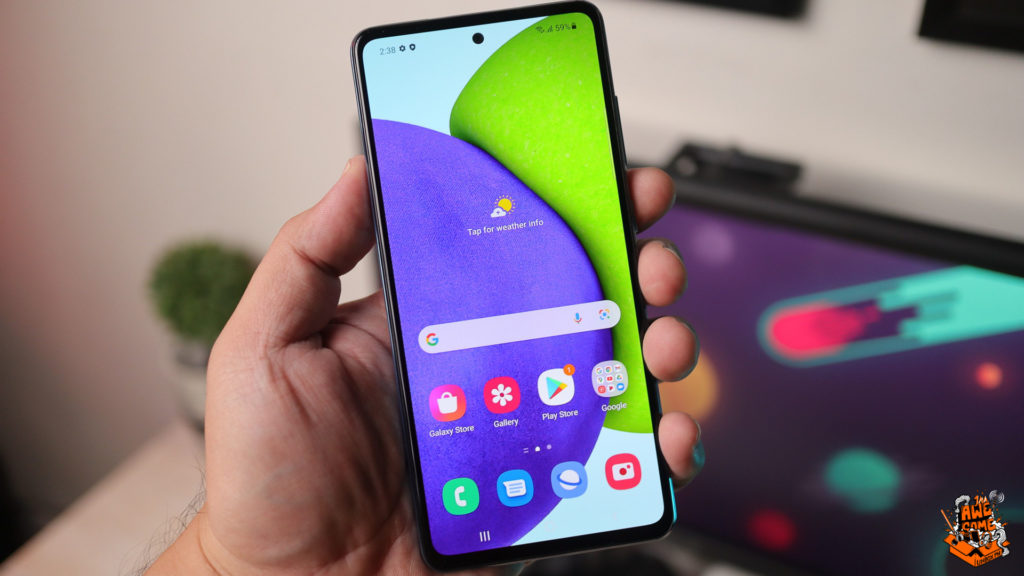 Performance and Battery
Just like its bigger brother, the Samsung Galaxy A52 has a Qualcomm Snapdragon 720G processor running the show that's paired with 8GB of RAM and 256GB of storage. As Duey said in his review for the Samsung Galaxy A72, this is where most of us have mixed feelings about these two devices.
We did want to see more oomph under the hood of these new devices given the price we're paying for them. On the other hand, the 720G is still a capable processor for crossing things off your checklist at work or simply winding down with a few games afterward.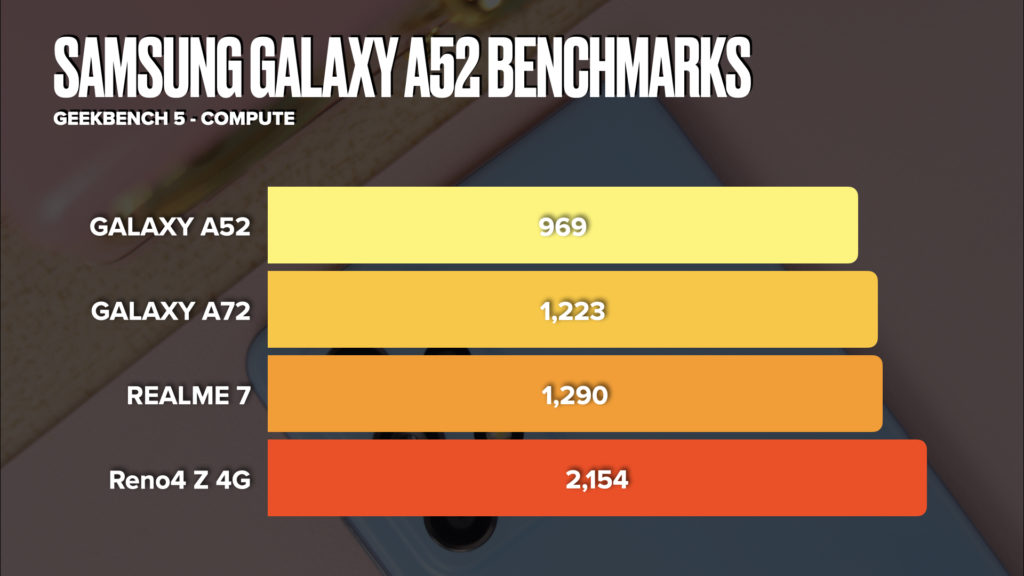 You can check out Duey's review of the Galaxy A72 for its gaming benchmarks since the two devices will perform similarly.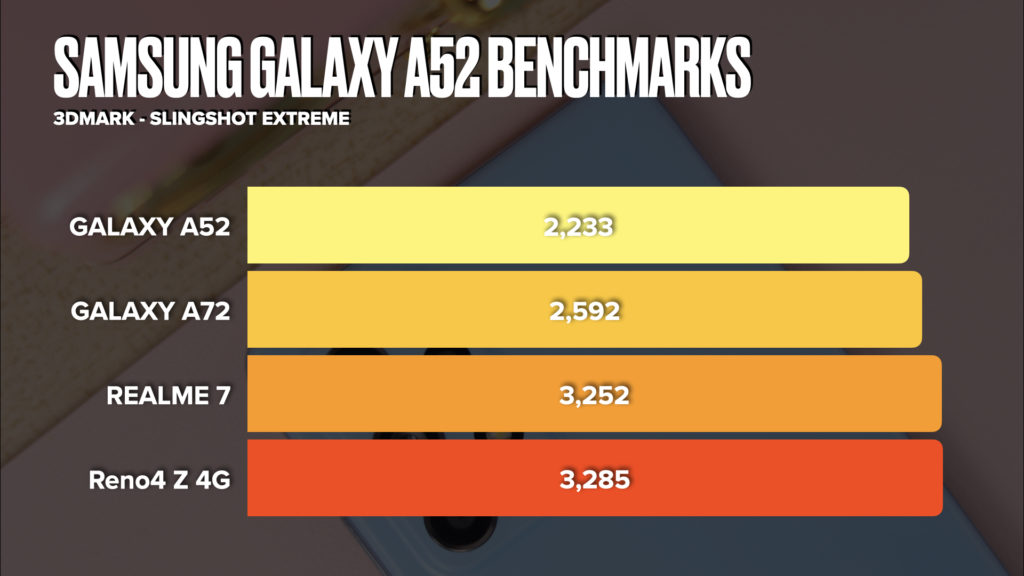 The A52 runs on a 4500mAh battery that lasts a day and a half with the time spent pretty evenly between being on mobile data and WIFI. Our YouTube loop test had it click in at 13 hours and 15 minutes, which isn't all that bad considering the capacity of the device. It also takes a little over an hour to top up the device with the included 25W charger.
Wrap Up and Conclusions
The Galaxy A52 has so many quality of life changes from its predecessor and checks many of the boxes that we've wanted to see from Samsung mid-rangers. You still have their beautiful display that has been improved with a higher refresh rate plus the addition of stereo speakers just ups the enjoyment with this device.
It's more affordable than the A72 but at this price range, it's definitely facing heavy-hitters from other brands who may be offering devices with more powerful processors on board that are ready for 5G.
That being said, the Samsung Galaxy A52 is still a good option for those who may prioritize having a great display — and now, audio — to watch your favorite YouTubers and shows on Netflix.
Samsung Galaxy A52 Price Philippines
The Samsung Galaxy A52 is priced at Php 18,990 and is available in their flagship store on Lazada or through their e-commerce store.