Review Verdict: The SoundPEATS MAC is capable of playing a variety of sound profiles but its bass playback could be improved. Its stellar battery life may outlast the amount of content you can consume in one sitting making it a  wonderful pair of TWS for listening to music with but not so much for making calls since its microphone muffles your voice.
Pros
Playback works with a broad range of audio profiles
Long battery life
Cons:
Its charging case could be smaller or used to accommodate extra features
Mic muffles sound with changing volume levels
The SoundPEATS MAC is one of the newest models that SoundPEATS has to offer. It's got an attractive price tag but what else is there to these TWS in-ear buds? Read our SoundPEATS MAC TWS Review to find out.
Design and Build
The charging case's exterior has a minimalist rubber matte finish with just the glossy SoundPEATS logo on top. Its texture feels like it's prone to get scratched off over time if you tend to chuck small gadgets into your everyday bag. The shape of the case is a lot like a compact make-up case, and that's probably where it gets its name from. Located beneath the charging case's hinges are a LED indicator and its USB-type C charging port.
The in-ear buds lie flat inside its charging case with its stems and body having a sturdy matte plastic finish. On their inner facing side are its charging contact ports and a little indicator that tells you to which side each earbud is assigned. Its outer-facing side is where the touch controls are along with a stealthily-embedded LED indicator the lights up while it's performing a function. Located on the bottom of the earbud's stems are its microphone pinholes.
User Interface and Fit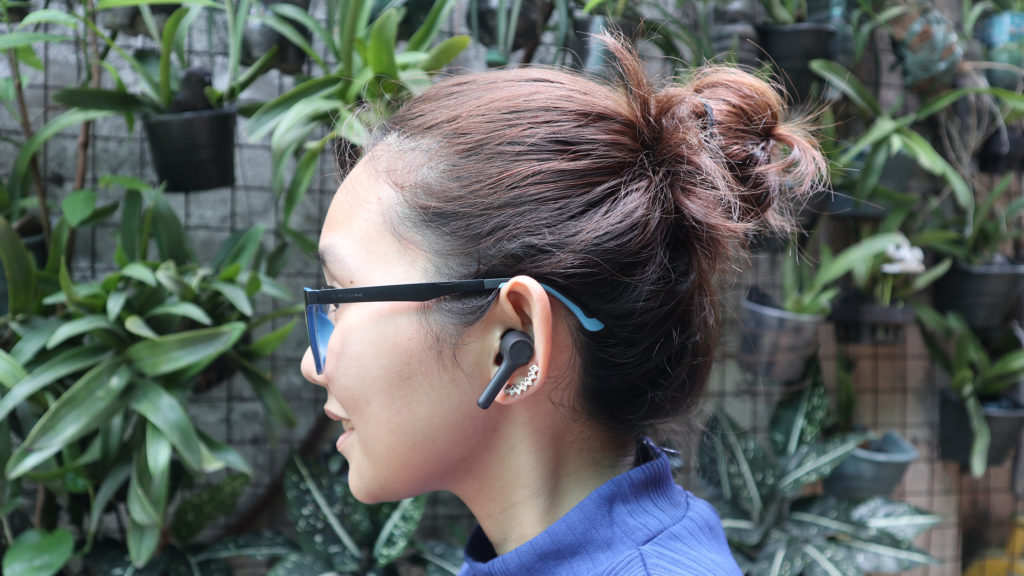 Touch controls are simple but if you're new to SoundPEATS it takes a bit of practice to remember what each touch gesture does. While charging the number of blinks the LED flashes tell you how much battery there is: one blink means 0-25%, two for 25-50%, three for 50-75%, and four for 100%. There certainly a missed opportunity for an on-screen indicator on the charging case that would have made things easier considering the size of its case, but this could have been a compromise considering its price.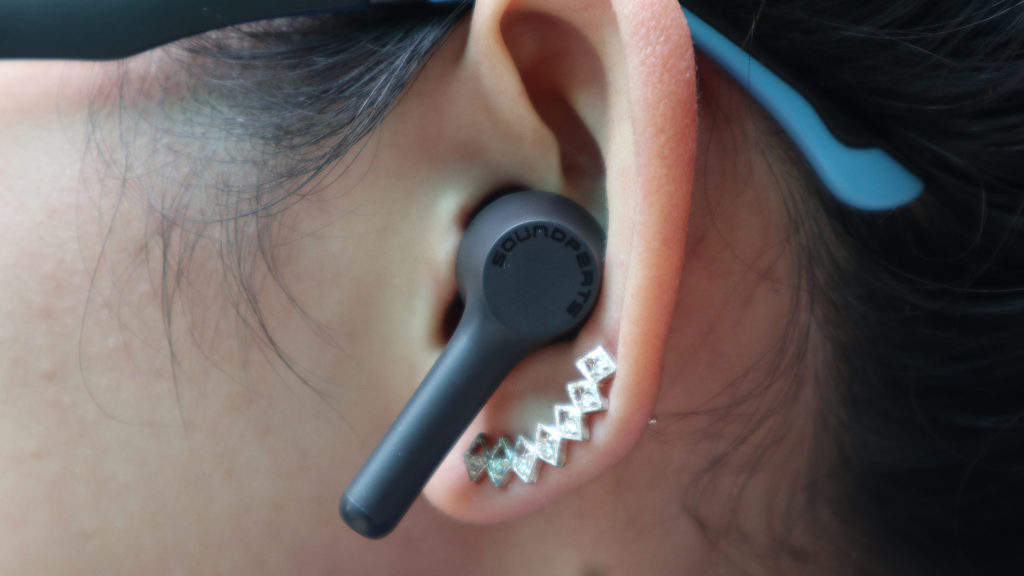 Because these are in-ear earbuds, you won't have to worry about it falling out while doing playing sports or doing tasks with a lot of movement. Included in its box are two differently sized ear-rubbers which you can swap depending on the size of your ear. Pairing is seamless with most Bluetooth devices as it immediately pairs with a device as soon as it's taken out of its charger.
Audio Quality and Battery Life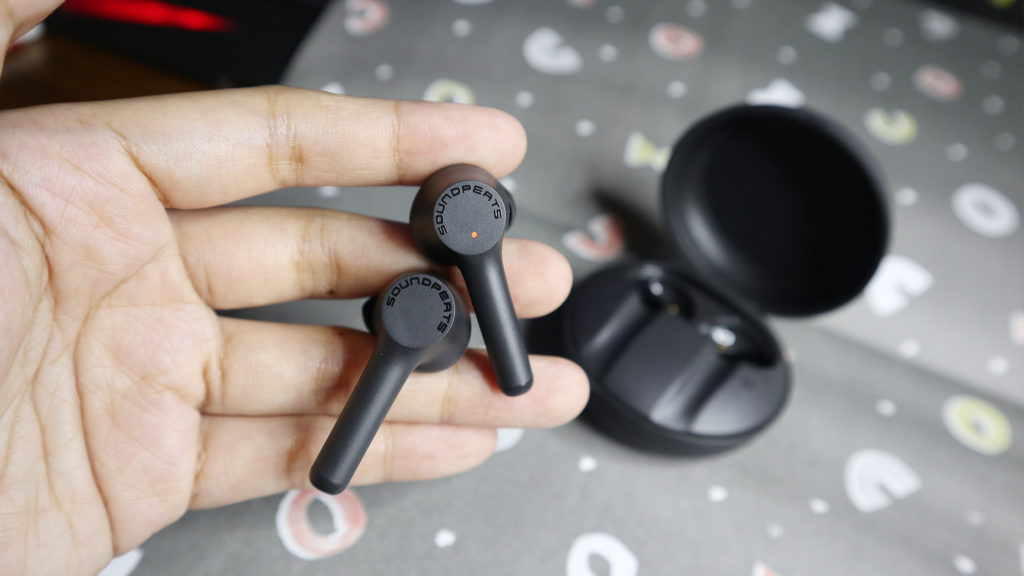 The SoundPEATS MAC can play a variety of sound profiles, however bass sound flat on low or medium volume settings. This can be remedied by turning up or maxing out the volume on the earbuds. Alternatively, it picks up the bass on high-quality lossless audio. The good news is that the earbuds don't sound like its breaking while playing audio at maximum volume, with very little distortion at max volume.
The earbuds play a notification sound when you've hit the max volume on the earbuds – just brace yourself since it sounds jarring if you're unfamiliar with the touch button controls.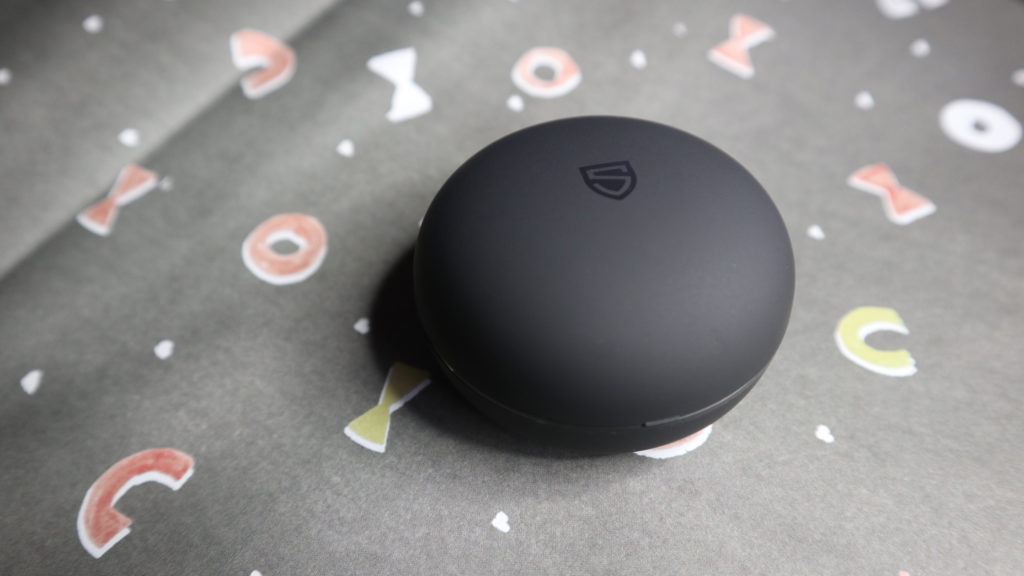 You can also use one earbud at a time. This mono mode is useful when you need to pay attention to your environment like when you're walking around or biking. The earbuds can muffle environmental sound depending on the volume and kind of audio you're listening to. SoundPEATS MAC earbuds have 9 hours of playback and can be charged 5 to 6 times on its case before it completely drains its juice, that's about 54-hours of realistic playback time. Charging times are 1.5 hours for the earbuds and 2 hours for its case.
The microphones on these earbuds aren't as spectacular as the range of music profiles the SoundPEATS MAC can playback or its battery life. Voice capture comes with volume cadence at best but usually sounds choppy. This isn't an ideal pair of TWS earbuds to make phone calls on but it will get the job done.
Wrap up and Conclusions
The SoundPEATS MAC performs well with a variety of audio files with the exception of bass-rich sounds. You can opt to turn up the volume to fix this but it's not a healthy compromise for your ears. If you're very particular about your music being bassy it's best to manage your expectations with this pair. The SoundPEATS MAC does excel in terms of its long battery life that allows each earbud to go up to 9 hours between charges which is more than enough for a pair in this price tag.
SoundPEATS MAC TWS Review Philippines Price
The SoundPEATS MAC costs Php 1,290 via Digital Walker Homeoffice.ph and their official Lazada store.
Comments (0)