Verdict: Despite being a brand you least expect to make a smartwatch, SoundPEATS delivered with their debut smartwatch. The Watch 1 covers all the essentials you'd expect on a smartwatch, along with an easy-to-use interface with its 1.4-inch display. People might be turned off by its all-plastic body and thick top and bottom bezels, but the Watch 1 gets things done with its decent 5-day battery life. 
The Watch 1 is priced at Php 1,590 and is available at Digital Walker stores and at their Lazada and Home Office eCommerce shops.
Pros
Decent battery life
Bright display
Easy to use UI
Cons
All-plastic body makes it feel cheap
Can't add apps (unless SoundPEATS does so via software update)
Of the list of companies we thought would make a smartwatch, audio company SoundPEATS was far, far on the bottom. Imagine our surprise when we learned that SoundPEATS was expanding its product offerings to include smartwatches, and imagine our bigger surprise to find out that their Watch 1—their first smartwatch—was actually good. Despite looking very similar to a smartwatch from a popular, premium brand, the Watch 1 is a budget offering that covers pretty much all of the essentials one expects in a smartwatch.
Design
Without any doubt, the Watch 1 takes in inspiration from the Apple Watch with its square cover glass and 1.4-inch touchscreen color display with 320×320 resolution. The display is not as fancy as the Apple Watch though, as it uses a conventional square design leaving you with sizeable top and bottom bezels.
Aside from the touchscreen, you get a button on the right side that acts as a power button and a screen on/off switch. Unlike other smartwatches, the Watch 1 comes with a metallic plastic frame and back cover. This may sound like a dealbreaker for some, but honestly speaking, having a metal chassis for a smartwatch that has a sub-Php 2k price tag is just unrealistic. The good news is that despite the plastic body, you still get an IP68 rating.
Underneath the watch is the sensors and POGO pins for charging the Watch 1. The silicone strap has a quick-release feature, letting you change straps with ease. The silicone strap uses a traditional buckle, which is better than the clip-on lock design used by most smartwatches and fitness trackers.

User Interface
Setting up the Watch 1 is done by pairing it with your Android or iOS device through the SoundPEATS Sports app. Once you are done setting it up, the app shows an overview of your health metrics like sleep record, heart rate, step counter, distance covered, and calories burned. It also shows a preview of the weather as well.
The app lets you tweak some settings like Do Not Disturb, Raise to Wake, and reminders for calls, app notifications, and sedentary alerts. The app is also essential for updating the Watch 1 in the future.
Interacting with the Watch 1 is straightforward. Swiping down reveals the notification panel while swiping left or right reveals its various functions: activity summary, heart rate, sleep tracker, weather, and breath training. Swiping up reveals the Watch 1's comprehensive list of features. As for the watch face, the Watch 1 has five faces to choose from for further personalization.
Features and battery life
Despite its budget price tag, the Watch 1 covers the essentials. You get 24/7 heart rate tracking, monitoring for 12 different exercise modes, sleep tracker, weather notifier, and step tracker. Other unique features include a breath training feature in 1- and 2-minute modes, music player controls, and a find my phone feature.
I find the breath training feature unique, as it is handy when you feel stressed out and need a quick break. The music player controls work fine when changing tracks with Spotify, and find my phone is surprisingly useful in times where I can't remember where I placed my phone.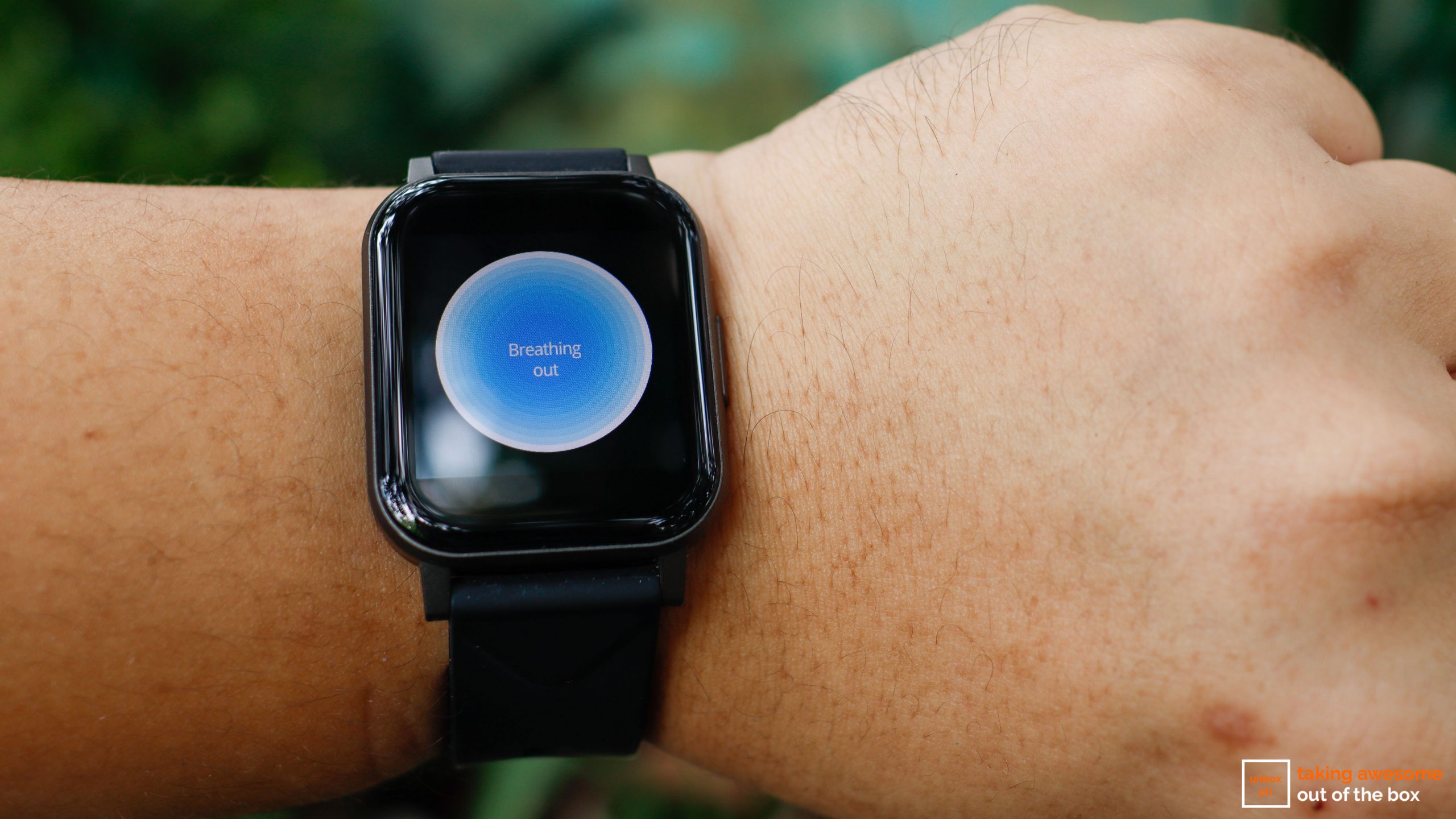 While it is called a smartwatch, you are pretty limited with all the pre-installed apps on the Watch 1. Unlike smartwatches that run WearOS, Tizen, or WatchOS, you cannot install any additional features on the Watch 1 unless SoundPEATS rolls out an update (thru the app) that adds new features.
While SoundPEATS advertises the Watch 1 with a 10-day battery life, I only got 5 days of battery life in real-life use. That includes 24/7 heart rate tracking, sleep tracking, and constant email, messenger, and social media notifications. Even if the Watch 1's battery life may be far off from SoundPEATS' claims, a 5-day battery life is pretty decent for a budget smartwatch.
You don't get any fancy fast charging solution with the Watch 1. Topping up its 260mAh battery will take you around two hours.
Wrap up and Conclusions
If you really crave for a smartwatch that looks like an Apple Watch but is on a really tight budget, the Watch 1 is a great choice. For under Php 2k, the Watch has all of the essential features one looks for in a smartwatch while keeping a profile that makes it look like one of those more premium smartwatches.
While the very affordable price means that you have to deal with an all-plastic body and no support for adding apps, the Watch 1 is a great basic smartwatch for those with tight wallets.
Comments (0)