Beyond having a store for most of the top games out there, Steam announced its own gaming console with the Steam Deck. With looks that is reminiscent of a Nintendo Switch, the Steam Deck is actually a compact gaming PC that runs SteamOS, can play all of your Steam games, and functions as a computer.
The Steam Deck flaunts a 7-inch IPS display with a 1280×800 resolution and. 16:10 aspect ratio, along with 400nits maximum brightness and touch support. The higher-end version gets anti-glare etching to make it usable even for outdoors.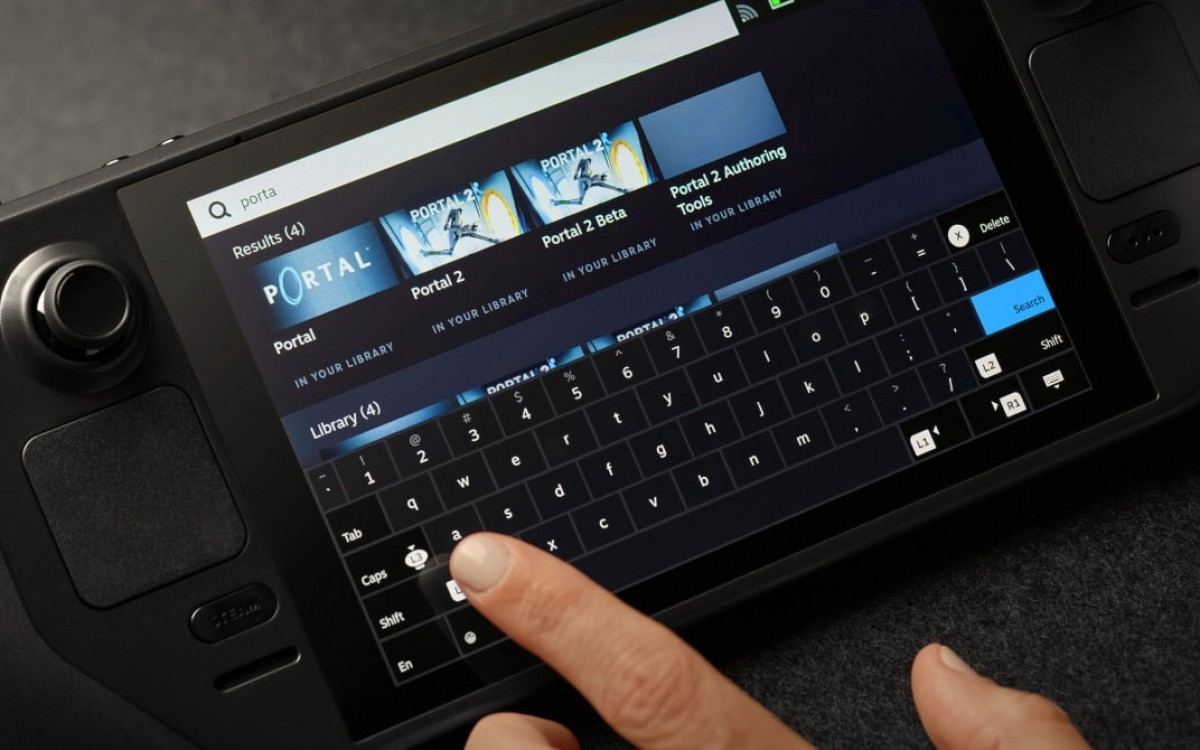 Powering the Steam Deck is a custom AMD APU that is based on Zen 2 architecture and comes with 4 cores and 8 threads, with clock speeds ranging from 2.4 to 3.5Ghz. The GPU uses RDNA2 architecture with 8 compute units, and the APU has a TDP that ranges from 4w to 15w. For storage, the Steam Deck comes with 3 options: the entry-level one has 64GB eMMC storage, while the mid-tier version gets 256GB NVMe storage. The top-end one has double the NVMe storage at 512GB, along with the anti-glare etched glass. All three variants come with 16GB LPDDR5 RAM and MicroSD expansion.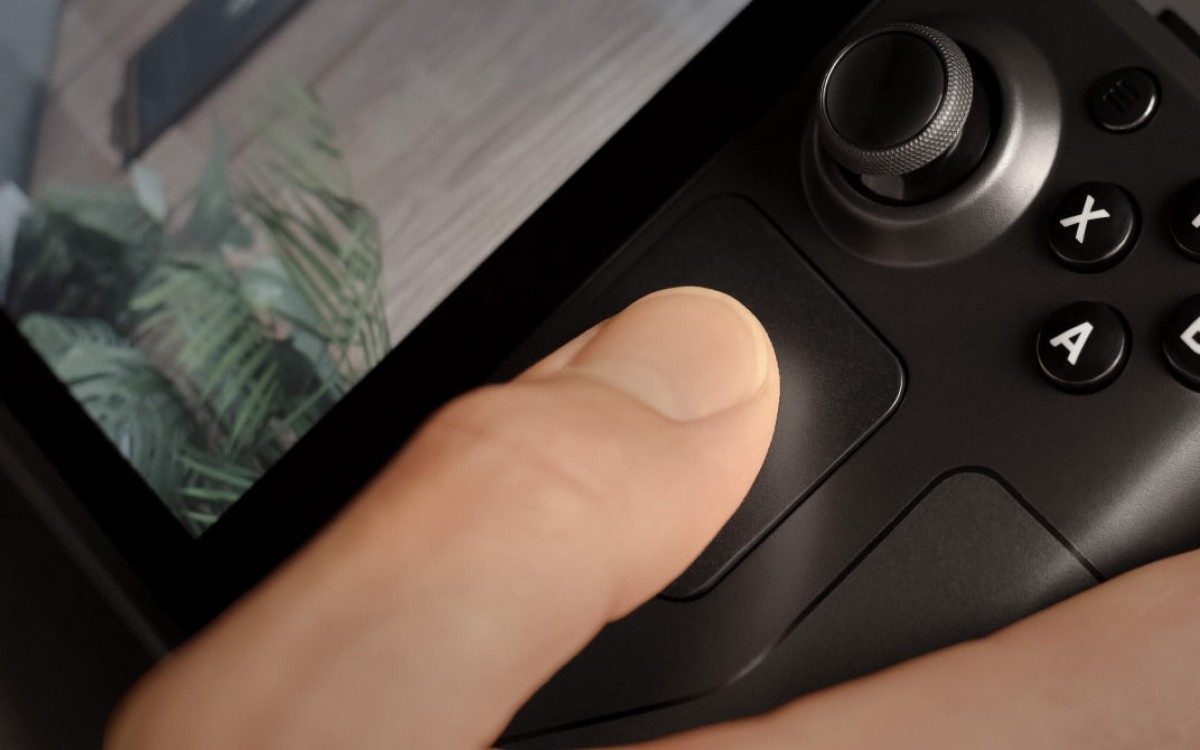 For controls, you get analog sticks on either side, with a D-pad on the left and ABXY keys on the right. Unique to the Steam Deck's form factor are capacitive trackpads on either side, allowing you to control the mouse pointer in games that are designed to be played with a mouse. Other buttons include four analog triggers and additional buttons for View, Menu, Steam, and Quick Access.
The stereo speakers are found right below the trackpad, and the Steam Deck has two built-in microphones. There's also a headphone jack for connecting your wired cans and a USB-C 3.2 Gen 2 port that can be used for power, data, display, and audio. In DisplayPort 1.4 alt-mode, the Steam Deck supports up to 8K at 60hz or 4K at 120hz.
The internal battery is a 40wHr cell that can last for as long as 8 hours for 2D games and 2 hours for demanding 3D games. Topping it up is done via 45w USB-PD charging.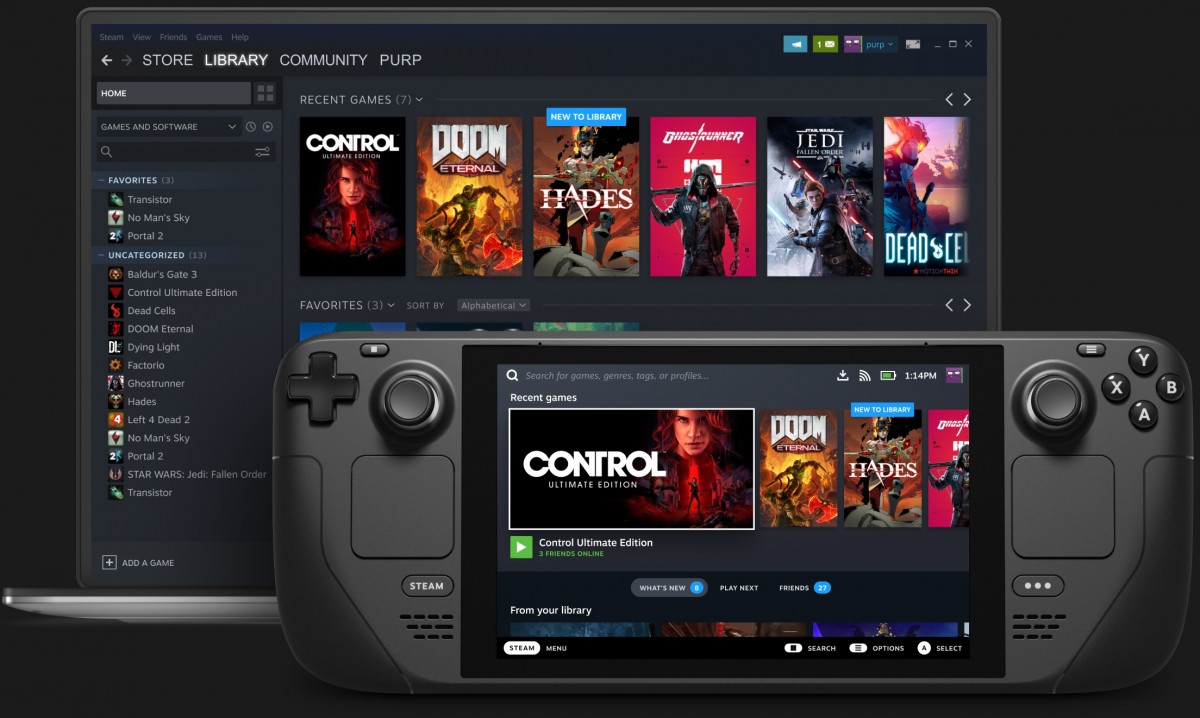 SteamOS is based on Arch Linux and uses the compatibility layer Proton to run games designed for Windows. With this feature, Valve claims that you can run all of your games on the Steam Deck. As a PC, the Steam Deck is your typical Linux PC that can function as a full-fledged computer if you connect it to a monitor, keyboard, and mouse using a USB dock.
You also get a custom version of the Steam store that simply lets you log in and jump right into your game library. you can browse and purchase games here, and supports Steam cloud saves–the latter lets you shift from your PC to the Steam Deck, and continue right where you left off. Aside from the Steam store, you can install other game stores–as long as they are available in Linux.
Valve Steam Deck Price
The entry-level version with 64GB eMMC storage is priced at $399(~Php 20.1k) and comes with a case. The mid-tier 256GB NVMe is priced at $529(~Php 26.6k) and adds a Steam Community profile bundle. The top-end 512GB NVMe variant is priced at $649(~Php 32.6k) and comes with an exclusive carrying case, exclusive Steam Community profile bundle, and exclusive virtual keyboard theme.
All three variants will be available in December 2021 in the United States, Canada, and Europe.