Bayad earned two Excellence Awards during the Pag-IBIG Fund Chairman's Report held last March 28 at SMX Convention Center Pasay City. They were recognized as a Top Collecting Partner for the Non-Bank Category based on its contributions to Pag-IBIG Fund's payment transactions and amount collected in 2022.
This is Bayad's fourth consecutive year of being awarded as Top Collecting Partner for the Non-Bank Category.
"Our drive for excellence is directed towards the belief that Filipinos deserve to be rewarded for their hard work. We share this award with fellow Filipinos who understand the deeper meaning for every payment and contribution made, which is the comfort and peace of mind, for them and their loved ones," Bayad President and CEO Lawrence Ferrer said.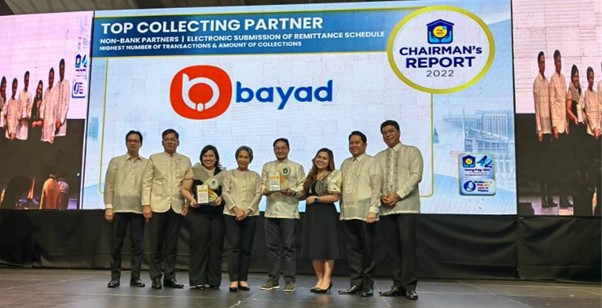 Bayad is instrumental to the Pag-IBIG Fund's campaign to encourage online payments. Bayad has been proactive in helping Pag-IBIG members to settle their home loan contributions through Bayad Centers, partner network establishments, and through digital partners–which include Bayad App and Bayad Online.