Review Verdict: The GAC Empow in this review for the Philippines impressed us way beyond what we expected. It's definitely not perfect, but it does so well where it matters most that it would be hard not to recommend this vehicle to car enthusiasts and general consumers alike. 
Pros
Amazing driving dynamics
Sharp exterior design
Well-appointed cabin
Intense value for money
Cons
Shortcomings on the tech side
DCT can get jerky sometimes
There are still some interior improvements we'd recommend
GAC Motor Philippines isn't exactly new to the local market, and the company has been making strides in motorsport and other activities to appeal to the public eye. Until recently though, we haven't exactly thought much about their cars. But it's one thing to see something and another thing entirely to experience it. So when we were offered the opportunity to try out the latest GAC Empow for our review in the Philippines, we immediately accepted. Zero regrets whatsoever.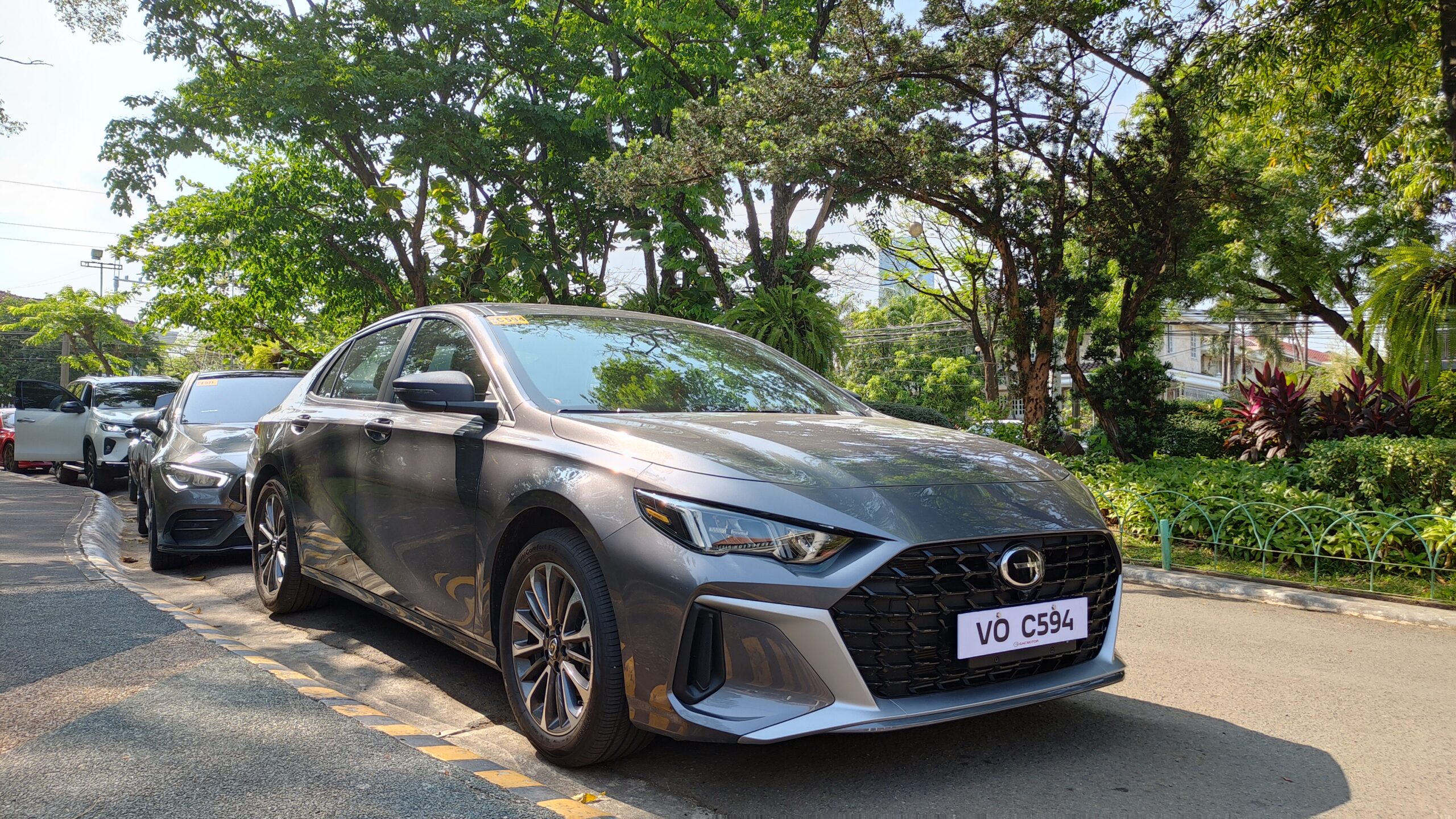 Exterior
One look from the outside and you can tell it's a mishmash of various influences. The front end is remarkably sharp. The sizeable, aggressive grille is well-aligned with modern automobile design trends we've been seeing nowadays. If it serves as this wild tiger's snout, then its eyes are these automatic LED headlights.
We brought various members of the team together, as well as other friends, to comment what they first think when they see the Empow. There was a mix of answers: Mazda ND Miata, previous-gen Hyundai Elantra, Mercedes CLA AMG (the car parked behind it), and others. Nonetheless, none of what was mentioned are ugly vehicles in the least.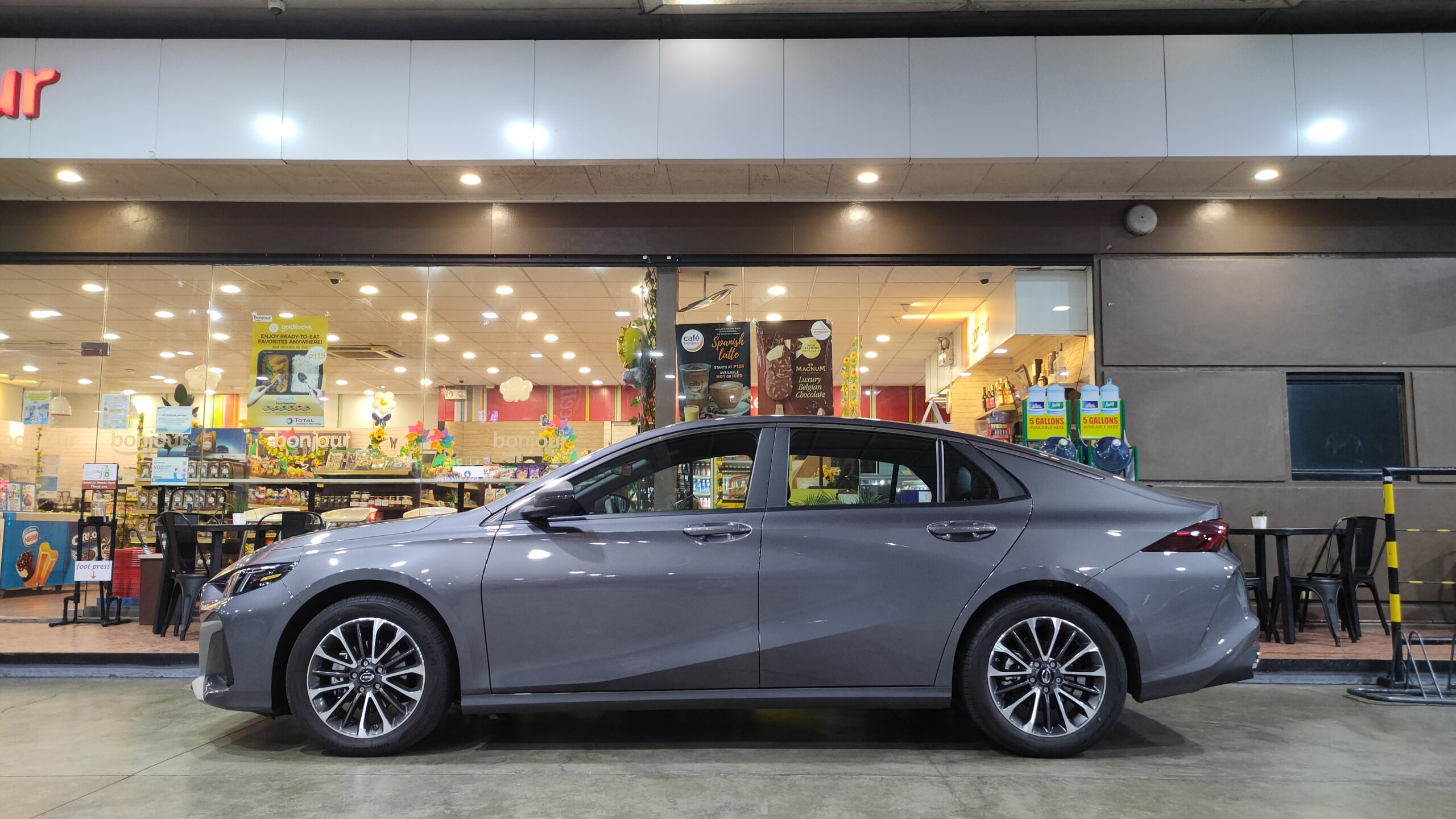 Move over to the side and you'll see a bit of the phrase GAC uses to describe the Empow: "coupe silhouette, reminiscent of European performance cars." It carries that sporty stance quite well, with flowing body lines all over. Our test unit is in "Moonlight Grey," accentuating these characteristics under the bright lights of this picturesque gas station.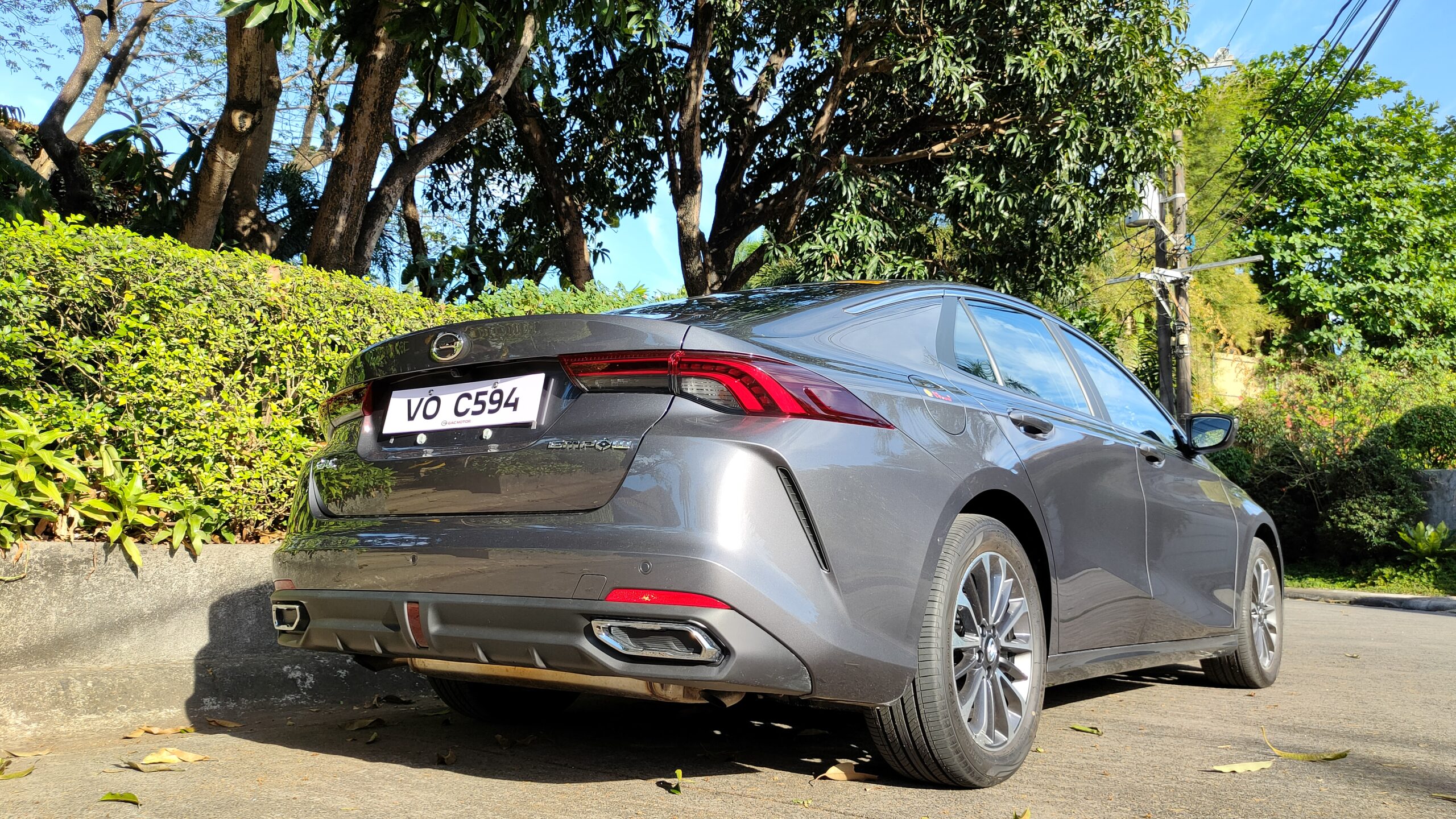 At the back, things are as razor-sharp as ever. The athletic stance of the vehicle culminates at the rear where you'll find parts inspired by its rivals. Speaking of, we notice a bit of design inspiration from Jaguar, Lexus, and Toyota here. Do you see it?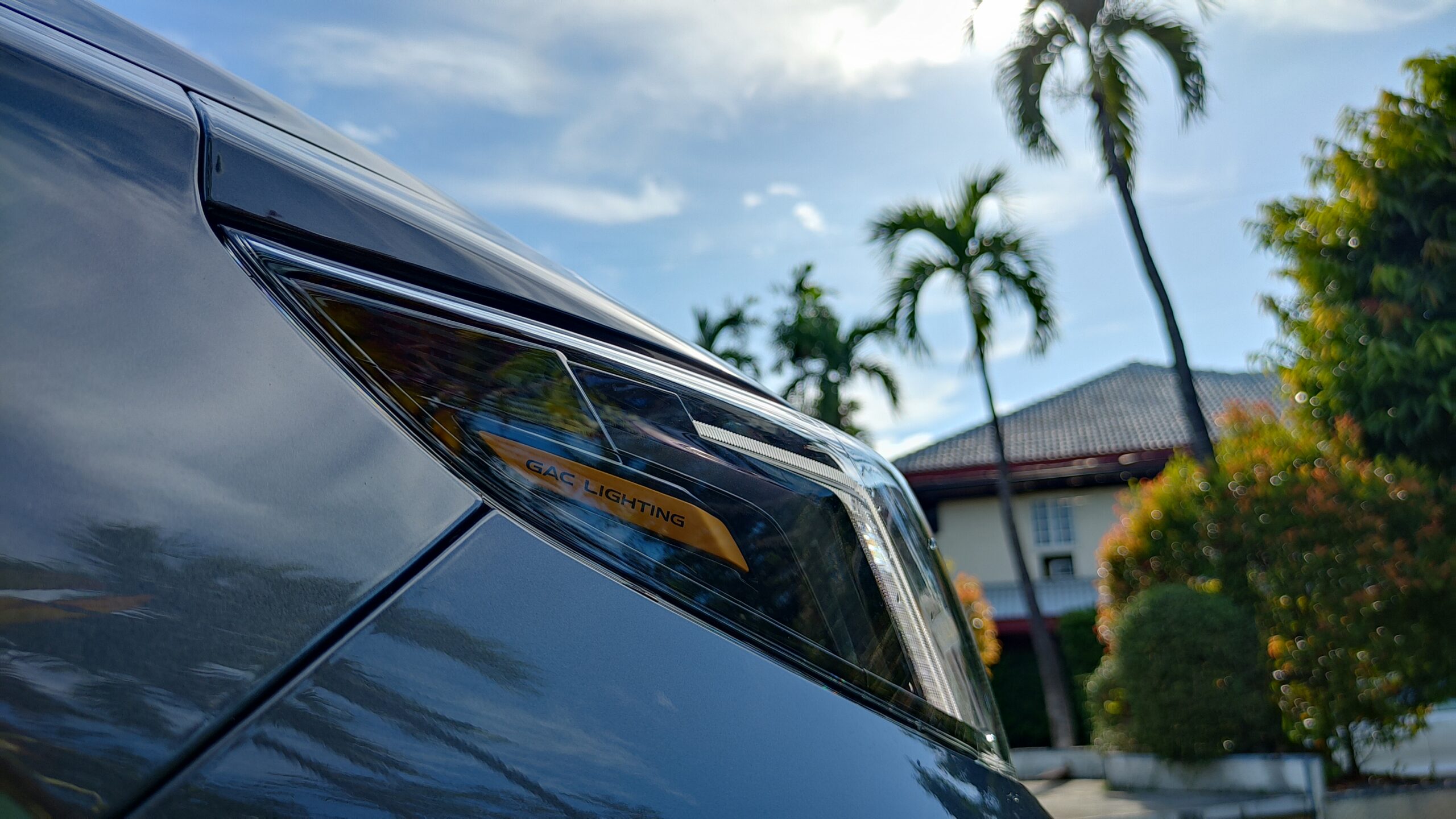 Anyway, all these traits help the Empow appear menacing. One thing's for sure; you'll be able to distinguish this car in the EDSA traffic rush. It's a looker.
If there's one thing we have to comment on, it's the fake vents. They're a hit or miss with most people. And there's an abundance of them here. Some might say they're tacky, and we're not the biggest fans of the fake exhaust vents.
Despite that minor flaw, we definitely love the car's overall look and wouldn't mind being seen in one.
Interior
When you hear the word sport, a racy red shade also enters your mind. We appreciate red interiors when they're done well, and one such case is the GAC Empow we have in our review for the Philippines. Even the START/STOP button is at the center, surrounded by a glowing red ring. Lexus IS350 F Sport vibes.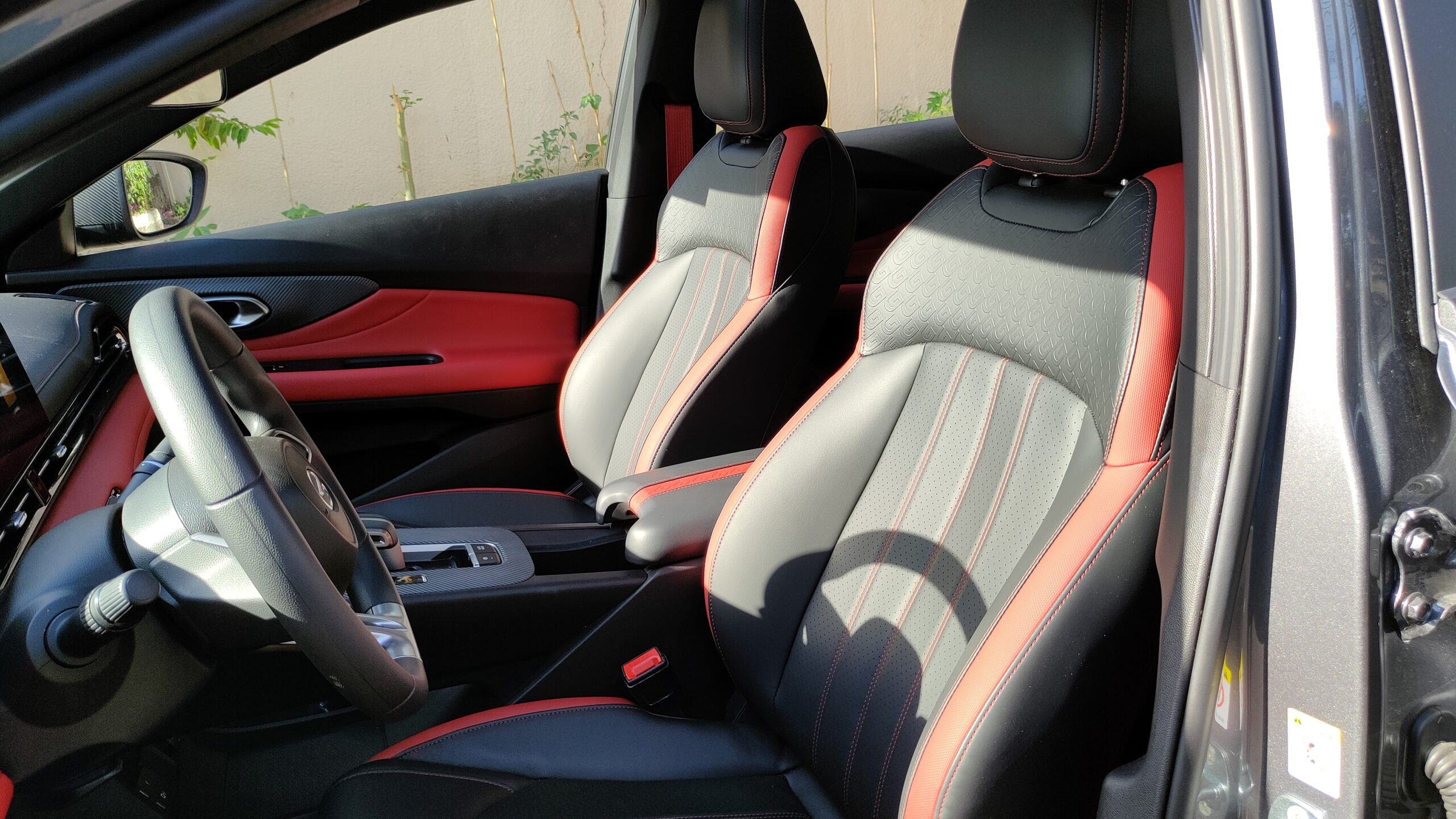 This cabin is undoubtedly a nice place to be in. Stretch your hands out and almost all the touchpoints are padded in one way or another. You sit quite low inside, so the cockpit feel adds to the immersion that you're in a racing machine. That's even before you strap yourself in with the RED seatbelts.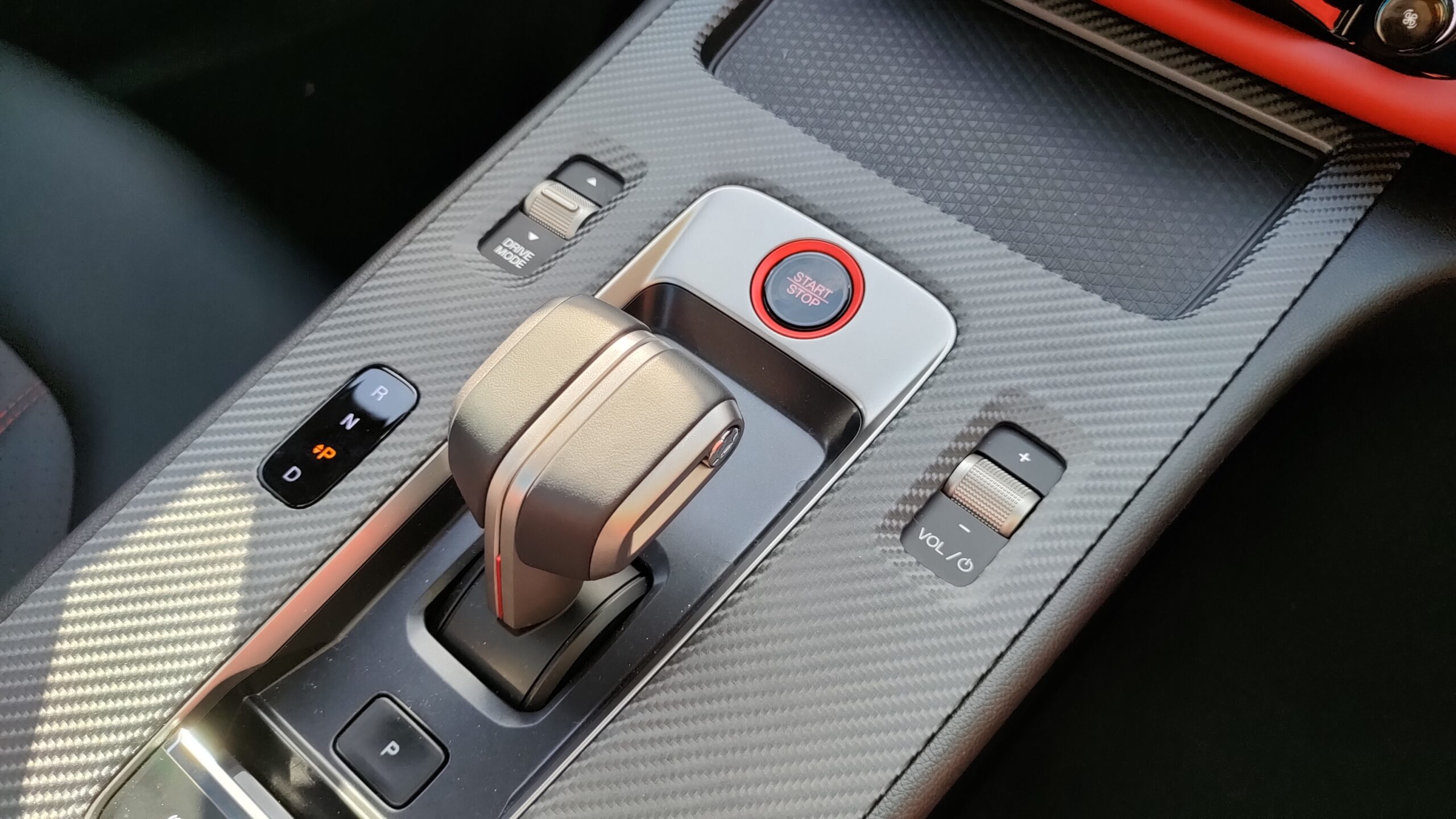 GAC chose to go with carbon-finish plastic for a lot of the interior panels as well. Surprisingly enough, it feels solid and doesn't rattle going over bumps. On it is a uniquely-shaped gear selector, and scroll wheels for the drive modes and audio controls. It's a nice change over the knobs we usually find in similar vehicles.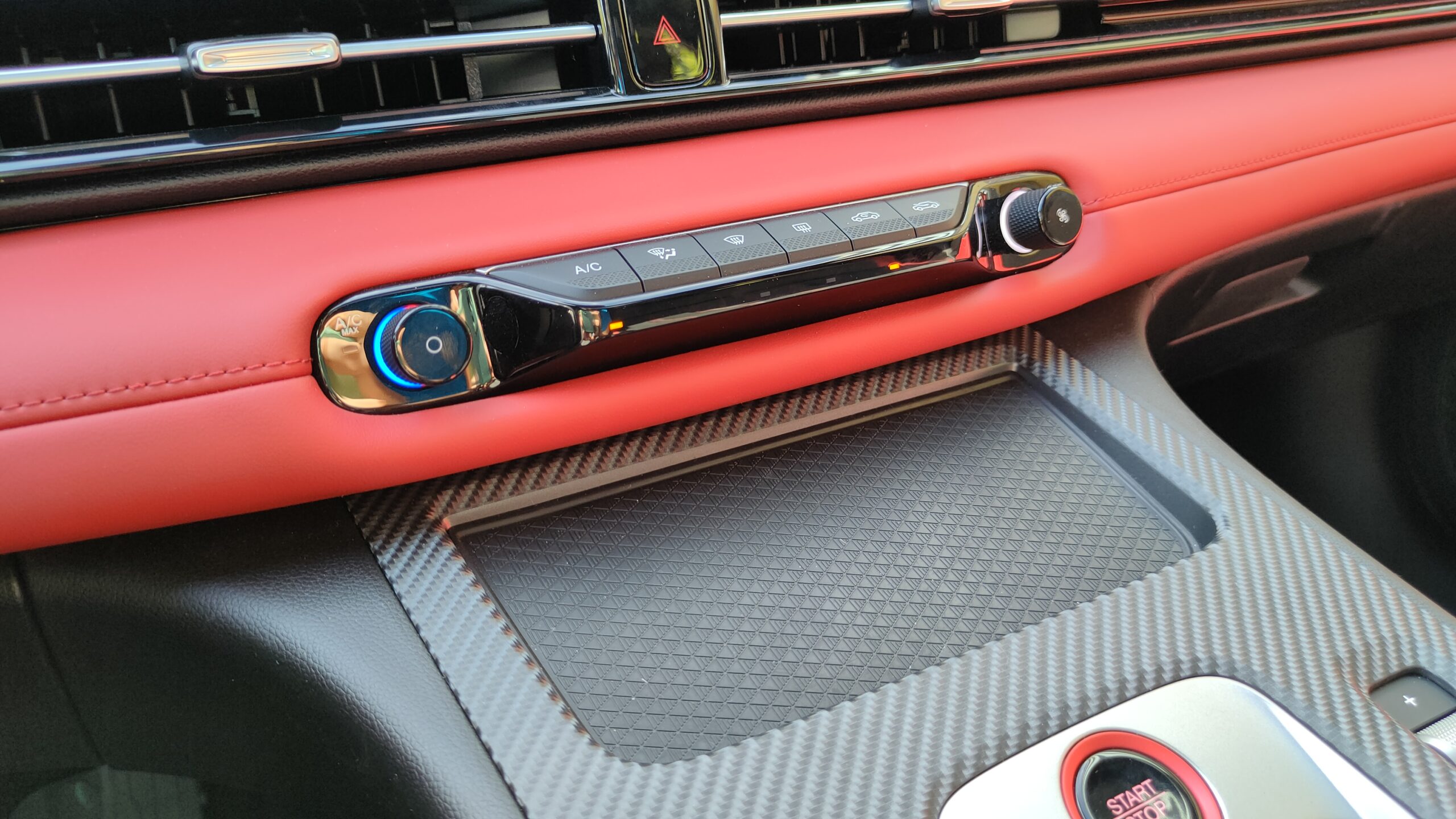 There's an open space for a smartphone above it, but it doesn't offer wireless charging. One of the things GAC could improve here. Nestled in the red soft-touch material is the A/C control panel, which is also easy to use. We would take physical controls for our A/C settings over fidgeting through onscreen menus any day.
Storage is also aplenty within the cabin. Save for your usual cubbies on the door panels, an expansive storage area also exists underneath the center console. This is where you'll find two USB ports and the 12V power outlet for your tech goodies.
Another quirky storage space is the center armrest. The cupholders are simply rubber attachments that you can detach from the center space. If you tried, you can access items inside the compartment without lifting the lid. On the lid itself, you'll find numerous Gs that stand for GAC; and these are on the seats as well. The attention to detail is impeccable.
Moving our attention to the screens, the driver's treated to a 7-inch instrument panel display, while at the center resides a 10.25-inch LCD panel. These are high-quality screens and are extremely responsive in day-to-day use.
Changing the drive modes also switches up the instrument panel, so that's a nice touch. In SPORT+, the center turns into a gauge cluster appealing to our racer-boy selves.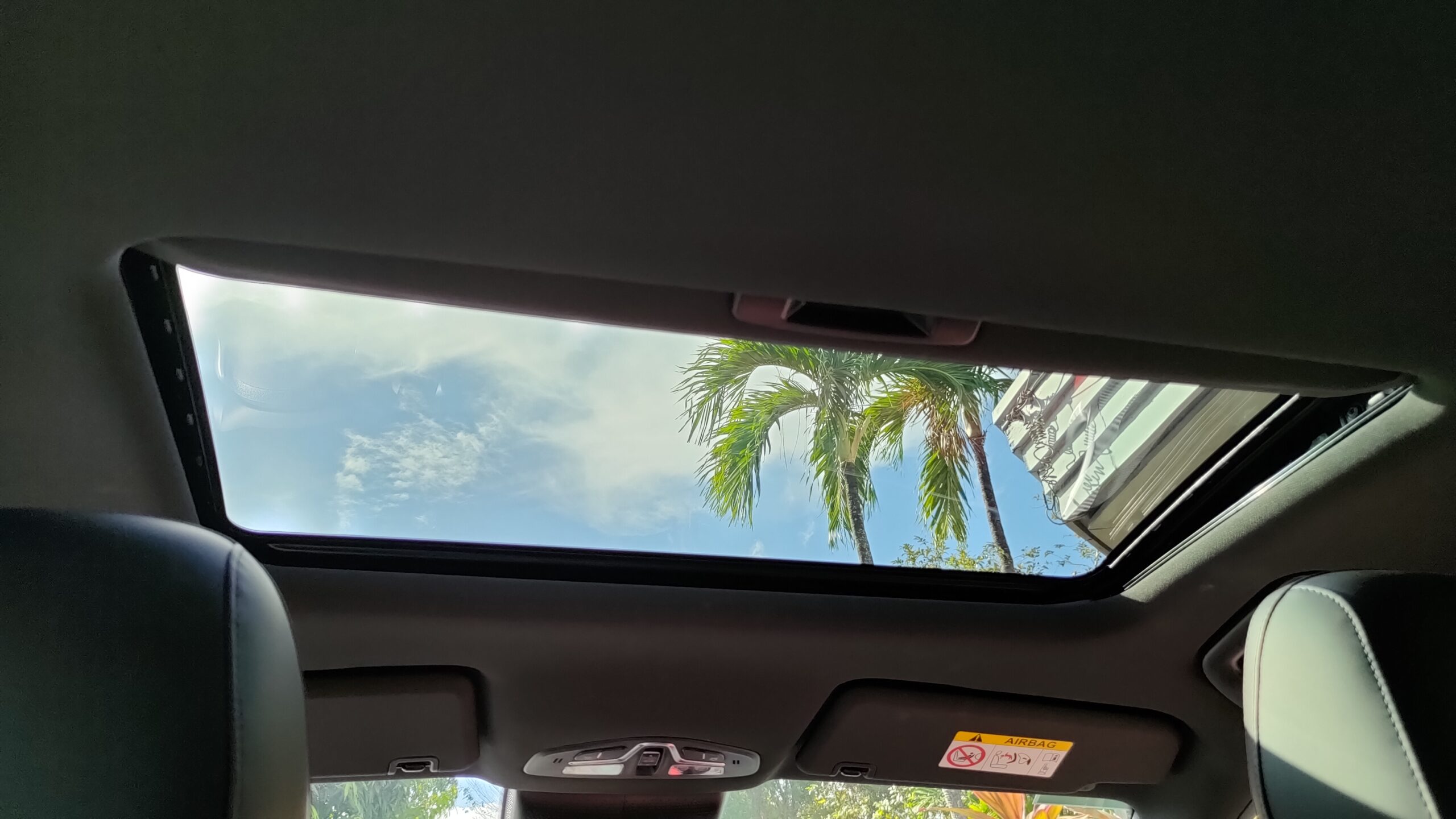 The sunroof isn't panoramic, but just having one is a welcome addition in our opinion. We like the fact that the cover they used is opaque and not translucent. Sometimes, the rays of the sun can be a bit too much.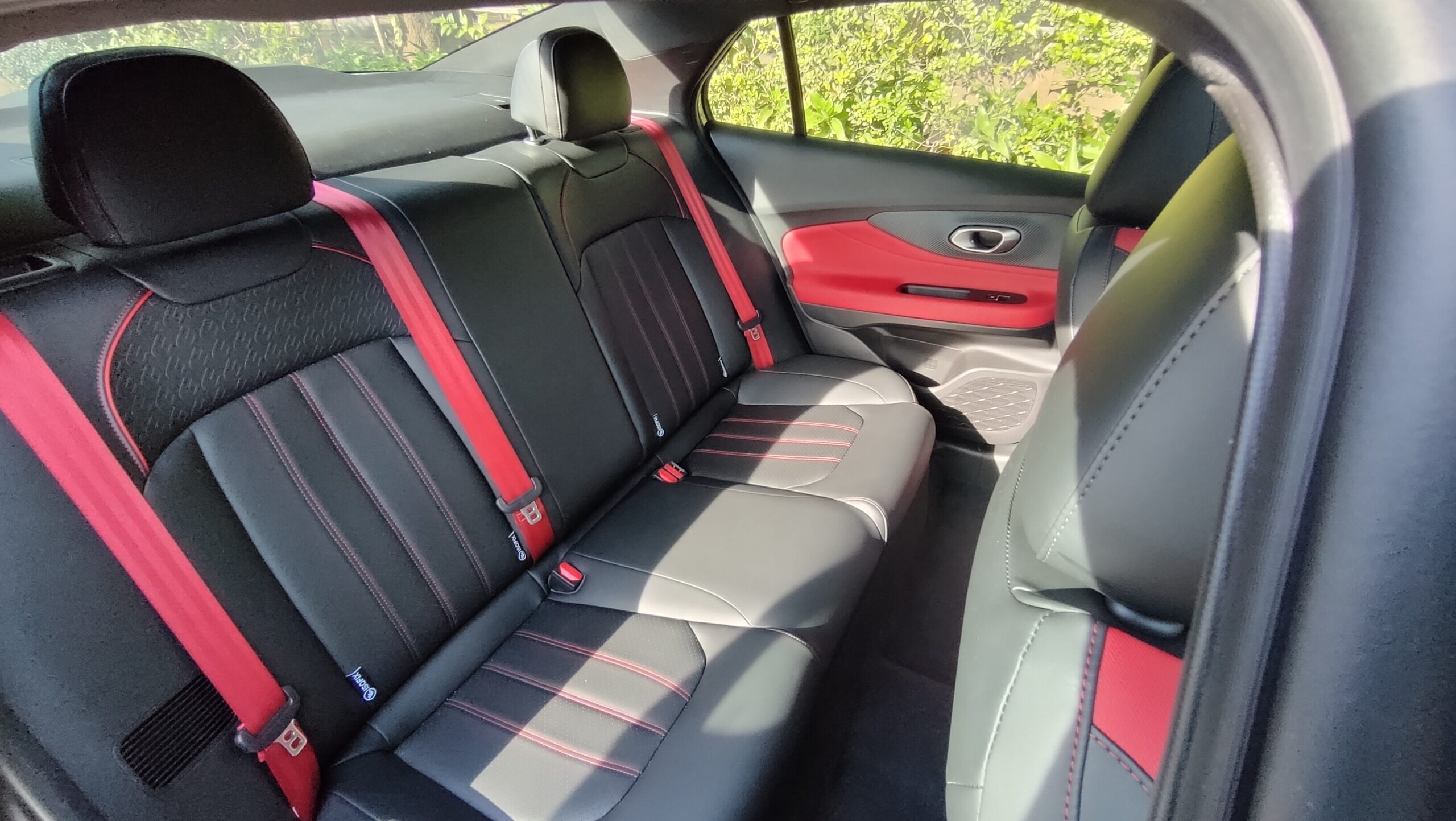 The backseats of the GAC Empow aren't by any means a downgrade from the front. Space remains abundant and there were no complaints about legroom. Meanwhile, its sloping silhouette does mean that taller folks will have to be more careful when entering the doorway, but all is good once they're seated.
Comfort and Driving Dynamics
We have no complaints about the way this GAC Empow handled bumps during our review time in the Philippines. One of our destinations involved driving through Old Manila's nasty potholes and terrible road conditions, but never were we fazed in this vehicle. For those still interested in the paper specs, it has a front McPherson Independent Suspension and a Rear Multi-link Beam Independent System.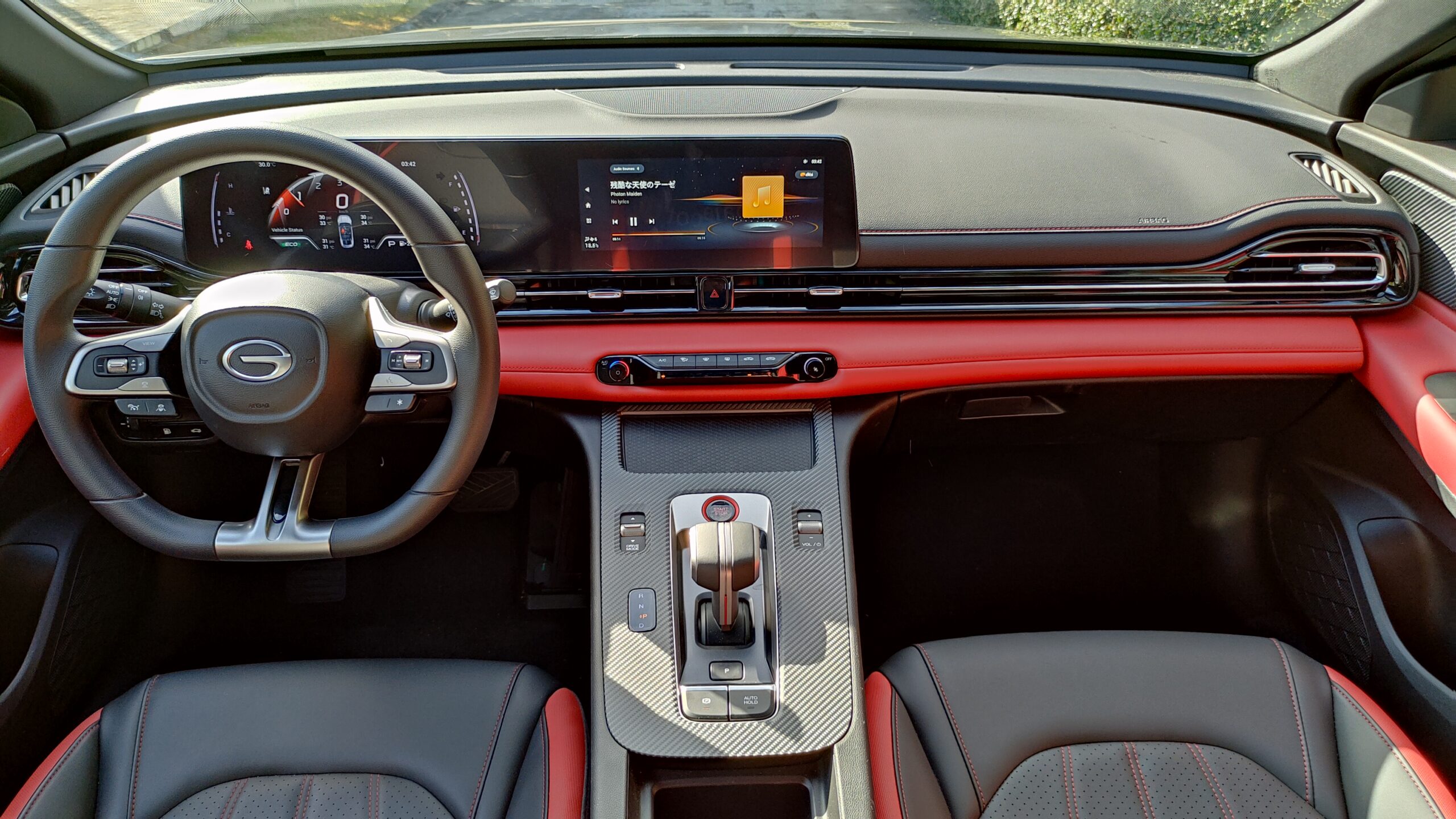 But talking about comfort isn't just discussing ride quality, but the creature comforts in the cabin as well. All seats are well-padded and held us in even during more spirited drives.
The UI of the included head unit is definitely usable day-to-day. There's also support for Apple CarPlay, Huawei HiCar, and BAIDU CarLife; the exclusion of Android Auto is saddening yet understandable. For those who like to use the good-old Bluetooth, you can just place your phone in the cubby and you're good to go.
There's no name-brand speaker system here – except for specialized DTS tuning. After some EQ work, the sound coming out definitely gets close to what we've heard in vehicles in upper segments. However, some software glitches still remain.
One such example is that we had to turn DTS on and then off again every time we used the car just to implement our EQ preferences. Otherwise, the car's systems would revert to the dubious stock tuning. This is something that can be fixed over the cloud though.
Those who are parking novices might not be used to not having 360-degree cameras as well – but that's alright with us. Also, rear passengers only have one A/C vent. We complained about this with other cars like the Changan CS55 Plus. Passengers of our review unit GAC Empow in the Philippines will have to fight over who gets cold air on a blistering summer day. Fairness for the backseat riders!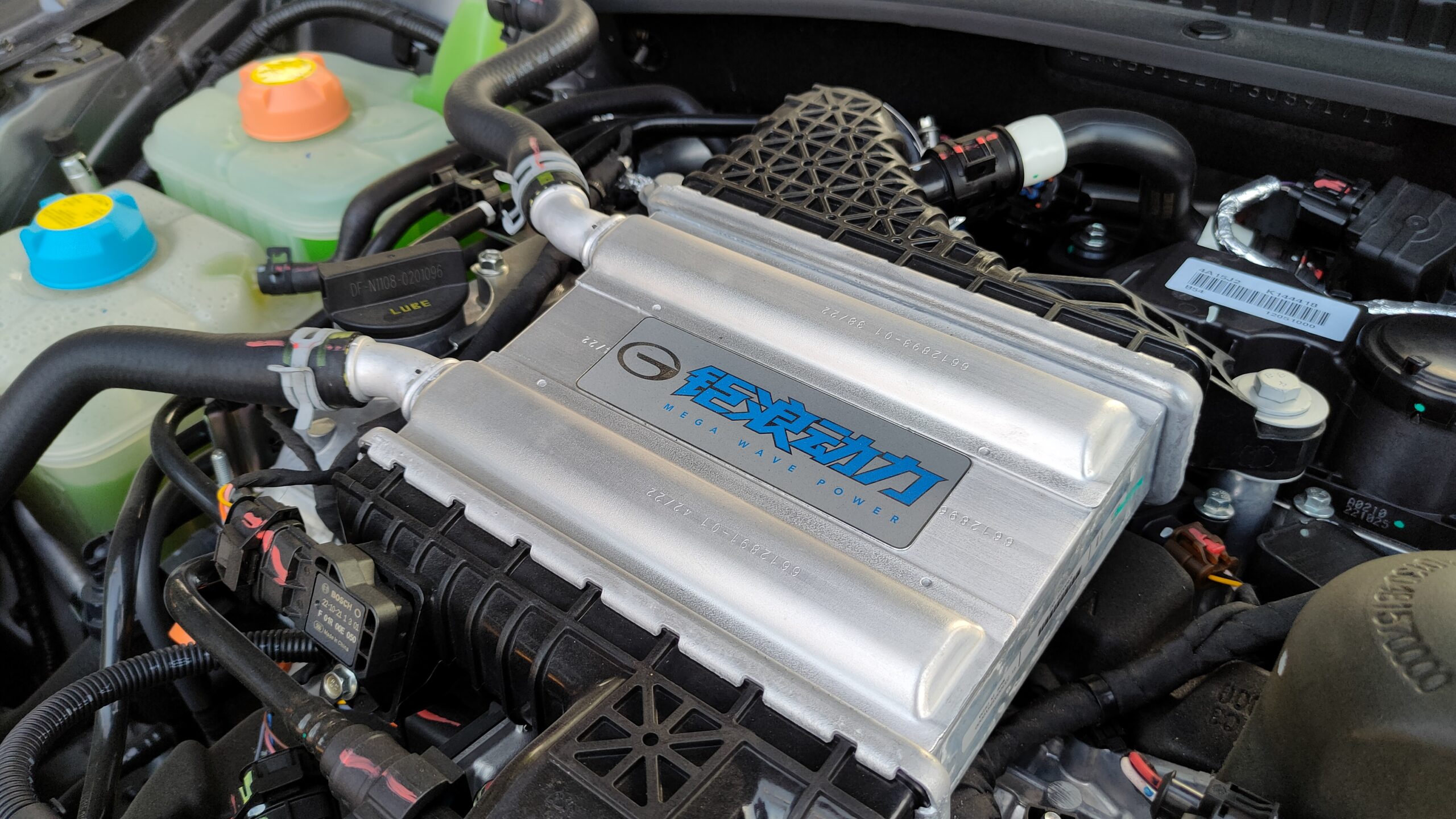 Onto what makes this car so special: the driving experience. The GAC Empow is equipped with a 1.5-liter turbocharged engine outputting 174 hp and a whopping 270Nm of torque. That's mated to a quick-shifting 7-speed wet DCT. Keeping it cool is GAC's Mega Wave Power, promising to manage thermals to make more reliable power while reducing fuel consumption.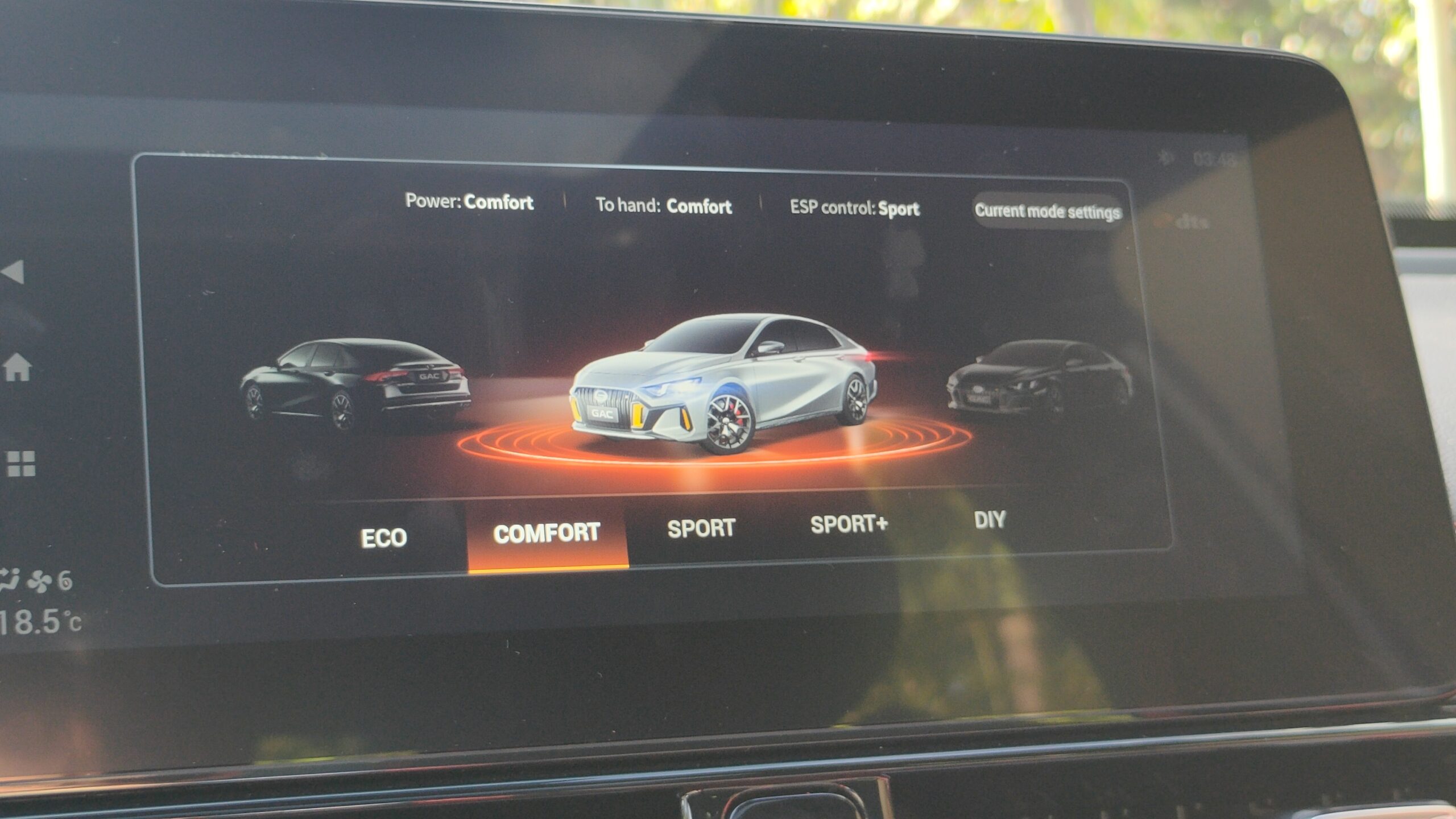 Believe it or not, this car's always gearing to go. Changing the drive modes from ECO, COMFORT, and all the way to the most extreme SPORT+ definitely makes it feel like a different car altogether.
We started with ECO and sure, the steering was light. However, there was more pep here than we were expecting. Once you've proven yourself a worthy driver, you can gradually move up to NORMAL, then to SPORT and SPORT+. In its most extreme setting, the steering is unquestionably direct (for its segment) and the throttle response is spectacular. It's like holding back an excited mutt before a walk. There's no way this wouldn't put a smile on your face.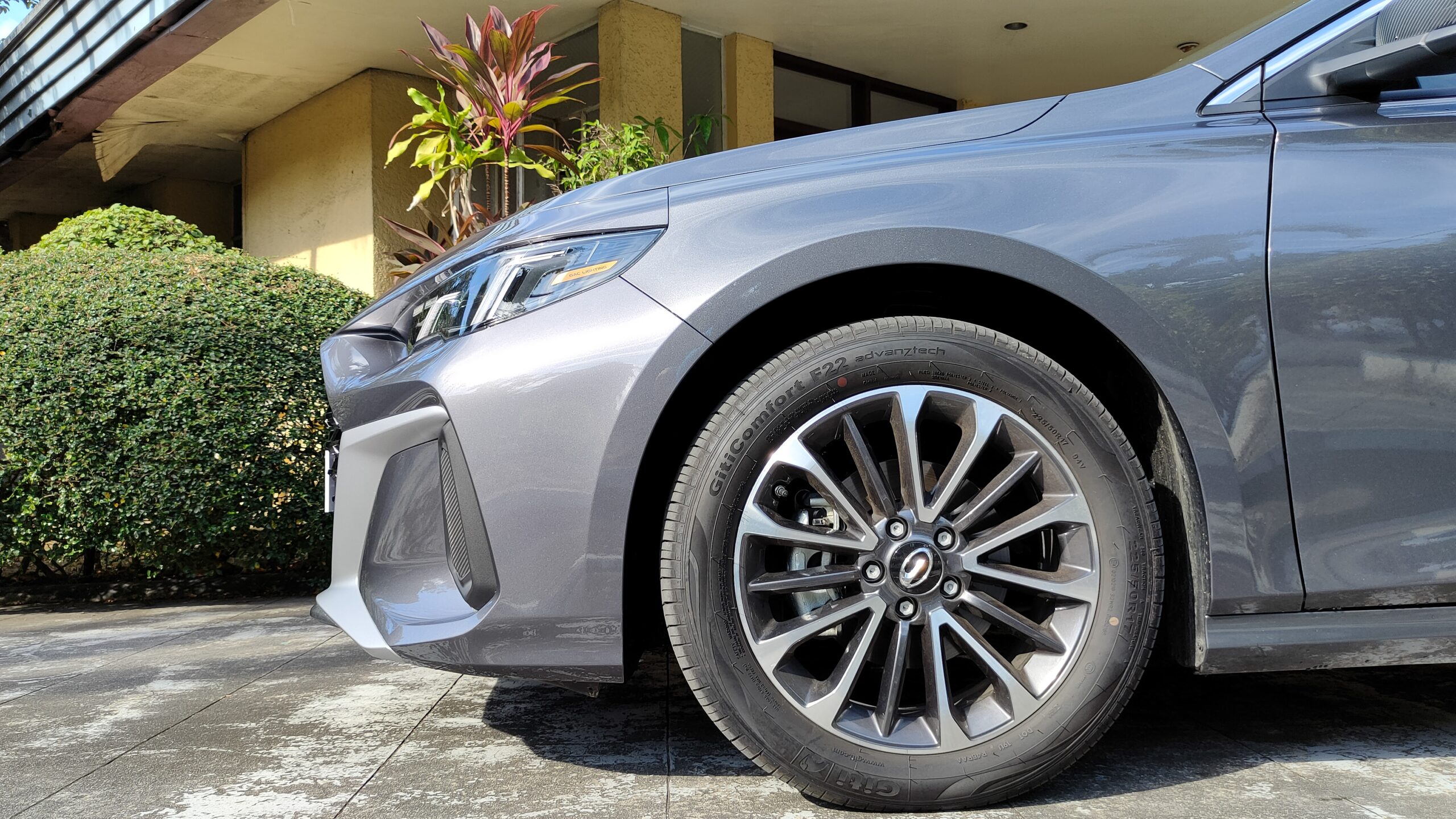 There's even launch control here, for some strange reason. It helps propel the vehicle from 0-100 in just 6.95 seconds, claimed by GAC to be the fastest in its class. It's front-wheel-drive, but it's so fun letting the front wheels spin and even momentarily hop at times. There's an abundance of torque at disposal for you to play with. The driving experience is quite similar to the significantly pricier Honda Civic RS, but we reckon it could even give the Si a run for its money.
We took it through some twisties and the chassis was compliant. There wasn't too much lean, allowing us to keep up with performance-oriented vehicles with double or even triple its power. It would be an understatement to say that everyone was shocked. Don't be mistaken though – it's still a comfortable passenger car and not a stiff corner-carver like a Honda Civic Type R or Subaru WRX.
Although it seems like we're praising this eagerness to the high heavens, its refinement in slow-moving traffic bites it back sometimes. The experience can get a bit jerky, especially when parking in an extremely tight space. You're either not moving at all or launching like an all-wheel-drive supercar; nothing in between. The 7-speed DCT could use some fine-tuning to prevent this.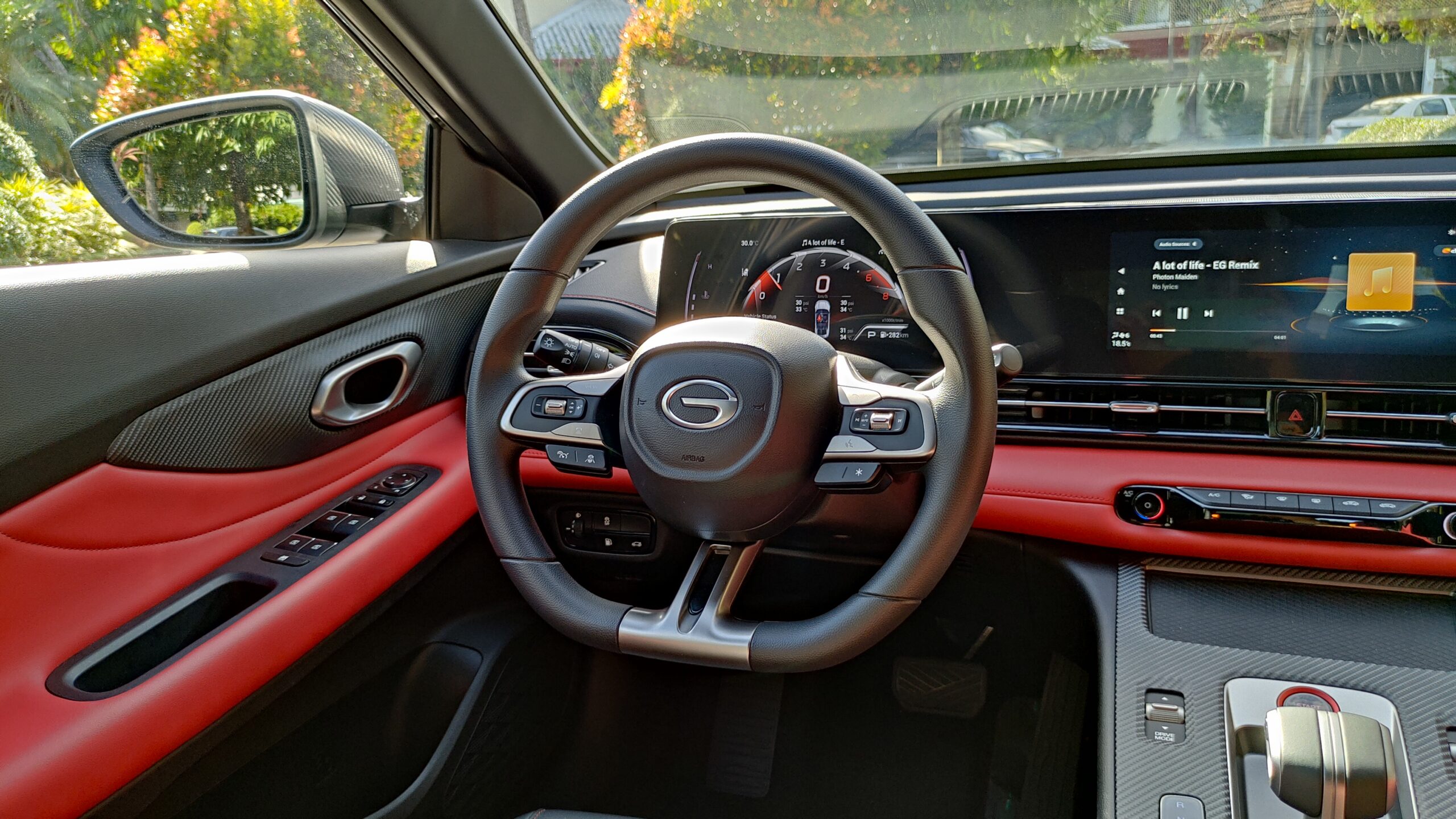 Speaking of the DCT, only the top trim gets the paddle shifters. Whether that's something you're willing to splurge on depends entirely on you, but there were moments where we wished we had it.
Also, the car comes with a packed safety suite with dual front, side, and curtain airbags. You also have Electronic Stability Control, Hill-start Hold Control, ABS, AutoHold on the electronic parking brake, Adaptive Cruise Control, Forward Collision Warning, and a lot more. All of these performed excellently during our review period of the GAC Empow in the Philippines. Although admittedly, the lane-keep assist was a little too aggressive for our liking when activated. We just decided to toggle it off.
Overall, we enjoyed driving this so much that we actually went through nearly two tanks of fuel, averaging a fuel economy of around 8 km/l in the city, although admittedly the car's excitable driving characteristics made our right foot a bit heavy. Regular use can probably see this climb to 10 with highway use (in ECO) achieving within 16-20.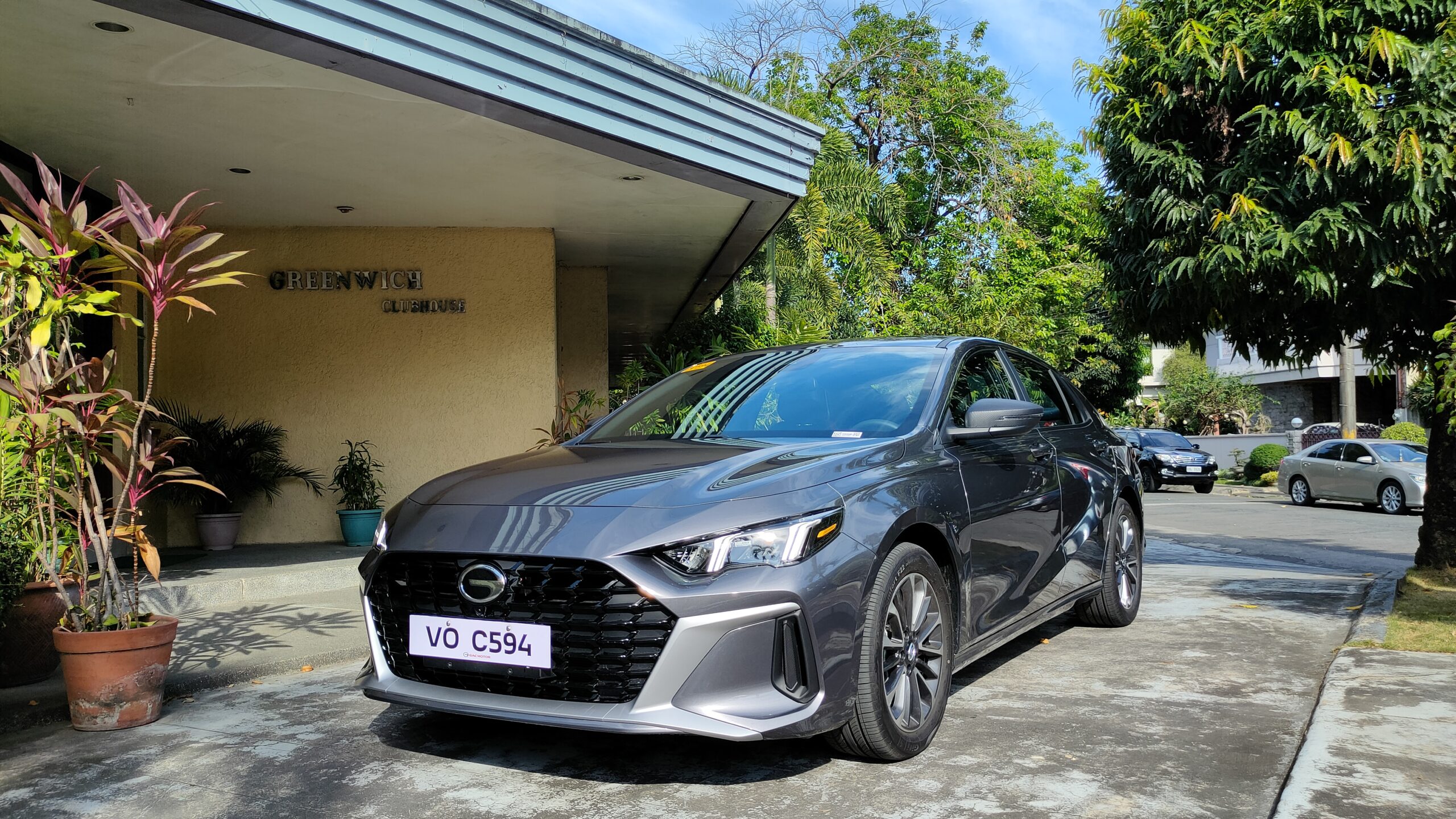 Wrap Up and Conclusions
If it wasn't already obvious, the GAC Empow left a lasting impression during our review period. Its athletic exterior, plush cabin, and unexpected driving feel were very much welcomed. There is still some polishing to be done on the software and refinement side of things, but this is probably one of the BEST bang-for-buck cars you can get on the market right now. Period.
GAC Empow Review Philippines Price
The GAC Empow starts at PHP 1,135,000 for the base model, PHP 1,215,000 for the mid GB model we had here, then PHP 1,283,000 for the top-spec GB.