Initial verdict: The Huawei MatePad Pro 11 (2022) learns new tricks and gets a brand new OLED display – but is that enough to compete with Apple and Samsung?
Pros
Gorgeous new OLED panel
The new finish repels fingerprints easily
The keyboard attachment feels great to type on
Cons
It will likely be expensive
Only runs a Snapdragon 888 processor
Huawei is only one of the few brands left that manufacture Android tablets, and despite pressure from its rivals from Cupertino, it's released a new, updated version of its top-tier slate. The 2022 refresh of the MatePad Pro 11 brings new tricks, a new finish, and more importantly, a new display to the fore, but will that be enough to attract potential buyers?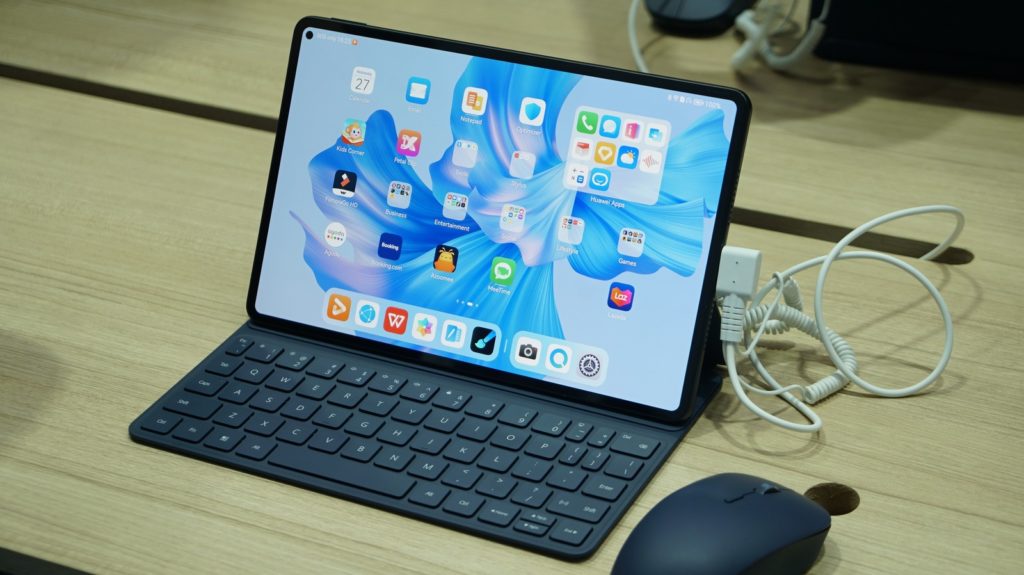 Design
There's only so much you can do to make a rectangular slab look interesting, but Huawei has gone to great lengths to do just that with their new MatePad Pro 11. The finish of the tablet is the same as on their flagship, 2022 refreshed MateBook X, specifically the new "skin soothing" finish that makes the tablet's back more resistant to smudges and fingerprints.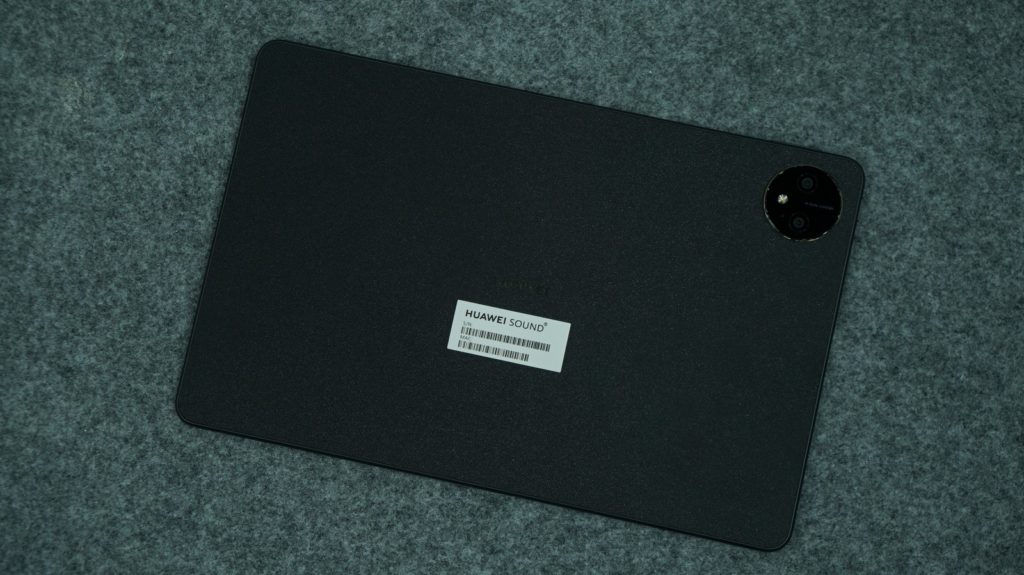 Huawei also outfitted the MatePad Pro 11 2022 with a circular camera finish designed in the same vein as their current line of P-series devices.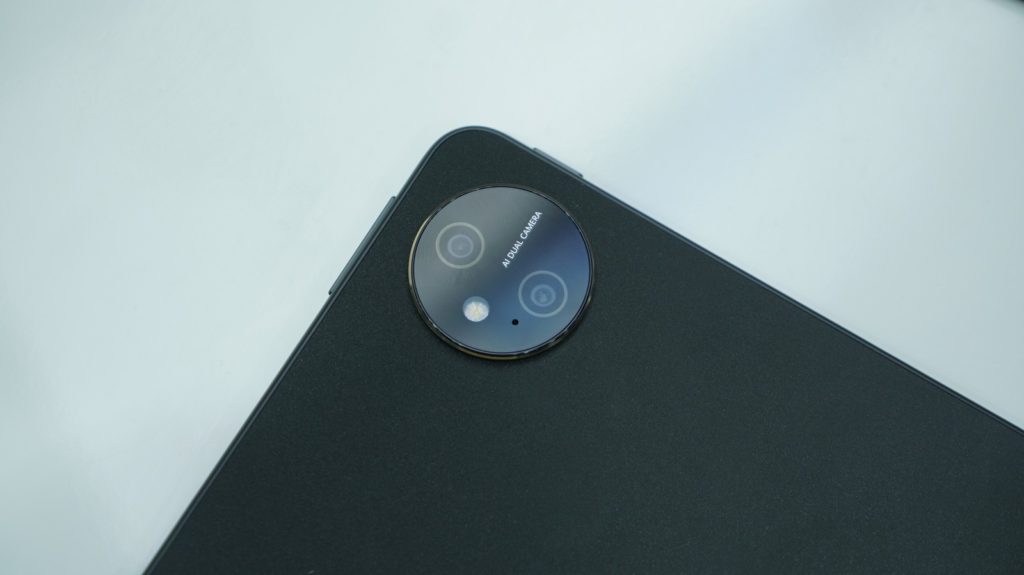 We're going to be talking a lot about the MatePad Pro 11's features in the next few paragraphs, and while I'm doing so I want you to understand that Huawei has managed to achieve all of these in a device that only weighs 449 grams and is only 5.9mm thick. Even with its accompanying folio/keyboard case, the MatePad Pro 11 2022 is relatively thinner than a typical laptop, which gives the tablet an edge over its competitors when it comes to portability and usability.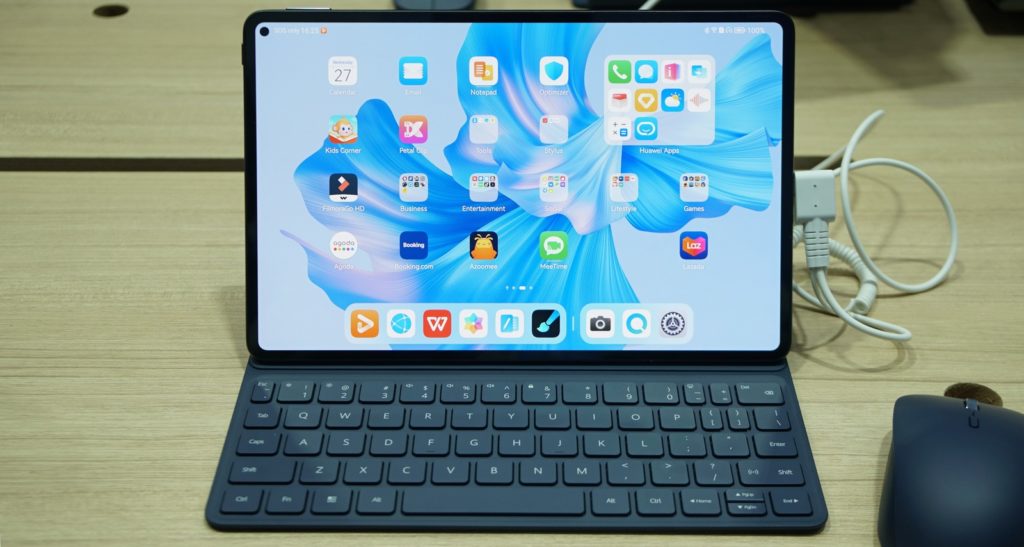 Speaking of that keyboard cover, it's got some cool tricks of its own. You can use it with the tablet even if it's not physically attached to it via Bluetooth, allowing you to set the tab up somewhere high up in your eye line while retaining the keys in your lap.
Once connected to the tablet you'll be able to enjoy enhanced wireless performance thanks to a hidden floating antenna that's embedded in the back of the keyboard.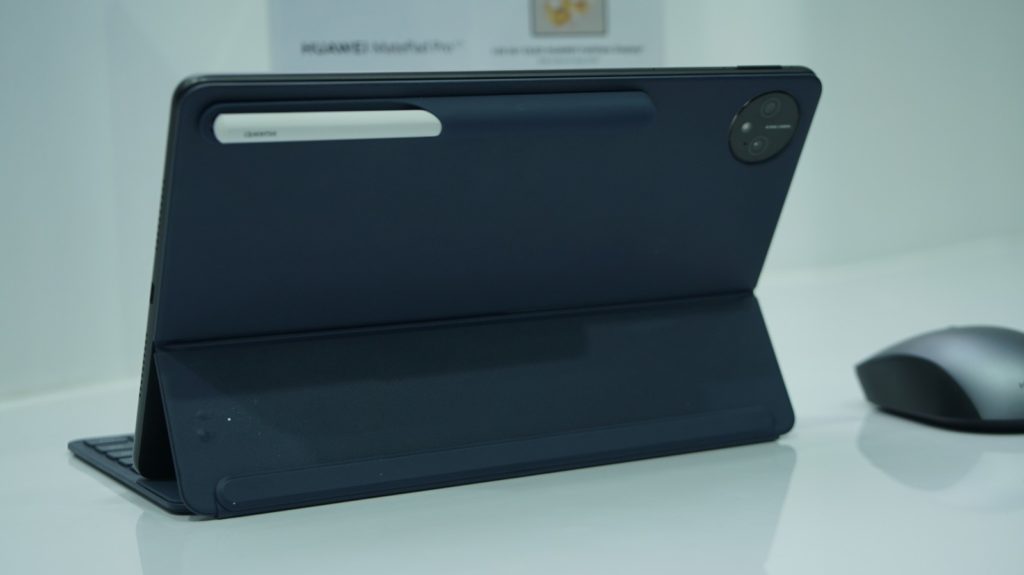 As for actually typing on the keyboard itself – it's surprisingly pleasant, and it's easily one of the best folio keyboards we've used this year.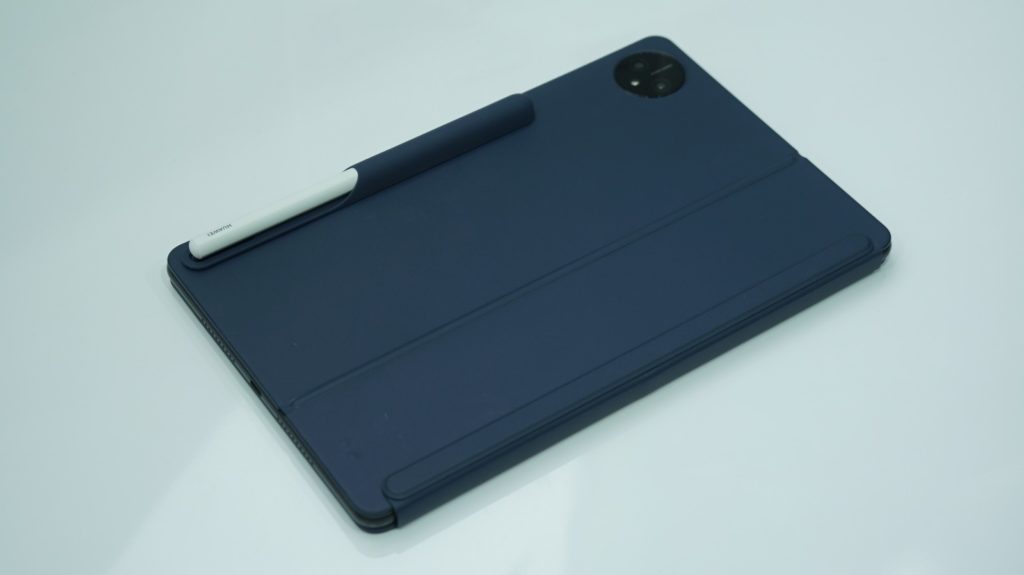 Finally, no new MatePad Pro 11 would be complete without the M-Pen, Huawei's own take on the venerable stylus. Huawei boasts that their new, second-generation M-Pen now comes in a "skin-soothing form" and is complimented by an antioxidant coating for a comfortable grip at all times.
The pen uses low-latency tech to work seamlessly with the 120Hz screen on the panel, has 4,096 levels of pressure sensitivity, and can be charged wirelessly by attaching it to the top frame of the tablet.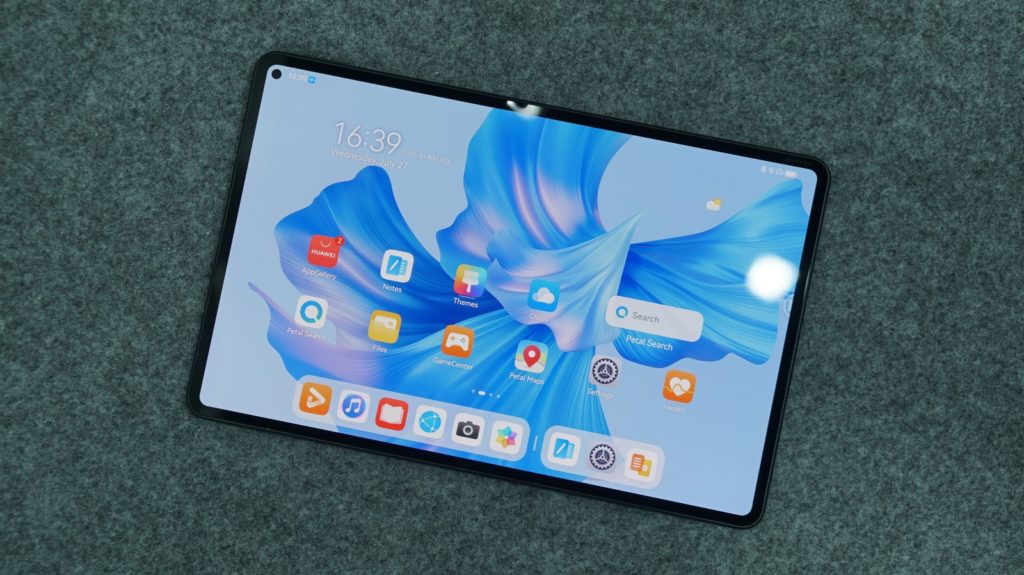 Display and sound
Probably the biggest upgrade this year for the flagship tablet is the switch from an LED-based screen to an OLED one. The 11-inch OLED panel has a 2560 x 1600 resolution display, as well as a 16:10 aspect ratio, 120Hz refresh rate, and 600 nits of brightness, making it far superior to the previous generation product.
Huawei boasts a delta-E color accuracy of less than 1 for the tablet which should come useful to anyone looking for a tab that can properly process images and photos at a professional level.
Huawei has nixed its partnership with Harman/Kardon for this tab and instead has gone with its own brand audio-wise, with the MatePad 11 Pro sporting "Huawei Sound". The tablet has 6 speakers spread around its body total, and from our limited time with it, they sounded pretty good.
Performance and software
The Huawei MatePad Pro 11 2022 comes with either the Snapdragon 870 or 888 processor depending on where it's sold, and storage starting from 128GB all the way to 512GB. RAM will be dependent on the model, and will either be 8GB or 12GB.
Despite not coming with top-tier silicon from Qualcomm, the MatePad 11 Pro feels fast and fluid, mainly thanks to the software improvements done by Huawei via their Harmony OS 3.0 operating system, based on Android. It's incredibly easy to multi-task using Harmony OS on the MatePad 11 Pro 2022, and if you have a Huawei phone like the P50 Pro or P50 Pocket, you can quickly and easily share content from your phone to the tablet via Huawei's SuperDevice ecosystem.
All the caveats that apply to previous Huawei phones and tablets also apply to the 2022 model of the MatePad Pro 11, sadly. But that shouldn't be new to anyone whose been using Huawei products, and both AppGallery and Petal Search have done quite a good job in replacing the apps lost in Huawei's long-running tiff with the US government.
Battery-wise the Huawei MatePad Pro 11 2022 comes with an 8,300mAh battery, with support for 66W SuperCharge. Huawei claims that the tablet can last up to 11.5 hours of continuous local video playback, which should be enough to last you for a whole day.
Wrap-up and early verdict
The Huawei MatePad Pro 11 2022 looks to be another solid addition to Huawei's tablet lineup, but we'll have to see its eventual price when it lands here in the Philippines.