Qualcomm is finally unveiling its refreshed processor lineup for its Snapdragon wearables. Namely the Snapdragon W5 and W5+ Gen 1, these are built to succeed the SD Wear 4100+ of yesteryear. Both are built on a 4nm process which could lead to more efficient operation.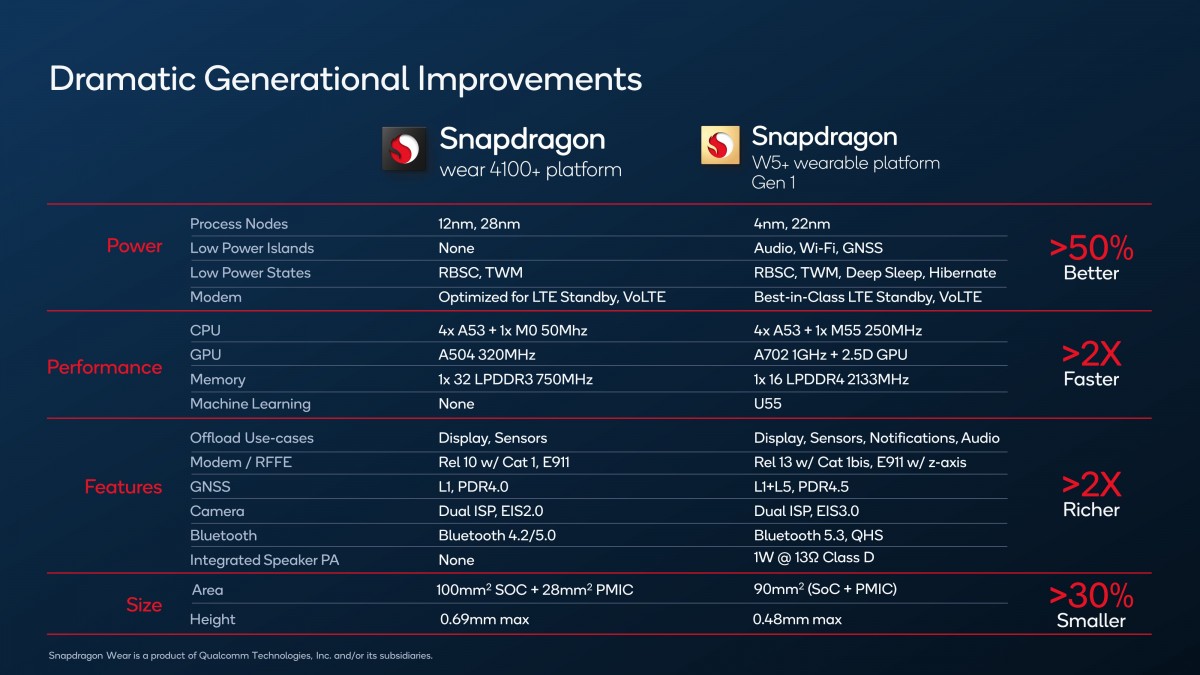 The table provided by Qualcomm above shows the intricate technical developments over the previous generation of Snapdragon wearables. This includes a smaller process node for more power-efficient runtime, and upgrades in CPU, GPU, and memory. The feature set has also been expanded to provide a wider variety of use cases and experiences. Cutting-edge Bluetooth 5.3 technology assures consistent connection from your device to your smartwatch.
As a result, the company can make confident assessments such as 2x improvements in almost every field.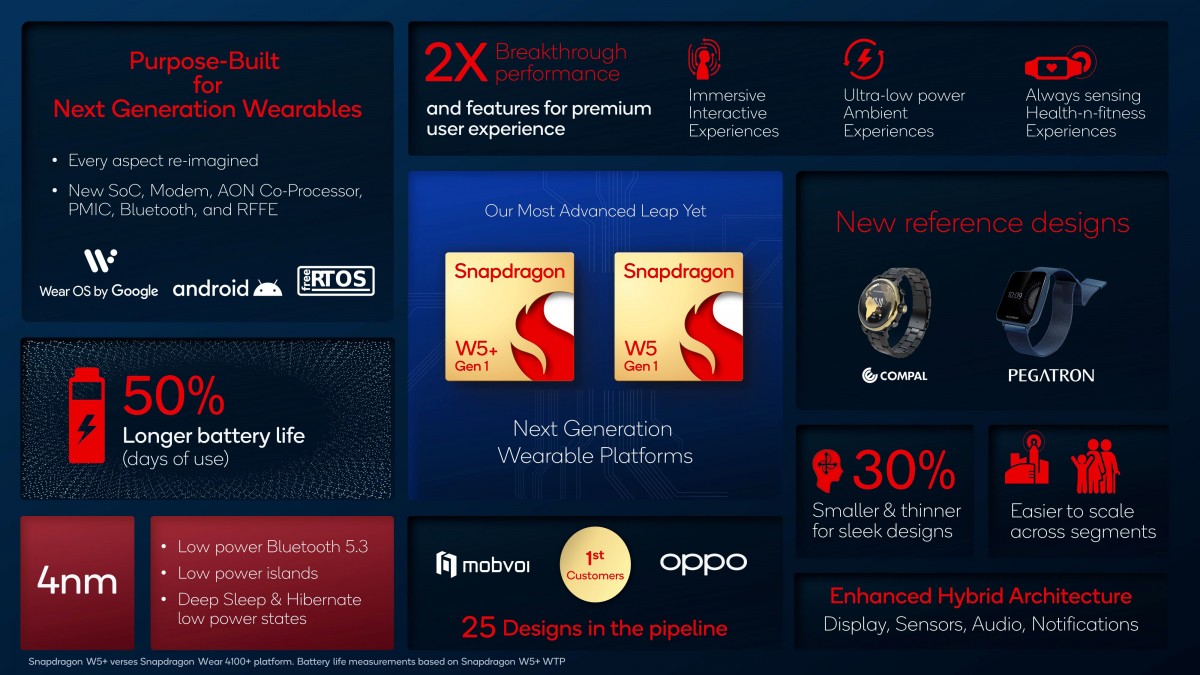 All these technical specifications mean nothing if they don't translate to real-world usage. We can expect Snapdragon wearables to come in a wider array of designs moving forward, with the chipset's smaller size fitting in more compact form factors.
Battery life has also been advertised to be extended by 50% which is a noticeable improvement for any person's daily use. The longer it can stay away from the wall plug, the better – especially for people that use this watch to monitor their sleep as well. Partners such as mobvoi and OPPO are already in the line to outfit these chipsets into their latest devices.
Pankaj Kedia, senior director, product marketing, and global head of Smart Wearables, Qualcomm Technologies, Inc. had this to say: "The new wearable platforms – Snapdragon W5+ and Snapdragon W5 – represent our most advanced leap yet. Purpose-built for next-generation wearables, these platforms address the most pressing consumer needs by delivering ultra-low power, breakthrough performance, and highly integrated packaging. Additionally, we extend our proven hybrid architecture with new low power innovations such as Deep Sleep and Hibernate states delighting consumers with premium user experiences while extending battery life." The company has also mentioned working in close ties with Google for further optimization with Wear OS.
This is exciting news for anyone who is even remotely interested in Snapdragon wearables. It appears on paper that drastic changes have been made to elevate the entire experience, but we have yet to see this implementation in real life. Opinions may have to wait until this happens, but for now we're plenty impressed with what these chipsets bring to the table.
Hopefully next time, Qualcomm can release more information on how the W5 and W5+ processors differ from each other.