Review verdict: The realme Book is a good starter laptop for anyone looking to make the most out of their buck in the Philippines, though it's going up against stiff competition from established players.
Pros
Great design
Good keyboard travel
Relatively powerful processor
Cons
The display's a little dim
Only 8GB of RAM
realme is finally making their first-ever laptop, the realme Book, available in the Philippines today. Just like their rivals, the smartphone brand wants to break into the IT space to reach more customers, and it's doing so with a great first attempt. While the laptop isn't perfect, it has plenty of good things going for it including a very aggressive price tag, at least for early adopters.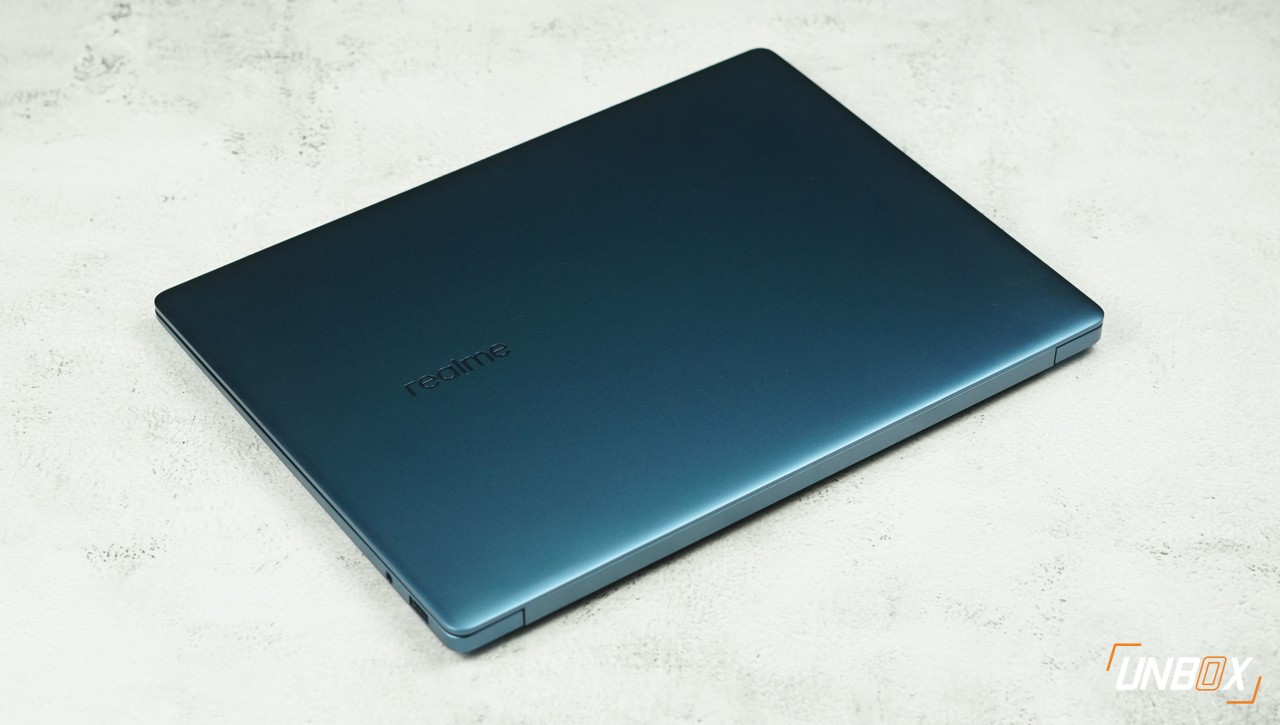 Design
Despite sporting a mid-range price tag, the realme Book sports premium build and design, although we can't help but compare their laptop to competing devices like Apple's MacBook and Huawei's MateBook D14.
You can't really blame us – the laptop's lid, rounded edges, and simple yet elegant industrial design look a lot like the offerings of their competitors, but that's necessarily a bad thing. That design language is used by companies for a reason – it's simple, elegant, and is very aesthetically pleasing, so you really can't blame realme for doing something similar for their first laptop.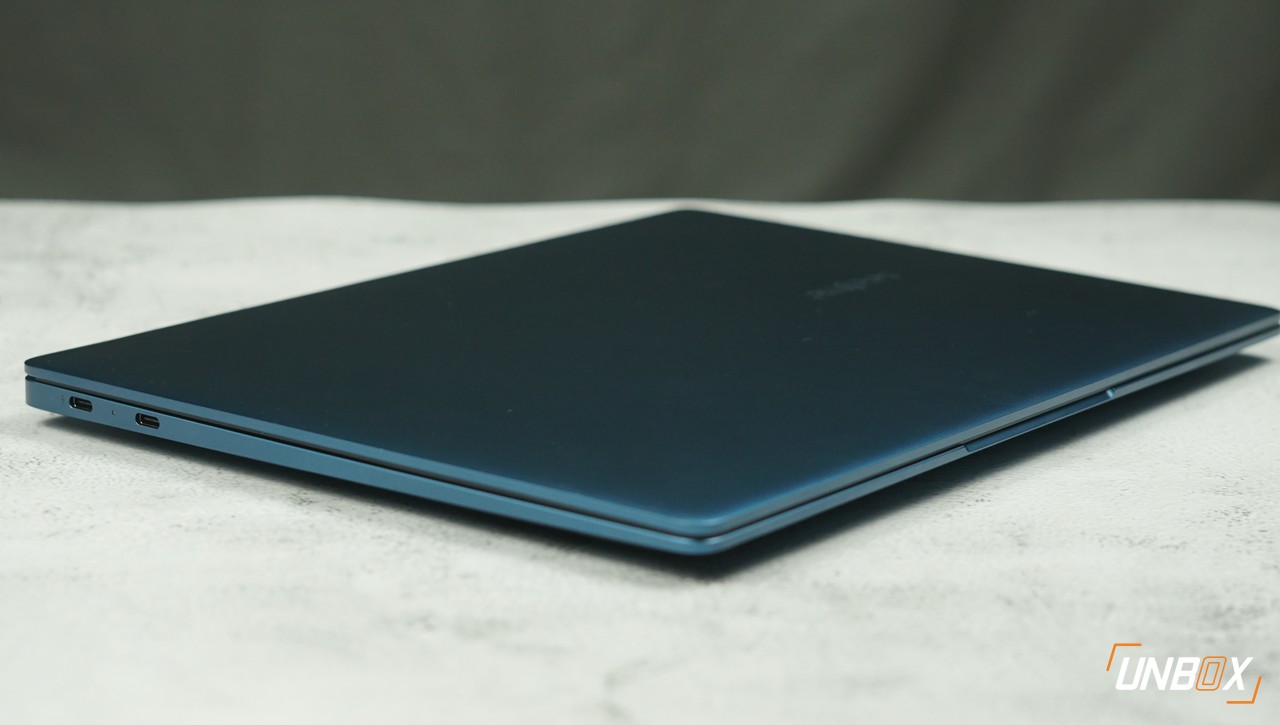 One thing that realme does differently is the colorway: while the realme Book is available in boring silver (dubbed realme Grey), our review unit came in a very nice-looking realme Blue that makes it pop from the sea of silver and black laptops that their competitors offer.
While realme has been going a little overboard in terms of branding on their phones, we like the fact that the company has gone with a smaller, more subdued logo on the lid this time around.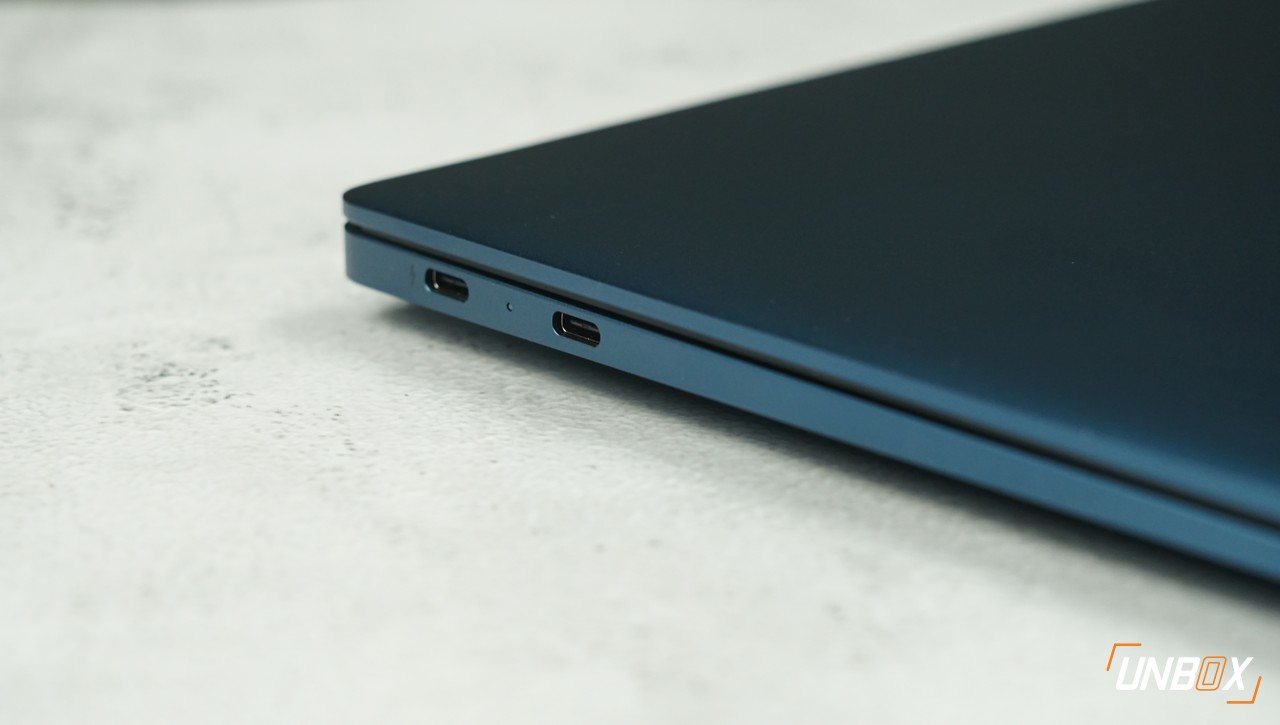 There are very limited port selections here sadly: you're getting two USB Type-C ports (Thunderbolt 4), a single USB-A port, and a 3.5mm headphone jack.
Since one of the USB Type-C ports is used for power delivery when you're charging, you're left with a single Type-C port and a Type-A port when you're plugged into the wall.
The overall weight for the laptop is 1.38 kilos, and the device is pleasantly thin at just 14.9mm. Overall construction is very good, as there are no obvious creaks or wobbles in the lid as it attaches to the chassis.
The laptop has a fingerprint scanner embedded into the power button which reminds us a little bit of Huawei's MateBook devices, which honestly is one of the most convenient ways to use a fingerprint scanner in a notebook.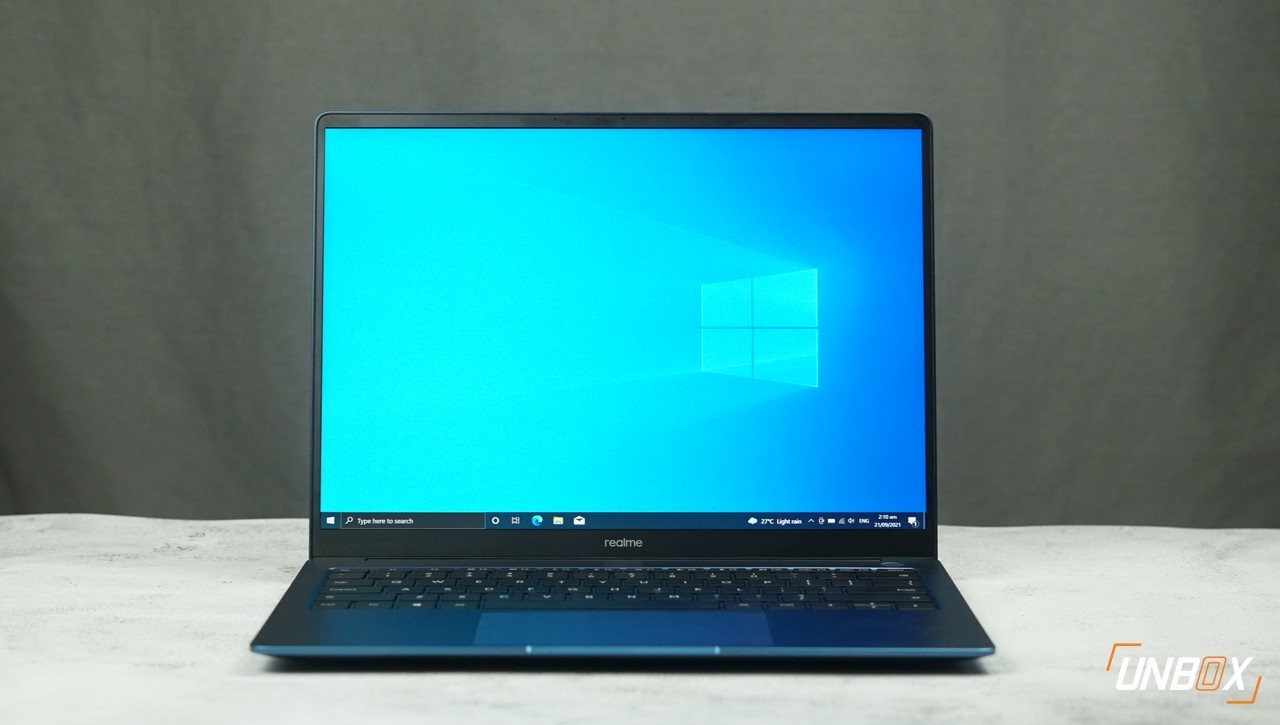 Display and sound
Much like Apple's MacBook, the realme Book uses a 14-inch, 3:2 aspect ratio that gives you a total of 2160 x 1440 resolution to work with.
The 3:2 ratio has several benefits, chief of which is the fact that it gives you more space to work with height-wise VS a traditional 16:9 aspect display. This is useful when you're writing, coding, or punching in numbers in Excel or Google Sheets since you're seeing more of the top of the display VS a laptop that has a 16:9 aspect ratio.
The downside is that the letterbox effect (black bars on the top and bottom when you're watching a movie or video) is more pronounced, which may be a deal-breaker if you hate seeing those bars when you're watching a movie.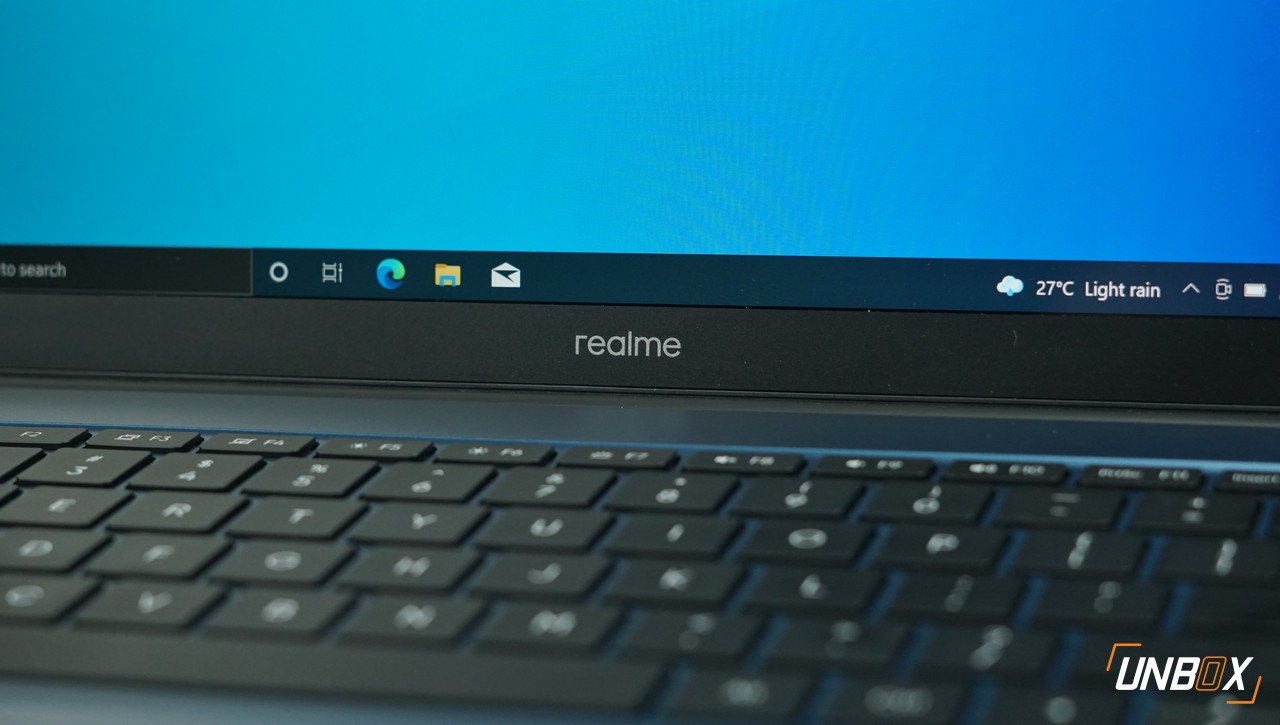 realme advertises the display of the realme Book to cover 100% of the sRGB color gamut, though our tests with our SpyderElite5 colorimeter put the gamut at around 92%. Color accuracy is pretty good though, with pre-calibrated values hitting Delta E values of >1.55. Post-calibration Delta E still sat at >1.55.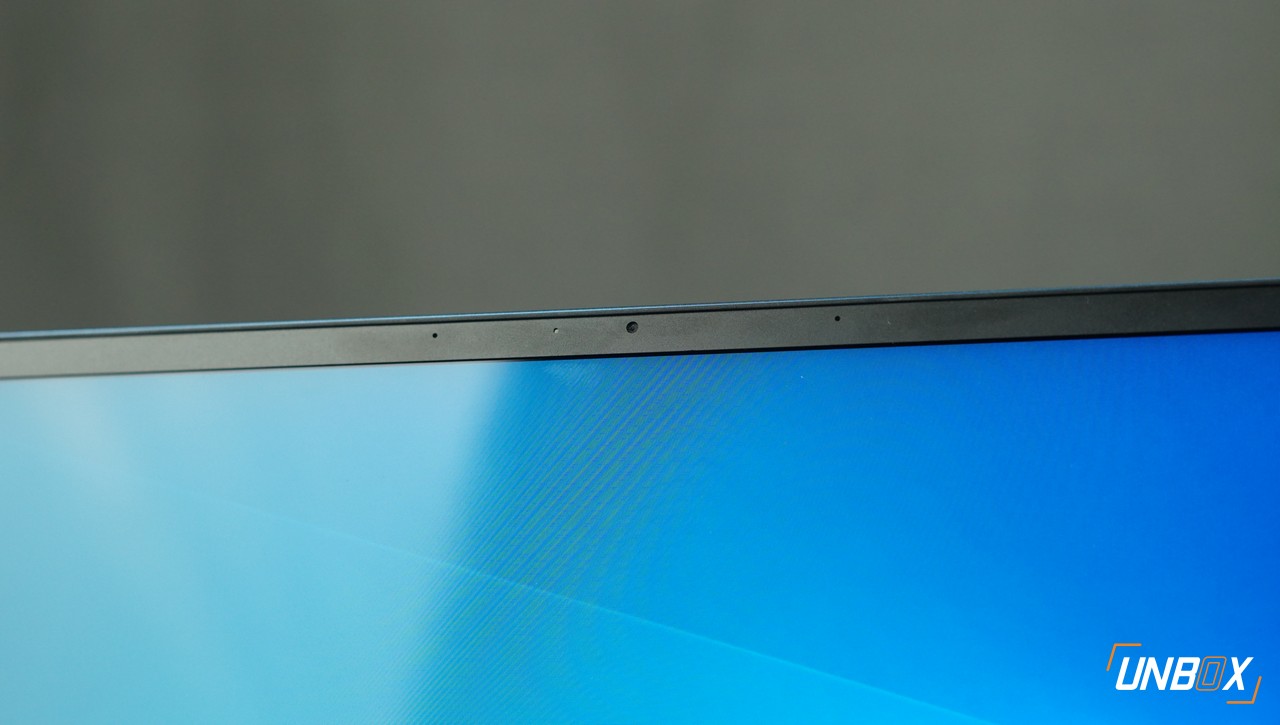 One gripe we have about the display is that it's a little dim, as we only recorded a maximum of 307 nits on full brightness. You can read our detailed color analysis of the display here and here, produced by our Datacolor Spyder5 Elite coloromiter.
As for the speakers, they're surprisingly loud and well defined, which isn't something we expected from a laptop this small.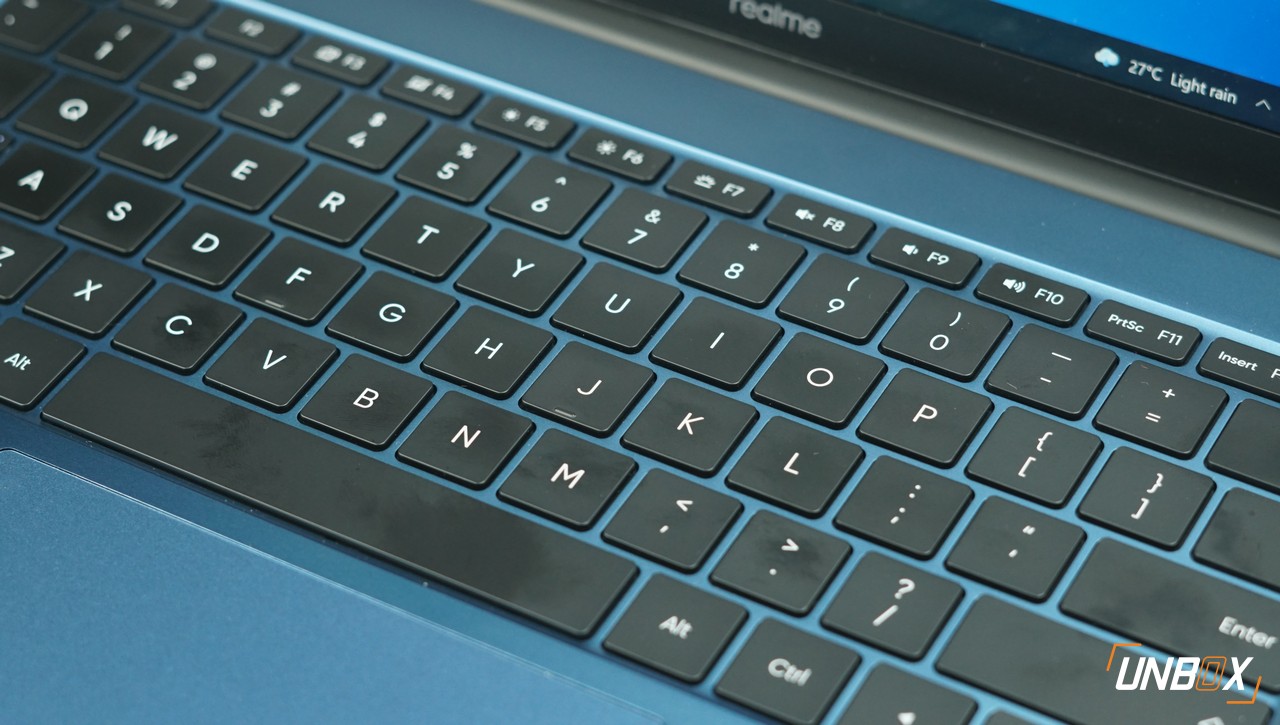 Keyboard and trackpad
The realme Book uses a chiclet island-style keyboard that's backlit white for better usability in the dark. We really have 0 complaints about this keyboard – it has nice overall travel (and is what we're actually using to type this review).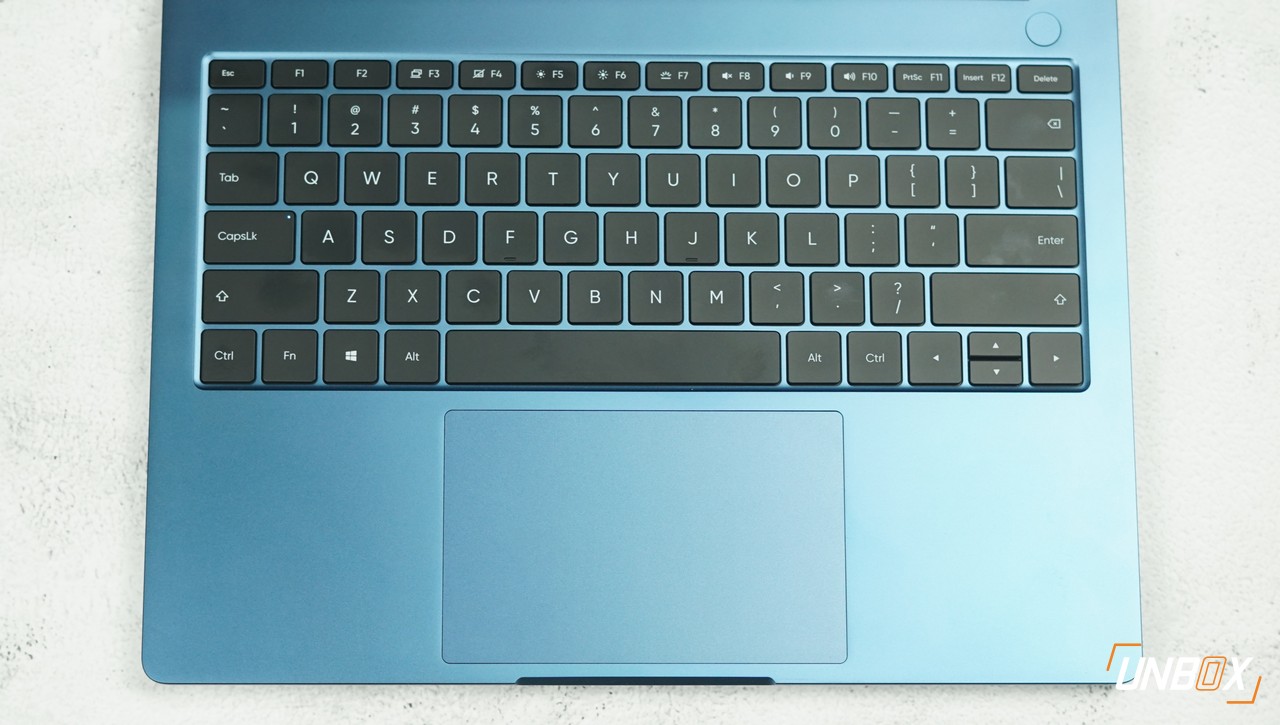 The trackpad is similarly good – there's a nice positive click when you press down on it, and the trackpad is very responsive to the touch. There is a small annoying part of the trackpad though – the very top of the trackpad doesn't register presses or clicks, which is a little frustrating the first time you encounter it.
Performance, software, benchmarks
The realme Book has the same 11th gen Core i5 processor (i5-1135G7) as many of its contemporaries, paired with 8GB of RAM and 512GB of PCIe SSD storage as well as Intel Iris Xe graphics.
Interestingly, realme's implementation of the chip fared better in our synthetic benchmarks VS the competition, despite all the laptops having pretty much the same hardware configuration.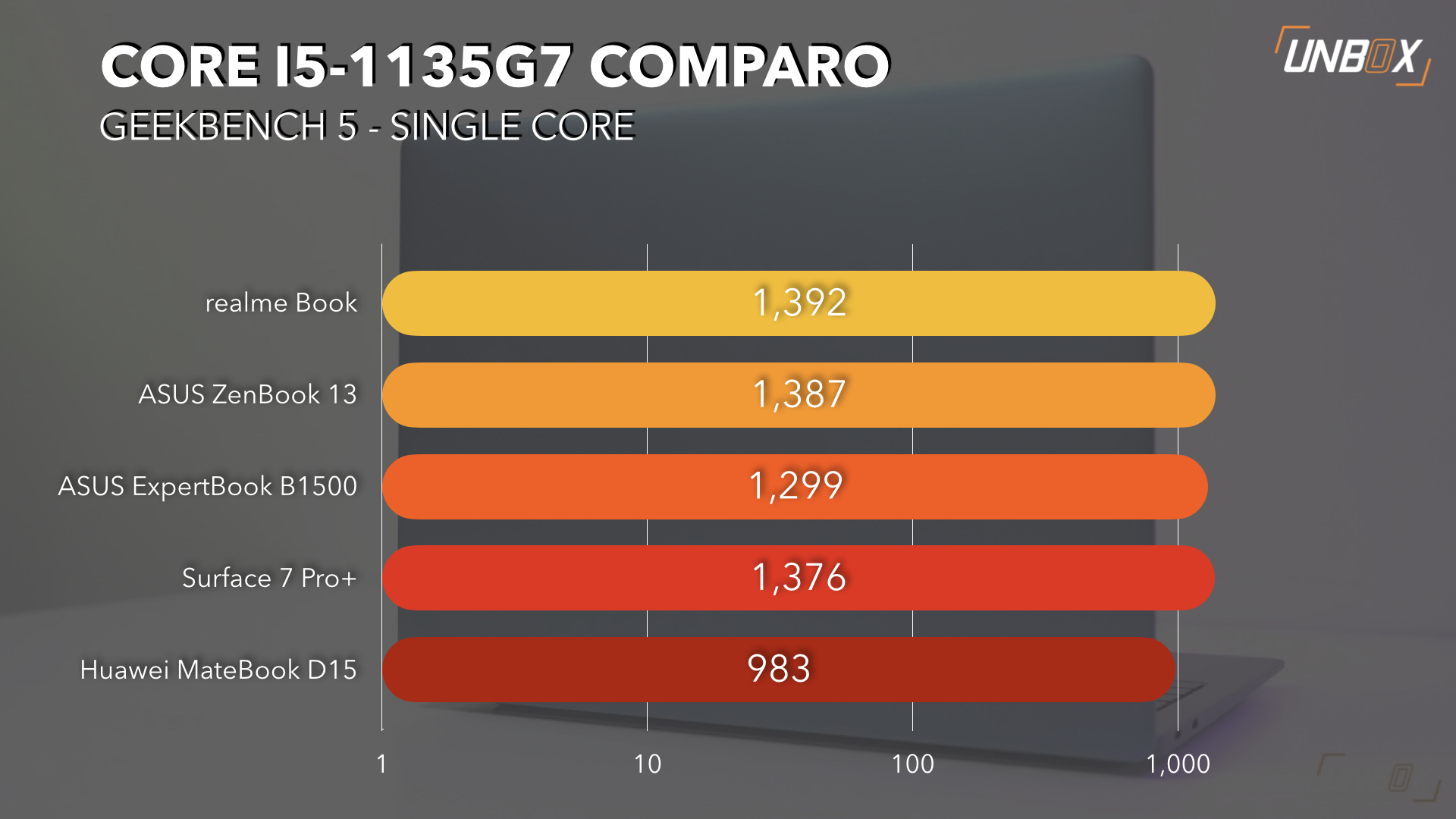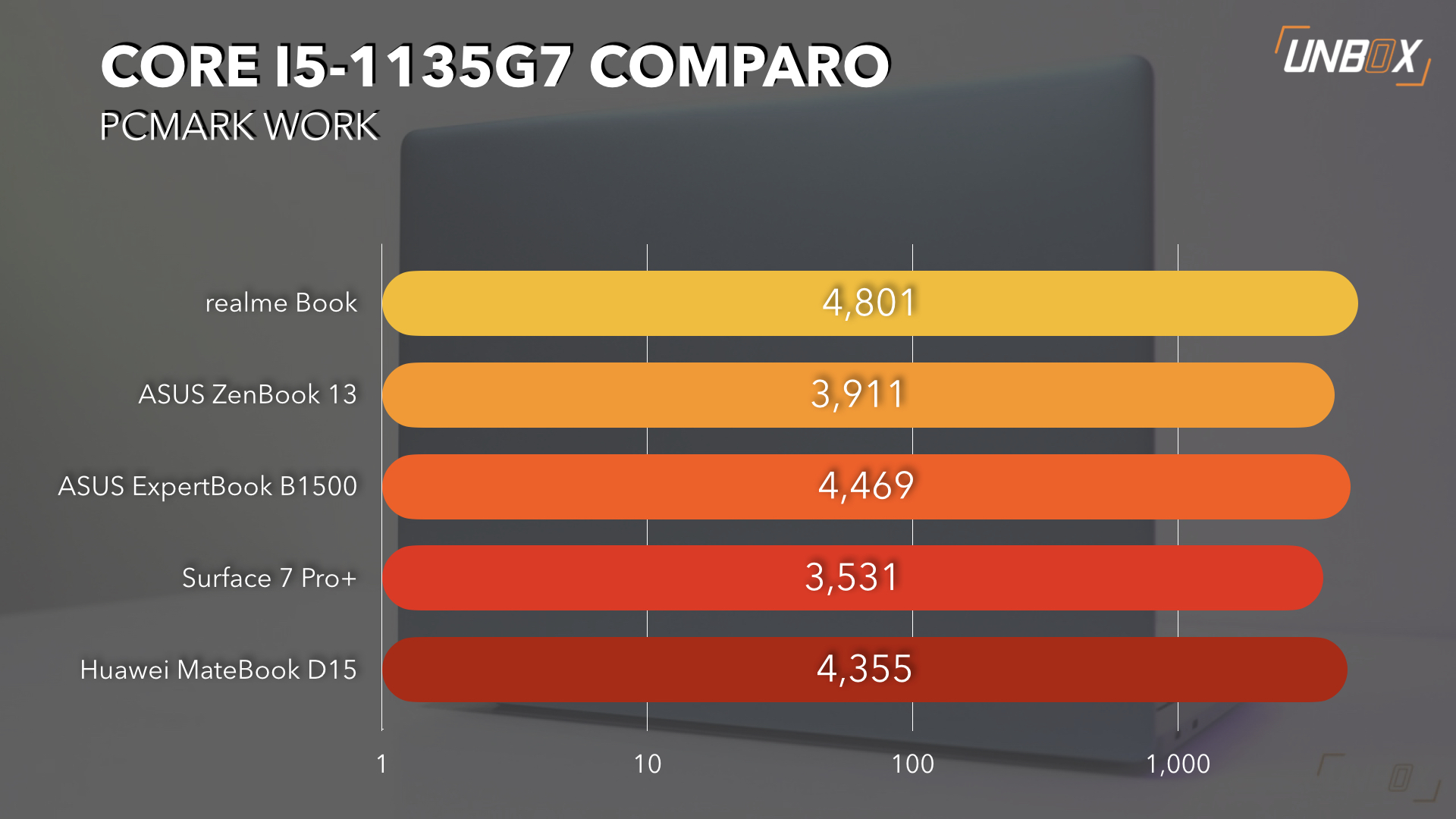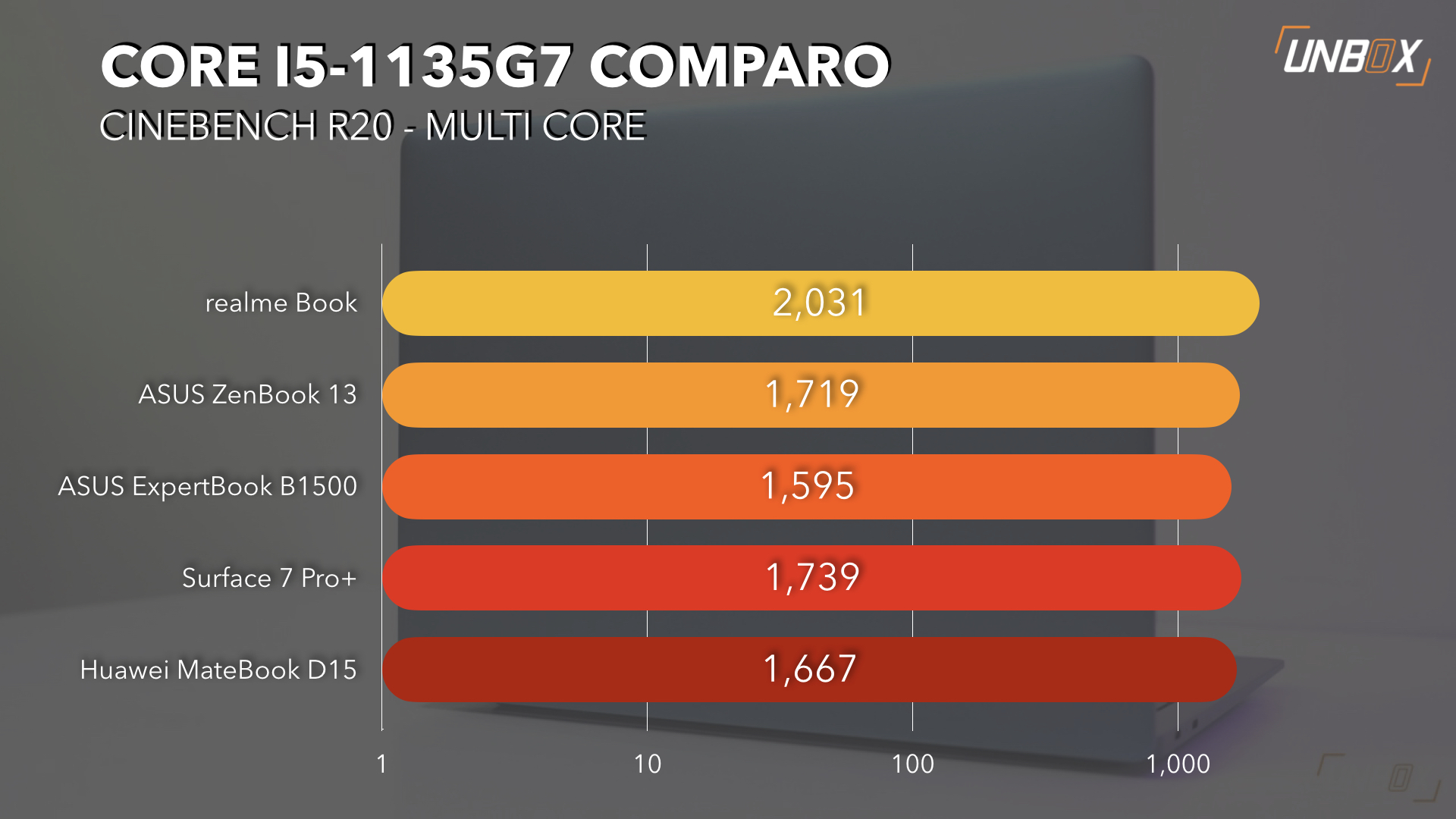 OEMs like realme have some degree of control over the power limits of the chips, giving them a bit of overhead on how much they can tweak the performance of the processor as long as it doesn't go beyond Intel's power values.
That being said, we're not a fan of the fact that the laptop only has 8GB of RAM (soldered-in RAM at that), which limits its use to a productivity machine. More RAM-hungry applications like serious photo and video editing will ultimately be impacted by the lower RAM.
realme has added its own PC connect app that allows for seamless file transfer, screen mirroring, and clipboard sharing as well as notification alerts from your phone directly to it. There's one catch though – the feature is only available for the Realme GT series for now.
The laptop has a 54Wh battery, which lasted around 4 hours and 30 minutes in our punishing battery run-down test. This equates to around a whole day's worth of moderate use with most productivity apps/software with a bit of content consumption thrown in.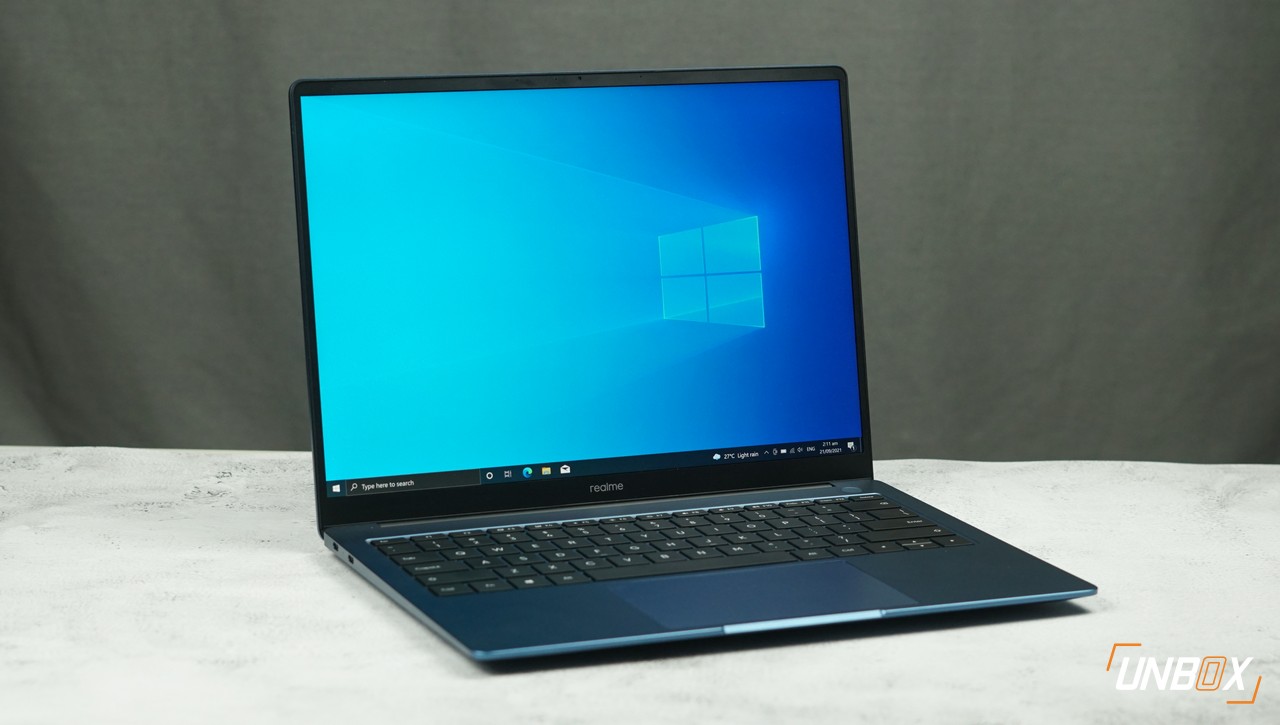 Wrap-up and verdict
The realme Book impressed us in our review for the device in the Philippines. It does have a few minor issues like limited port selection and the slightly dim screen, but that's more or less negated by its good feature set as well as higher than average performance VS similarly-specc'd laptops.
The laptop's price is pretty attractive as well, especially if you pre-order since realme will be taking a fair chunk off of the laptop's intended SRP.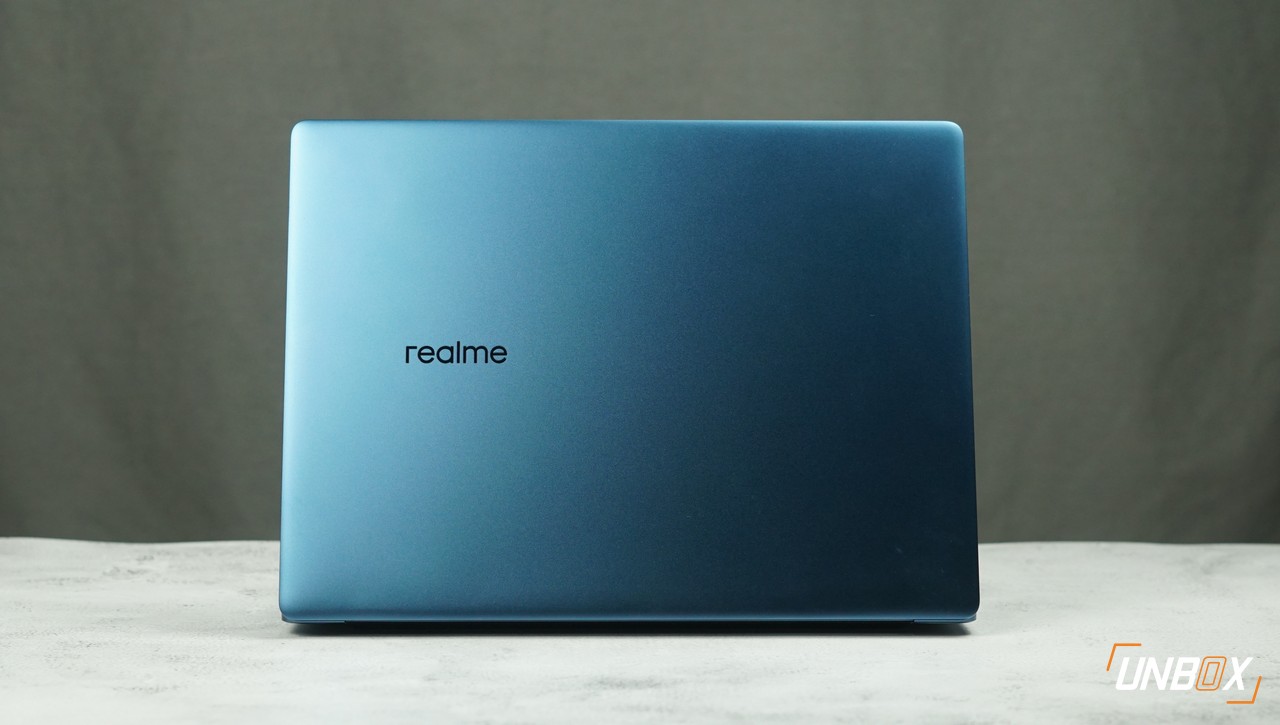 realme Book Review Philippines Price
The realme Book is priced at Php 47,990, though the company will be cutting its price down to Php 41,990 (Php 6000 discount) when you pre-order. There will also be a Core i3 version of the laptop, which is priced at Php 37,990, and will similarly get a reduced price of Php 29,990 (Php 8,000) when you pre-order.