Review Verdict:  You can't go wrong with the 2021 Toyota Wigo TRD S as your first car or just an extra car for your family in the Philippines. For a very reasonable price,  you get to have everything you need in a car. The small hatchback is more than enough if you're just driving to work or running errands.
Specs
Engine: 3-cylinder 12-valve 1.0L DOHC engine

Power: 66 PS and 89 Nm

Fuel: Gasoline

Transmission: 4-speed Automatic

Suspension: McPherson Strut (front) and Torsion Beam Axle (rear)

Brakes: Ventilated Discs (front) and Drum Brakes (Rear)

Fuel Economy: 12.1 km/L Overall
Pros
Fuel efficient

Fun to drive

Feature-packed
Cons
Shudders when slowly accelerating

Cabin noise

Outdated 4-speed tranny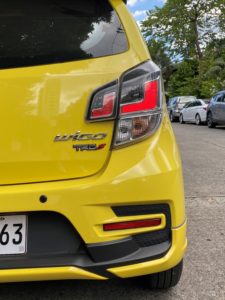 Exterior
As a fan of hatchbacks, I can't help but be fascinated by this charming little car. What makes it more eye-catching is the limited Yellow SE color that's exclusive to the TRD S variant. Style is further improved with the aggressive Sport Kit that comes standard with the variant. It includes a front spoiler, a rear skirt, side skirts, a two-tone rear spoiler with LED lights, and a multitude of TRD logos all around the car. Although this Sport Kit isn't functional, it drastically improves the car's overall aesthetics. 
The surprising thing about the Wigo TRD S is that, despite being an entry-level car from Toyota, it comes with features such as halogen projector headlights, daytime running lights, line guide type clearance lamps, LED taillights, and power retract and adjust side mirrors in all variants except the 1.0E MT. In addition, all variants come with a set of 14-inch wheels made of alloy. These features make the car feel a bit more special.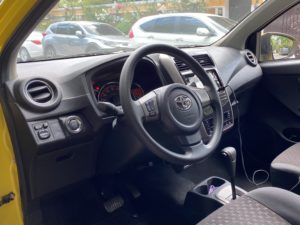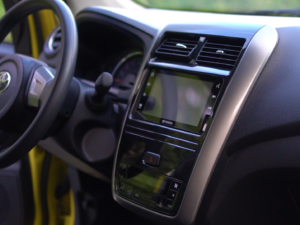 Interior
Everything inside the car is straightforward, essential, and practical. There are plenty of plastics inside, the seats are made of fabric, and the materials used are nothing special. It's safe to say that the interior is built with practicality in mind. Nevertheless, it still looks presentable and neat. Although there's nothing lavish inside, the important thing is that it's complete with the essentials. It has a back camera, a push-start button, an LCD A/C control panel, keyless entry, sonar sensors, and steering wheel buttons in all variants except the 1.0E MT. Only the TRD S variant comes with a built-in dash cam and a 7-inch infotainment system that's compatible with Apple CarPlay and Android Auto. In all fairness, these features are considered a luxury in this segment and price range.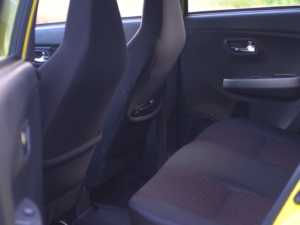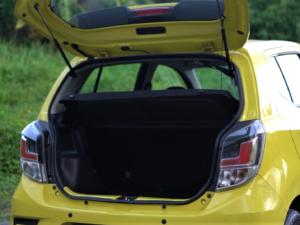 When you're inside the Toyota Wigo, it feels like a different car in terms of space. I just can't believe this small hatchback has so much room inside. In fact, I'm 6 feet tall yet the headroom, legroom, and shoulder room provide more than enough space for me. I just wish that the steering wheel was telescopic and the driver's seat height was adjustable to provide even more comfort. And just like the front seats, the backseat provides plenty of legroom and headroom, too. The only problem is that there isn't much shoulder room – if you try to sandwich more than two people at the back, you're going to have complaints from your passengers. The car also has enough cargo room at the rear to fit a few suitcases. In case you would need more space, the rear seats can be folded down to accommodate 14.9 cubic feet of space. That's even bigger than that of the Toyota Altis.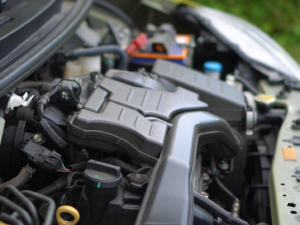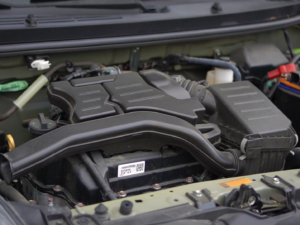 Drive and fuel economy
Driving the Toyota Wigo around the metro is a breeze. We all know that driving in Manila sucks. Because of the Wigo's size and agility, it has no problem traversing narrow streets and parking in tight spaces. Being stuck in traffic isn't a big problem either when it comes to overall fuel consumption, thanks to its economical engine. The only problem is that it lacks power hence accelerating takes a while and overtaking is a bit difficult. This is because all variants of the Toyota Wigo are powered by a 1.0L engine that's designed to give the best fuel efficiency, hence it's only capable of producing 66 PS and 89 Nm of torque. Moreover, the 4-speed automatic transmission is already outdated, but it's still more reliable and inexpensive to maintain than a modern Continuously Variable Transmission (CVT). It also shudders when slowly accelerating which can be quite distracting to some. Nevertheless, the car is still fun to drive as it responds to steering input very well. The car feels nimble without being bumpy, the combination of McPherson strut at the front and torsion beam axle at the back is ideal for the job. The stopping power of the car is also satisfying.  The ventilated discs at the front and drum brakes at the rear are more than enough to stop it when it needs to.
One of the strongest selling points of the Toyota Wigo is surely its fuel efficiency. This what many car buyers are looking for, especially in a country like the Philippines where heavy traffic is part of everyday life. In our hands, the Toyota Wigo averaged 12.1km/L as indicated in the instrument cluster. This is actually impressive as we were doing a lot of spirited driving and traffic was always heavy.
Since the Toyota Wigo is a small car, it's very easily affected by heavy winds and large vehicles that pass by beside it. We also noticed that outside noise suppression isn't as good as say, a regular sedan. That being said, safety-wise it's a pretty safe car, with the Wigo scoring a 4-star rating in the ASEAN NCAP test. This means that you are safer in this small car than in bigger cars with lower safety ratings. Yes, bigger isn't always better when it comes to car safety. In addition, all variants of the Toyota Wigo are equipped with SRS Airbags and Anti-lock Brake System.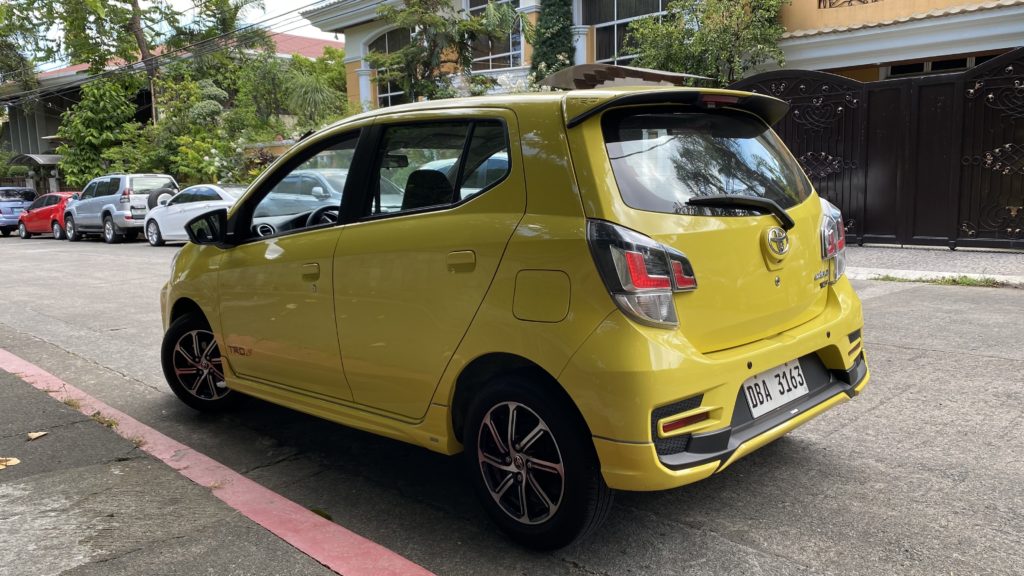 Wrap-up and verdict
It's not hard to understand why the Toyota Wigo continues to sell like hotcakes despite the economic effects of the pandemic. It's always in the Top 10 list of the Philippines' Best-Selling Cars for a reason. Indeed, there are many reasons to love this small hatchback. It's economical and practical. It's spacious inside. And it's a joy to drive whether you're a first-time owner or just adding a second car to your garage. 
This is a car you wouldn't buy just because of the price, but also because of its character. It's not just a car, it's also a statement. This little hatchback is synonymous with fun, thrill, and uniqueness. It has no problem catering to affluent consumers despite being an entry-level car because it has many desirable characteristics. And what it lacks in luxury, it makes up for in functionality. Overall, our 2021 Toyota Wigo TRD review for the Philippines doesn't really find a lot of fault in the car, making it an excellent buy for anyone looking for an affordable and economical ride. 
2021 Toyota Wigo TRD Review Philippines Price
Toyota Wigo 1.0 E MT – P568,000
Toyota Wigo 1.0 G MT – P623,000
Toyota Wigo 1.0 G AT – P658,000
Toyota Wigo 1.0 TRD S AT – P700,000
Comments (0)