With the hype surrounding the launch of the next-generation Civic, Honda Philippines Inc. (HPI) is not about to let its bikes fall behind. With this in mind, Honda has released the all-new CBR500R along with its price in the Philippines, a sports bike built to make travel enjoyable, stylish, and quick.
CBR500R Specifications
Engine & Power: 471cc Parallel Twin Engine w/ 35kW @ 8,500 RPM
Torque: 43 Nm @ 6,500 RPM
Gearbox: 6-speed Manual (Wet, Multi-Plate Clutch)
Fuel Tank Capacity: 17.1 Liters
Weight: 195 kg
Seat Height: 789 mm
Width: 758 mm
Ground Clearance: 130 mm
Height/Length: 1145/2081 mm
Wheelbase: 1409 mm
ABS: Standard
Start Option: Electric
Odometer: Digital
With this sportbike, Honda sought to achieve the perfect harmony of sportiness, safety, and looks. Powering the rig is a 471cc liquid-cooled 4-stroke DOHC parallel twin engine, compliant with Euro 5 emission standards. This powertrain supplies the capable chassis with a maximum power output of 35 kW at 8,500 RPM, and peak torque of 43.2 Nm at 6,500 RPM. These numbers make the CBR500R highway-legal, meaning this bike is perfect for cross-country travel. This holds true especially because the steed sips fuel with its pinky up, totaling to an admirable 28.6 km/L fuel economy.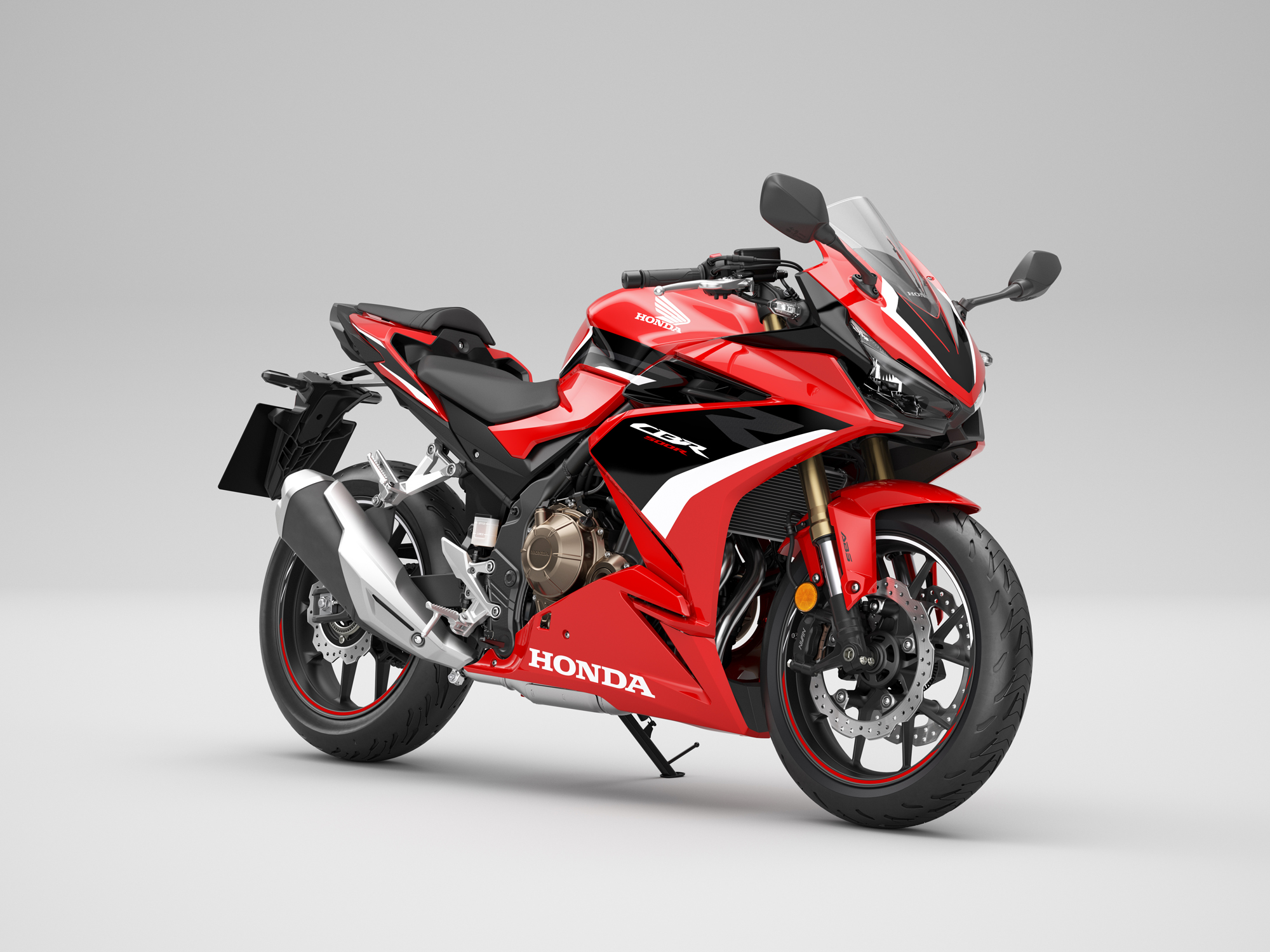 They've also beefed up the handling with a Showa inverted front suspension SFF BP, allowing the bike to carve corners with precision. Its straight-line performance and corner maneuverability make it a versatile weapon of choice. Just because we called it a weapon doesn't mean that it's unsafe though – it provides impressive stopping power through its 296mm dual-disc front brake with a radial-mount caliper, 2-channel Anti-lock Brake Systems (ABS), and an emergency stop signal to let drivers behind know of sudden stops.
Honda CBR500R Price Philippines
The Honda CBR500R is now available in all Honda Philippines big bike dealerships with a price of Php 364,000. It can be specced in two flavors, namely the livelier Grand Prix Red or razor-sharp Matte Gunpowder Black Metallic.
For more details about Honda products and promos, visit the Honda website or follow their Facebook page. You can also contact them through the landline number, (02)-8581-6700 to 6799, and mobile number, 0917-884-6632.
Comments (0)