The new normal has changed the way we do work. Instead of reporting to offices, we rely heavily on our WFH setups that involve multiple screens and heavy use of videoconferencing apps. While the idea of having two (or three) monitors makes it ideal for productivity, some want to make their teleconferencing much better.
With TVs becoming smarter than ever, Huawei has thought of something: what if you integrate the TV as part of your WFH setup? That's where the Huawei Vision S comes into play with its features.
Coming in either 55-inch or 65-inch sizes, what makes the Huawei Vision S unique is it has features that make it also an integral part of your WFH setup. Among its standout features is its 13-megapixel camera that attaches magnetically on top of the TV. With the camera, you can use the Vision S for your videoconferencing calls with your teammates and fellow employees while using that spacious display estate the Vision S has to offer. That's where MeeTime shines, as this Huawei feature lets you enjoy 1080p video calls–not just for work, but also for connecting with family and friends.
Since it attaches magnetically, you can easily remove and set aside the camera when not needed, giving you the utmost privacy and keeping the Vision S' lines clean.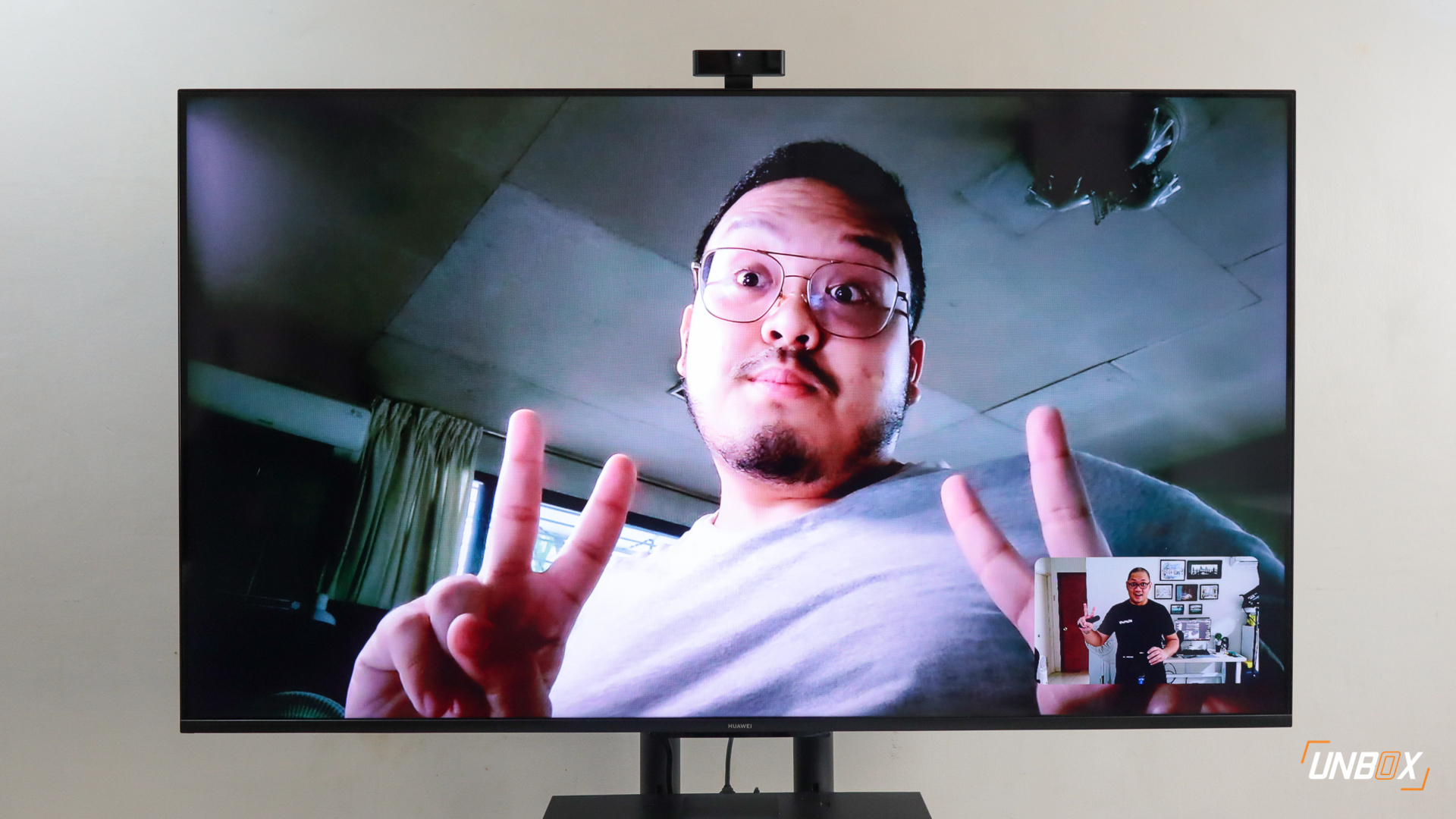 Aside from the hardware, Huawei also gave emphasis on the software as well. The Vision S is powered by the brand's in-house HarmonyOS software, and MeeTime is one of its key features. Huawei's videoconferencing platform makes use of an encrypted connection and can stream HD quality video calls while efficiently allocating internet bandwidth. We used MeeTime for quick updates on our workflows, and we noticed that it is more efficient compared to most videoconferencing platforms we normally use for work.
Beyond MeeTime, HarmonyOS comes with features like Home Camera, OneHop Projection, Distributed Gaming, AI Voice, and AI speaker mode. OneHop lets you transfer the contents of your phone into the Vision S for a bigger screen estate and better productivity, while distributed gaming lets you enjoy your mobile games on the Vision S while using your phone as a controller. As for the AI speaker feature, the Vision S can utilize its microphone even while the display is off, functioning as a smart speaker instead.
HarmonyOS also has entertainment in focus, as the Huawei Video App offers a variety of movies and TV shows to choose from for your family and friends, making the Vision S an all-around TV that's great for entertainment as well.
MeeTime and other in-house HarmonyOS features like screen projection are even compatible with non-Huawei phones, as long as they run at least Android 8. Should you want to add more apps or content from platforms like YouTube and Netflix, you can download them via the bundled Smart Box or through downloadable APKs.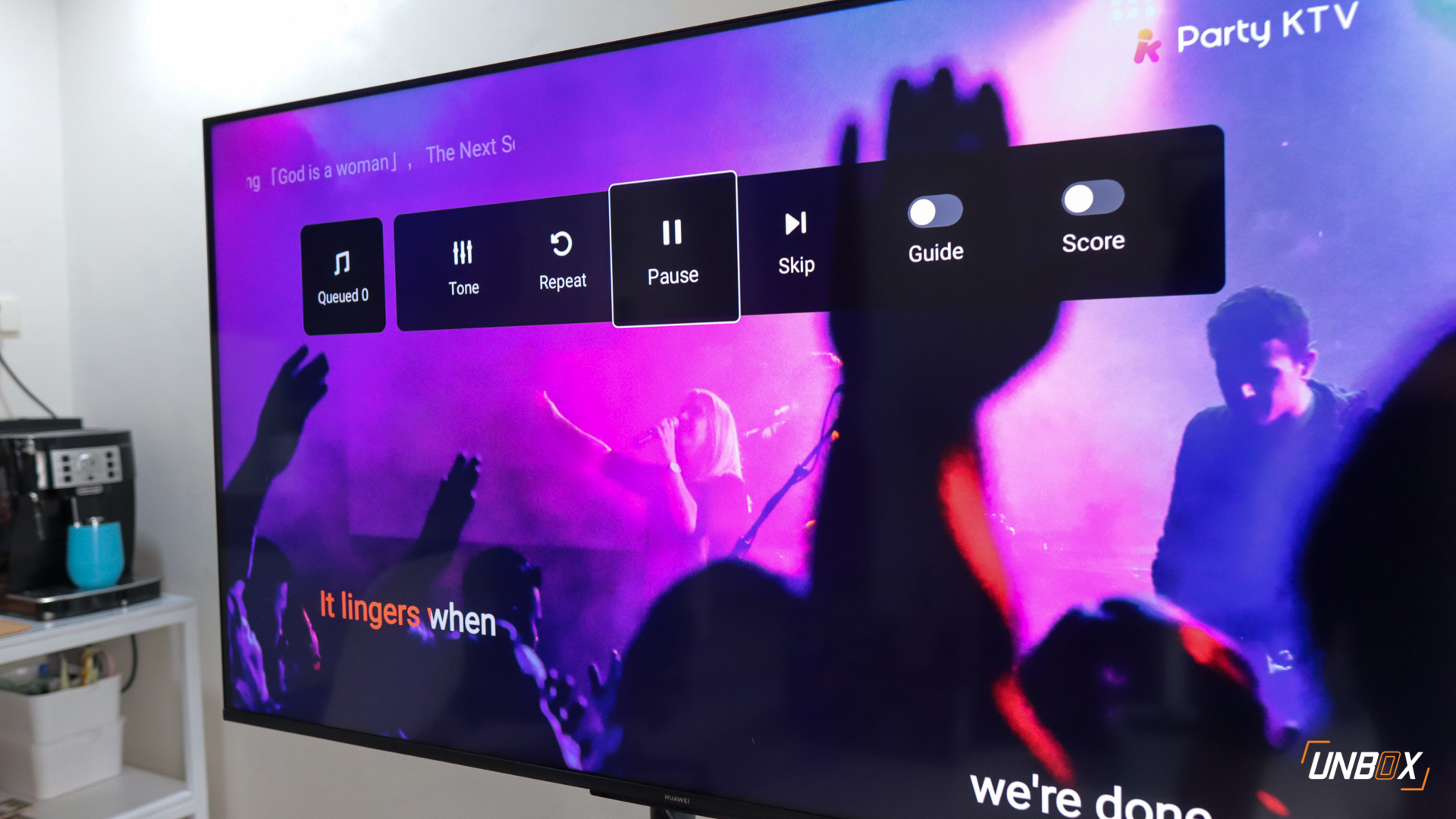 There's even a karaoke mode so that you can enjoy singing your favorite songs to wrap up a long workday.
As a smart TV, the Vision S boasts slim bezels, along with a 4K panel that can achieve a 120hz refresh rate in Full HD resolution. The display delivers great colors thanks to its 92% DCI-P3 color gamut range, and combining that with Smart MEMC and Huawei Sound makes the Vision S is a great TV not just for movies, but for videogames as well. Watching or playing games for prolonged periods should not be a problem, as the Vision S has Eyecare protection to reduce eye fatigue.
The Huawei Vision S is priced at Php 36,999 (Php 32,999 for cash/straight payments) and Php 56,999 (Php 49,999 for cash/straight payments) for the 65-inch model. Both variants are available online via the Huawei store, Lazada, and Shopee and offline via Huawei Concept Stores, Abenson, and All Home.
The Huawei Vision S is now on its First Sales Promo until May 31, where you get a free smart box and microphone for the 55-inch version, and a smart box and 2 microphones for the 65- inch model. From May 21 to September 30, 2021, only the smart box will be included for either variant–so it's best to make your purchase before May 21 to get the most value for your money.
To make the whole purchase experience convenient, Huawei's Easy Buy lets you reserve a Vision S online, where a Huawei representative will contact you when and where you can settle the payment (in full or via in-store installments) for the Vision S. Easy buy also lets you enjoy in-store installment plans as well, helping you purchase the Vision S easier.
From here, Huawei will deliver the Vision S to your doorstep free of charge until May 31–as long as you live in Metro Manila, Bataan, Batangas, Cavite, Laguna, Pampanga, or Rizal.
Comments (0)