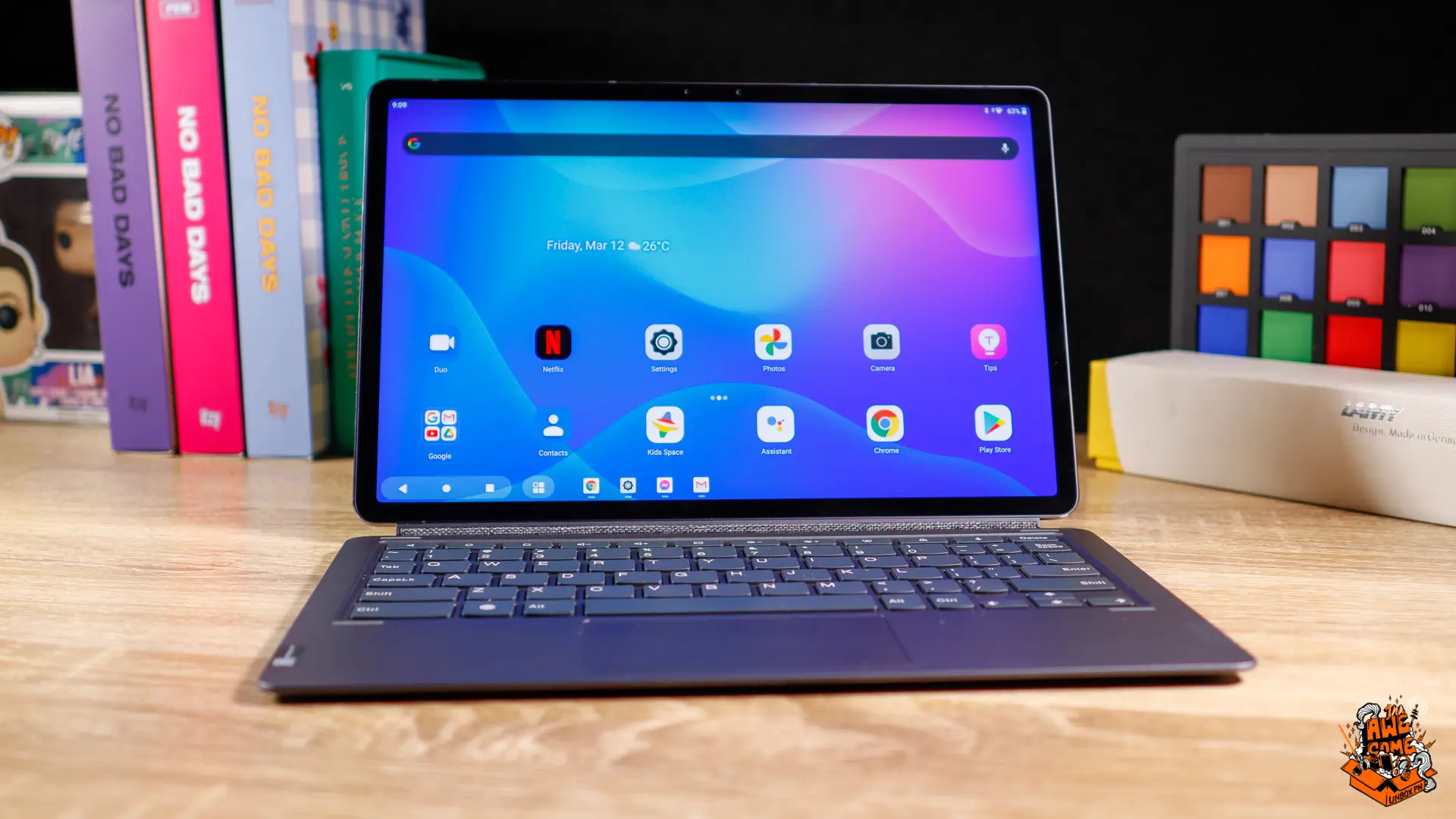 Review Verdict: Despite Google struggling to get its Android OS optimized for tablets, The Lenovo Tab P11 Pro is able to deliver an excellent UI for customers that can rival Apple's iPads. The tablet's productivity mode transforms the experience that's pretty close to what you'd expect from laptops, giving you all the benefits of a PC with the strengths of Android. 
While Lenovo has still a long way to go when it comes to designing the Tab P11 Pro's accessories (the lack of a solid hinge for the tablet when it is docked was pretty annoying) getting the UI right is one big step towards making Android tablets suitable alternatives to laptops.
Pros
Well-executed productivity mode UI
Stellar OLED display despite Pentile limitations
Best-in-class quad-speaker system
Cons
No solid hinge on the keyboard's docking pins
No safe (and practical) placement for the digital pen
Snapdragon 730G Processor and Android itself limits its potential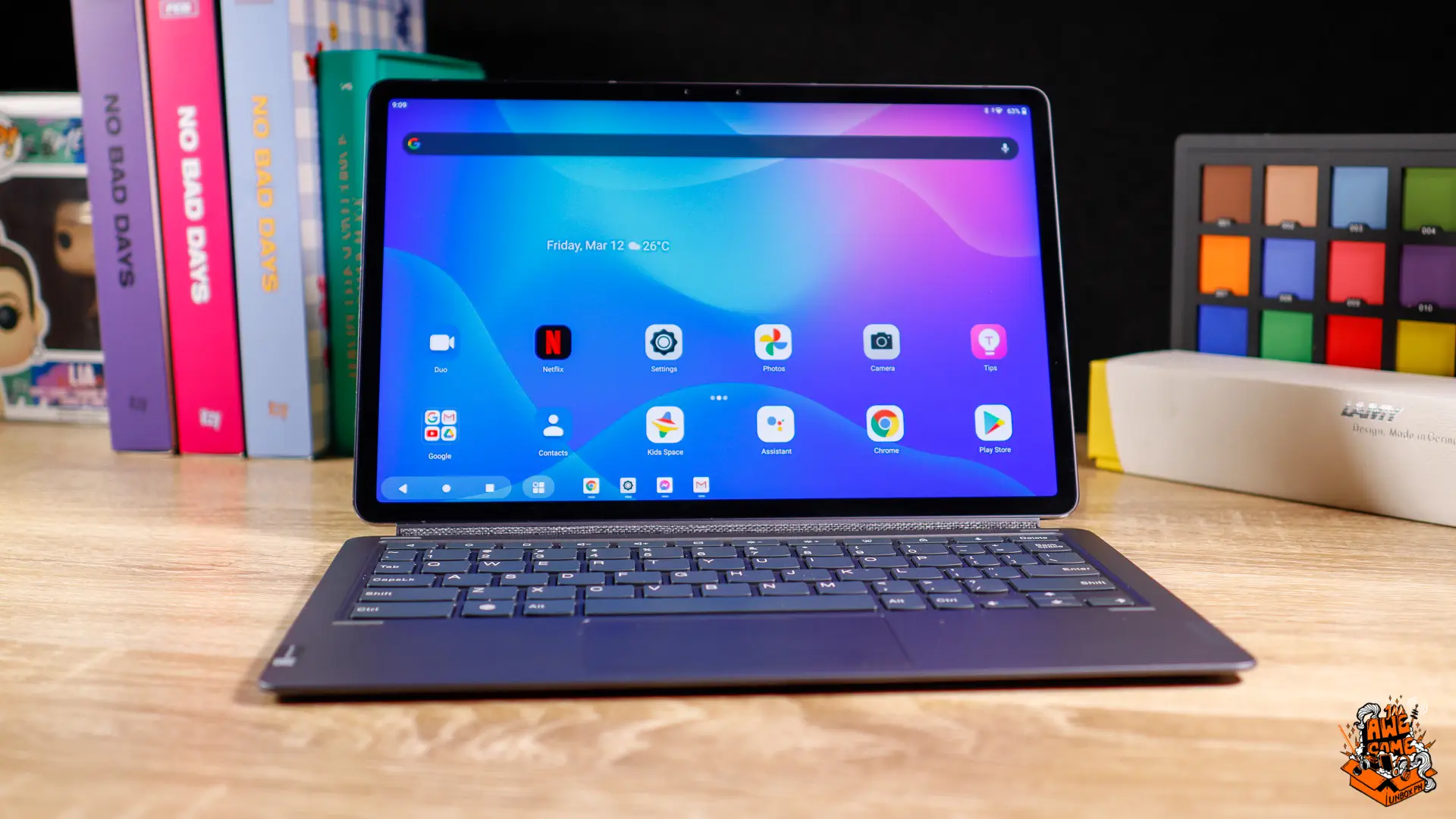 Lenovo Tab P11 Pro Philippines Review Specs:
Snapdragon 730G processor
6GB LPDDR4X RAM
128GB UFS 2.1 storage
11.5-inch OLED display, 2K Resolution, 16:10 aspect ratio, Dolby Vision, HDR10
13-megapixel f/2.0 main camera with PDAF, 5-megapixel f/2.2 ultra-wide-angle camera
8-megapixel f/2.0 selfie camera, 8-megapixel IR sensor
4G, LTE
WiFi, Bluetooth 5.1, side-mounted fingerprint scanner
Quad JBL-tuned speakers, Dolby Atmos
8600mAh battery
20w fast charging
Android 10
There are very few brands that make high-end tablets these days, and Lenovo is one of them. The Tab P11 Pro is set to go against the iPad Air 4th generation, thanks to its design and features which coincidentally makes it act a lot like a miniaturized version of its Yoga Duet 7i 2-in-1.

Design
Being a modern slate, the Tab P11 Pro uses symmetrical skinny bezels on all four sides, giving you a high screen-to-body ratio with its 11.5-inch OLED display. It has a blocky design and makes generous use of aluminum for the body. The back panel has an anodized finish, with the Lenovo branding placed on one side and the oblong camera module being home to two cameras.
For the ports, you have the power button (that doubles as a fingerprint scanner), two speakers, and a SIM tray on the left side, volume control buttons and microphone holes on top, and another set of speakers and a USB 3.2 port on the right side. The bottom part houses the POGO pins for the keyboard cover-which together with the kickstand, transforms the Tab P11 Pro into a miniaturized version of the Yoga Duet 7i.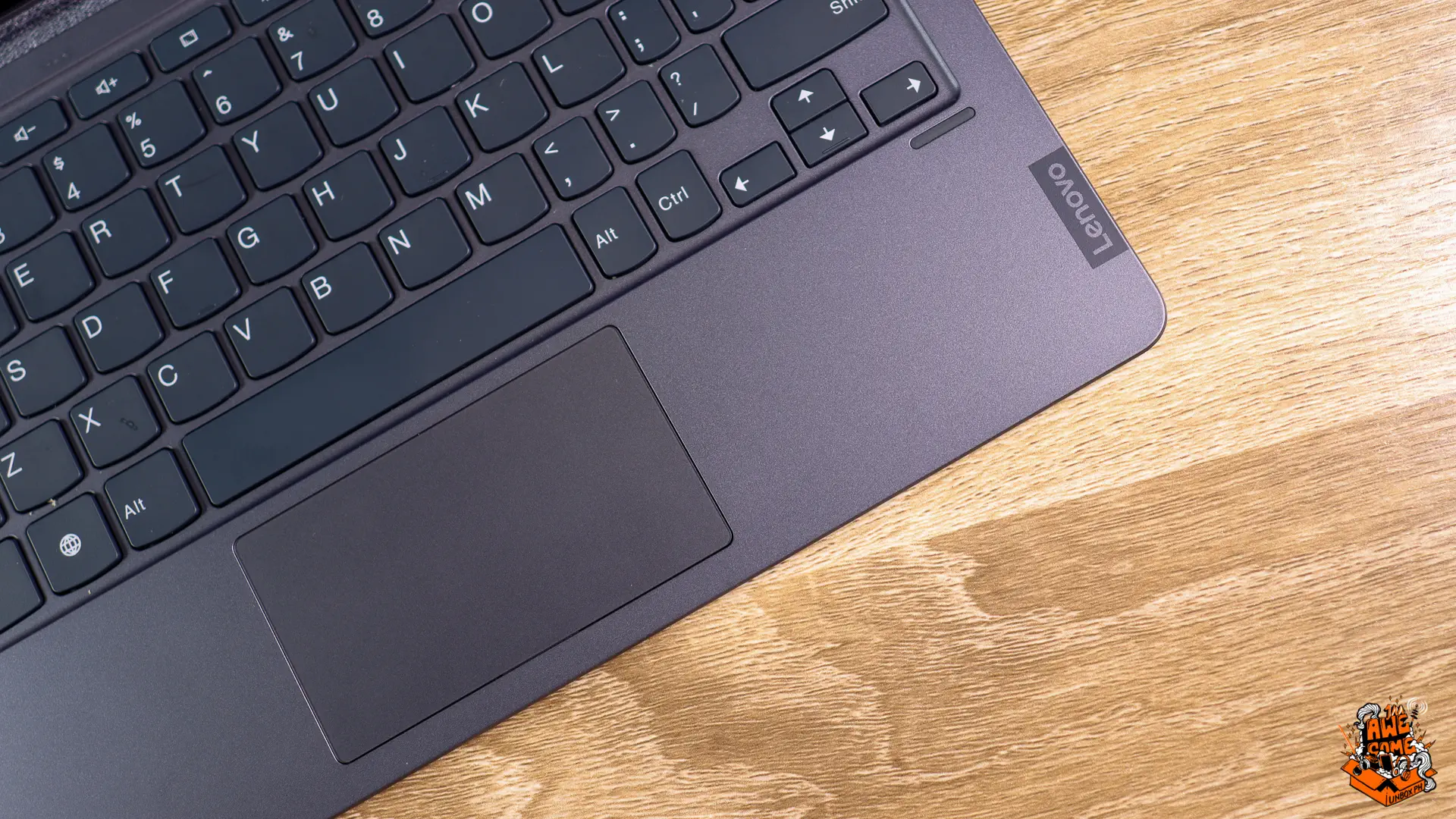 From the type of cloth used to the keyboard and trackpad design, there's no denying that the Tab P11 Pro disguises itself as a Yoga Duet that is powered by a Snapdragon processor and runs Android OS. Installing both pieces turns the Tab P11 Pro into a laptop since the keyboard also comes with a trackpad.
Moving onto the keyboard, typing on it is still better than Apple's horrible (and infamous) Butterfly keyboards despite it having very narrow key travel due to its slim stature. Typing on the Tab P11 Pro felt great, which isn't always the case for devices like these. I used the tablet in typing this review, and the well-spaced keys made it easy for me to use it.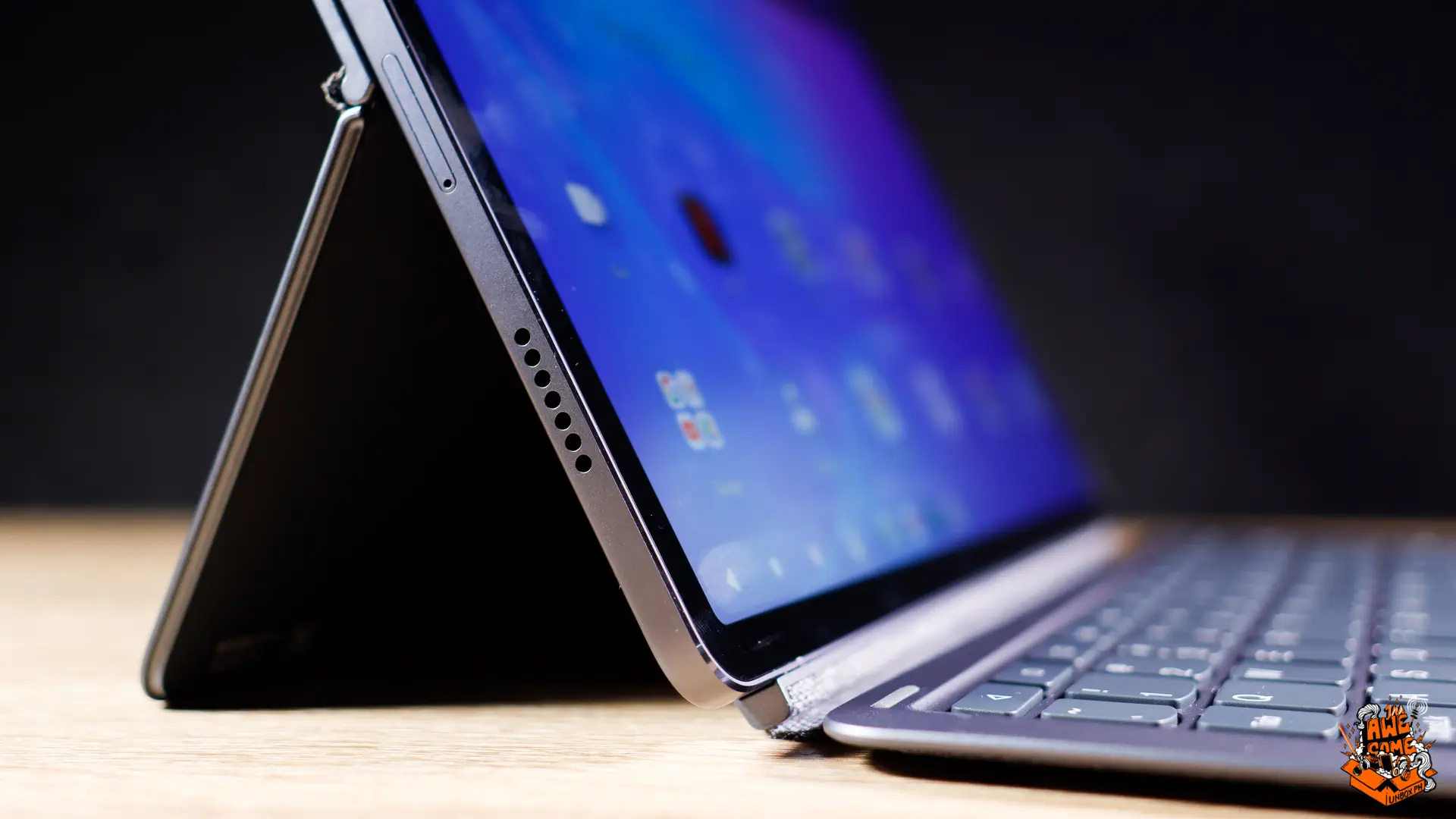 I just wish it came with a backlight and an actual articulating hinge when docking the Tab P11 Pro as unlike Apple's expensive Magic Keyboard for the iPad, Lenovo's keyboard does not have a hinge. Instead, you adjust the Tab P11 Pro's viewing angles with the kickstand, making the setup limited for use on a flat table.
It is very rare to see tablet keyboards have a trackpad, and the one on the Tab P11 Pro's keyboard is a decent one. While it does not have as many multi-touch gestures as its bigger Yoga Duet sibling, the mere existence of one makes it easier to navigate through the UI and get things done.

For maximum productivity, the Tab P11 Pro works with Lenovo's Precision Pen 2. While I have no complaints about its functionality–it works similar to the active pens used on Lenovo's Yoga laptops–it's annoying that there is no magnetic connector to attach the pen to the tablet and wirelessly charge it. To charge the Precision Pen 2, you need to open the flap on one end to reveal a USB-C port.

Display and Audio
The main star of the show with the Tab P11 Pro is its display and speakers. The former is a large 11.5-inch OLED panel with a 2K resolution and a maximum of 500nits of brightness. While the panel makes use of a Pentile Display–which makes it less sharp (especially with text) compared to OLED displays used on more expensive tablets like the Galaxy Tab S7–colors are vibrant and stellar.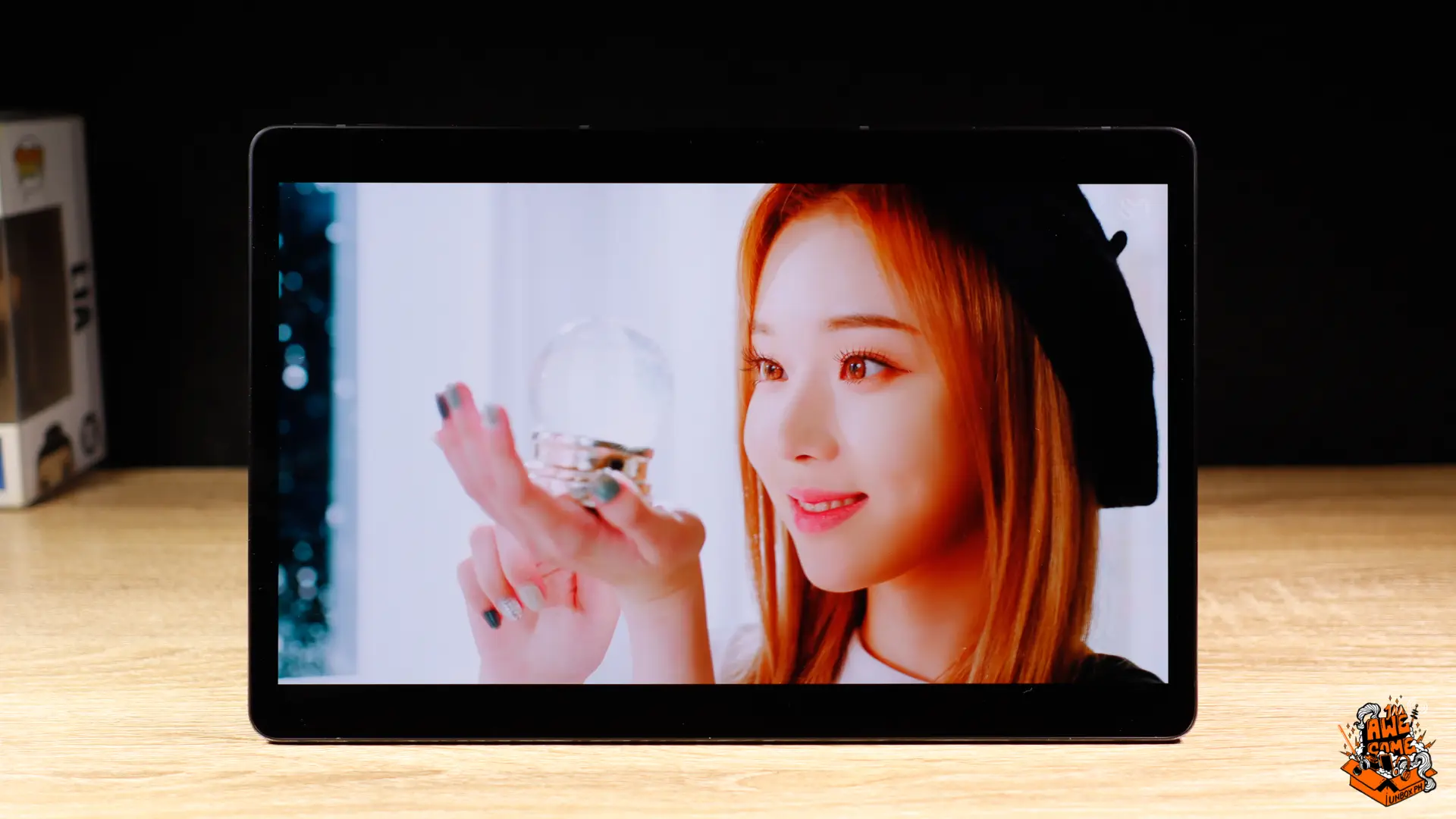 Watching my favorite Netflix videos in Full HD and KPop choreographies in glorious 4K HDR is one thing I really enjoyed on the Tab P11 Pro, closely rivaling the LCD panel of my iPad Air 4th Generation.
Another great feature of the Tab P11 Pro is its JBL-tuned quad speakers, which can go really loud and still deliver rich and detailed audio. I've used the Tab P11 Pro to play some of my favorite The Weeknd tracks on Spotify, and its speakers are actually better than some mid-range laptops I've reviewed here on the site.
Cameras
The Tab P11 Pro comes with a dual rear camera setup that comprises a 13-megapixel f/2.0 main camera and 5-megapixel f/2.2 ultra-wide camera. Both snappers don't exactly take great shots, but it should not be a big deal since it is not practical to use a tablet for taking photos.
For selfies, you get two 8-megapixel cameras. One is the main selfie camera, while the other is an IR sensor that is meant for more secure logins when you use the Tab P11 Pro's face unlock feature. The resolution makes it decent enough for you to look flattering with those Zoom calls.
If you actually want to use the P11 Pro to shoot videos regardless of practicality,  the tablet can shoot up to Full HD resolution. Check out the sample footage below: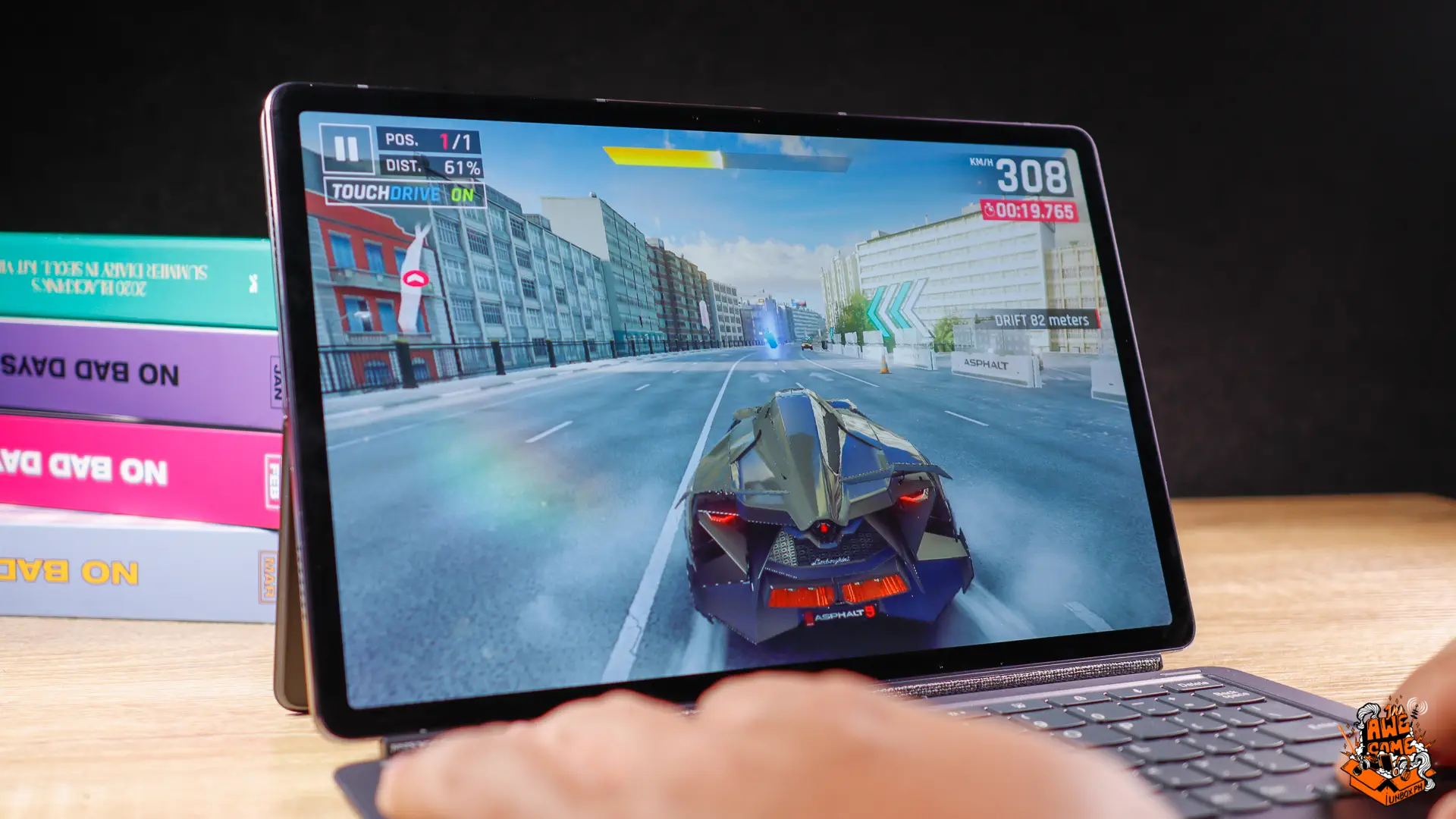 Performance, User Interface, and Battery Life
Powering the Tab P11 Pro is a Snapdragon 730G Processor that is paired with 6GB LPDDR4X RAM and 128GB UFS 2.1 storage, with the latter being expandable via MicroSD. While the processor may be dated since it is close to two years old, its other variants–namely the Snapdragon 720G and 732G–are still widely used in most 4G mid-range phones. While its CPU performance is close to the 5G-ready Snapdragon 765, the Snapdragon 730G lags behind in GPU performance.
While you can't expect flagship performance like devices using Snapdragon 800-series processors, the Snapdragon 730G is at par with a Snapdragon 835, making it a versatile processor for most productivity work–which is why you'd even consider it.
For the past few years, brands have been trying to implement a desktop mode of sorts for their tablets (and to their phones sometimes), but these solutions are often not as smooth in terms of the overall experience.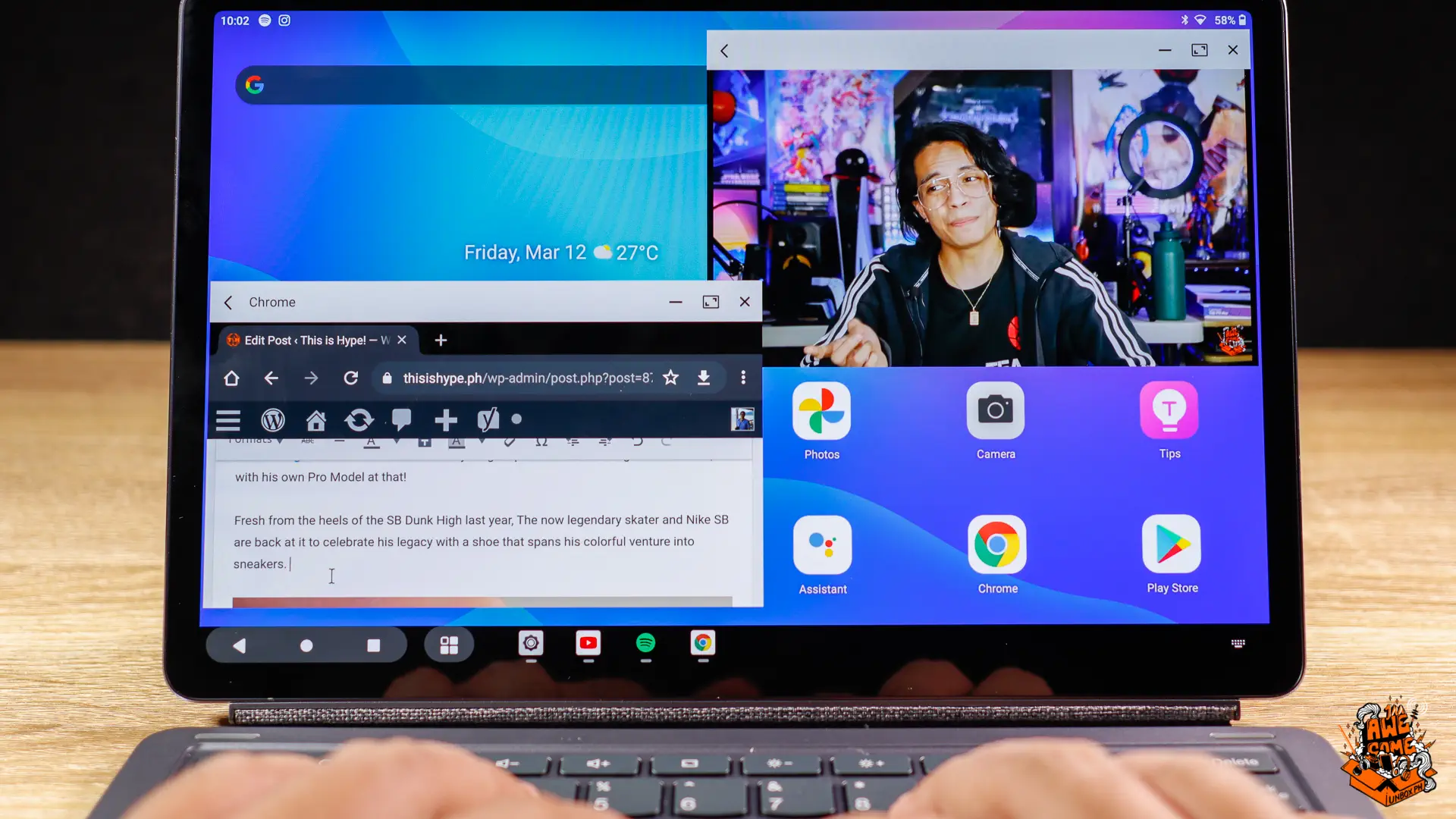 The Tab P11 Pro's Productivity mode is a different story, however: the moment you dock the tablet into the keyboard, the UI switches to a desktop-like mode that lets you open multiple windows at the same time on its generous 11.5-inch display. You can resize the windows and even move them around to maximize the screen estate.
At the bottom part, you even get a Windows-like taskbar to remind you which apps are actively running. While Android apps generally have limited support for tablets, Lenovo's implementation is one of the best I have seen on an Android tablet so far, as it lets me shuffle through multiple windows as I do productivity work.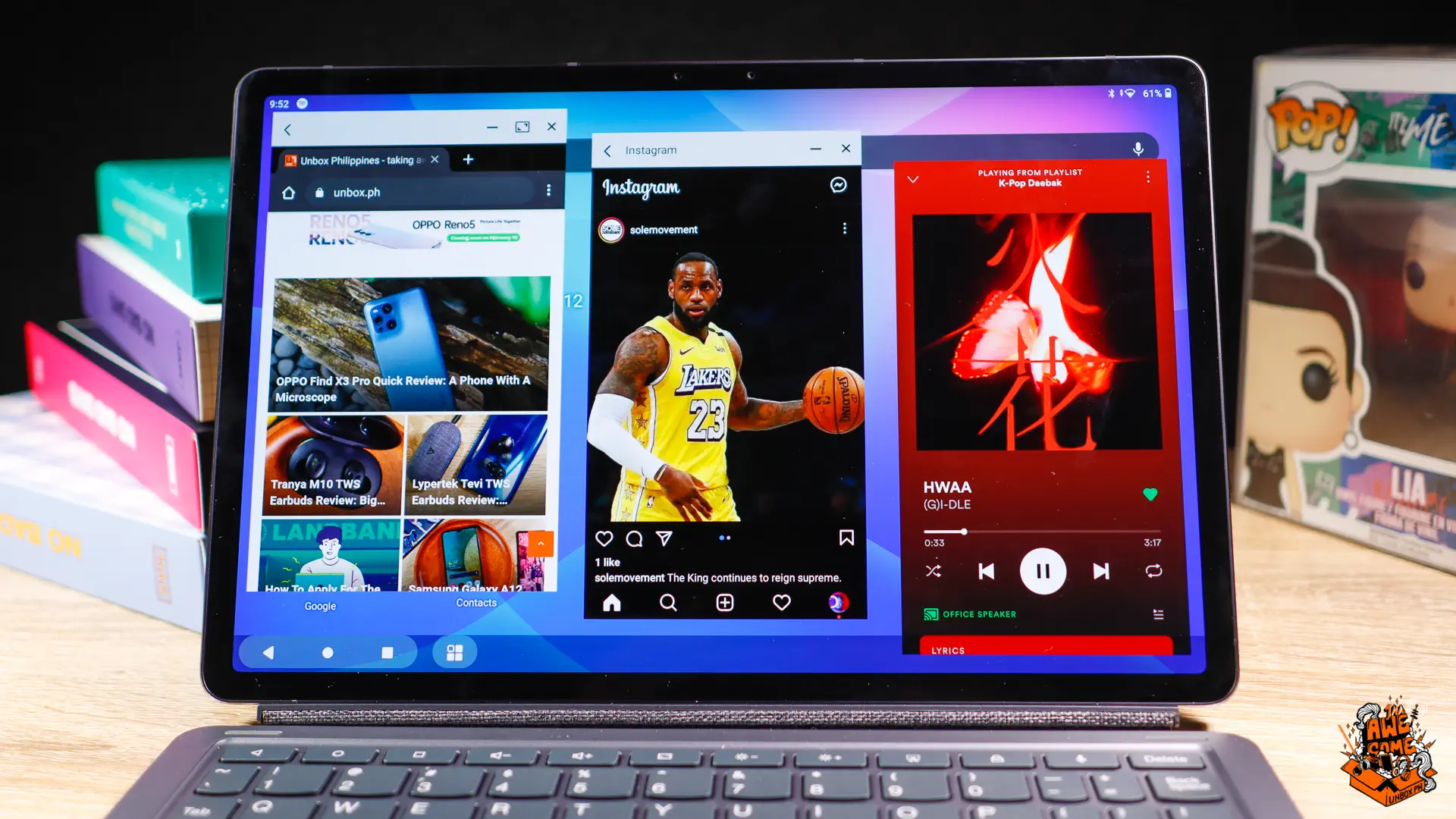 As someone who has been using an iPad Air as a laptop alternative, I'm quite impressed with how Lenovo tweaked the UI to make it feel like you are working on an actual laptop–all while running on a near-stock version of Android. While the processing package is not enough to run heavy photo and video editing apps, the Tab P11 Pro is just enough for daily productivity work, watching a bunch of videos, and a few games in between.
As for games, the Tab P11 Pro is capable of playing some of the most demanding titles out there. Some games like Asphalt 9 come with native keyboard support, making the Tab P11 Pro a capable tablet to play games while using the keyboard.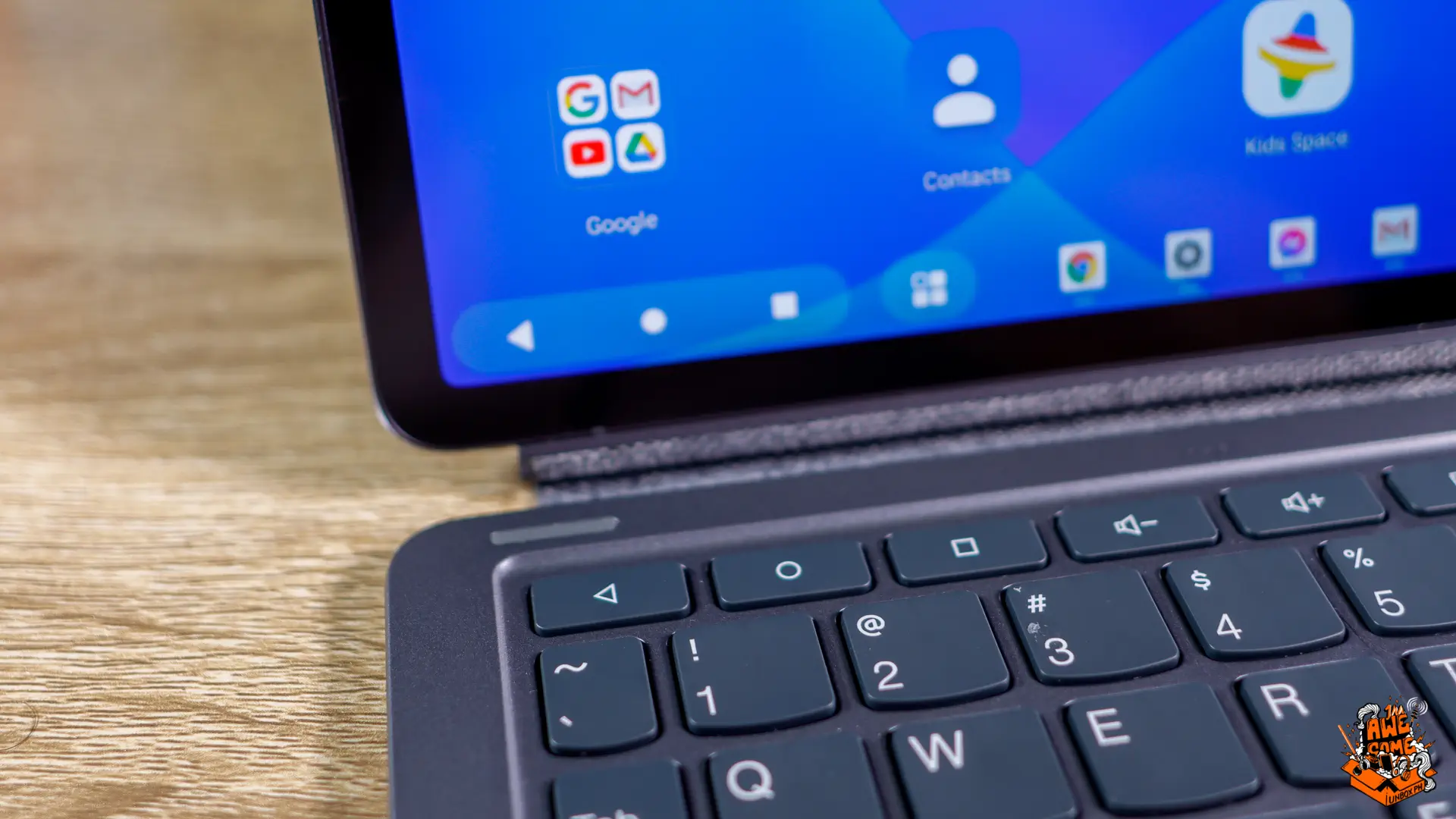 Keeping the lights on is an 8600mAh battery. With our battery test, the P11 Pro logged in almost 12 hours of use before entering power saver mode, which is an impressive number considering its display size.
Topping up the battery is done via 20w wired charging–which is currently the fastest possible charging speed for tablets. Topping up the battery will take you around under 3 hours, which is fairly good considering the battery capacity.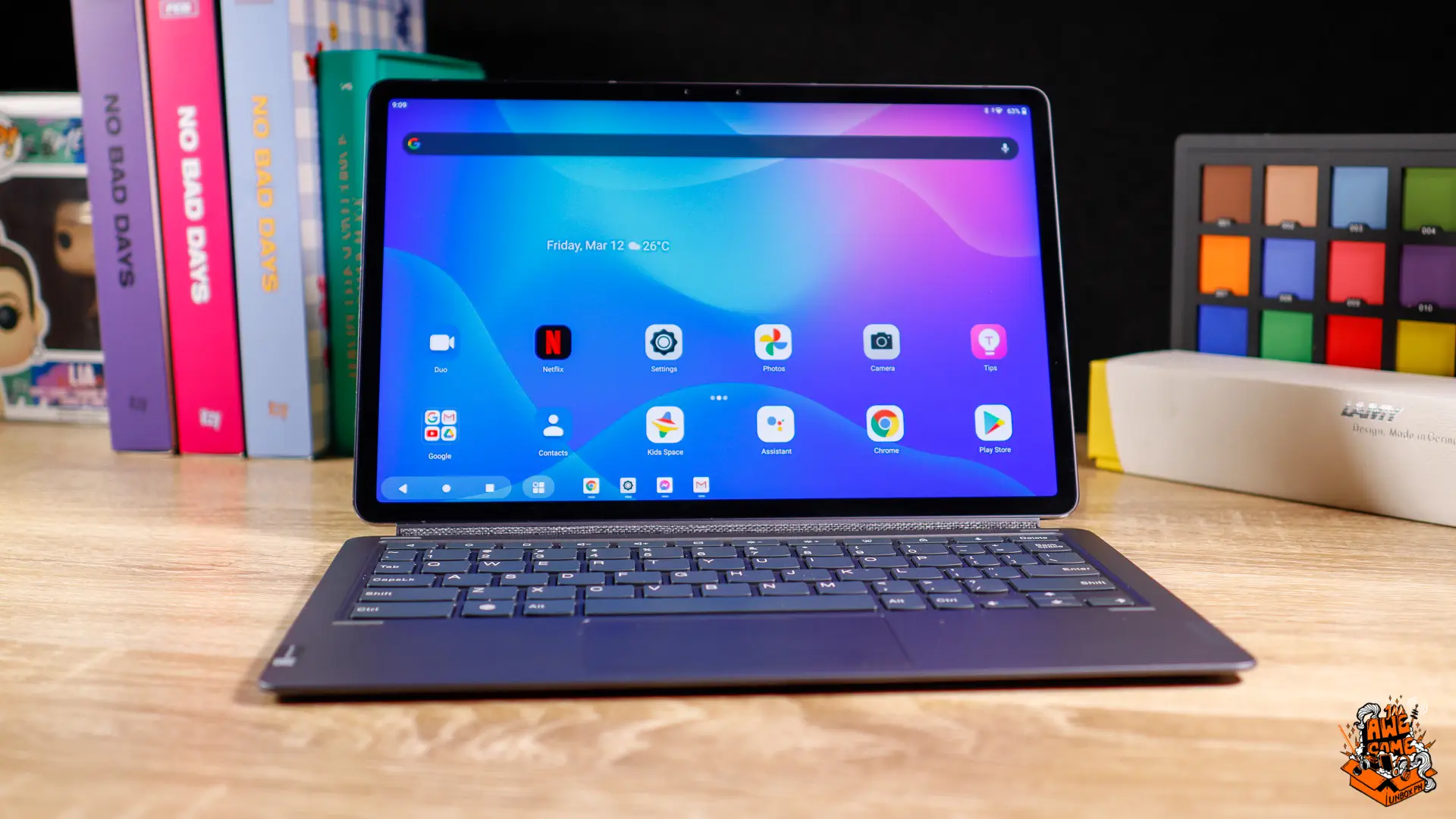 Wrap up and Conclusions
Our Lenovo Tab P11 Pro review reveals that while Android tablets are generally a mess, it's one of the very few of its kind that's good enough to be used as a productivity workhorse. While it has its fair share of quirks–like how the keyboard/kickstand combo is designed–the Tab P11 Pro's gorgeous display makes it one of the best premium mid-range tablets out there.
Pair that with great speakers and a very serviceable keyboard and trackpad, the Tab P11 Pro's functionality makes it act like a smaller and Android-powered version of Lenovo's Yoga Duet laptops. With the Tab P11 Pro's execution on its Productivity Mode UI, we look forward to seeing future Android tablets match (or exceed) Lenovo's approach to a streamlined tablet interface.
Lenovo Tab P11 Pro Review Philippines Price
The Tab P11 Pro is priced at Php 36,990 with the smart keyboard and kickstand cover and Lenovo digital pen and is available at authorized Lenovo stores and at the official Lenovo Mobile store in Lazada.
Comments (0)