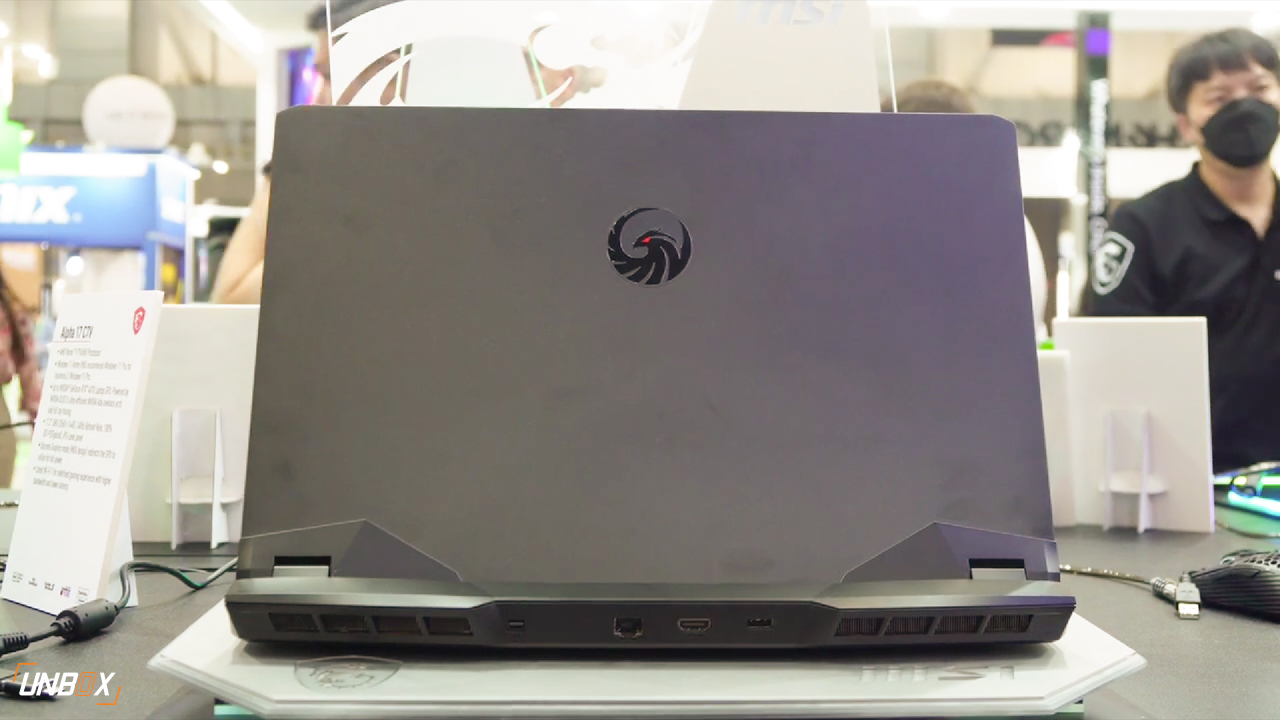 Initial Verdict: The 2023 MSI Alpha 17 gives us a glimpse of the future, where WiFi 7 is the new standard when it comes to wireless connectivity. While you can barely count the number of WiFi 7 devices in the market, the 2023 Alpha 17 is an excellent choice for those who want to be future-proof for the next couple of years.
Pros
-Latest internals including WiFi 7
Cons
-WiFi 7 routers are very rare
While the talk of the town at MSI's presence at COMPUTEX 2023 is its partnership with Mercedes-AMG for a special edition Stealth 16, its other laptops on the show floor are also interesting as well. One of the more intriguing ones is the Alpha 17 2023, as it is one of the first laptops that has actual WiFi 7 support through a special modem from Qualcomm. We got our hands on this new iteration of the Alpha 17, and here are our thoughts: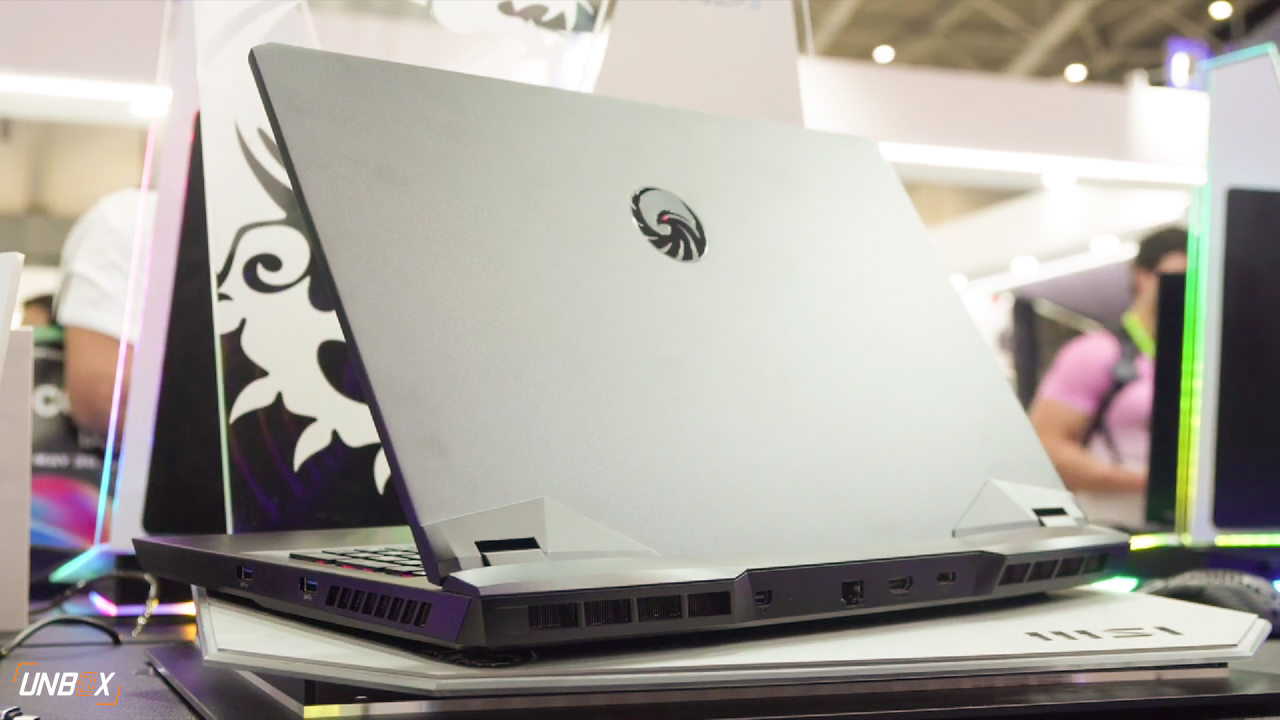 Design
Like previous Alpha models, the 2023 Alpha 17 is distinguishable by its phoenix emblem on the lid. MSI uses this logo to distinguish its offerings that have AMD processors inside. Being a 17-inch model, the 2023 Alpha 17 is thick at 24.2mm, and you get plenty of vents at the back and on the sides to ensure proper heat dissipation.
Being a huge laptop, port selection is one of the best things about the 2023 Alpha 17. In this case, you get 2 USB-A 3.2 Gen 1 ports, a USB-C 3.2 Gen 2 port, a USB-A 2.0 port, HDMI 2.1 port, an Ethernet port, an audio jack, and a mini DisplayPort.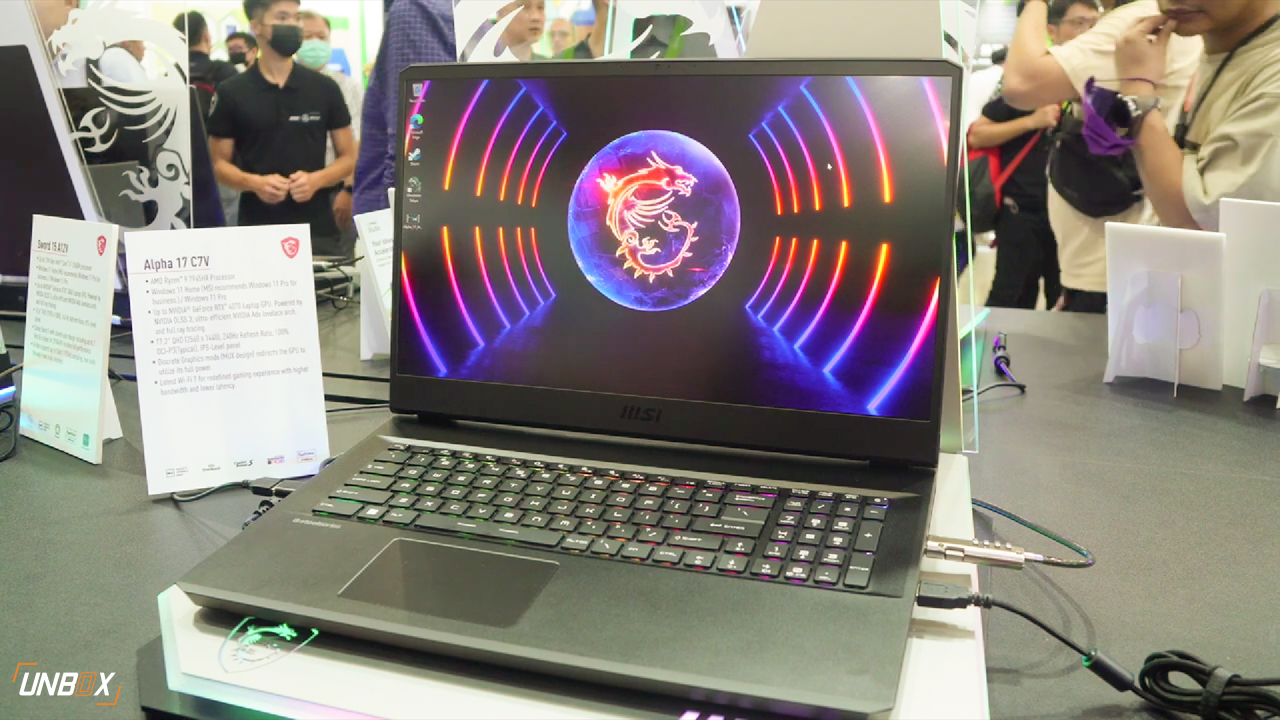 Display
The huge display of the 2023 Alpha 17 has serious specs to boot, as this IPS panel has a QHD resolution, a crazy fast 240hz refresh rate, and a 3ms response time. Beyond being a blazing-fast display, it is also color-accurate too, as it covers 100% of the DCI-P3 color gamut.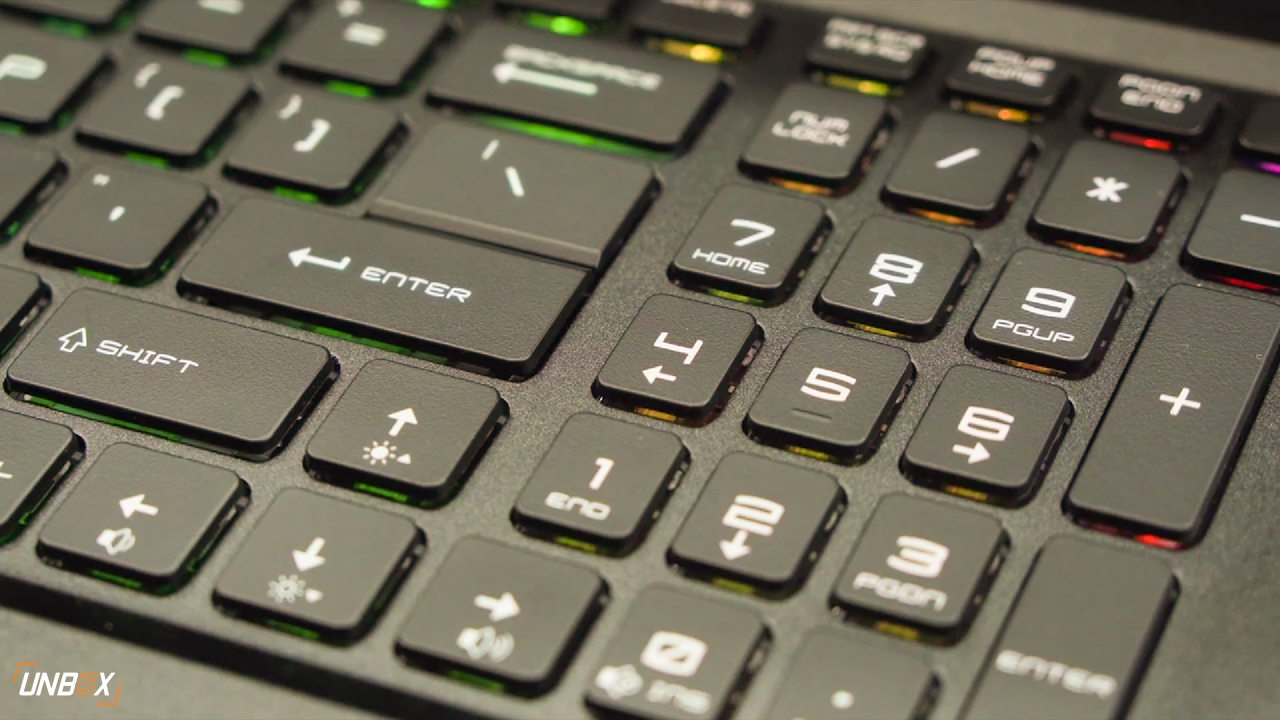 Keyboard
Like the Stealth 16, the 2023 Alpha 17 gets a SteelSeries per-key RGB keyboard, which is a go-to choice of MSI for its higher-end laptops. The RGB lighting is completely customizable, with MSI Center's Mystic Light allowing you to customize the effects according to the game you are playing for a more immersive experience.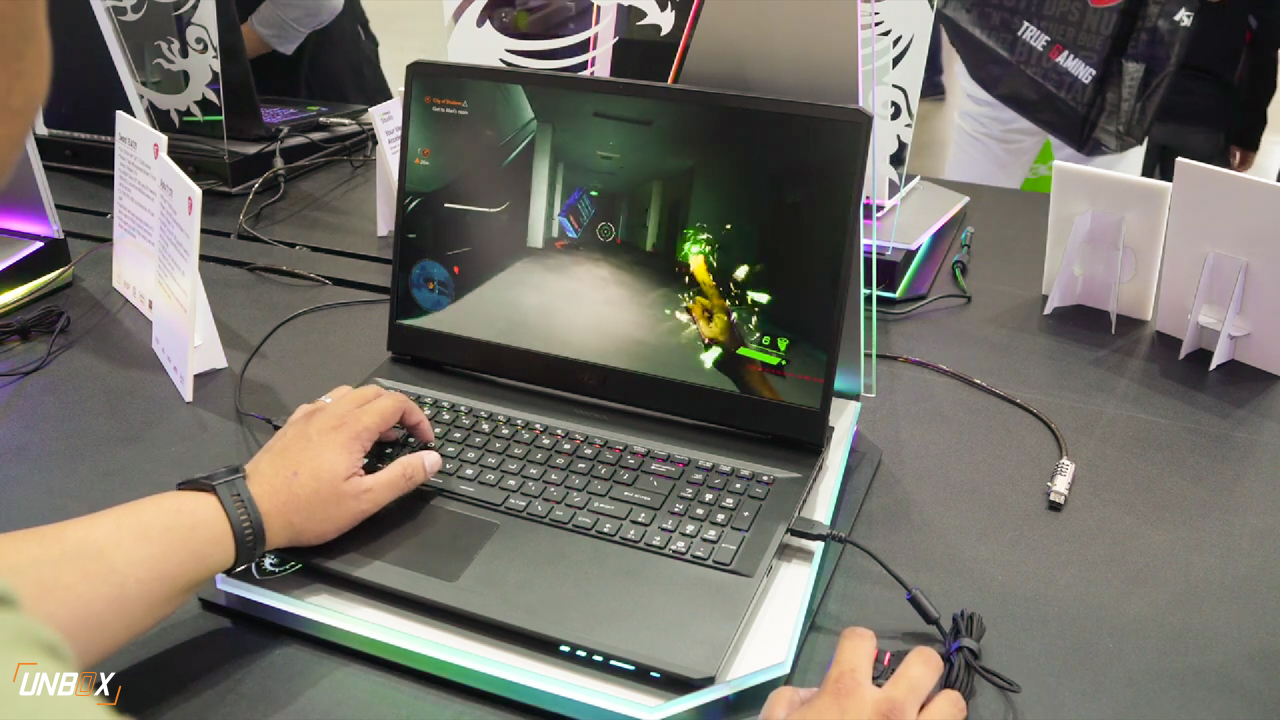 Internals
The 2023 Alpha 17 has the latest Ryzen processors on board. These include a Ryzen 9 7945HX processor, up to a RTX 4070 laptop GPU, up to 64GB DDR5 RAM, and up to 2TB PCIe 4.0 storage. While that set of internals are very impressive for a gaming laptop, the main star of the show is the Qualcomm FastConnect 7800 modem inside the 2023 Alpha 17. This modem gives it native support for WiFi 7, which can deliver peak speeds of up to 5.8Gbps with as low as 2ms latency thanks to its use of High Band Simultaneous (HBS) Multi-Link, where it utilizes multiple bands to deliver the best connection available.
We could not test the WiFi 7 performance yet, as WiFi 7 routers are very rare and pricey. Netgear, for one, has their Nighthawk RS700S that's slated to be available at a very steep price of $700, while ASUS does have two WiFi 7 routers listed on its site, though they have yet to reveal their official price.
Like the Stealth 16, the 2023 Alpha 17 comes with a 99.9wHr battery, which again is the maximum allowable capacity for planes. Charging is done using a 240w charging brick, while you can charge it via 100w USB-PD as well.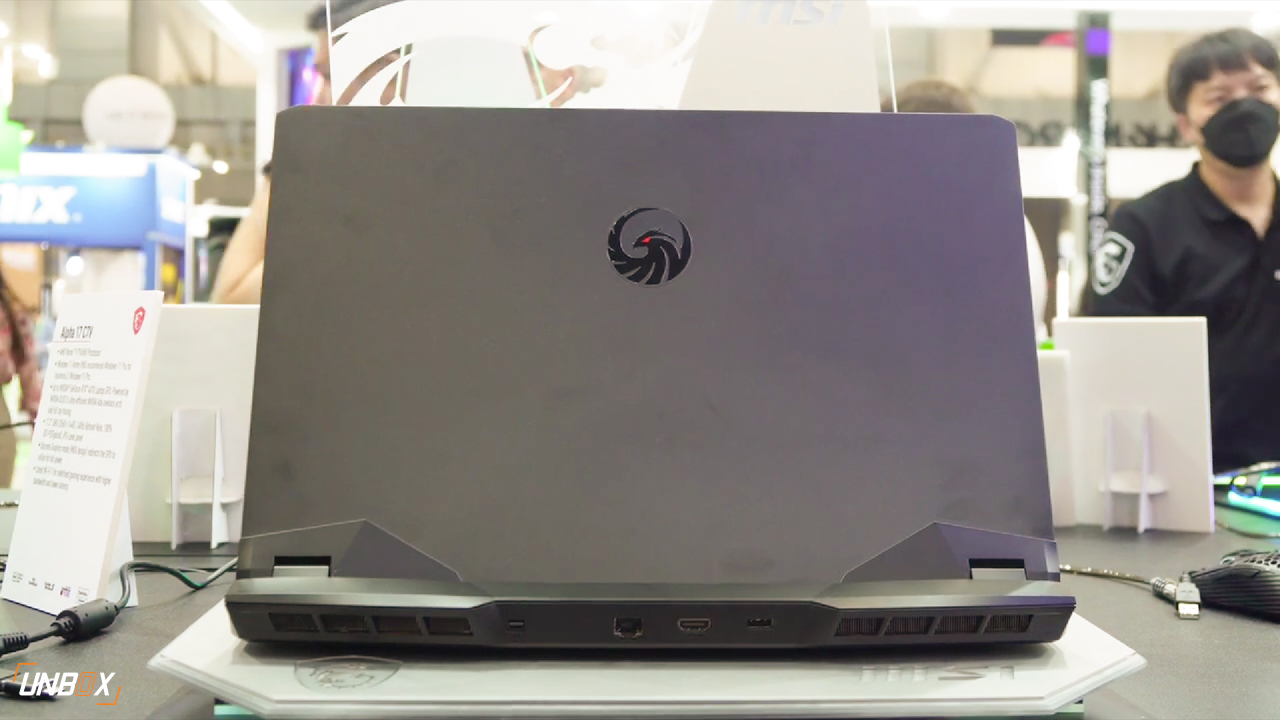 Wrap-up and initial verdict
WiFi 7-powered devices are expected to arrive later this year, and the 2023 Alpha 17 is one of the first devices that will support it. WiFi 7 routers are still rare (and not yet available in the market), but having laptops like the 2023 Alpha 17 ensures that you are future-proof and ready once there is wider WiFi 7 support.
The 2023 Alpha 17 starts at $1849 for the RTX 4060 model, which translates to around Php 104,000 when converted. There's no word yet if MSI plans to bring this version of the Alpha 17 to the Philippines.