After being in the rumor mill for a while, Qualcomm has made the mid-range Snapdragon 7+ Gen 2 official. Yes, you read that right: there's no 7+ Gen 1 or 7 Gen 2, which is an unusual move from Qualcomm given the naming scheme for the flagship 8 series. It's also worth noting that there are only a few phones that actually used the Snapdragon 7 Gen 1, so there might be another reason why Qualcomm went straight to  7+ Gen 2.
Moving to the key specs, you are getting a 1/3/4 configuration, where the main Kryo CPU core is clocked at 2.91Ghz, which is said to be a massive 50% boost over its predecessor. Qualcomm did not go into specifics about the Adreno GPU it's using, but claims a 2x performance increase and as much as 13% better efficiency.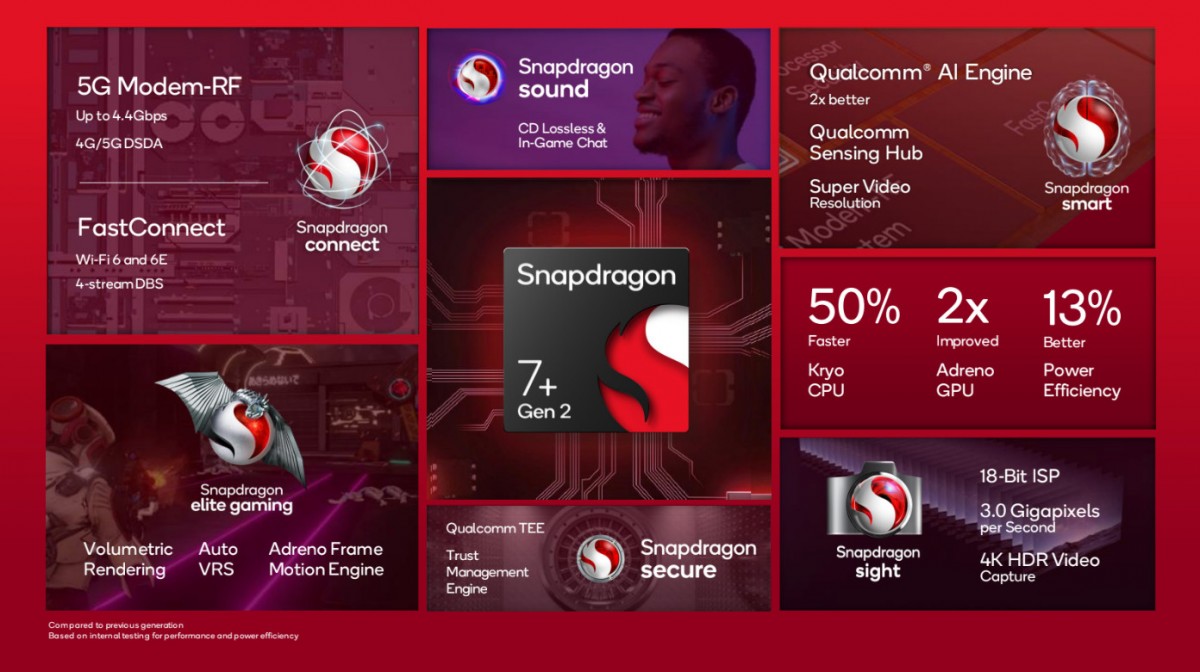 Some of the notable features of the  7+ Gen 2 include a new 18-bit Triple ISP that can stack 30 images in one for improved low-light performance. It supports 200-megapixel sensors, and can do HDR video capture with triple exposure from two cameras simultaneously–a feat considering we're talking about a mid-range processor.
Another interesting feature is the use of a Snapdragon X62 5G modem, as this allows download speeds of up to 4.4Gbps, and gives it support for 4G/5G Dual-SIM Dual Active for those who use two different SIM cards.
Qualcomm said that the Snapdragon 7+ Gen 2 will be available to phones next month, with the Redmi Note 12 Turbo and realme GT Neo5 SE as the first models to debut the mid-range chip.