Review verdict: The Huawei P50 Pocket gives foldable hunters in the Philippines a second option, though its higher price at launch relative to the competition might be a major turn-off to prospective buyers.
Pros
Great design
Best cameras on a foldable by far
Screen looks great
Cons
Expensive VS the competition
No 5G
Not a lot of customization options for the cover display
Huawei P50 Pocket Specs
Snapdragon 888 processor
8GB/12GB LPDDR5 RAM
256GB/512GB UFS 3.1 storage
6.9-inch Foldable OLED inner display, 120hz refresh rate, 300hz touch response rate, 1 billion colors
1.04-inch circular OLED outer display
40-megapixel 26mm f/1.8 True Chroma main camera, 13-megapixel 13mm f/2.2 ultra-wide-angle camera, 32-megapixel 30mm f/1.8 Ultra Spectrum camera
XD Fusion Pro, Laser Autofocus
10.7-megapixel f/2.2 selfie camera
4G
WiFi 6E, Bluetooth 5.1, side-mounted fingerprint scanner
4000mAh battery
40w wired charging
EMUI 12
The foldable age is here and brands are racing to release their own take on the new technology. Huawei is the latest brand to join the local foldable race, offering flip-phone aficionados an alternative device to Samsung's Galaxy Z Flip3. Does the Huawei P50 Pocket stand up to the competition in our review of it for the Philippines?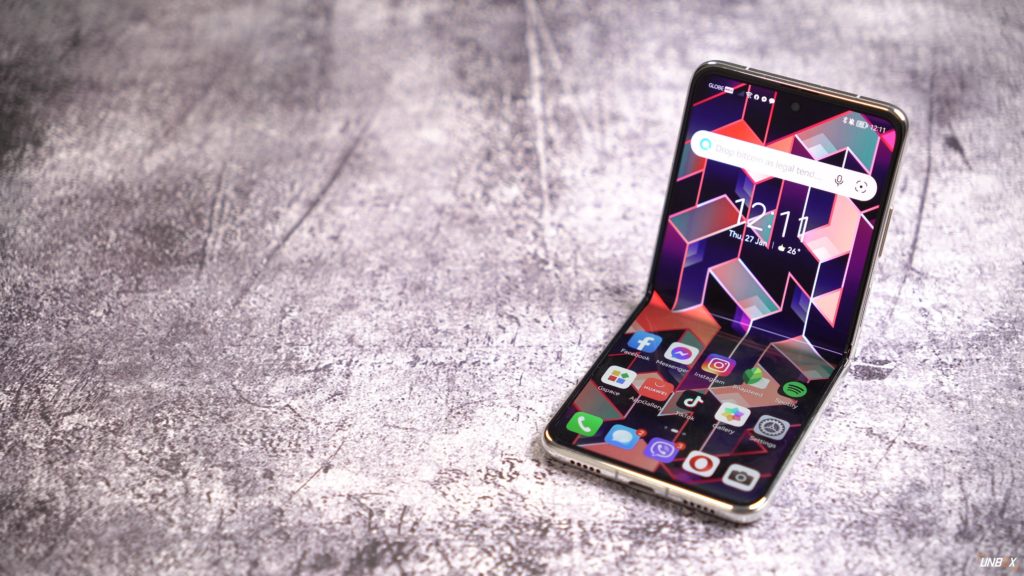 Design
Huawei's recent design choices for their flagship phones have been polarizing, thanks to that dual-circle camera bump that Huawei has gone with for the current crop of devices. The dual-circle aesthetic is still there on the P50 Pocket, though the second circle doesn't contain an actual camera but a small, round display that acts like the phone's notification screen when the clamshell is closed.
The phone comes in two colors that represent the two variants: the vanilla version of the phone comes in stylish white while the more premium version comes in gold. The exterior of the phone uses a "3D micro-sculpture design" that's supposed to capture light when viewed at the right angle and gives the phone an interesting texture when it's in your hand.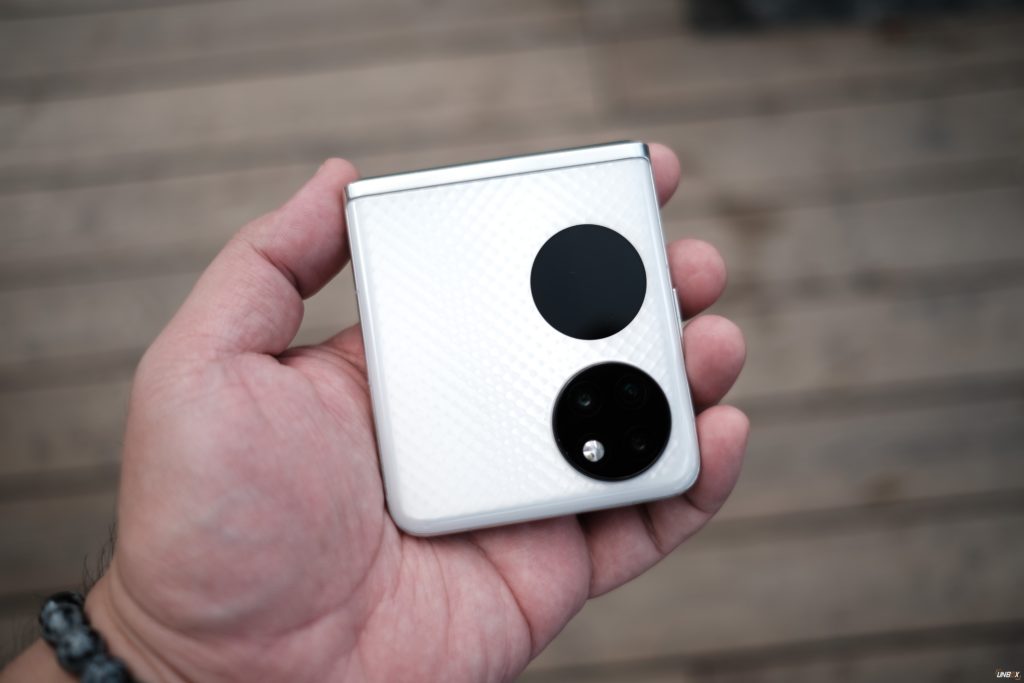 A foldable is only as good as the hinge that opens and closes the display, and in that regard, the P50 Pocket's "Multi-Dimensional Hinge" (yes that's what they call it) does the job well. There are no noises when you fold and unfold the hinge, and you can actually do the 2000's wrist-flick to open the phone when you need it. The hinge is also stiff enough to stay half-open, which makes it easier to shoot selfie videos when you're doing it alone.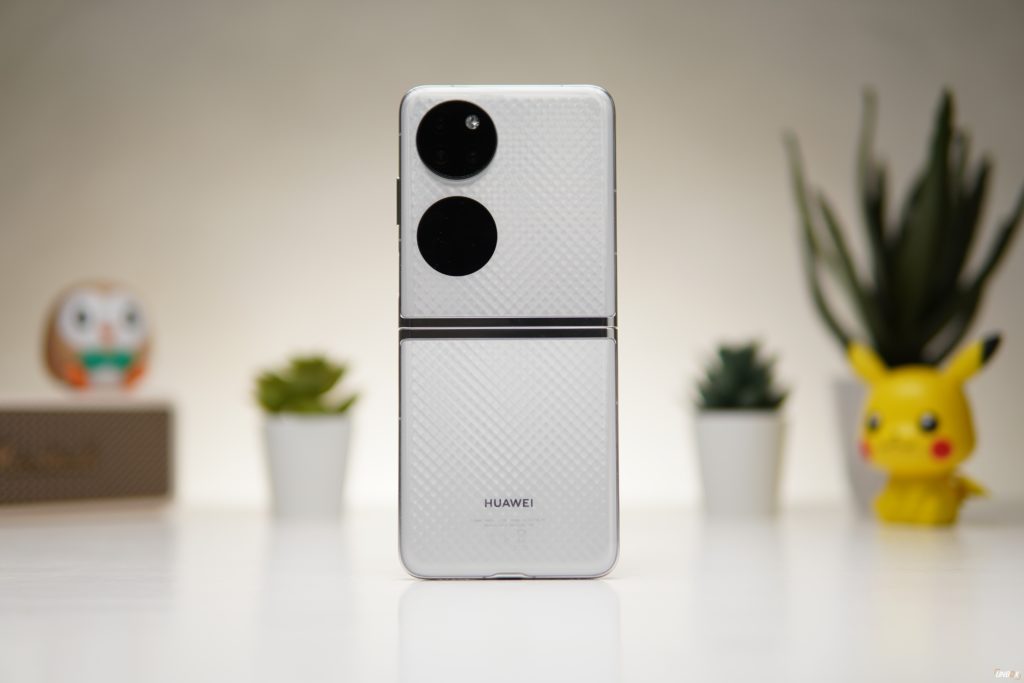 As for questions of durability, that's something we have to test long-term. Huawei has had a good track record though for the hinges of the foldable they have released though, so take that as you will.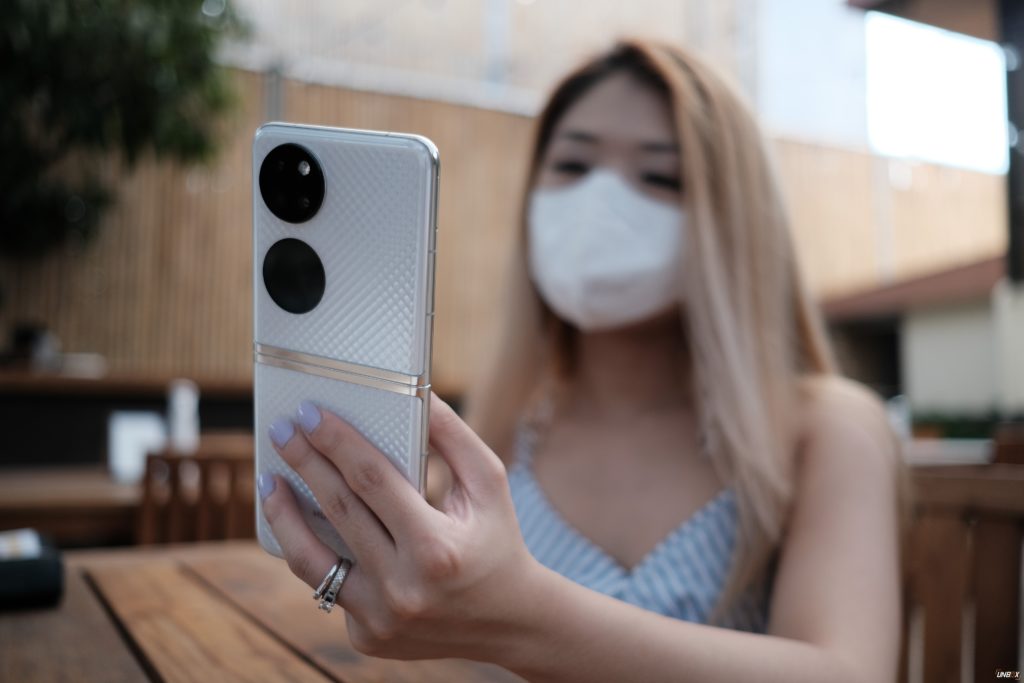 The power button doubles as the fingerprint scanner which makes unlocks quick and easy, though you can also use face unlock and good ol' pin to secure your phone. The bottom of the phone holds the USB Type-C port, which is flanked by two speaker grilles.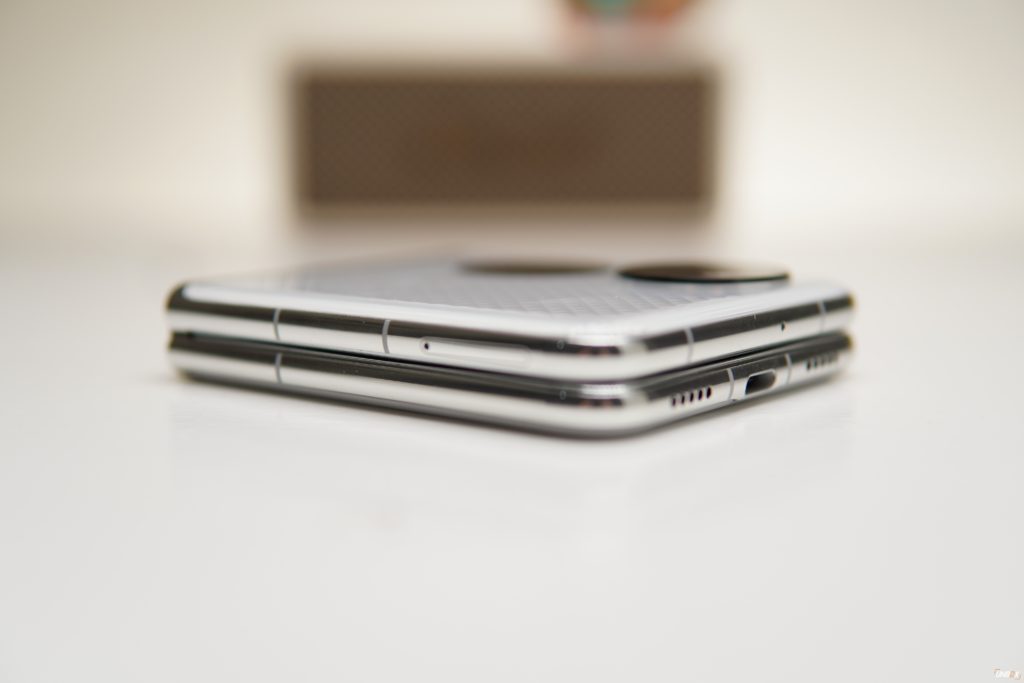 The phone sadly does not have any kind of IP certification, which isn't surprising and is a little disappointing.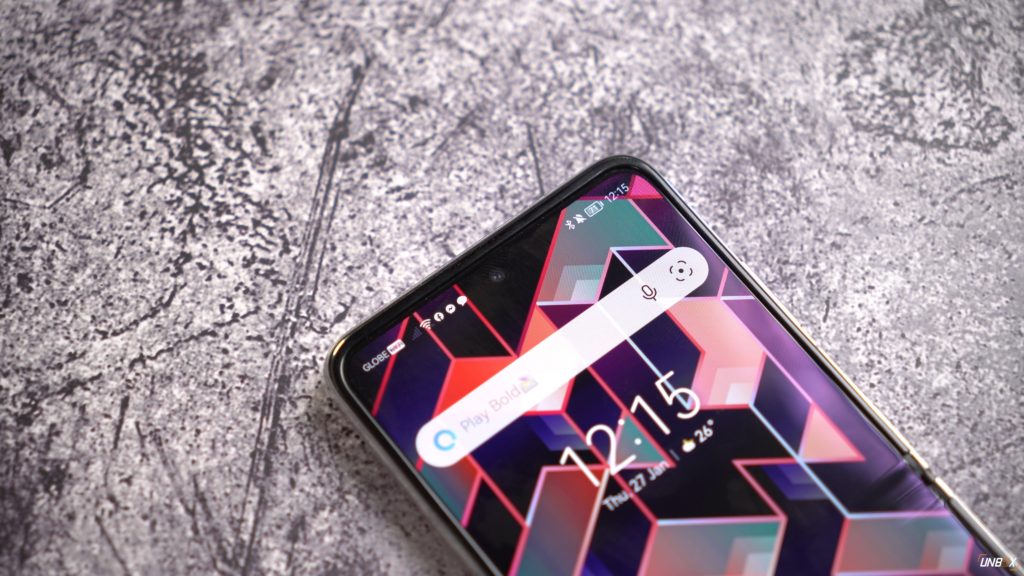 Display
The P50 Pocket has a rather big 6.9-inch flexible, high resolution 2700 x 1228 OLED panel that has a 120Hz refresh rate, 300MHz touch sampling rate, PWM dimming, and an advertised P3 wide color gamut.
That translates to really excellent colors all around. Looking at the display of the P50 Pocket, we really couldn't find anything wrong with it color-wise. The UI of the phone will allow you to adjust color temperature and other metrics as you see fit, giving you even more control over how the screen looks.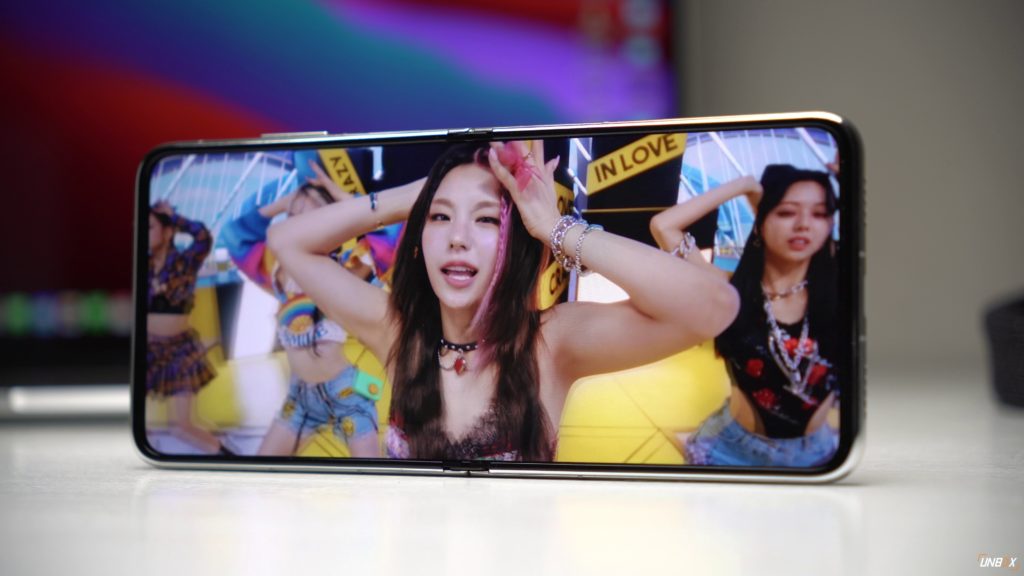 As far as the actual foldable display though, Huawei did not give us any additional information on who actually supplies it, or if it's protected by a UTG equivalent like what Samsung does on their own flip phone. It's clear there is some sort of protection on there as it doesn't really make sense to risk the very expensive display without some sort of protection, but we couldn't really tell you what it was.
The P50 Pocket does still have a crease at the middle, which is not surprising as you really can't have a foldable without some sort of crease showing up in the middle. It's not super noticeable when you're using the phone normally, but once the screen goes dark or if the light hits it the right way, you'll see it's there.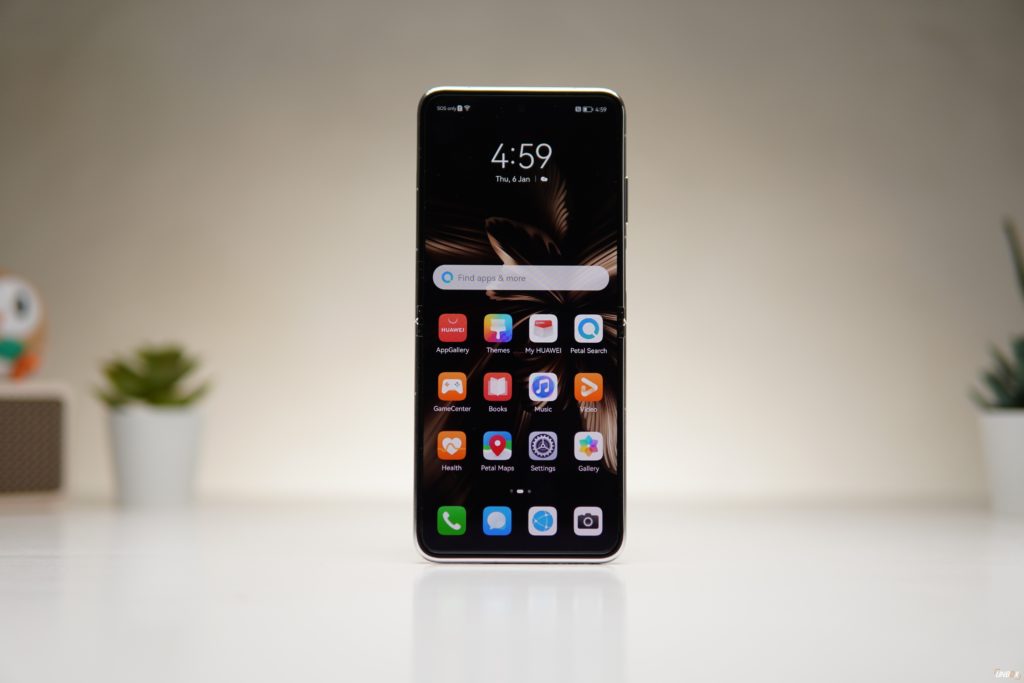 The outside of the phone has a small, 1-inch circular external screen that works much like Samsung's implementation on their foldable. The circular screen shows different widgets and notifications for messages, as well as weather information, your calendar, and music. You can also use it as a selfie mirror if you want to take hi-resolution snaps using the rear camera.
We'd have loved a way to use the display for more things, and we're hoping that Huawei finds a way to add even more functionality to the display ring.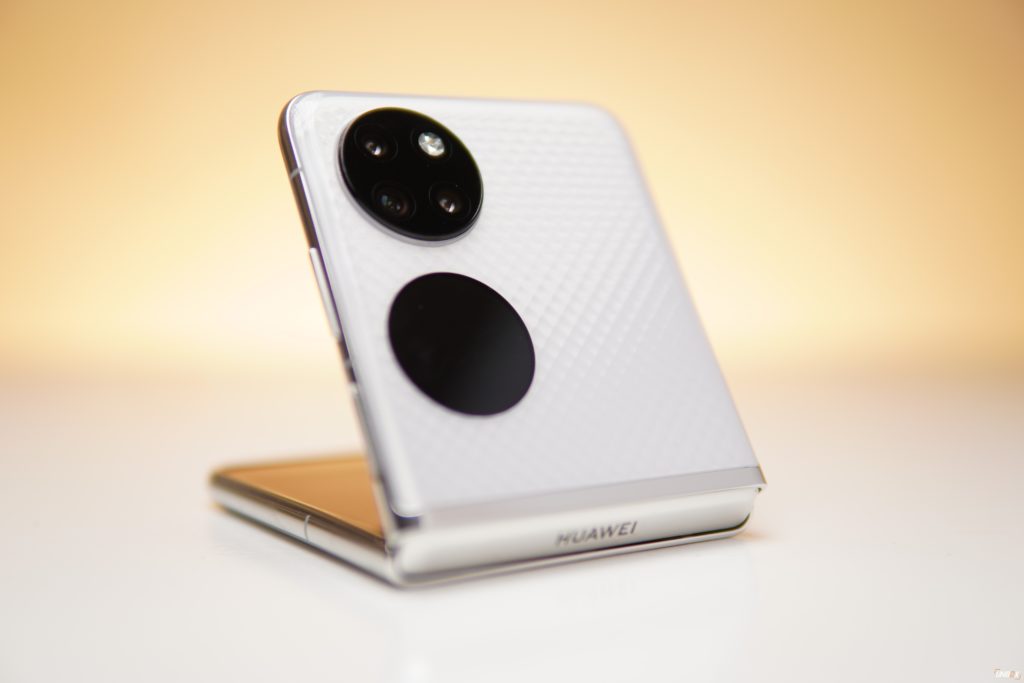 Cameras
Huawei has never pulled their punches when it comes to photography for any of their flagship phones, and the P50 Pocket isn't about to break that streak. Where Samsung has settled for last year's imaging package, Huawei packed their foldable clamshell with the best snappers they could fit in the circular camera module.
Specifically, you're looking at a triple camera arrangement consisting of a 40-megapixel True-Chroma camera, 13-megapixel ultra-wide-angle lens, as well as a 32-megapixel, ultra spectrum camera, along with an ultra spectrum illuminator and AF laser.
The cameras on the P50 Pocket take incredible photos and are only rivaled in quality by the P50 Pro. Shots have almost perfect exposure and saturation, and we really never had any issues at all with challenging shooting conditions such as high-contrast shooting.
There's really no two ways about it – Huawei made sure that the P50 Pocket had the best snappers available on a phone when it launched.
Performance, software, battery
Inside the P50 Pocket is Qualcomm's Snapdragon 888 processor that powers most other flagships in the market today, though there is one glaring omission here. Because of Huawei's ongoing legal issues with the US Government, the processor on the P50 Pocket has been stripped of its 5G component, meaning the phone is a 4G-only phone when it's made available for global markets.
That's indeed a blow to anyone interested in picking up the phone, though it's not as much of a problem in the Philippines where the 5G network isn't as robust, or mature, as other markets.
The phone runs on a custom Android (since Huawei isn't allowed to use Google's official release), with EMUI running on top. Huawei has done a good job adapting the software to account for the unique form factor of the phone, allowing it to be used in a kind of "flex mode" that mirrors what the Galaxy Z Flip3 can do when it comes to taking photos when the display was half-opened.
As for the question of usability and the lack of Google – well, it's no longer that rough. Facebook and Messenger have their own downloadable app now via AppGallery, and Huawei's strategic partnerships with local banks mean there are also banks and other financial apps on the brand's own app repository. Petal Search is there to help you with harder to find apps, though if you're willing to spend this much cash on a foldable made by Huawei, I'm sure you're already familiar with the vagaries of EMUI and the brand's own app store.
The phone has a smaller than average 4000mAh battery in its chassis, which is not surprising, considering the amount of space (or lack thereof) that's available on the phone's chassis. Battery life is a mediocre 8 hours and 34 minutes on our PCMark Battery benchmark test.
As far as charging goes, you're stuck with 40W charging, and there's no provision for wireless charging here either.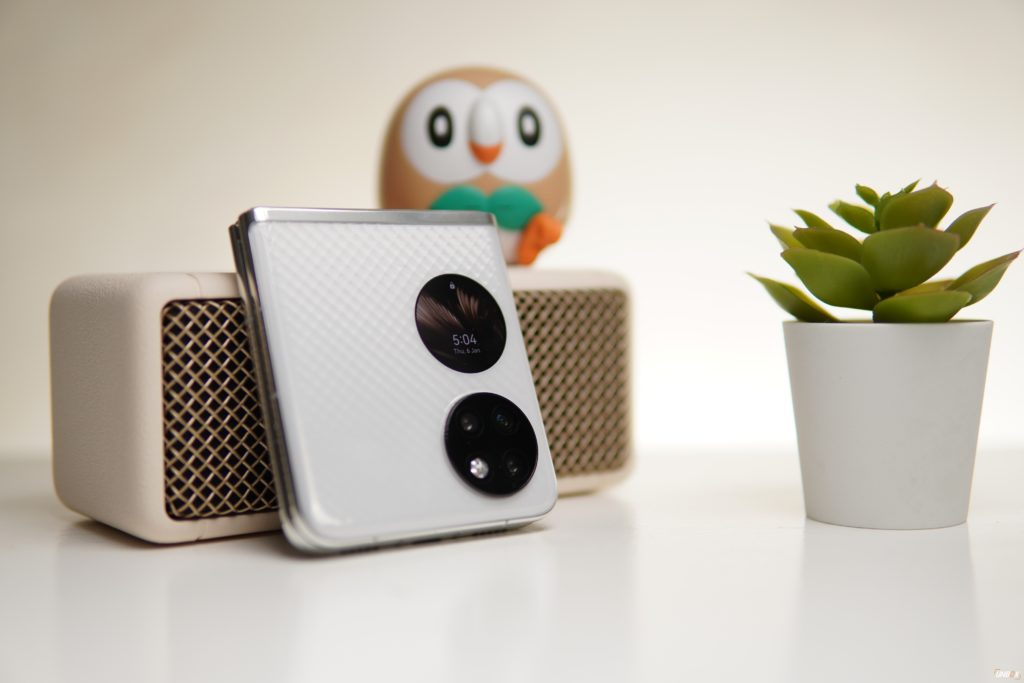 Verdict and wrap-up
The Huawei P50 Pocket is a bit of a mixed bag as we found in our review for the Philippines. While the phone has a good design, fantastic screen, and flagship-level cameras that are rivaled only by Huawei's P50 Pro, the lack of 5G connectivity, IP resistance as well as its significantly higher price makes it a difficult phone to recommend to all but the staunchest fans of the brand.
Huawei P50 Pocket Review Price Philippines
Huawei has not placed a price for the P50 Pocket in the Philippines as of yet, though it has had a commercial release and pricing in neighboring Malaysia. In Malaysia, the P50 Pocket is priced at RM 5,999 for the regular variant (Php 73.3K). The higher-end golden variant retails for RM 7,299 or Php 89.2K.