Every year, new smartphones and devices are released. They're advertised as the latest and greatest in an attempt to justify their eye-watering price tags – often well over a thousand dollars. However, more and more people came to the practical conclusion that a new shiny toy coming out this year doesn't turn last year's investment into a paperweight. It's actually the opposite since we have long reached the point that flagship phones can last for many years, especially when supported by version and security updates. While it has been true that we've experienced diminishing returns in the performance of flagship phones in recent years. Well, the Snapdragon 8 Gen 1 is an exception, especially in the GPU department. We're here to explain why.
Normally, every generation of flagship smartphones features the latest and greatest from chip manufacturers. There are limited players on the field anyways, with the most known being Qualcomm's Snapdragon series, Samsung Exynos, MediaTek, and Apple's Bionic chipsets. The recipe was fairly simple: extensive marketing and a 20-30% increase in performance on all fronts, just enough to be marketed as worthy of the next-generation title. Since the jump from 32 to 64-bit mobile processors back in 2015, we haven't really seen an exponential change in such a short amount of time.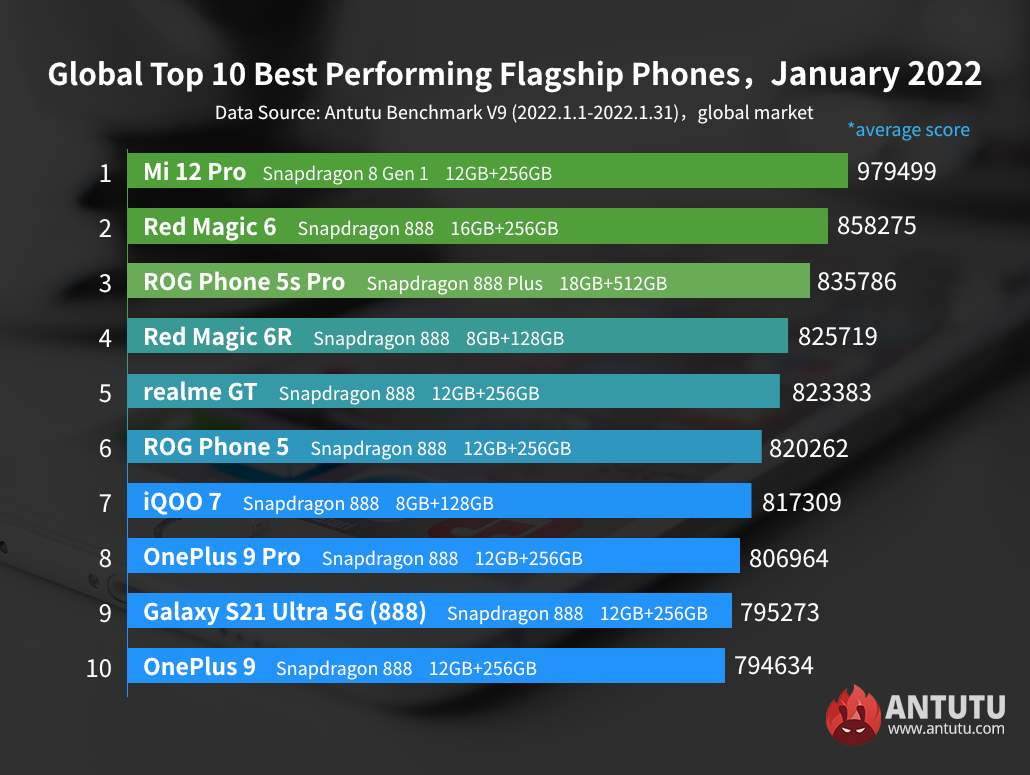 Photo: ANTUTU Benchmarks as of January 2022
The Snapdragon 8 Gen 1 was designed to break that trend and eliminate the competition in one fell swoop. Its overall performance is impressive enough to provide a 20% boost over the undeniably powerful Snapdragon 888 of last year. As expected, it tops the boards when it comes to this aspect. But we're here for big gains, and that's what we'll get.
We got our hands on the Samsung Galaxy S22 Ultra which we quickly reviewed and ran some tests on. Keep in mind that the variant we have on hand is the locally available Snapdragon 8 Gen 1 version. Here is the result that boggled our minds the most: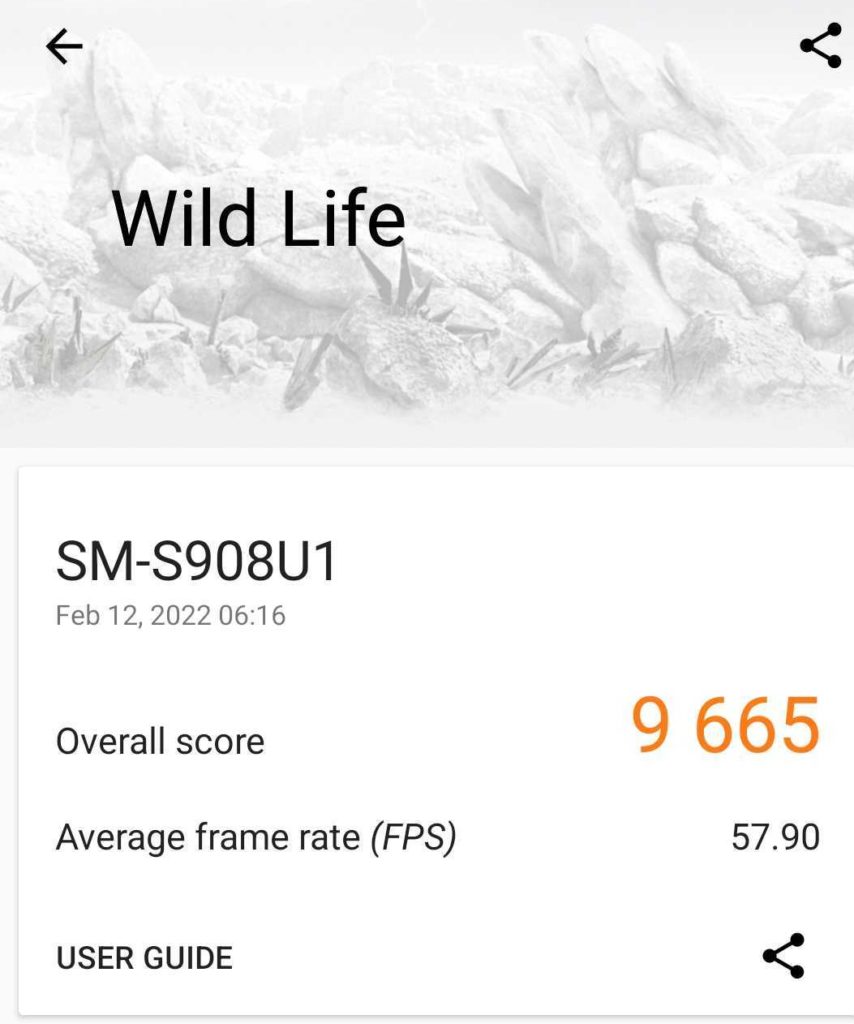 That is a healthy score of 9,665 on the 3DMark Wild Life test, a benchmark that pushes graphical performance to the limits. That score is basically a hairline away from 10,000 but it may not sound so impressive without the proper context.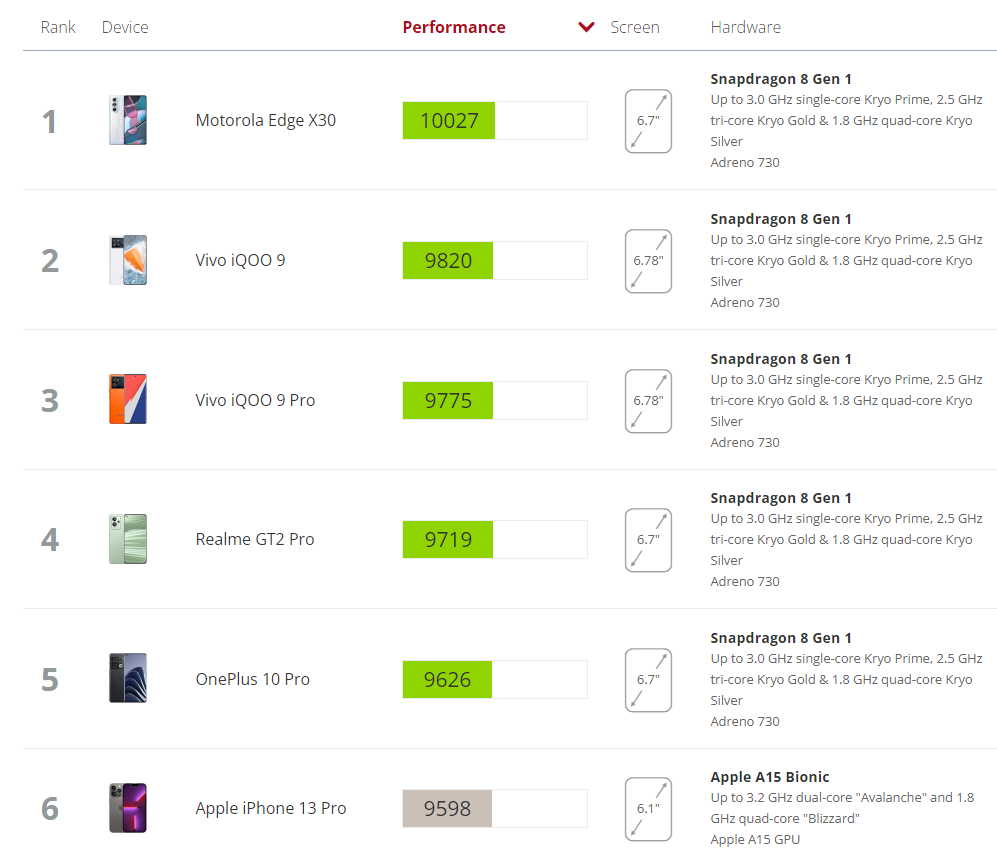 According to the official leaderboard over at UL Benchmarks, Snapdragon 8 Gen 1 phones can be found within the mid 9000s all the way to being the first to break the 10,000 mark. These numbers place it above the reigning king, the A15 Bionic found in the iPhone 13 models. This is considering the fact that the iPhone 13 line was released just less than half a year ago and the chips these devices contained were usually way ahead of their Android counterparts.
We won't be finding another Android device on the list after the Snapdragon 8 Gen 1 line until we reach the Google Tensor chips at the 6,400 mark. By now, I'm sure you're asking: "Where does the powerhouse Snapdragon 888 of 2021 find itself in this list?" You'll be surprised: The highest SD888-equipped device, the Oppo Find N foldable, comes in at around 5,800. That places it at almost 4,000 points below the next-generation devices.
If your jaw hasn't hit the ground yet, here are the highest scores of flagship Snapdragon chipsets of recent years: 2020's Snapdragon 865 barely crawled into the 5,000 mark, and 2019's Snapdragon 855 scored around 3,200. If you add the differences between those models and even the Plus variants that came in between, we're not sure if that would equate to the massive gap between the Snapdragon 8 Gen 1 GPU and anything that came before it. It could therefore be said that you're getting a multigenerational leap of around 3-4 years in terms of GPU performance.
Samsung's Exynos 2200 hasn't taken this lying down though. Tests confirm that while it doesn't match up to the SD8G1's peak performance, it's more capable of maintaining consistent output. Unfortunately, even when they are both throttled down due to temperatures, the Snapdragon still edges out the Exynos processor by a narrow margin. We're excited to see if software optimization and additional tweaking can eke out more efficient performance from the Snapdragon 8 Gen 1, as well as its competitors: the Dimensity 9000 and AMD-powered Exynos 2200.
If you think about it, game developers aren't likely to release games that are unable to run properly on flagship devices that are a year or two old. This is because the processors these former flagships have embedded are still more powerful than what the modern midrange phones will have to offer. That's why we're fairly confident that anything with a Snapdragon 8 Gen 1 will be able to game on the best settings for the years to come.