Review Verdict: The Lenovo Yoga Slim 7i Pro is one of the best premium consumer notebooks you can buy in the Philippines right now. Aside from the niceties that you'd expect from a premium laptop, it also sports a great display (with a 90Hz refresh rate) and great thermals despite the powerful hardware.
Pros
Stellar 90hz IPS panel
Stable thermals
Good performance
Cons
Not the best speaker setup
Annoying boot-up warning when you don't use the included 95w charger
Lenovo's Yoga Slim (formerly Yoga S) series is best known as the brand's ultrabook line, and the 7i Pro is its current premium offering. Replacing the Yoga S740, Lenovo keeps the same design and focused on hardware improvements like the display and keyboard. Additionally, the Yoga Slim 7i Pro also has a unique display in the form of an IPS panel with a 90hz refresh rate.
Design
Lenovo believes in the saying "if it ain't broke, don't fix it", and that is clearly seen on the Yoga Slim 7i Pro. You still get that familiar anodized aluminum chassis in gunmetal grey, with the branding in metallic silver. The anodized aluminum material retains the same brushed finish, and we love how it is resistant to annoying smudges.
The Yoga Slim 7i Pro's differences with Yoga S740 are very subtle, the most notable ones being the curvier back and the omission of a proprietary AC charging port. The Yoga Slim 7i Pro comes with two Thunderbolt 4 USB-C ports on the left side and a USB-A 3.2 Gen 1 and headphone jack on the right side. The port selection is typical of any premium ultrabook, and you will need to spend a few extra bucks for a dongle if you need ports like HDMI and an SD card reader.
Another subtle design change on the Yoga Slim 7i Pro is the reverse notch on the upper bezel that has Yoga 7 series branding. You still get an IR sensor accompanying the webcam, which is important for those logins using Windows Hello.
New to the Yoga 7i Pro is the array of sensors for Glance. The new feature essentially wakes up the laptop once it detects a face within its proximity, prompting it to initiate Windows Hello for unlocking the Yoga 7i Pro without pressing any key on the keyboard.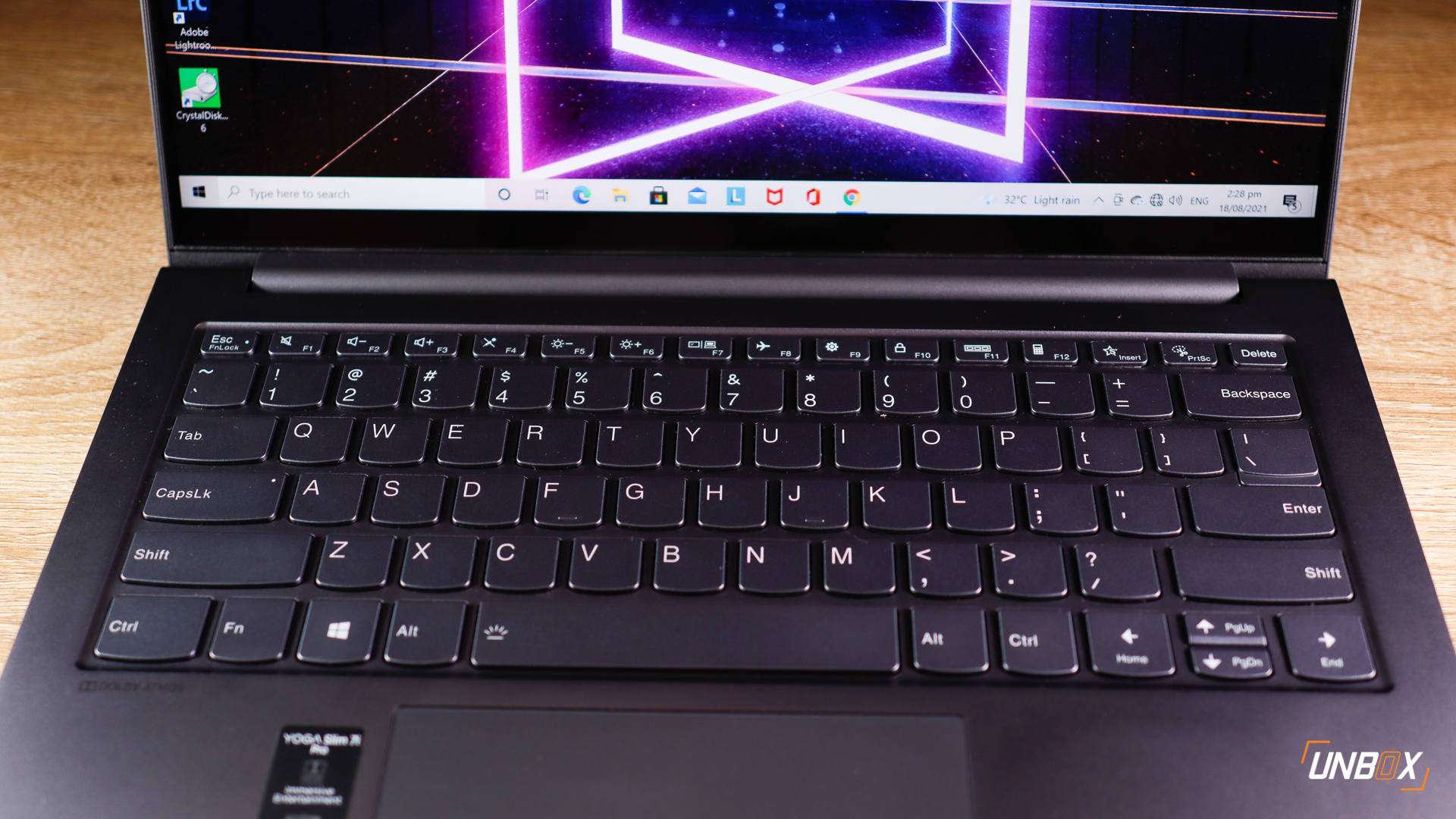 Keyboard and trackpad
Despite reviewing and handling several Yoga laptops for the site, the Yoga Slim 7i Pro has a slightly different keyboard feel. Don't be fooled by its familiar design; Lenovo implemented its Truestrike keyboard mechanism–its proprietary keyboard tech for Legion gaming notebooks–to its Yoga series.
They may not have the same feel as, say, a mechanical keyboard, but the Yoga Slim 7i Pro's Truestike keyboard is clickier and more responsive than the keyboard mechanism used on previous-generation Yoga notebooks.
The trackpad is slightly bigger than its predecessor, but my overall experience with it is the same as with the Yoga S740: it is responsive, accurate, and works very fine with Windows gestures.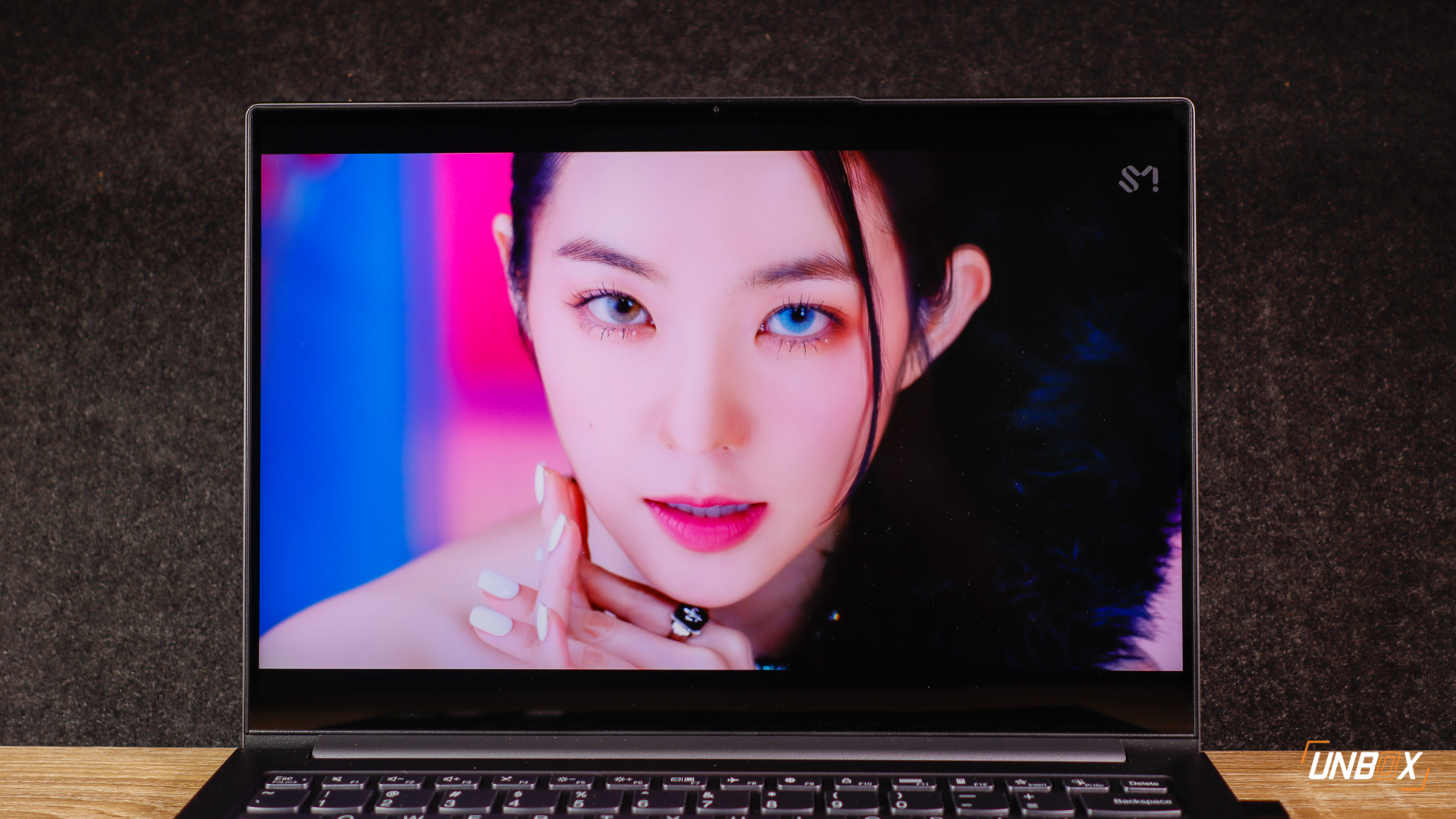 Display and speakers
Consumer ultrabooks with IPS panels usually stick to 60hz, and Lenovo does things differently with the Yoga Slim 7i Pro with a 90hz IPS panel. You probably wonder if a 90hz refresh rate is necessary on a consumer ultrabook, and I'd say it does improve things a bit. Like in the case of phones with 90hz panels, having a higher refresh rate on laptop displays makes scrolling and navigation more fluid.
Despite being a low-power IPS display (which explains the laudable battery life later), the Yoga Slim 7i Pro's panel has vibrant colors and a great amount of detail thanks to its 2.8k resolution and 400nits maximum brightness that makes it very usable for outdoors.
Following the same trend with recent Lenovo Legion laptops, the Yoga Slim 7i Pro uses a 16:10 aspect ratio for its 14-inch panel. Going for this aspect ratio makes the Yoga Slim 7i Pro great for both productivity and watching movies.
As of writing this review, the Yoga Slim 7i Pro is only available with an IPS display, though we were told that Lenovo will bring over the OLED variants to the Philippines soon.
Unlike its predecessor, the Yoga Slim 7i Pro went back to using bottom-firing stereo speakers. While they sound decent for a mid-range laptop, I still prefer the overall audio fidelity of the front-firing speakers used on the Yoga S740.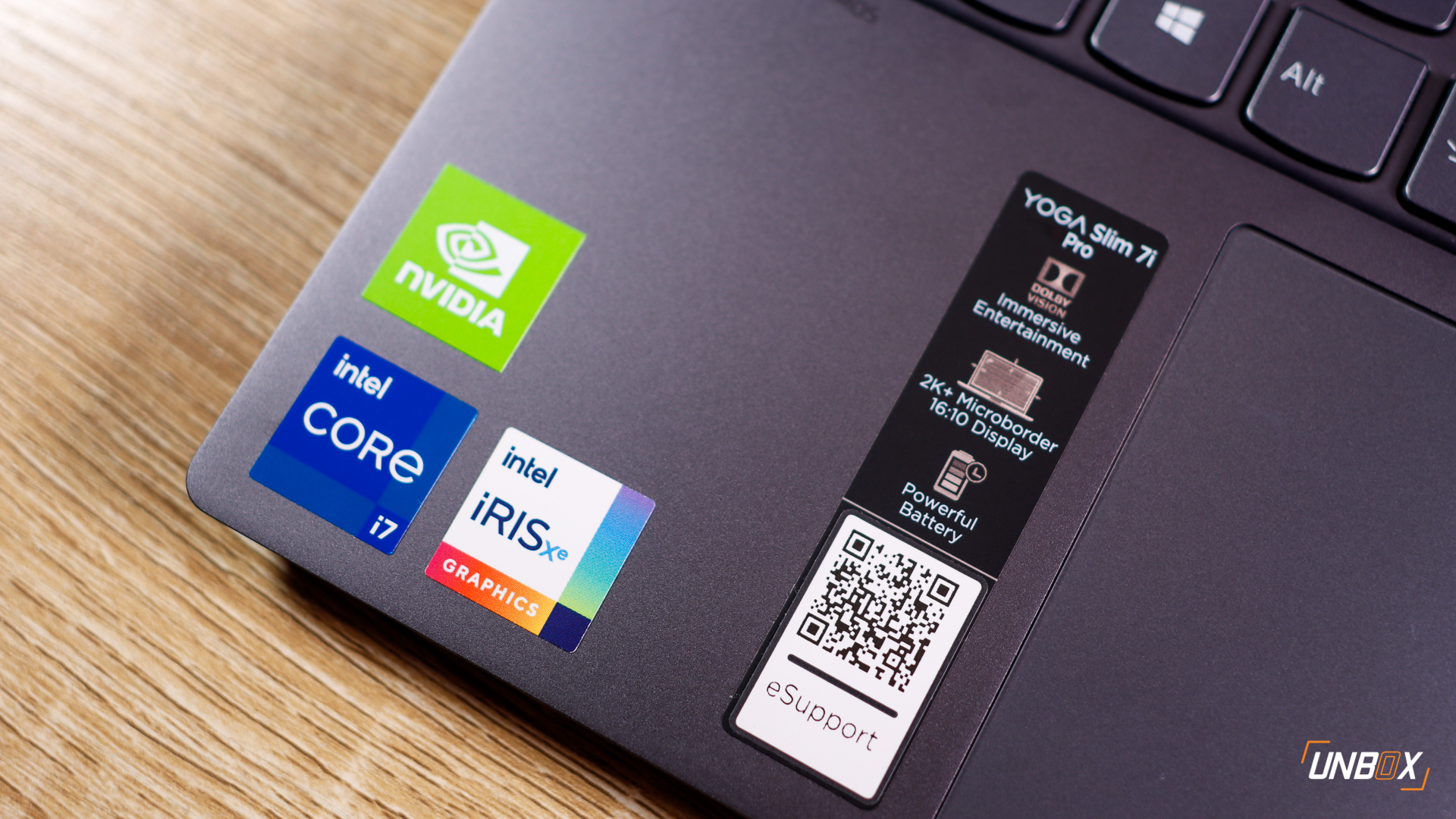 Internals and Battery Life
Our review unit comes with a Core i7-1165G7 processor, MX450 GPU, 16GB RAM, and 1TB NVMe SSD. The MX450 is based on NVIDIA's Turing architecture and is manufactured using a 12nm process. The GPU sits right between the GTX 1050 and GTX 1650 Max-Q in terms of performance.
Compared to its Yoga S740 (which came with a Core i7-1065G7 processor and MX250 GPU), the Yoga Slim 7i Pro offers a significant performance jump in GeekBench, CineBench, and PCMark Work, and this can be greatly credited for the MX450 GPU and its use of GDDR6 memory (the MX250 uses GDDR5 memory and is based on NVIDIA's Pascal architecture).
To see how capable the Yoga Slim 7i Pro is for gaming, I played Genshin Impact at medium settings 60FPS with it. I'm impressed at how stable the thermals and performance were–the keyboard area barely got warm, which meant zero to no thermal throttling – which was apparent with the generally smooth gameplay that I experienced. Speaking of thermals, I noticed that the Yoga Slim 7i Pro ran cooler than the Yoga S740 despite running the same set of programs (Lightroom Classic, multiple tabs in Chrome, and Spotify).
With its 61wHr battery, the Yoga Slim 7i Pro lasted us for a little over 6 hours in our video loop test with the display set at 60hz. Setting the display at 90hz, I managed to squeeze in around the same 6-hour battery life when I used the Yoga Slim 7i Pro as my daily driver.
Unlike your typical 14-inch ultrabook, the Yoga Slim 7i Pro uses a 95w charger to accommodate the laptop's 48.5w maximum TDP with the MX450 GPU. Since it uses a faster charger, it takes approximately an hour to charge the battery from 20% to 100%, which is pretty fast for a laptop.
While I appreciate the fast charging speeds, the warning prompt I get when I boot up the Yoga Slim 7i Pro using a charger that was 95w and lower was very annoying. There will be times when you need extra juice for the laptop via a battery pack or a friend's charger, and seeing this every time you have to top-up is definitely grating.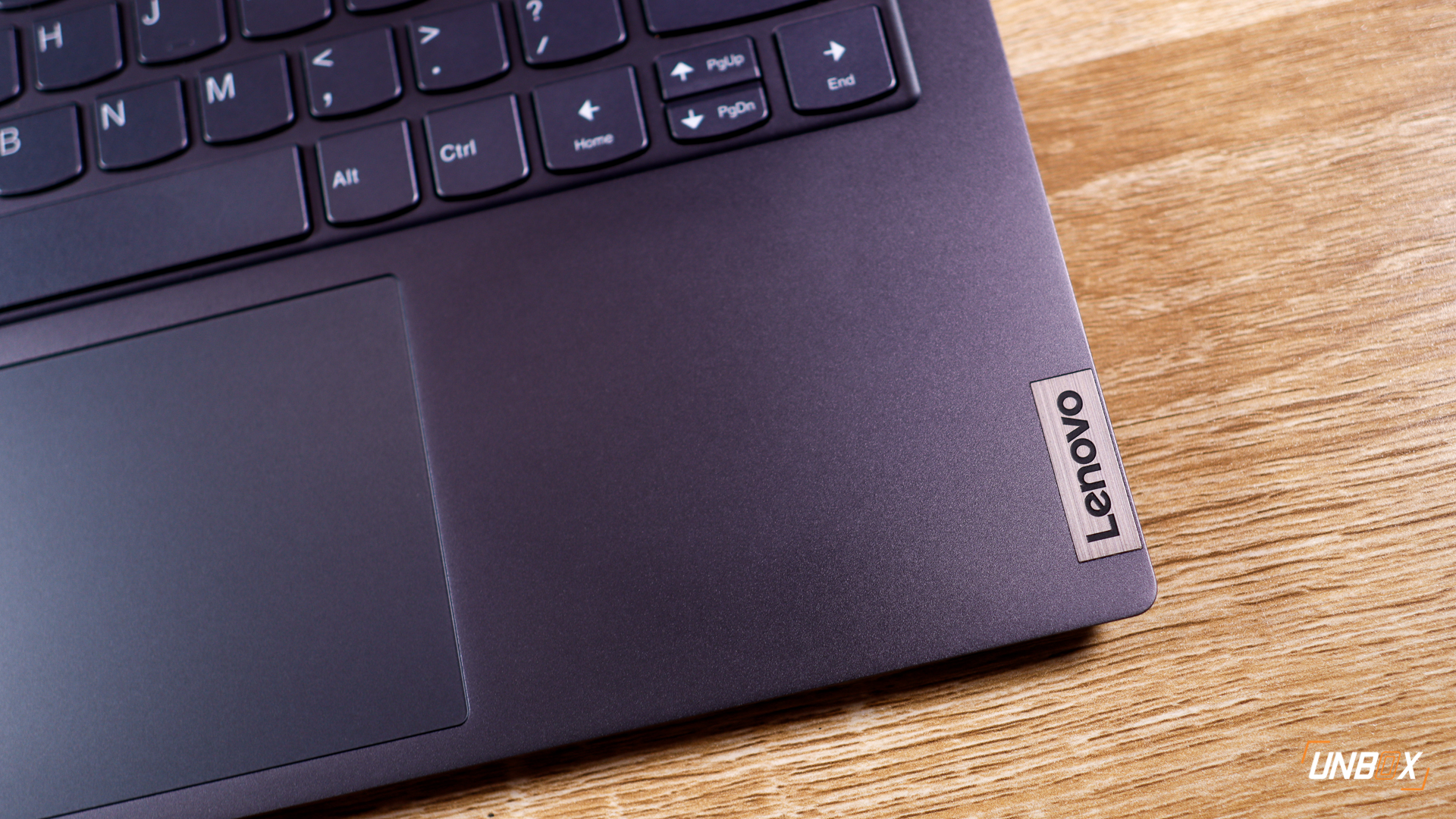 Wrap up and conclusions
Our review of the Yoga Slim 7i Pro in the Philippines shows that Lenovo is elevating standards as far as premium mid-range notebooks are concerned. Sticking to the same design language of the previous-generation Yoga S740, Lenovo introduced substantial upgrades to the Yoga Slim 7i Pro that include a higher-resolution IPS panel with 90hz refresh rate, improved keyboard, and a more powerful MX450 discrete GPU.
Lenovo Yoga Slim 7i Pro Review Philippines Price
The Yoga Slim 7i Pro starts at Php 64,995 for the entry-level variant with a Core i5-1135G7 processor, Iris Xe integrated graphics, 16GB RAM, and 512GB NVMe SSD. Our review unit is the top-end variant that is priced at Php 84,995 and comes with a Core i7-1165G7 processor, MX450 discrete GPU, 16GB RAM, and 1TB NVMe SSD.