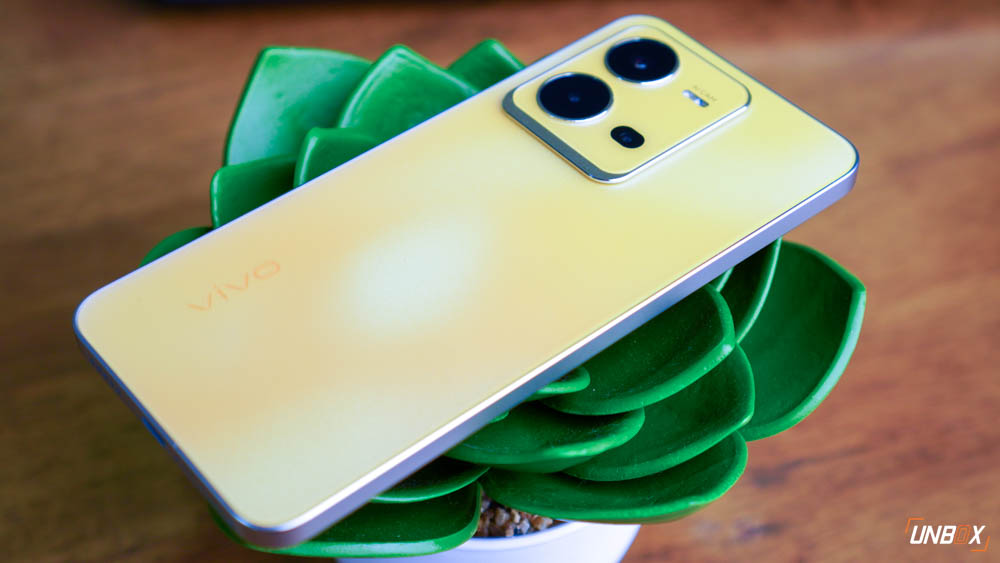 The vivo V25e is the youngest sibling among the company's V25 line of smartphones, dubbed the "Night Portrait Master." The company flaunts excellent camera performance, whether under the brightness of the sun or even in dark conditions where other optics struggle. Other than its optimized snapshot capabilities, it also carries showstopping features like a Photochromic 2.0 color-changing rear panel, flagship-level display, and all-day battery life. We'll get into why the bells and whistles of this smartphone prove extremely useful for content creators and other influencers on social media.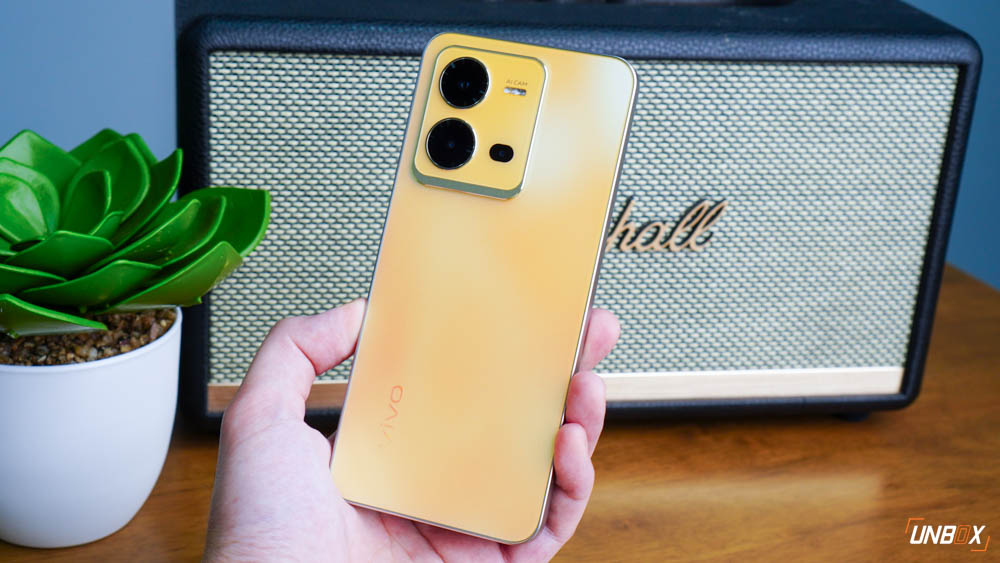 Breathtaking Looks
Taking a look at the V25e already gives off the brand's signature look, emanating a classy and premium feel. At just 7.79mm thin and weighing a secure 183g, it is a device that feels confident and whole in the hand. It's not heavy enough to be considered fatiguing, but it has a certain bulk that assures you of quality.
Flip the device over to find the vivo branding on the rear. It's done in the usual minimalistic style, which is an understated elegance in a way. At the top is the dual-mirror camera module, similar in design to vivo's other smartphones. No one's complaining though as it's a sleek aesthetic.
The radiant Sunrise Gold color of our unit is particularly radiant in this lighting, with its Fluorite AG Glass material contributing a new depth in color. It's not only scratch-resistant but fingerprint-resistant as well. That's not all though: expose it to more UV rays for its best-kept secret.
The vivo V25e and its neat party trick literally shine with Photochromic 2.0 technology. Under sunlight, the color shifts to reveal an all-new identity and changes shade. This is a first in the smartphone industry. Of course, it also returns to its original colors after a few minutes.
Imagine being out and about, and your friends ask: "did you get a new phone?" To which you respond, "No! My phone just shifted colors for a bit." What a funny scenario. Whether you get the color we have here or the elegant Diamond Black colorway, the vivo V25e is definitely worthy of some coverage on your Instagram Story. Here's a short video that captures this transition.
Despite its looks, the vivo V25e has the toughness to boot. It comes with an IP54 rating to give you some assurance of its durability, even amidst rough conditions.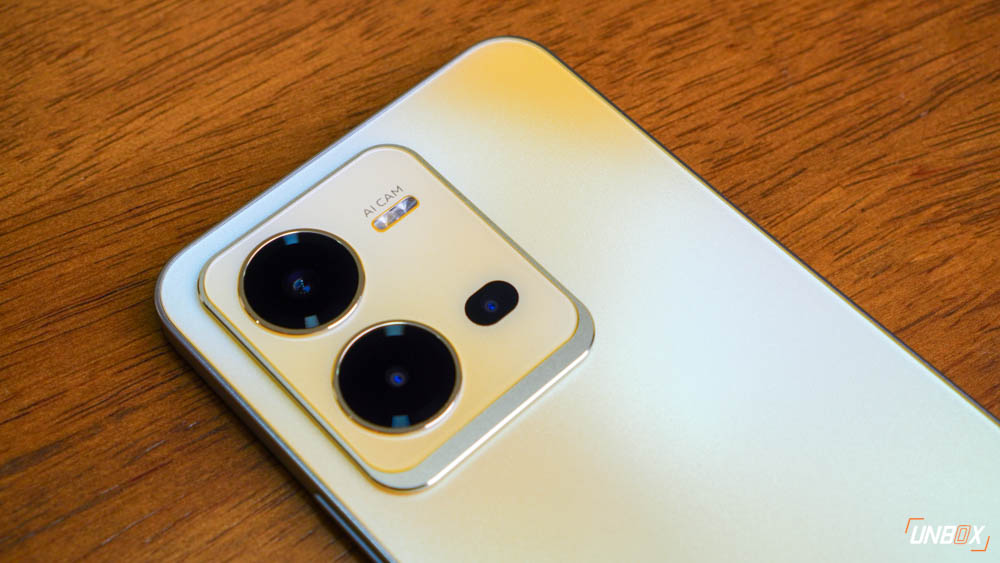 Supreme Snapshots
We mentioned earlier that the dual-mirror camera module suits the phone's aesthetic rather well, but it's not only there for show. Sheltered inside is a highly competent 64-megapixel main sensor supported by a pair of 2-megapixel cameras. The system was specifically crafted to be worthy of the title "Night Portrait Master," advertised to take stellar photos in any condition, whether ideal or not. When other phones are taking noisy photos in the dark, the V25e brings clarity to the table.
This gives not only influencers but even regular people the ability to post clear updates of their everyday lives on social media. People are on the move around all the time, so lugging around bulky cameras and other gear is a hassle. Thankfully the vivo V25e can take crisp photos and videos anytime, anywhere, and even in motion with stable OIS. Make this device a fundamental part of your on-the-go lifestyle.
The camera up on the front is ideal for those selfies, groufies, with intelligent features like Eye Autofocus and Multi-style Portraits. With over 20 different styles and filters to choose from, the variety adds a bit of fun to the entire experience. The best part is that as a content creator, you always want to be part of the scene, living your life to the fullest.
Feeling artistic? Vlog and timelapse presets offer flexibility for content creators to reveal a bit more of themselves to their loyal viewers. With cameras like these powering your stories, gone are the days of "potato-quality," potentially increasing that fanbase.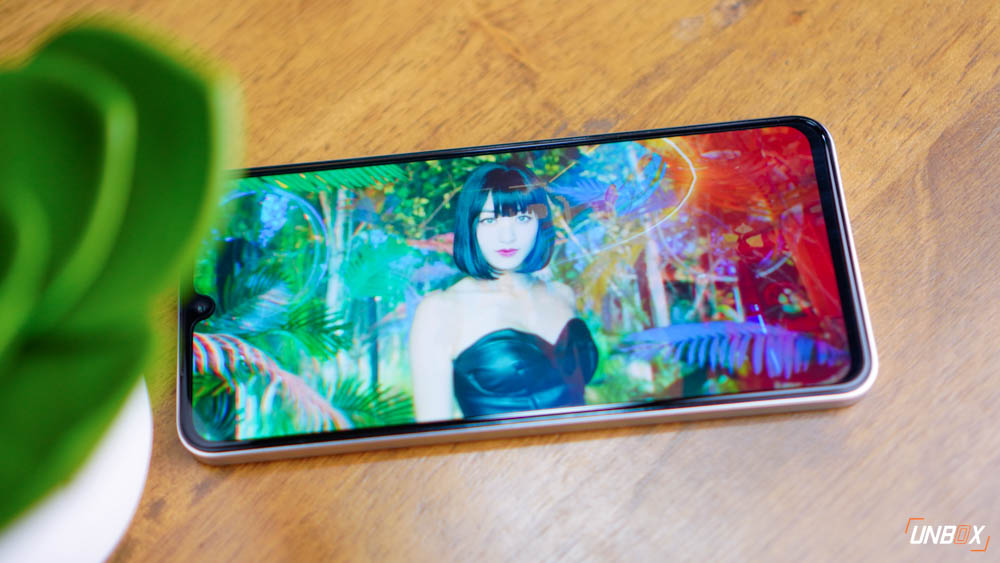 Screen Is Content-Ready
Now that you've taken some interesting shots, it's time to give them a look before posting them. This is the best place to do it: a crisp 6.44-inch Full HD+ display, with a smooth refresh rate of 90Hz. This provides breathing room for smooth scrolling, especially paired with the speedy 180Hz touch sampling rate. Additionally, the high resolution gives you a good glimpse of what the content will look like on TVs and high-definition monitors. As a creator, this is important since you'll be closer than ever to seeing how people view your content, "just how the creator intended."
To add a bit of color accuracy and pop, the display features vibrant AMOLED technology that's also featured on the world's leading smartphones. The 2.5D smoothly tapers off into the corners and gives off a bit of 3D effect that adds even more immersion in a compact package.
This makes it a fun companion for movie marathons in bed when the TV is too much, or to catch up on TV shows during breaks at work. You can even stream some Netflix in HD quality with Hi-Res audio adding to the cinematic vibe.
Your eyes need time to rest too. Eye-care technology can easily be activated to minimize strain when you're just scrolling through your social media feeds after a long day.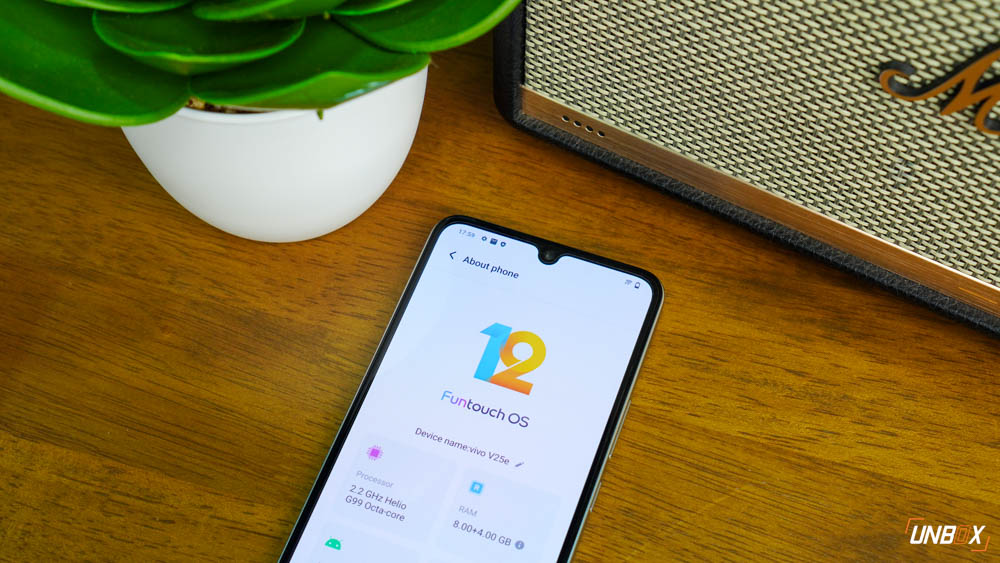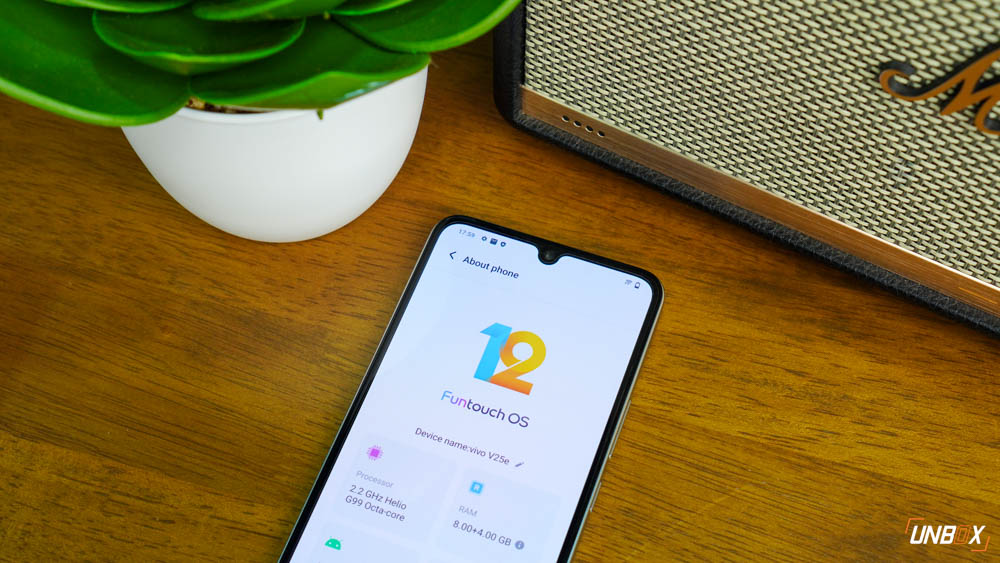 Powerful With All-Day Battery Life
The vivo V25e sports an octa-core Helio G99 processor, with two Cortex A76 cores and six Cortex A55s. It is built on an energy-efficient 6nm platform to conserve energy where possible. Due to this pairing, it is a very usable combination of brute force and efficiency that won't rock the benchmarks but shows its capabilities in everyday scenarios. We'd say it's definitely enough for most people with the tasks they do such as scrolling social media, watching content, and taking photos or videos.
Multitasking is also a breeze with an onboard 8GB of RAM, extendable to 16GB with some smart software wizardry. You'll never have to force-close apps again with that much under the hood. On the software side of things, vivo has committed a smooth Android 12 experience with its latest iteration of their in-house FunTouch OS skin.
For those that don't like taking stories within the application/s, video clips can be saved onto 256GB of internal storage and then uploaded from there. Don't worry, these are safe from prying eyes. vivo has outfitted the V25e with its newly-developed Privacy and Security systems, including App Pinning, Hide Album, and the overall Privacy Dashboard to control specifically which information enters and leaves your device.
Creators don't need to worry about running out of oomph or space, nor about getting their content compromised.
This silky experience will last the whole day due to the 4,500 mAh battery capacity. Once it conks out, 44W Flash Charge brings the phone back to full in merely an instant.
Overall, the vivo V25e is a winner due to its winning combination of solid hardware and optimized software. With its appealing design, strong internals, brilliant display, and effective camera system, content creators can trust that this smartphone will be reliable enough to get them through the motions of daily life. This is truly a device that can keep up with on-the-go individuals in 2022.
vivo V25e Price Philippines
The vivo V25e is set to retail in the Philippines for a price of PHP 17,999. vivo sweetens the deal by offering free SIM cards and TWS buds to the first buyers of this smartphone.
You can get it on the vivo official online store or the top e-commerce sites like Shopee.
Comments (1)