We're sure that you've heard some of these through leaks before, but it's now official: Samsung has announced the 3 variants of its Galaxy Tab S8 tablet. These are the Tab S8, S8+, and the S8 Ultra. All of these models promise greater productivity, presence, and power than ever before. Pair the muscular hardware with the seamless Galaxy ecosystem and users are in for a treat. What exactly have they done to elevate this lineup to new heights? We'll explain the most significant changes that might have you shouting "Shut up and take my money!"
To begin, the team acknowledges the importance of video conferencing, especially in a time where Working From Home has become the norm. In response to this lifestyle shift for many, they've improved the entire experience by having a 3-microphone set up on each device to capture crystal-clear audio. A 12-megapixel ultrawide front camera will also aid in allowing more people to join the frame or to have a better sense of space.
When it comes to multitasking, tablets have extra real estate they can play with which gives them an edge over smartphones. It all boils down to how the software maximizes this extra space though, with some devices limited to performing as oversized phones. That isn't the case here due to Multi-active Window capabilities, emulating a convertible laptop experience. If you want to take it a step further, Samsung DeX allows for the tablet to be used as a PC, with keyboard/mouse support. For those who don't want wires to mess up the table, Wireless Mirroring works too. If security is a concern, all are securely protected by Samsung's systems, and the hardware is programmed to let you know if applications try to take photos or other unauthorized access.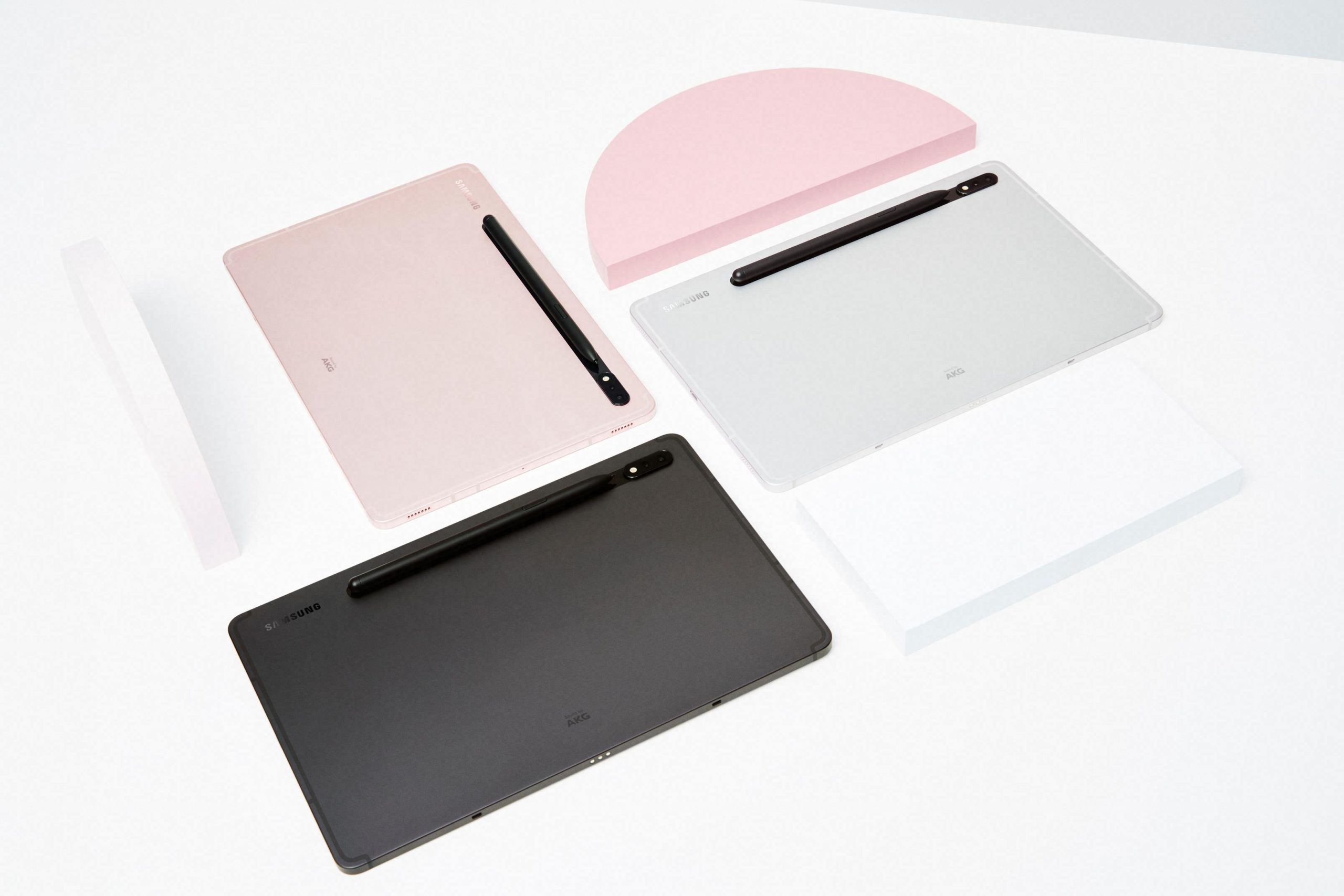 All these devices come with an S Pen included for all your writing needs, and the 4nm flagship-grade processor is more than ready to handle whatever you throw at it. Accessories are also available to keep these tablets from falling with customizable stands.
The internet connection is blazing-fast with WiFi 6E support, and the intuitively-optimized One UI Tab 4 interface can easily keep up with whatever you need to do. Low on battery? 45W charging is here to keep it alive. This is truly a productivity powerhouse, but it can also serve as a media station with its fantastic display and AKG quad stereo speaker inclusion with Dolby Atmos certification.
Knowing all this information, the next step is finding out how the 3 models differ. We'll break it down to keep things simple.
Galaxy Tab S8
The vanilla Galaxy Tab S8 comes with an 11-inch 120Hz 2560×1600 display. This variant doesn't get the Super AMOLED technology found in its upper range siblings, but Samsung has been well-known to make amazing displays regardless of technology implemented anyways. The in-display fingerprint scanner also comes with its older siblings, so you'll have to settle for a power-button scanner here. What can be found onboard is the same 4nm 64-bit Octa-core processor we can assume to be the newest Snapdragon 8 Gen 1, supported by 8GB of RAM and 256GB of internal storage. You can easily store pictures taken with the rear 13-megapixel dual-camera setup (shared between all 3 models) or the front 12-megapixel camera within its storage space.
Power users will rejoice as a microSD card slot can also be found on the device, while battery power is at a generous 8,000 mAh. Only this model will come with an option to purchase in a WiFi-only variant. You will have 2 options for colors here: Silver and Pink Gold.
Galaxy Tab S8+
The Plus bumps up display size to 12.4-inches with a resolution of 2800×1752. PPI is almost identical at 266 to the vanilla model's 276. They share the 120Hz refresh rate, although as mentioned previously, this one employs Super AMOLED technology for brighter, more vivid colors that Samsung has been famous for all this time. Considering the increase in display size, the battery is also amped up to 10,090 mAh. This only comes in one color: Graphite, which is also the Ultra's only option.
Galaxy Tab S8 Ultra 5G
This is the pinnacle of this Samsung Galaxy Tab S8 lineup. The screen is absolutely gigantic at 14.6-inches, but you probably won't feel it due to the 6.3mm bezels. The armor aluminum frame protects its internals, while it boasts a dual 12-megapixel front camera setup capable of taking videos and calls in 4K. Multitasking capabilities are taken a notch further with 12GB of RAM made available to the user. Battery size is also bumped up to 11,200 mAh in hopes of supporting added power draw by the larger display and other parts. This will also work in conjunction with the specially-made Galaxy Tab S8 Ultra Book Cover Keyboard which features backlit keycaps, customizable shortcuts, a glass-coated touchpad, and antimicrobial properties.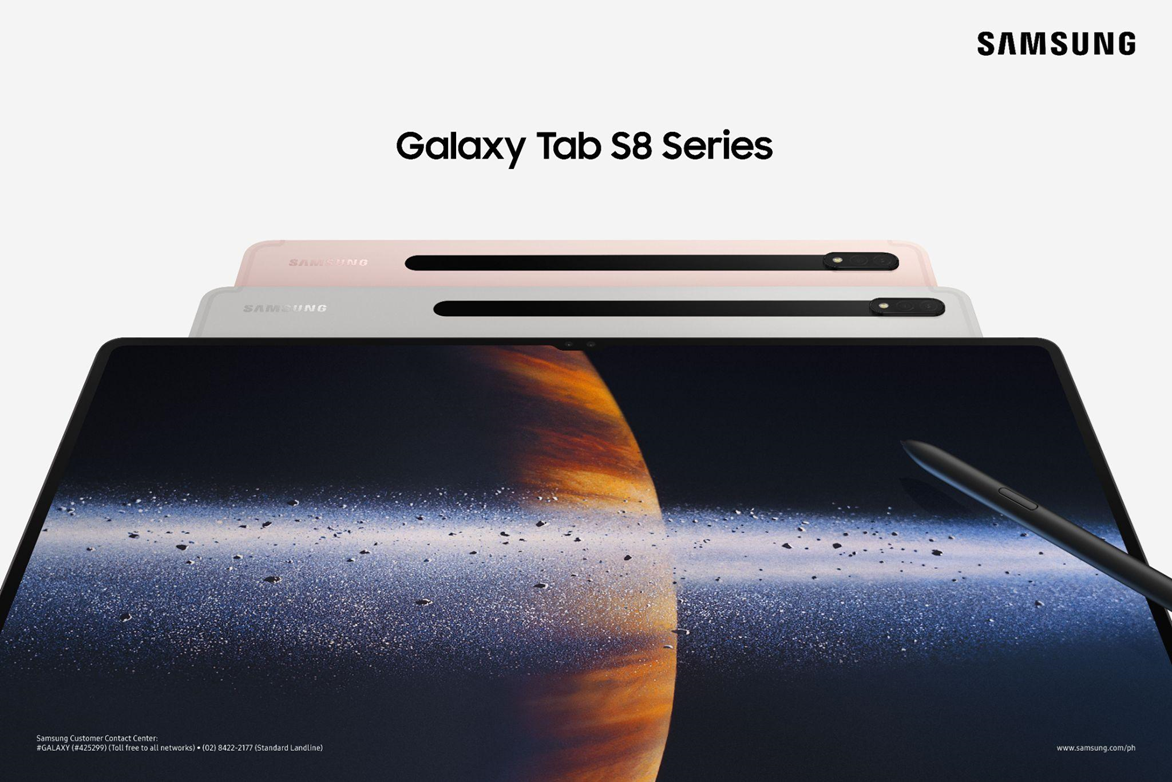 Pricing and Availability
Until March 3, those interested can preorder the Galaxy Tab S8 series at the Samsung Online Store or e-commerce sites such as Shopee, Lazada, Abenson.com, MemoXpress.com, and other authorized online partners. Here are some extra goodies that come with each if you preorder:
Samsung Galaxy Tab S8 (5G or WiFi Models): Galaxy Book Keyboard Slim and Galaxy Buds2
Samsung Galaxy Tab S8+ 5G: Galaxy Book Keyboard Slim and Galaxy Buds Live
Samsung Galaxy Tab S8 Ultra 5G: Galaxy Book Keyboard and Galaxy Buds Pro
Their prices will be as follows:
Samsung Galaxy Tab S8 WiFi: Php 41,990
Samsung Galaxy Tab S8 5G: Php 49,990
Samsung Galaxy Tab S8+ 5G: Php 63,990
Samsung Galaxy Tab S8 Ultra 5G: Php 77,990
For more information, visit the official website here.