When we think of our living rooms, the idea that comes to mind is this: it's an ultra-comfortable, homey, relaxing,  and plush place to be. What if we told you that you could extend these amenities out to when you travel? Such is what you get with the 2022 Nissan Patrol Royale, especially on the hustle and bustle of busy streets in the Philippines. Here's why.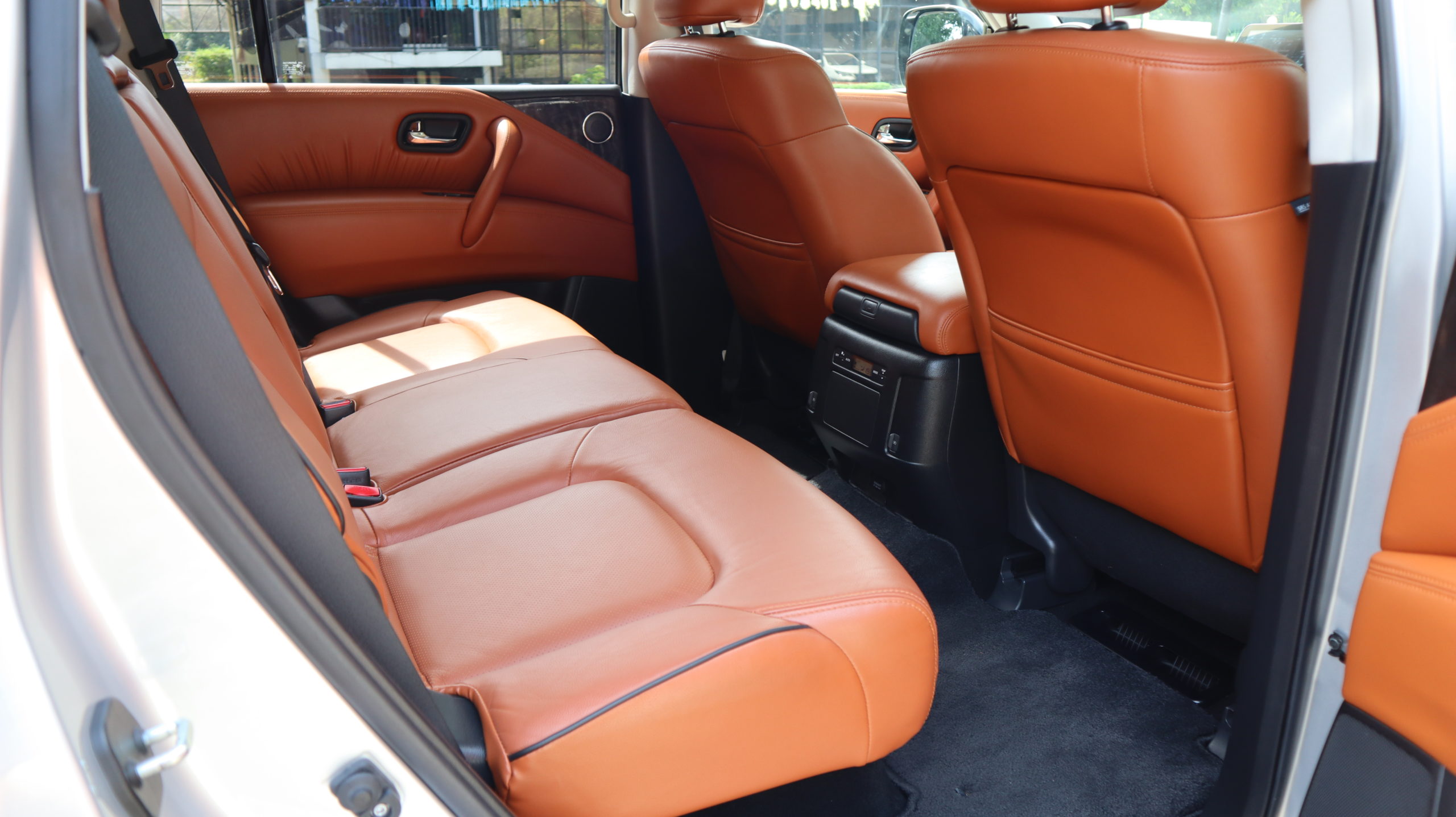 Spacious Beyond Compare
It's no secret that the 2022 Nissan Patrol Royale is a chunky piece of automobilia that stands out on roads in the Philippines. We'll get to its exterior features in a bit, but it does feel like a land yacht on the inside.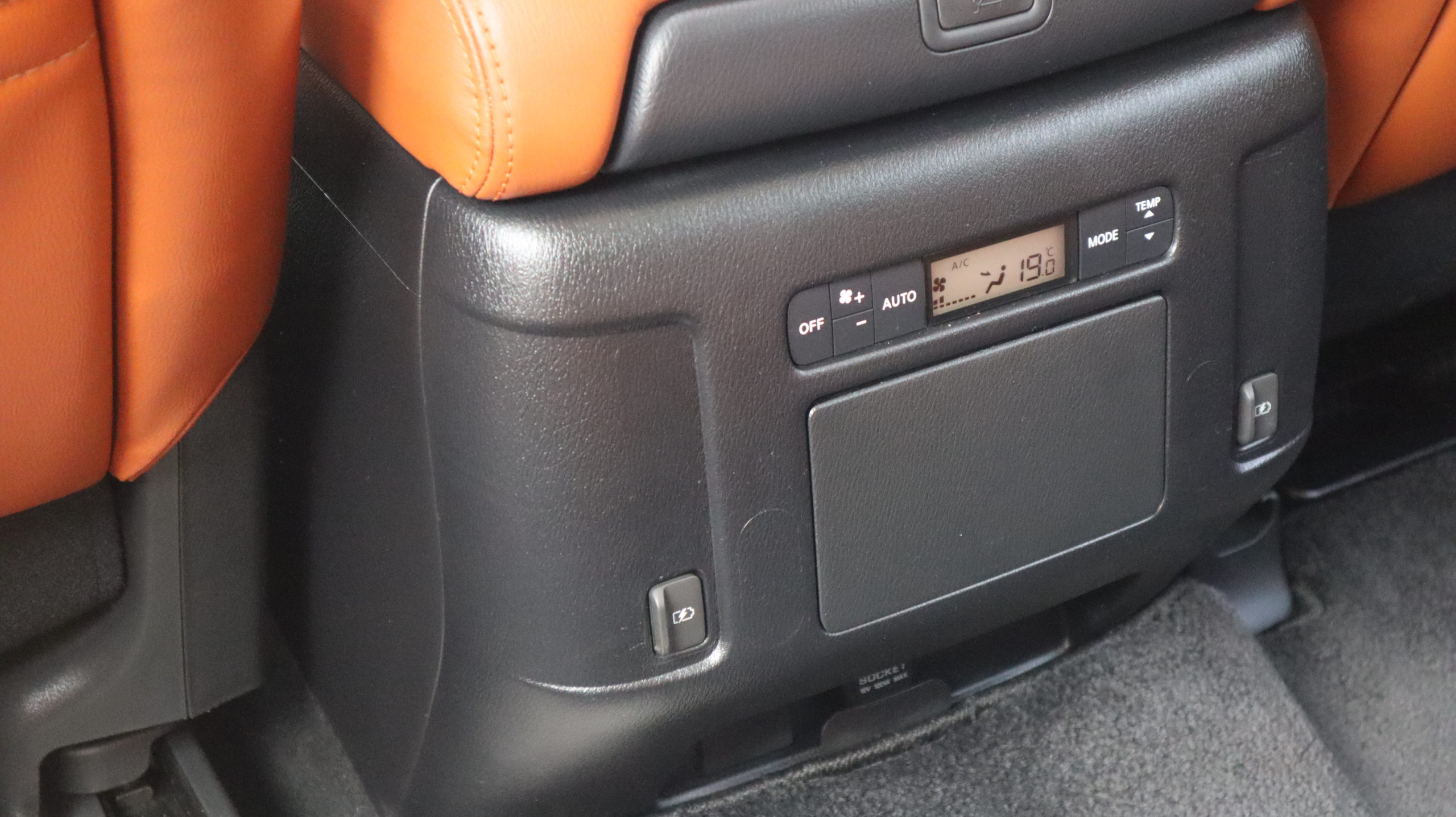 This is one of the rare times that a three-row SUV classifies itself as not a seven but an eight-seater. That should be enough to prove that you get a ton of space within the cabin. Legroom is expansive and headroom touches the skies in terms of space. First and second-row occupants can more or less host a yoga class or play a game of Twister without much effort.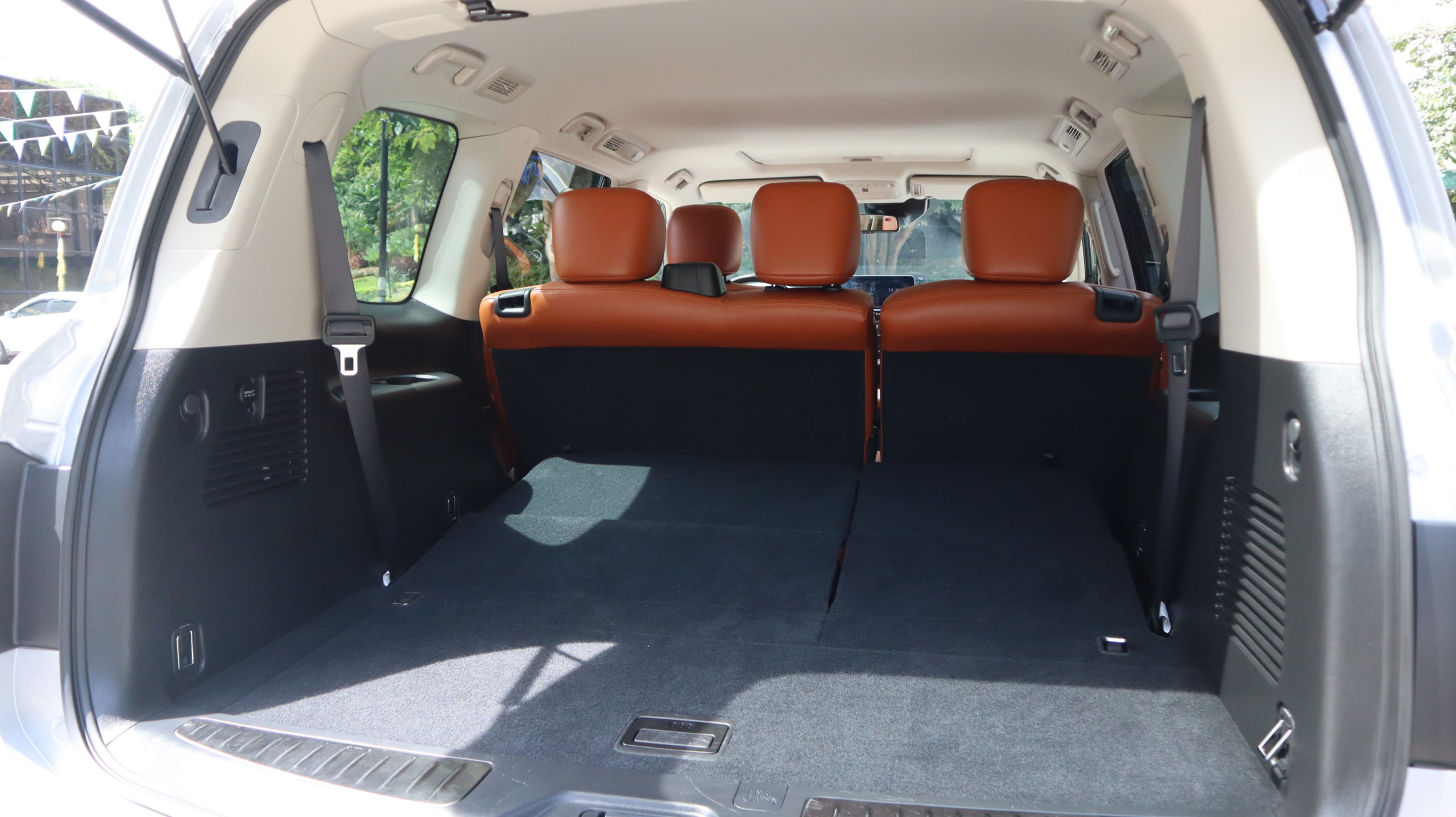 Open up the power tailgate and you'll find an abundance of space, whether or not the third-row is up or down. There will be plenty of room for luggage, bags, and other items necessary for prolonged trips to the country's top vacation destinations. Give yourself some R&R!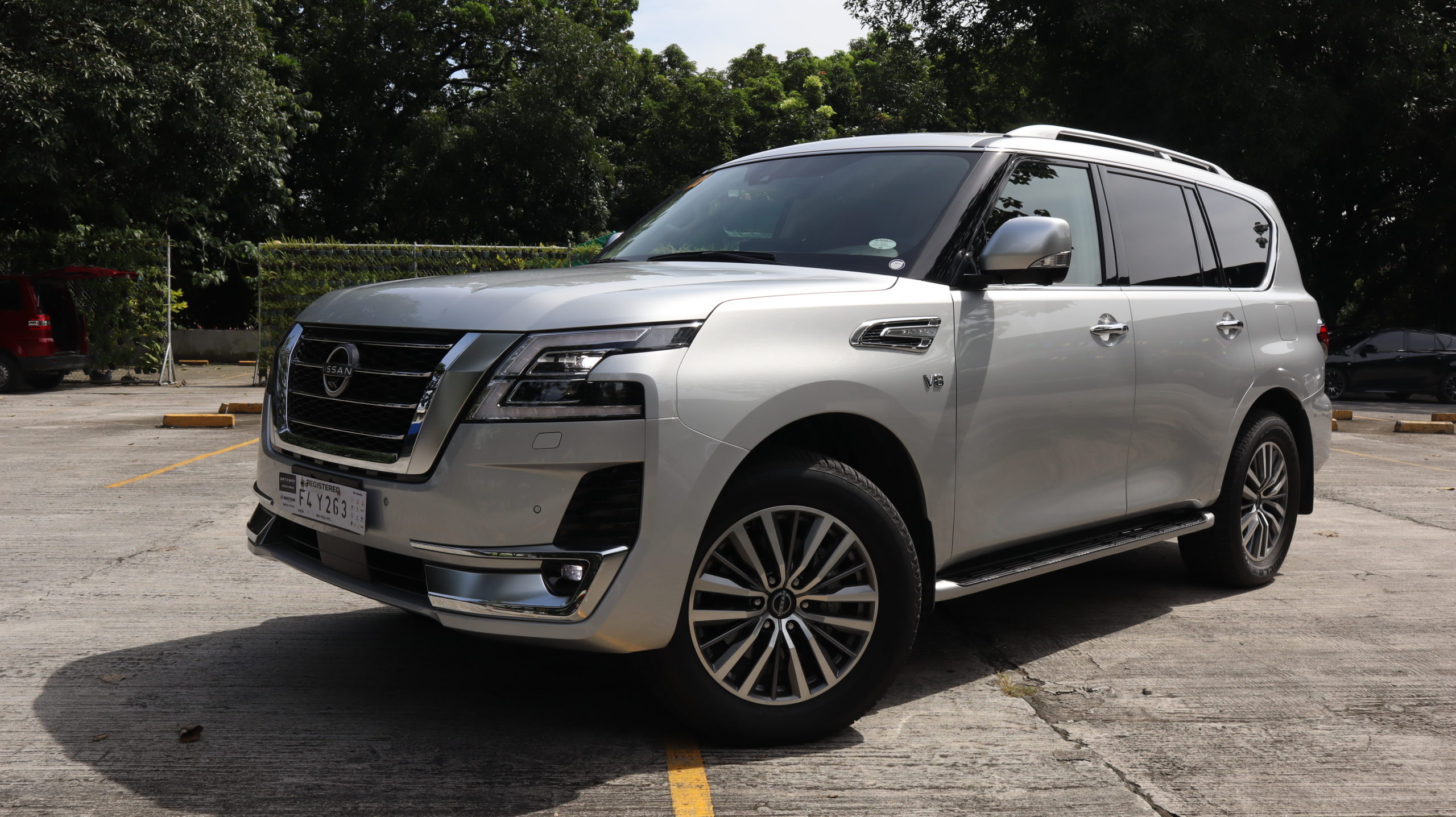 Visually Appealing
Now we'll move on to its imposing exterior. This facelifted Patrol Royale has a road presence that isn't quite like anything else. It's curvaceous yet muscular at the same time, looking like a beefy VIP transporter everywhere you go. No wonder this is the primary vehicle of choice for wealthy oil magnates in Dubai. Its LED headlights, DRLs, and foglights all work together to bring attention to that redesigned V-motion grille. It looks like it could eat up anything on the road with relative ease, especially when you consider the absolute monster under the hood.
Chrome pieces adorn the body all over, adding touches of classiness without looking gaudy whatsoever. These give off a regal vibe that complements the car's stance and sufficient ground clearance, aided by its 20-inch alloy wheels. It's the car you can go anywhere with in luxury. Things don't change at the rear with the "PATROL" and "LE" branding letting everyone know just what car has graced their presence.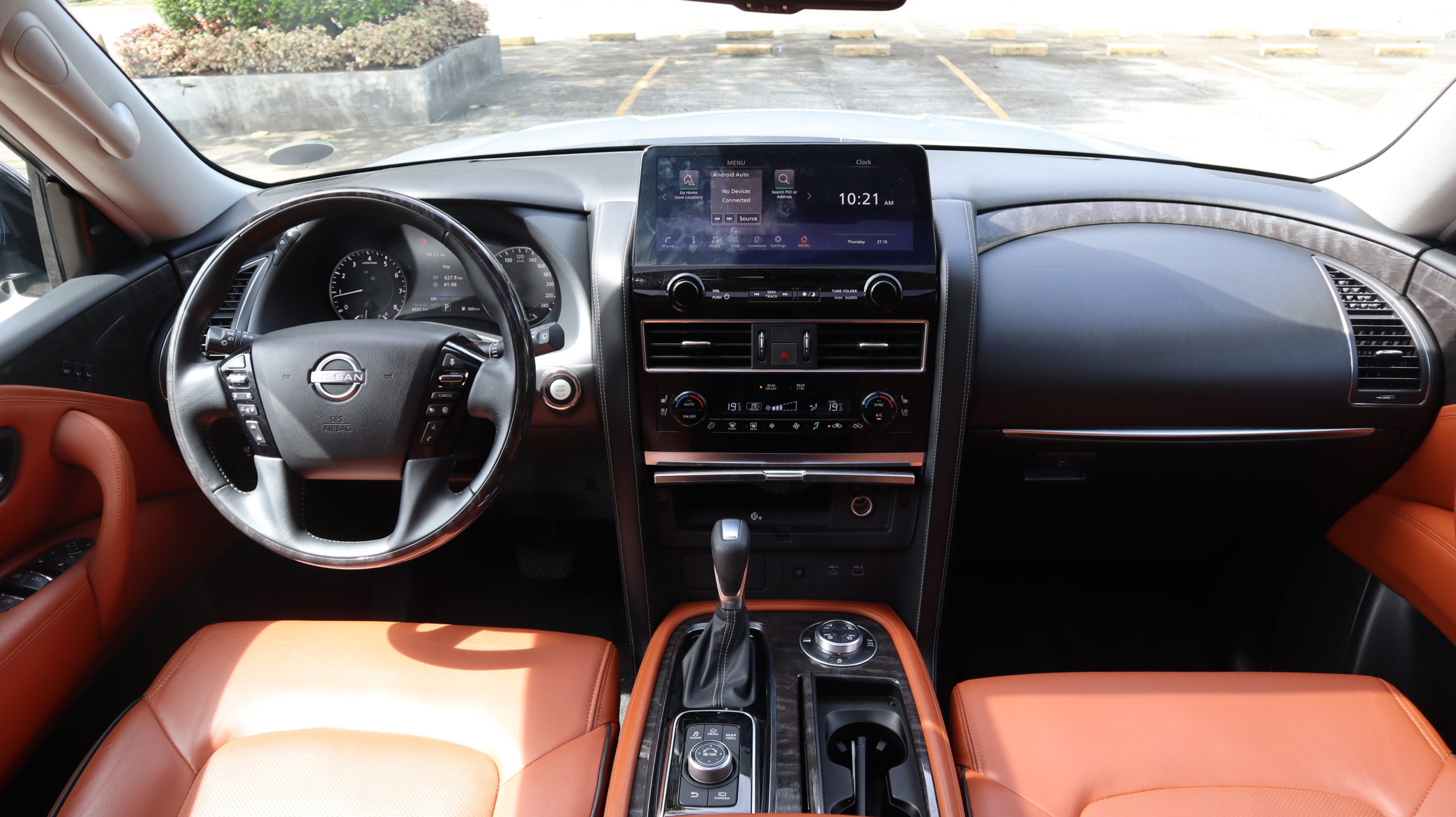 On the inside, the SUV stays true to its identity. It's a wonderful fusion of timeless design and modernity. You have obvious design inspiration from the previous generation models like with the dashboard design, analog instrument cluster, and surprising lack of speed-sensing door locks.
Look above and you'll find that the map lights and other interior lighting accessories are also quite dated. The sunroof doesn't extend to the rear seats like we've seen on ultramodern vehicles. No ambient lighting here, but that's just the way some people like it.
The brighter tan interior also exudes a homey, nostalgic vibe from yesteryear.
These are countered by digital gauges for the A/C controls and a gargantuan 12.3-inch screen compatible with Android Auto and Apple CarPlay.
Tucked underneath is a Qi wireless charging dock for your smartphone for convenient topping up of that battery. USB ports and charging outlets won't ever run out, with these made available to even the last-row occupants. The onboard BOSE Sound System also delivered our beats in full, rich sound, bringing that cinema-like acoustic quality wherever the user desires to go.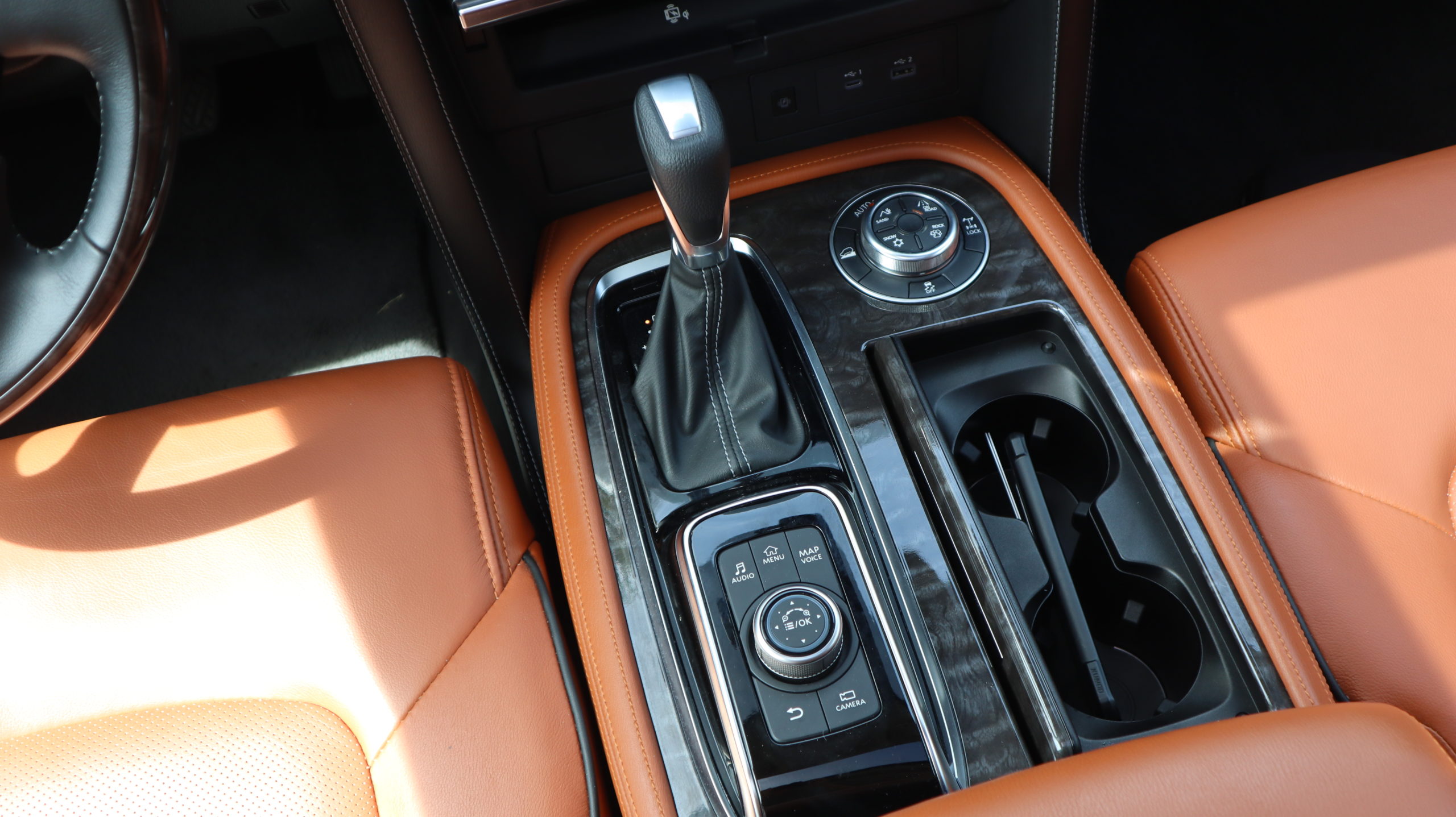 An advanced dial for off-roading and terrain controls could be spotted up top, while a navigation dial with shortcuts to all the advanced features resides below the shifter. Near the steering wheel, you'll find the toggle for the memory seats. It's a modernized version of your comfy living room, which may feel more familiar and cozy than a spaceship-like interior for most people. No pretensions, just laid-back comfort.
People were expecting someone of elevated status to disembark from this vehicle, only to find me in my pambahay shorts and a plain shirt. Sorry for disappointing you, folks!
Supreme Comfort
The 2022 Nissan Patrol Royale sold in the Philippines rides on a Double Wishbone with Hydraulic Body Motion Control (HBMC) suspension system. It feels like you're riding on clouds, supple in its support throughout harsh bumps on our poorly-maintained roads.
This is also thanks to its extremely plush seating arrangement which does make it feel like a living room on wheels. The seats don't hold back in being wide and accommodating of all body types. Some of our leaner friends even referred to the seats as a couch, which is also one of the main reasons for the title of this article.
As mentioned earlier, space is the name of the game here. The more freedom passengers get to stretch and move their bodies around, the greater the riding comfort for long-haul trips.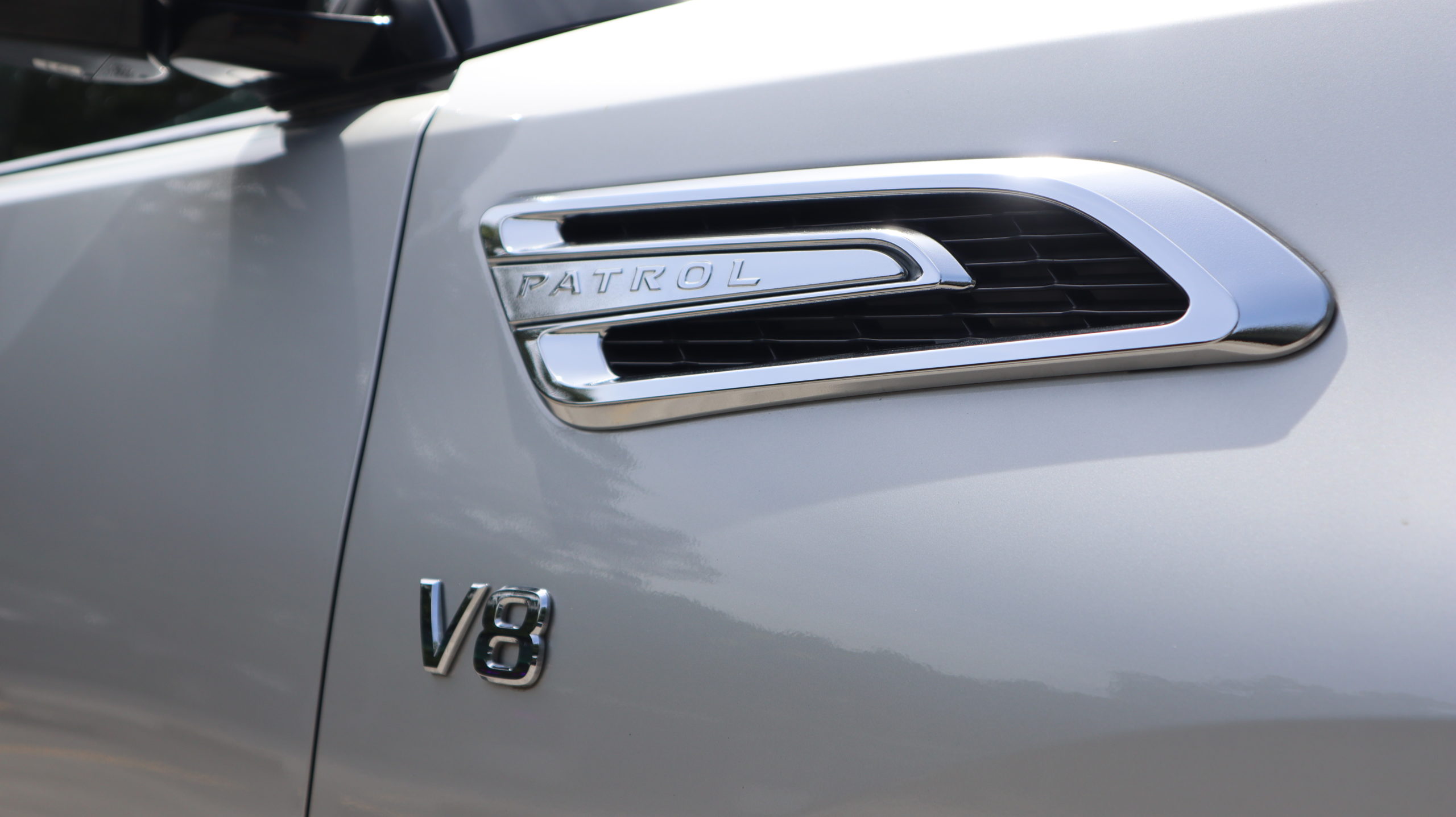 Quick And Quiet
This Nissan Patrol Royale is easy to drive around in the Philippines due to its immensely-powerful 5.6-liter V8 producing an eyewatering 405 ponies. It's strong and torquey, 560Nm to be exact. As this is a naturally-aspirated setup, power is linear and comes without delay as you step on the gas. Hearing the V8 roar to life is like a symphony of harmonies, smoothly bringing you beyond cruising speed in no time flat.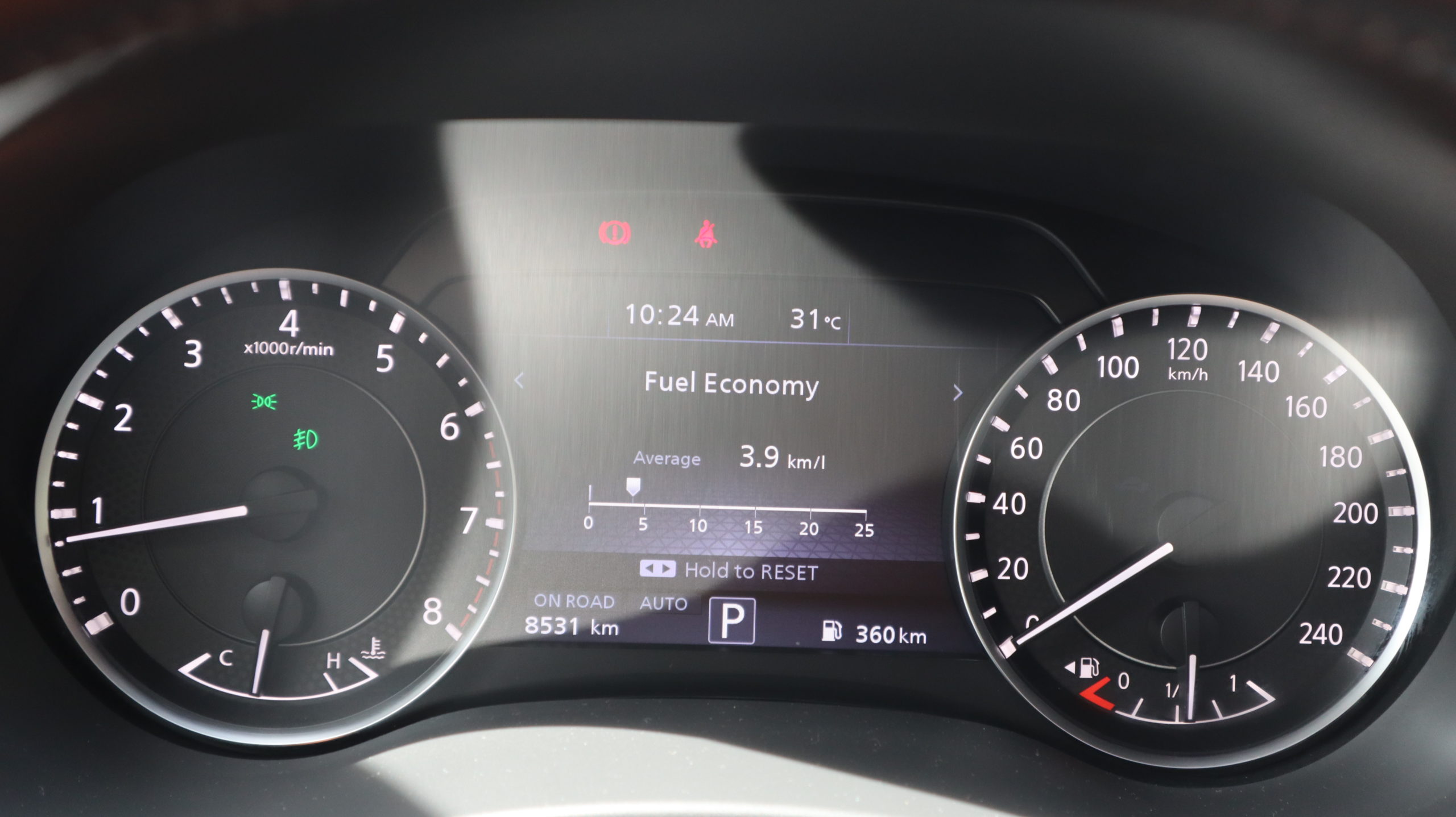 Without a doubt, the Patrol remains to be a car that satiates that need for thrilling acceleration and will put a smile on your face. Sure, the fuel economy is also a bit underwhelming with averages of around 3.9 km/l, but that's not the reason you buy a car like this in the first place. This is a small price to pay for overflowing opulence on any terrain imaginable.
Despite its size, it is definitely easier to drive and lighter to steer than rivals like the previous-generation Toyota Land Cruiser 200 we have in the fleet.
We're also quite impressed with its 7-speed automatic transmission. At the very least, it has more spirit than your typical CVT which adds some flair to the overall experience.
Safe Space
This massive cocoon, apart from its massive body and tank-like construction, also has some high-tech equipment to keep passengers safe at all times. That includes 6 SRS airbags across the cabin, ABS, LSD, and the Intelligent Around View Monitor.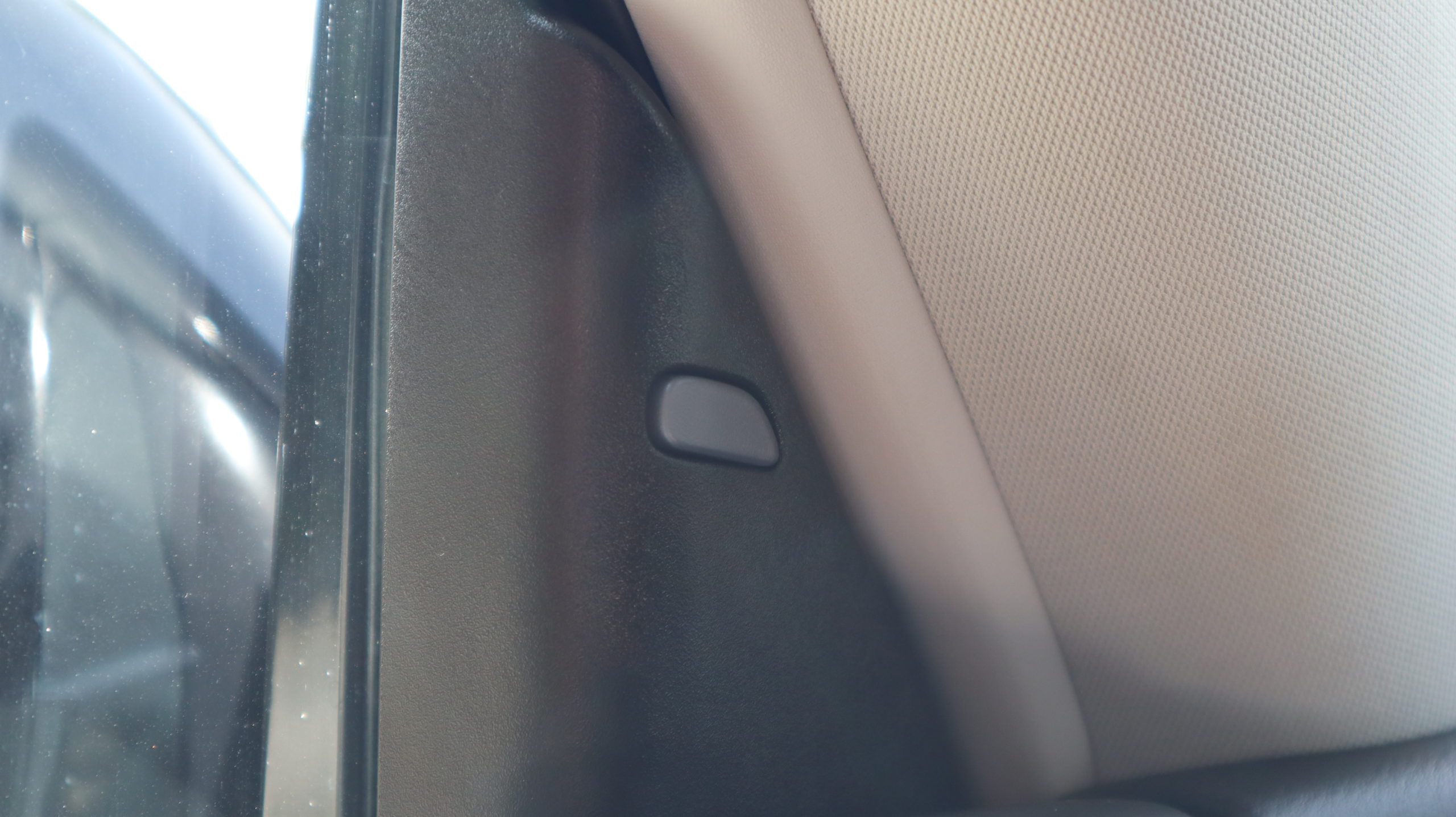 We were confused as to the purpose of this light at first, but when it glew to an amber shade, we discovered it was a Blind Spot Monitor. It was reliable in allowing us to safely maneuver the girthy 2022 Nissan Patrol Royale within tight alleyways and spaces in the Philippines.
This SUV provides assurance of safety on all fronts and we'd definitely trust it to ferry our loved ones to where they need to be.
2022 Nissan Patrol Royale Philippines Price
As of now, there is only one variant of the 2022 Nissan Patrol Royale sold in the Philippines. It starts at PHP 4,698,000 with additional pricing for the Pearl White color and other additions. It's a bargain at this price since it manages to undercut its main competitor. Check out more details here.