As a follow-up to the flagship Dimensity 9200 last year, MediaTek announces its mid-year update with a Plus version. Billed as a contender to the Snapdragon 8 Gen 2 (specifically, the made-for-Galaxy version found on the S23 series), the Dimensity 9200+ improves on its non-Plus model by having higher clock speeds on its performance CPU cores.
The biggest boost is with the Cortex-X3 prime core, where it now runs at 3.35Ghz (from 3.05Ghz), effectively matching the peak clock speed of the Snapdragon 8 Gen 2 for Galaxy's prime core, which is at 3.36Ghz. The Cortex-A715 performance cores on the Dimensity 9200+ now hit 3Ghz (from 2.85Ghz), which beats the clock speed of the Snapdragon 8 Gen 2's performance cores, which are clocked at 2.8Ghz. Like its non-Plus sibling, the Cortex-A510 cores still run at 1.8Ghz.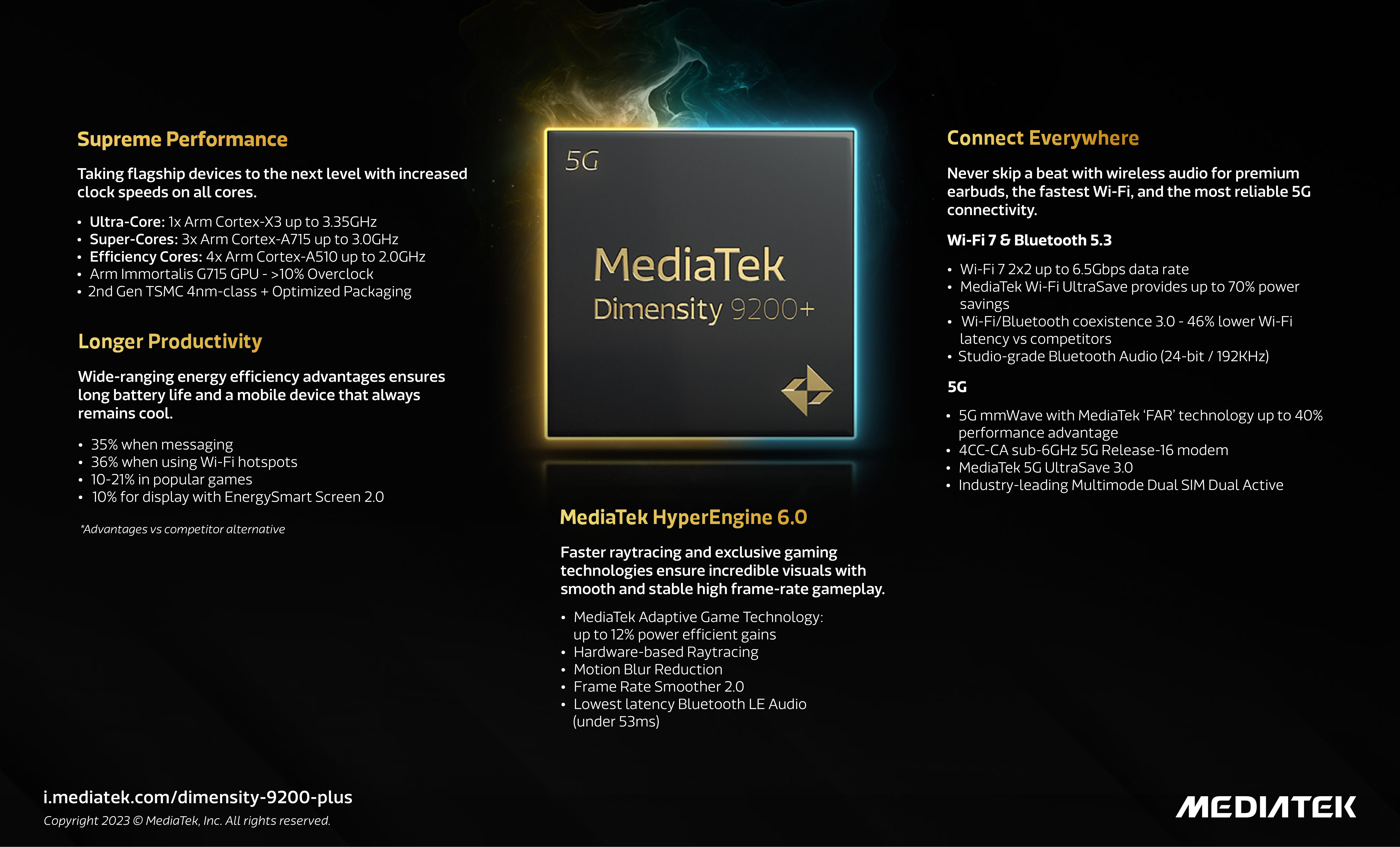 MediaTek did not disclose the upgrades on the Immortalis-G715 GPU, but it claims that there's a 17%  performance boost with the Plus version. You still get the same features found on the "Regular" Immortalis-G715 GPU, which includes hardware-based ray tracing.
MediaTek expects the first Dimensity 9200+ phones to launch later this month. We don't know which phones are expected to use it, but as for the non-Plus version, only vivo's X90 series are using it–the rest of the flagships for 2023 opted for the Snapdragon 8 Gen 2.