In a surprising move for the social media addicts out there, Elon Musk has recently announced that Twitter will be setting a "Tweet View limit." This will restrict users on how many posts they can view per day on the platform, in order to fix some ongoing issues plaguing Twitter. Here's what it's all about.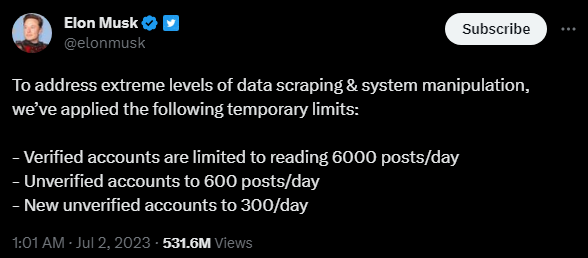 According to this Tweet, this View limit will be imposed to "address extreme levels of data scraping and system manipulation." We're guessing that this has something to do with the people who use Artificial Intelligence (AI) to gather as much information as possible from Twitter, an obvious deviation from normal usage situations. Some sources claim that this was done in order to prevent certain AI platforms from using free-access information on Twitter to build all-new AI models or enhance currently-existing ones.
While this would normally be okay, it takes a humongous enough toll on the servers that it negatively impacts the real-user experience. "It is rather galling to have to bring large numbers of servers online on an emergency basis just to facilitate some AI startup's outrageous valuation," Musk said.
Reactions have been mixed, with a large enough following of the #GoodbyeTwitter movement. Many believe that this infringes upon their right to freely use the social media platform they've long considered a second home.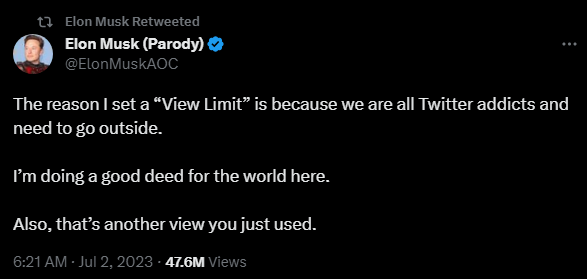 In response, Musk has poked some fun at the issue by retweeting something from his parody account.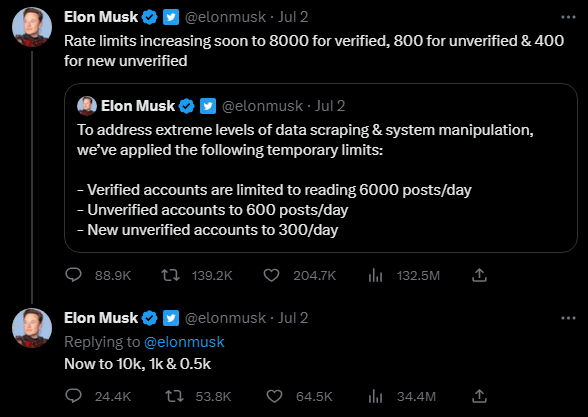 The numbers appear to be changing quickly as well. Initially, it started with 6000 posts/day for verified accounts, 600 for unverified accounts, and 300 for new unverified ones. However, backlash on Twitter has caused these Tweet View limits to be upgraded to 10000, 1000, and 500 respectively.
There is no actual timeline for how long these limits will be implemented. We're assuming it will be until the AI data miners have diminished or surrendered. What do you think of this move?