The vivo X90 Pro+ has been more or less confirmed through leaks popping up on the internet. It's meant to be the successor to the X80 Pro which we dubbed the "long-term camera king" in our extended review. However, there is still debate on the best camera system on the market. The company aims to extinguish all doubt with the upcoming device, meant to crush the newly-released iPhone 14 Pro devices and the impending Samsung Galaxy S23 Ultra.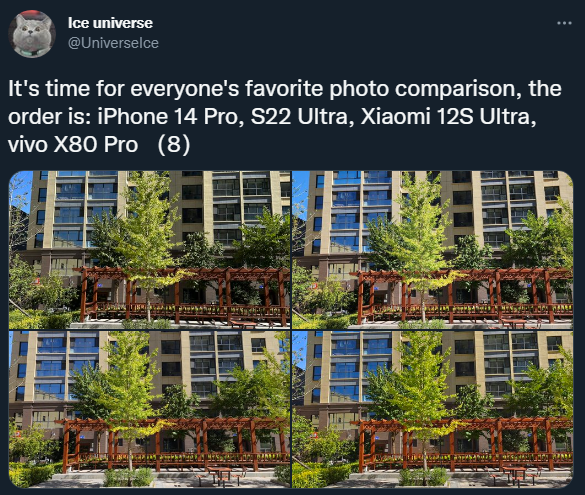 We assume that this would have been better as a blind test to prevent any brand bias, but vivo continues to lead the polls or come in a close second to the iPhone. This is a massive accomplishment given the hardware limitations that all brands have to adhere to, whether that's with the ISP or the sensors/lenses. Innovative technology that truly changes the field does not come very often. Therefore, the war comes out in the software and processing.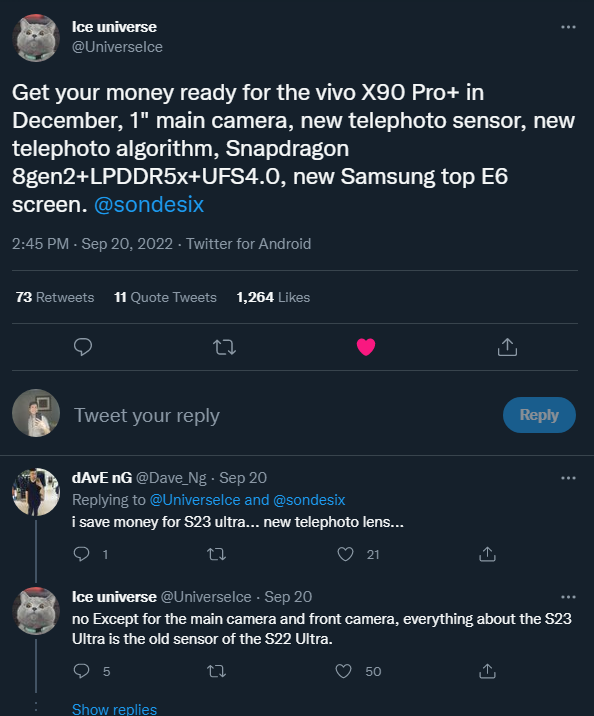 Famed tipster Ice Universe recently posted the alleged specifications on his Twitter page. The most notable changes come from the camera specifications, introducing an absolutely humongous 1-inch camera sensor, alongside a brand new telephoto sensor and software algorithm. This could take in more light and detail into every photo, beating out the competition with no question. If you check the replies, the S22 Ultra would easily be eclipsed by this kind of setup. If Samsung doesn't change enough, then the successor is in big trouble.
This could also be news for Apple fans, as the iPhone 13 Pro/14 Pro are more or less on the same playing field. The newly-released iteration experienced terrifying camera shake issues right out of the box, but these were solved through software updates just a couple of days ago.
Another noteworthy rumored specification is the inclusion of UFS 4.0 storage, an industry first. This leads to significantly faster transfer and memory speeds over the current two-year-old UFS 3.1 technology. Since Samsung is at the forefront of this development though (as well as the new screen), the S23 lineup is likely to have these features onboard as well. As expected, the second-generation Snapdragon 8 processor will likely be the beating heart of the vivo X90 Pro models.
We're shaking with excitement and can't wait to get our hands on the real thing.
Comments (2)