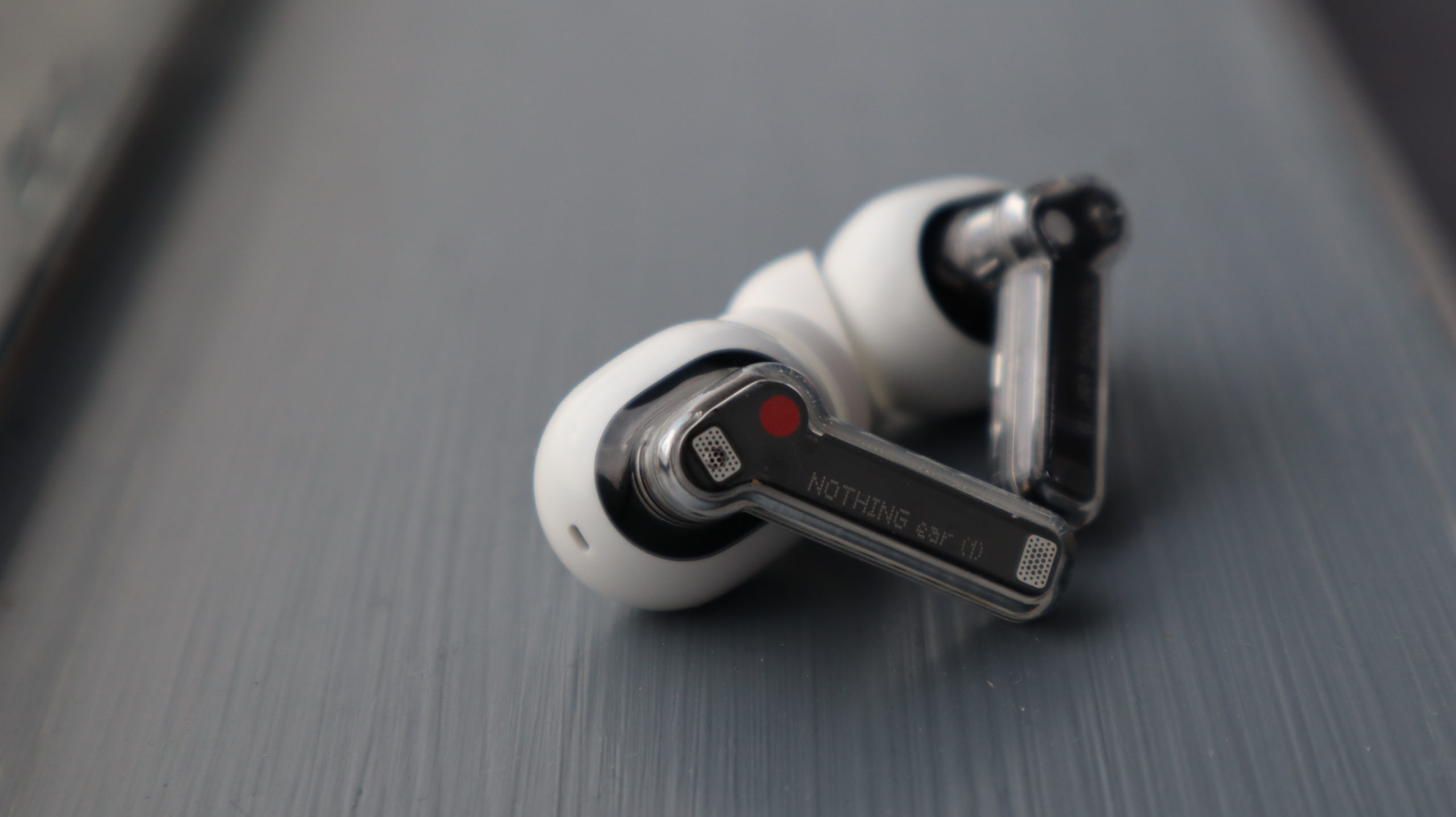 Review Verdict: The highly-anticipated Nothing Ear (1) fared rather well in our comprehensive audio review. We were mostly impressed by the stunning aesthetics of both its buds and case, as well as its wear comfort for long durations. Connectivity through the app is solid while its sound quality and ANC are passable for most listeners. 
Pros
Extremely comfortable
Awesome to look at
Seamless integration with app
Cons
Wonky volume adjustment gesture
Recommended to switch EQs between tracks
The Nothing Ear (1) brought in a lot of hype due to its role as the maiden debut product of the company. This entire effort is the brainchild of former OnePlus CEO Carl Pei, who mentioned that their desire is to create products that "feel like nothing." A meaning we could derive is seamless integration into daily life, making it feel as natural as breathing. Have they achieved this effect? Read on below.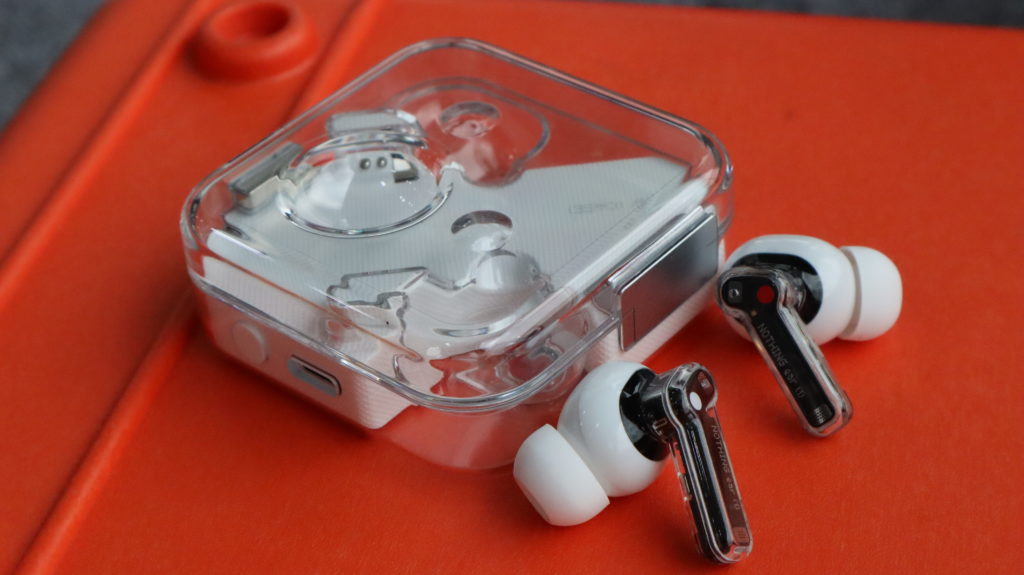 Design
As the latest product of a hotshot tech startup, the Nothing Ear (1) grabs a lot of attention from its looks alone. The designers have gone for a transparent build that truly deserves all the hype it gets.
The case itself is mostly transparent with white, textured cladding acting as a cover for wires and all that mess. It is shaped like a cubic candy box, constructed with a smooth material and a sunken dimple for grip. The silver hinge provides some assurance of durability for long-term ownership.
On the right side is a USB Type-C port as well as the pairing button.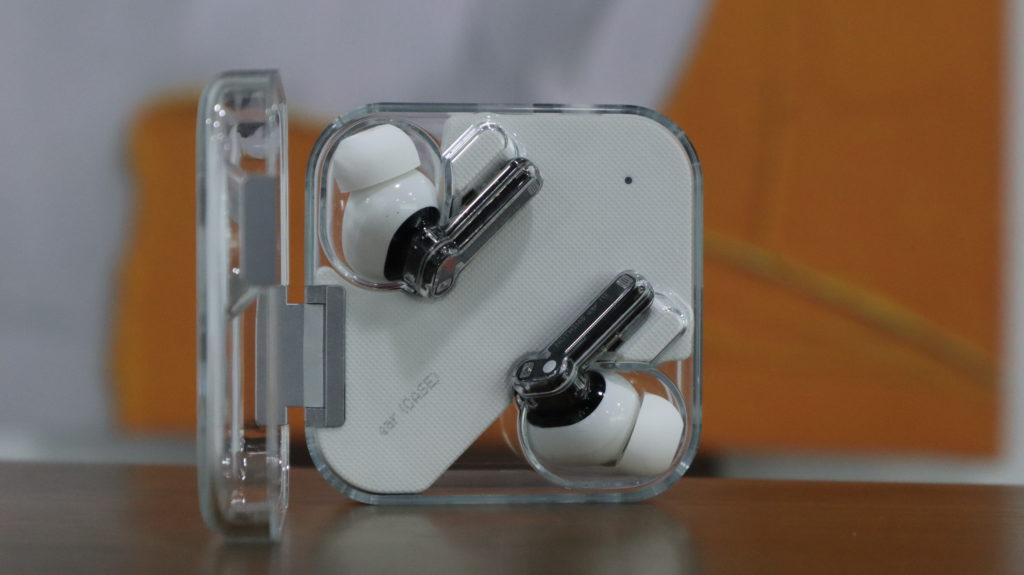 Opening up the case reveals the ear (CASE) text as well as a multipurpose indicator light. We received the white version of the buds, which give off the menacing stormtrooper look we really like. They sit in a "showcase" fashion, which is exciting because they seem to be on display every time you open up the case. Unfortunately, this can also result in these buds being confusing to put back – but after you get used to it, the action becomes second nature.
While the buds themselves are made with a shiny white plastic you'll see just anywhere, the transparent theme continues to the stems. Visible are the intricate arrangements of boards, chips, and layers of wiring that allow this entire system to work. The exterior-facing microphone can also be viewed on the stem as it stands out with its chrome finish.
NOTHING ear (1) is laser-etched onto the panel in a futuristic font befitting the overall vibe of this unit.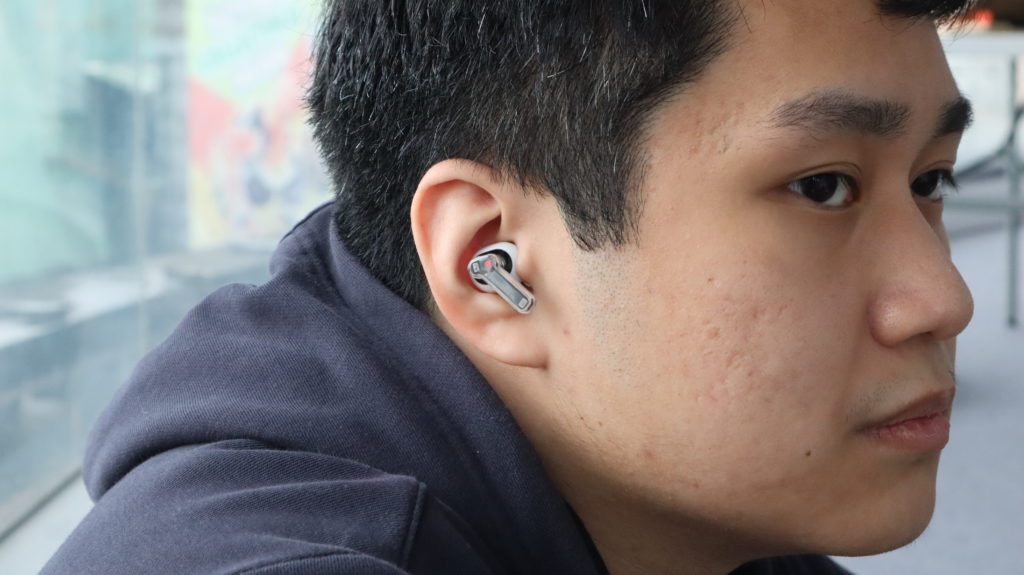 User Interface and Fit
Connecting to our personal smartphones was a breeze. Just flipping the case open immediately popped up a window on my device, indicating that these Nothings are ready to pair. The link to the app was also suggested, leading to a quick and easy install over Google Play services.
We experienced no random disconnects or errors on our mobile devices whatsoever. It was mostly smooth sailing for us, save for some minor audio cuts while our Windows laptop was still setting up configurations for the device. Latency was also manageable, with low-latency mode available on the mobile app.
Controls also worked as intended. Double-tap to play/pause and triple-tap to skip onto the next soundtrack is an intuitive design. Holding either earbud leads to changes in Active Noise Cancellation (ANC) settings. Our only concern is the volume control, which can be adjusted by scrolling up and down on the earbud's stem. Due to the design of the ear (1)s and their short stem, they tend to slip out when pressed too hard – meaning you'll have to be extra gentle and careful with the buds to avoid them falling out.
Save for the volume controls, all the toggles can also be flipped around via the app.
Speaking of the ear (1) application, it sports a clean layout with convenient access to whatever features you need.
The fit is one of the buds' most impressive features. These stay in your ears really well (save for volume adjusting) and we'd recommend them for those with sensitive ears. They're comparatively small and perfect for long listening sessions. We reckon some could even use these for sleeping buds if they're not afraid of breaking them.
One thing we have to mention though is that one of our multiple testers didn't find these to fit his ears as well as the others. He still found them usable, but stemmed buds aren't to his preference in general.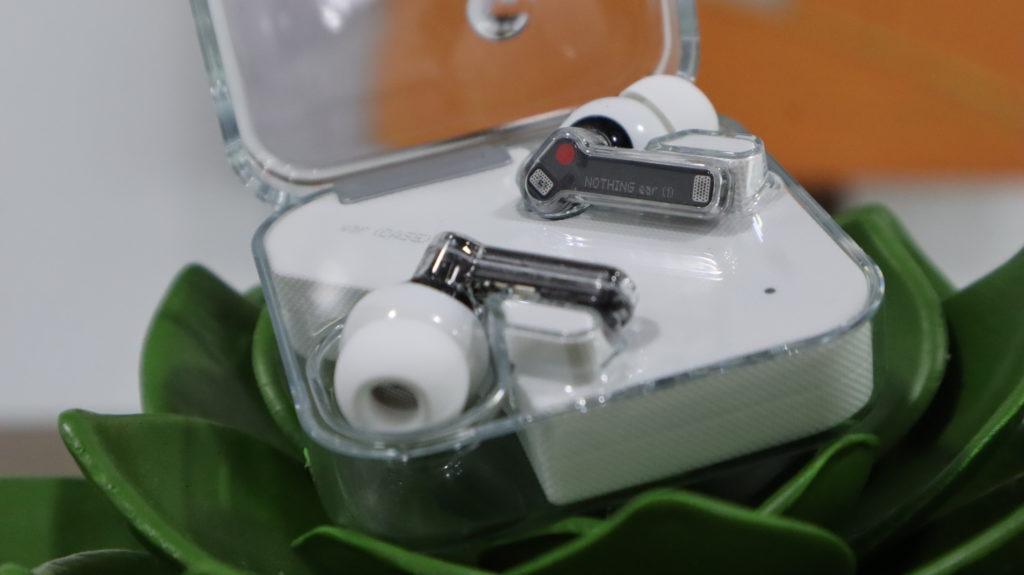 Audio Quality and Battery Life
Most listeners would be happy with the experience that this provides. There is ample clarity, volume, and detail across the board which ticks all the boxes for mainstream hits.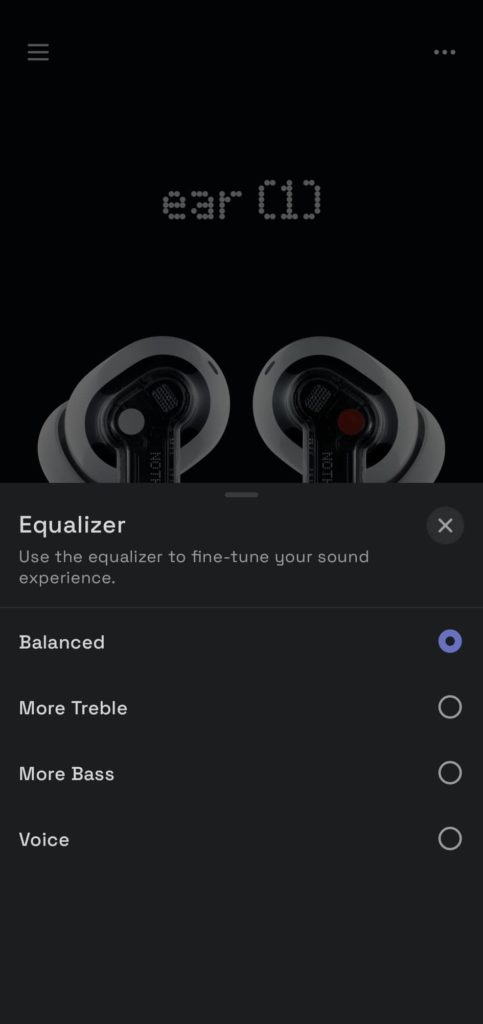 When you add the capability to configure the sound a bit via preset EQs, it becomes more appealing.
If we were to nitpick the "balanced" setting as audio enthusiasts though, we do admit that the bass is lacking in punch. We're not looking for an increase in bass quantity, but quality instead. Summarizing it in one line: the bass is present, it just doesn't hit low enough to rumble. This issue can be resolved by selecting "More Bass" on the equalizer settings but goes too far in the other direction, which affects other types of music negatively. A slider would be much appreciated.
Another minute detail only a certain demographic will pick up is a little bit of sharpness when it comes to tracks with a lot going on. Sometimes the sounds of cymbals and noises to the same effect overpower the vocals. As a result, human voices can sound slightly nasally – just in those moments, not all the time. This could be caused by an overly emphasized upper-middle range. Keep in mind we never touched the "More Treble" option, nor did we ever want to.
Still, it sounds great with mainstream music and is more than good enough for casual users.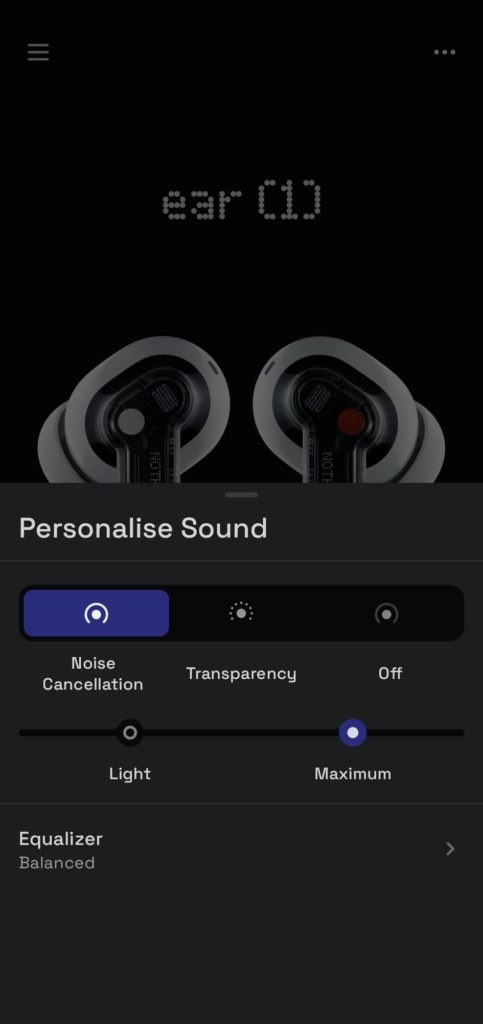 The Active Noise Cancellation (ANC), on the other hand, is adequately powerful. It has a Light mode, which mutes out as much sound as your run-of-the-mill budget buds with ANC. When you set it to Maximum, it feels as though someone has placed a vacuum over your head (which can make some people nauseous). White noise is definitely minimized; albeit not to the same extent as the legendary Sony WF-1000XM4 and its expensive contemporaries, it still obviously is a cut above the rest of the playing field. Other settings are transparency and OFF, which are self-explanatory.
Battery life is rated at 4 hours with ANC on and 5.7 with it off. The battery figures of the Nothing Ear (1) in our review and real-world use more or less reached these numbers with playback volume at around 65% most of the time.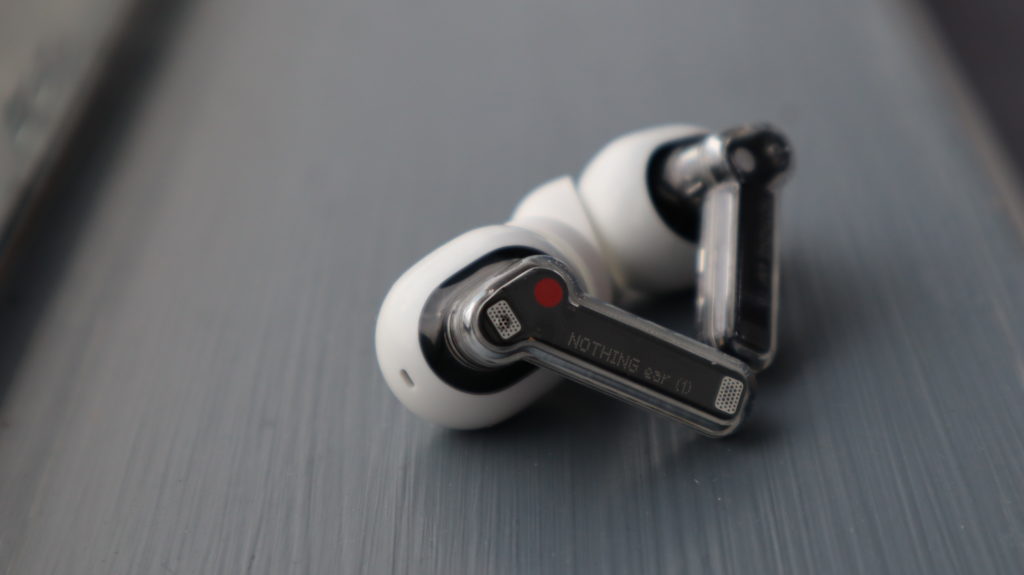 Wrap Up and Conclusions
The Nothing Ear (1) in this review has definitely not fallen flat on people's expectations. Its looks were one of the major selling points in its marketing and they do look as impressive in real life as in the photos.
The buds themselves also fill out the checklist quite well: from long-term comfort, inoffensive sound quality for the price, impressive ANC, and reliable connectivity. It also doesn't hurt that it's supported by an intuitive application that manages to lay out the features of the buds in a way that is simple and easy to use.
Nothing Ear (1) Review Price Philippines
The Nothing Ear (1) retail for a price of PHP 5,990 in the Philippines. Grab them now at Digital Walker physical and online stores. Visit their Shopee or Lazada pages as well for more updates and products.
For those who prefer videos out there, check out our Quick Review on YouTube here.
Comments (0)