I haven't been taking a lot of photos lately.  I'm safely home most of the time and while it's all good, there's really nothing much going on except for my daily routines.  Then I got the Instax Mini 11 and all of a sudden I needed subjects for my photos.  I decided to do a little project.  I took pictures of everything that I'm grateful for using the Instax camera.  Many of them are simple and mundane but what all of them have in common is that they bring me joy.  
I found that there are many things to love about this new Fuji Instax camera.  To begin with, it looks really appealing.  It comes in 5 colors – sky blue, charcoal gray, ice white, lilac purple and the color that I have with me, blush pink.  I like that it's slim, handy and easy to hold even for people with small hands like mine.  It even comes with accessories so you can customize the look of your Instax, depending on your style and personality.  
It is also incredibly easy to use.  Yes, this isn't my first time to take photos with an Instax camera but even a first-timer will easily figure it out. 
At the back you'll find the door for loading the film, there's a counter at the lower right corner to tell you how much film you have left and the optical viewfinder is at the right hand corner. 
On top, you'll find the slot where the prints come out. 
You can load it up with AA batteries on the side. 
In front, you'll find the shutter button, the flash, a tiny mirror to help frame your selfies and the button at the corner of the lens that turns it on.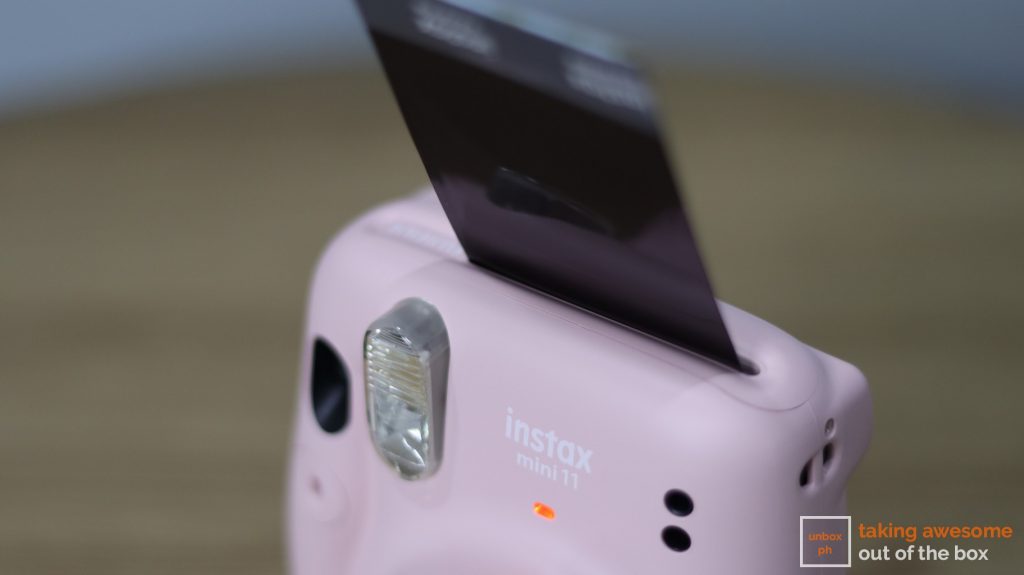 The Instax Mini 11 literally allows you to point and shoot photos because it has auto exposure and automatic flash. A few seconds after you shoot, the camera will print it for you and voila!  You have a print out of your photo! 
As for the photography aspect, the auto exposure feature helps a lot in taking photos night or day. There is a notable improvement in lowlight portraits and selfies.  Then again, to set expectations, the pictures aren't perfect.  They may be a bit overexposed and details may be lacking.  This isn't a big deal for me because we don't really use an Instax because of it's killer cameras but because we enjoy having photo print outs – personalizing them, giving them to friends and decorating them at home.  Call me old fashioned but printed photos give a sense of nostalgia that digital pictures tend to lack.
If you are a selfie person, you will definitely enjoy the Selfie Mode that allows you to take better close up shots.  All you have to do is to pull out the front edge of the lens until you see the marking that says "selfie on".  Don't forget to use the tiny mirror to check if your framing is correct then smile and take that shot!
One thing I did notice with the photos taken with the Instax Mini 11 is that those taken indoors tend to be better than those taken outdoors.  Outdoor shots taken during our daily walk with our dog tend to be bright and a bit overexposed.  Those taken inside our home have better lighting and exposure.  
One complaint I have about the Instax Mini 11 is that framing your photos can be a bit of a challenge because the viewfinder is off center.  You'll eventually get the hang of it but my first few shots were cropped in all the wrong areas.  I got better with practice though.  
As for the lens, the Instax Mini 11 has a 60mm, f1/12.7 fixed lens and the shutter speed varies between 1/2 and 1/250, allowing it to adjust in different lighting conditions.   
I know that you've probably seen the features of the Instax Mini 11 in other Instax models but they tend to be on the pricier side.  Considering that the Instax Mini 11 is only Php 4,299, I think that it's one of the best budget Instax cameras that you can buy today.  It really is feature-packed at an affordable price.  As for the film, the SRP varies a bit depending on the design but the new blue marble one I used is Php 400 for a pack of 10.  Because I highly encourage you to be safe and stay home, you can check out the Instax Flagship Store in Lazada by clicking on this link.
So back to pictures of people, things and activities that bring me joy these days, I decided to place them in my work area so I'm constantly reminded that there are things to be thankful for.  During these trying times, I encourage you to do the same thing.  Take pictures of what makes you happy and place them in areas where you will always see them.  They somehow help make even the toughest days better.
Comments (0)