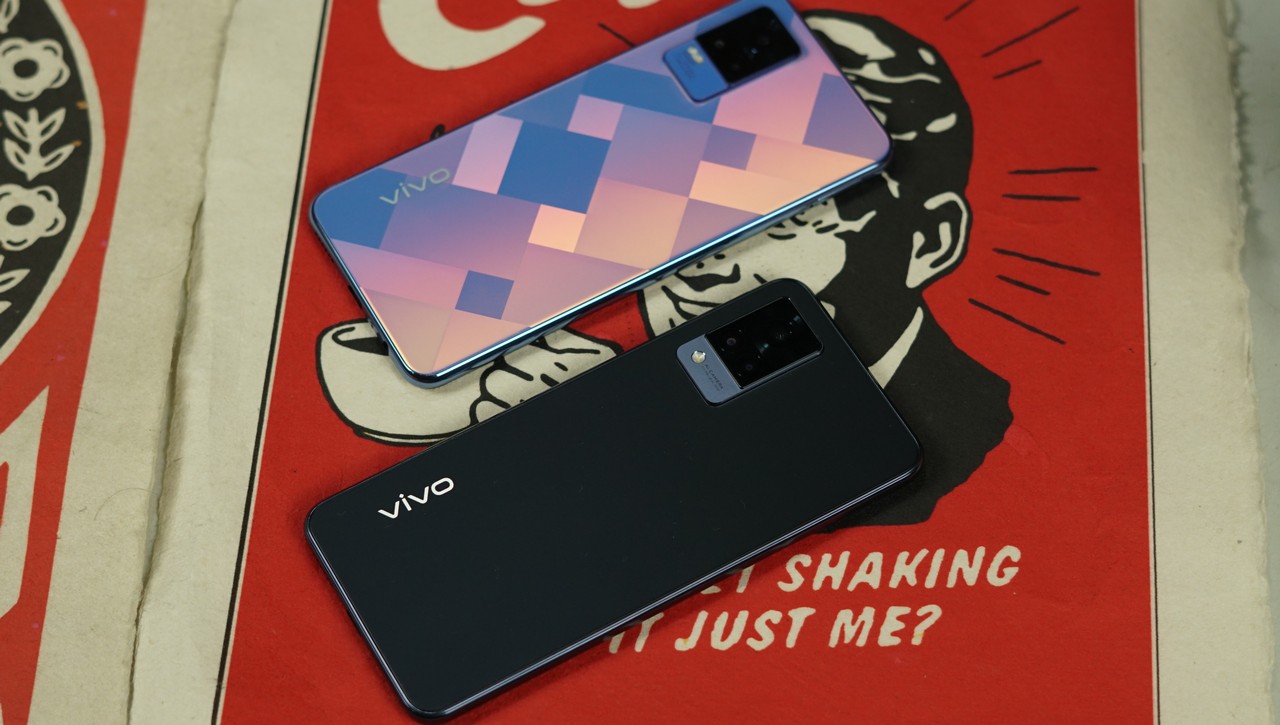 Rarely do we have a chance to get an apples-to-apples comparison of two nearly identical phones running different processors to see how much the choice of a chipset affects overall battery life. Manufacturers rarely out devices that have virtually identical hardware, since most brands usually try to keep their offerings pretty distinct from each other in both design, features and market positioning. vivo's new V21 5G and V21e are unique in that both phones are practically identical to each other, save for the processor choice and a few very minor differences with the selfie camera (the V21 5G has OIS while the V21e settles for EIS), and the display (the v21 5G has a 90Hz refresh rate, while the v21e is locked to 60Hz).
The major difference between both phones is the processing package: the 4G-only V21e relies on a Snapdragon 720G processor, while the V21 5G uses a Dimensity 800U processor. Aside from that, they are identical, from the design, cameras, display size and technology used down to the battery size of 4000mAh for both.
To see how much a processor contributes to overall battery endurance, we ran PCMark's battery drain test on both phones with the display set on 50% brightness (and the V21 5G's refresh rate locked at 60Hz) and the volume set to 50%.
The result? The V21 5G did 15 hours and 29 minutes, while 4G-only sibling surprisingly did better at 16 hours 4 minutes. While it might be a given that 5G-ready phones consume more power than 4G-only ones, there's more to that.
We in the team discussed how we arrived at such a result, and we found three key findings:
1. Manufacturing process. In the world of semiconductors, a smaller transistor size would mean better overall performance—even if the difference is just 1nm. The Snapdragon 720G is made using an 8nm process, while the Dimensity 800U utilizes a 7nm process. A smaller process also translates to having more transistors packed inside, leading to better overall performance. However, a more modern manufacturing process does not necessarily translate to better power efficiency, which brings us to the next (and more important) point.
2. Thermal Design Process. Another big difference between the two processors is their TDP—short for Thermal Design Process. This is often used as a measure for power consumption and how much heat the CPU can handle in watts. Following this principle, higher TDP translates to higher power consumption.
The Dimensity 800U has a 10w TDP, while the Snapdragon 720G has a 5w TDP. With the former having double the TDP than the latter, it is expected that the Dimensity 800U has to sacrifice a bit of battery life to offer better performance–especially when it comes to 5G connectivity.
3. Tech used. While previous reports claim that 5G consumes less power than 4G, that is not the case all the time. VentureBeat explains this well, elaborating that while 5G can consume less power than 4G, that is under the assumption that it is functioning at the highest possible speeds. Because 5G connectivity is still limited across the globe, 5G connectivity has to use lower speeds, leading to higher power consumption.
On the other side of the coin, 4G is available globally at a wider scale than 5G, making it utilize its highest possible speeds most of the time. Because of that, 4G-only phones are more power-efficient than 5G-ready ones–at least for now.
"Early 5G chips are able to blast huge amounts of data with much greater power efficiency than typical 4G but suffer when they're forced to dribble data out at 4G-like speeds," VentureBeat explains in their article.
That wraps up our analysis of how processors can affect a phone's overall performance. Will you consider spending extra on a phone that is nearly the same save for a different processor and no 5G connectivity, BUT offers better battery life?
Comments (0)