Review verdict: The realme 9 Pro+ is an excellent midrange option that fulfills everything you could ask for a phone of the segment in the Philippines. It boasts excellent camera performance, an impressive screen to view your content, and a processor that can easily maneuver through the complexities of daily life. 
Pros
Versatile camera for various lighting conditions
Vivid, bright AMOLED screen protected by Gorilla Glass 5
Blazing-fast charging speeds
Cons
No microSD card slot
Naming conventions with the vanilla realme 9 Pro can be confusing
On the expensive side
realme 9 Pro+ Philippines Specs:
Dimensity 920 processor
6GB/8GB LPDDR4X RAM
128GB/256GB internal storage
6.43-inch Full HD+ Super AMOLED display, 90hz refresh rate
50-megapixel f/1.8 IMX 766 main camera with OIS and PDAF, 8-megapixel f/2.25 ultra-wide-angle camera, 2-megapixel f/2.4 mono camera
16-megapixel f/2.45 IMX 471 selfie camera
4G, LTE
WiFi, Bluetooth 5.0, NFC, in-display fingerprint scanner
4500mAh battery
60w fast charging
Android 12, realme UI 3.0
realme has established itself as a fearsome competitor in the budget to midrange technology space as of late. They've set the landscape ablaze with successes such as the GT Master Edition and 8i smartphones, now venturing into unfamiliar territory with tablets and laptops. They haven't forgotten the best-selling products that propelled them to the top spot in 2021's Philippine smartphone shares though as they've come back with the realme 9 Pro+. Is it any good? Read on to find out.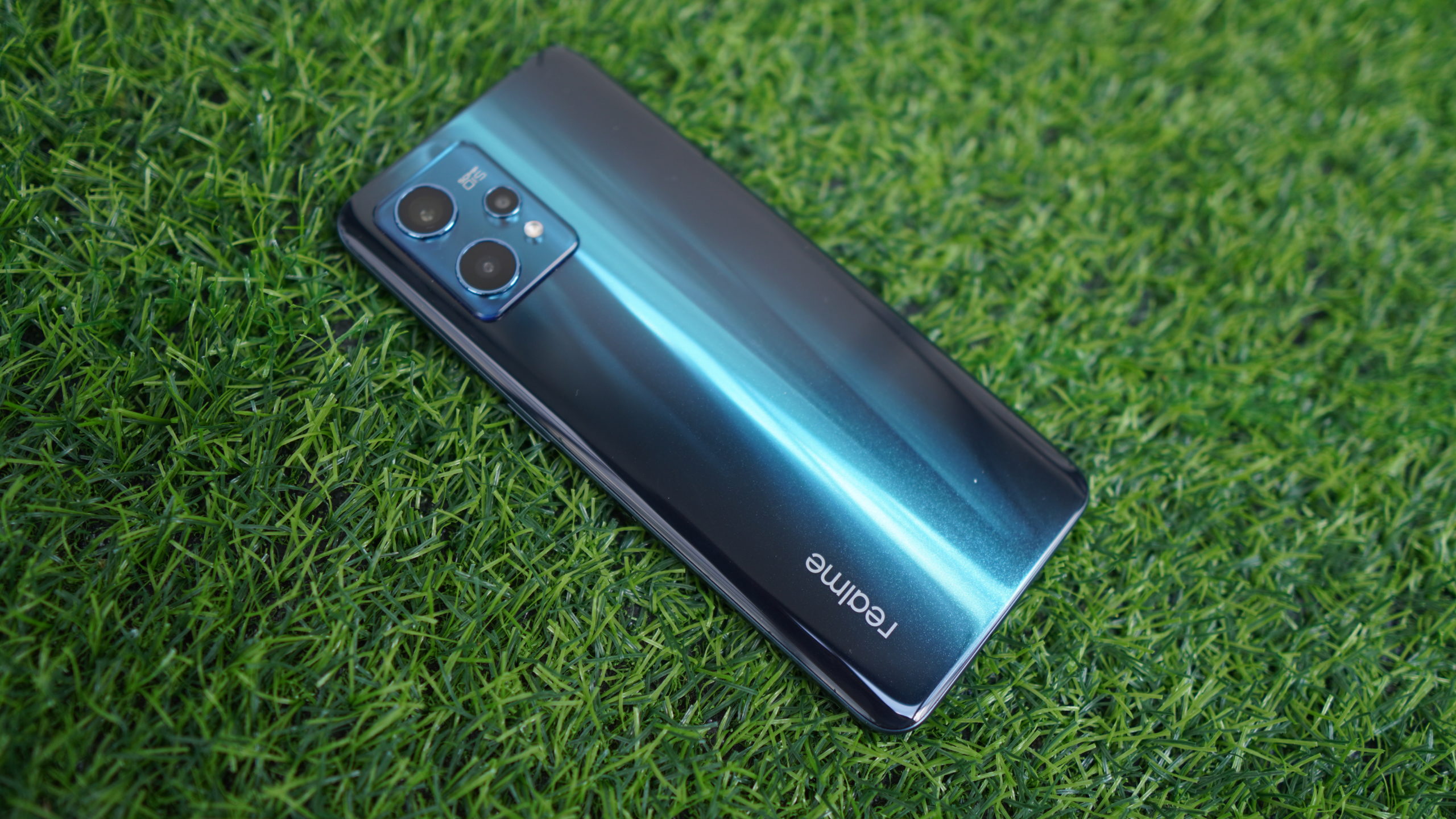 Design
We said this in our realme 9 Pro+ quick review for the Philippines we did a few days ago, and we'll mention it again: the Aurora Green colorway makes the phone pop in a way that's not loud or kitschy. A lot of thought was obviously put into the design of the rear panel, as it's adorned with tiny specks mirroring the starry constellations in the night sky. Thankfully, our world's creator didn't leave fingerprints in the sky behind like the way this glossy finish attracts those gremlins. Dust is also very evident when it finds its way onto the back, which is why we encourage using some sort of case so that you don't spend the entire day wiping and cleaning.
The camera module does stick out a bit, but it just reinforces the fact that it is a capable shooter (we'll get to that later). While this is noticeable when the phone is on a table, the protrusion is not so excessive to the point that the device feels like a seesaw. Putting the included jelly case on substantially reduced these movements and evened out the bottom of the smartphone.
Having the realme 9 Pro+ in hand doesn't feel like any other plastic build sold here in the Philippines. By using glass panels for both front and back, the phone has enough heft to mask its use of metallic plastic on its sides. We're happy to report that the construction feels solid overall.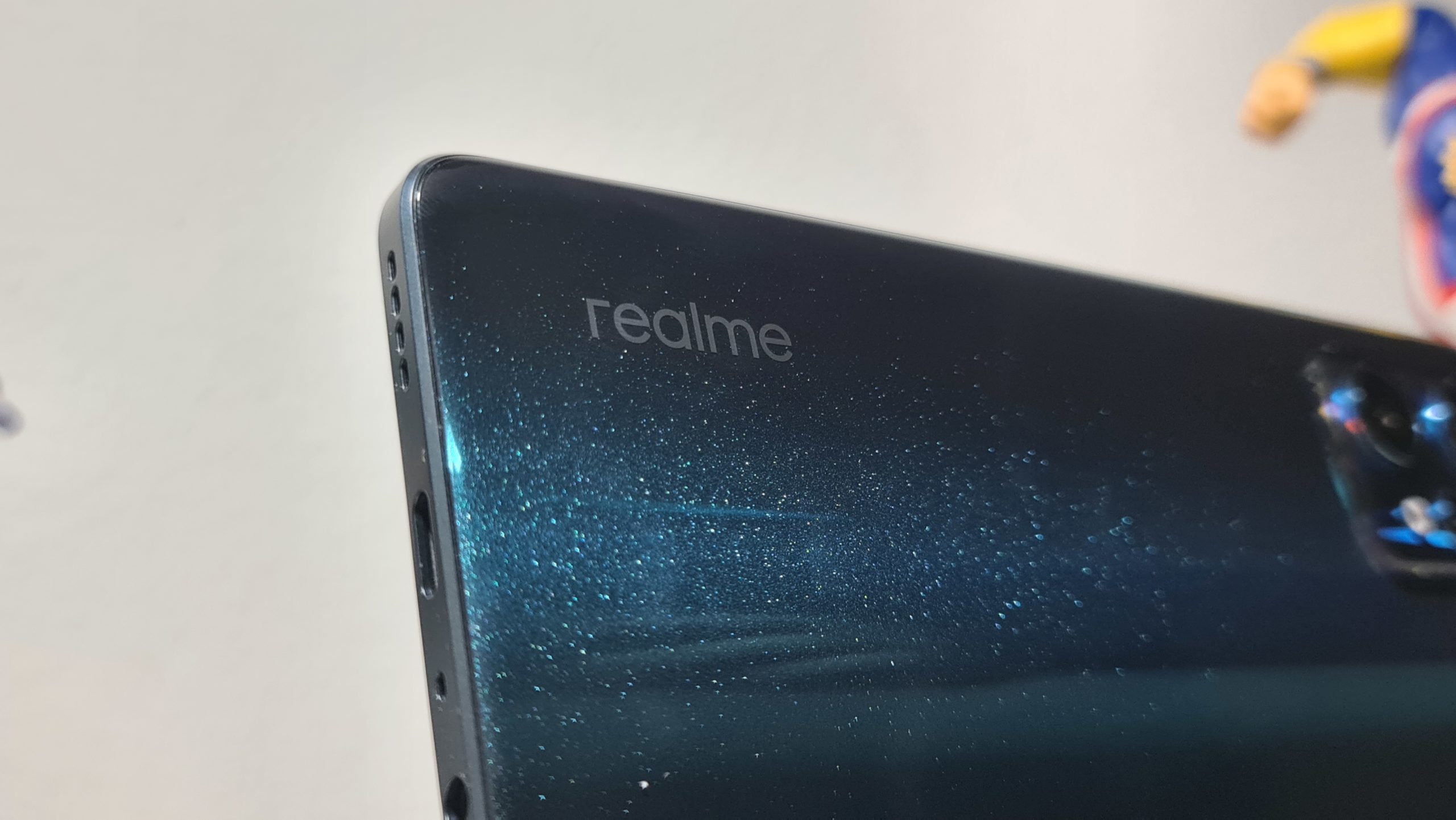 Button placement here is simple: on the left you have the volume rockers, and on the right is the lonesome power button. The USB-C port and 3.5mm audio jack can be found at the bottom of the chassis – an excellent fusion of old and new.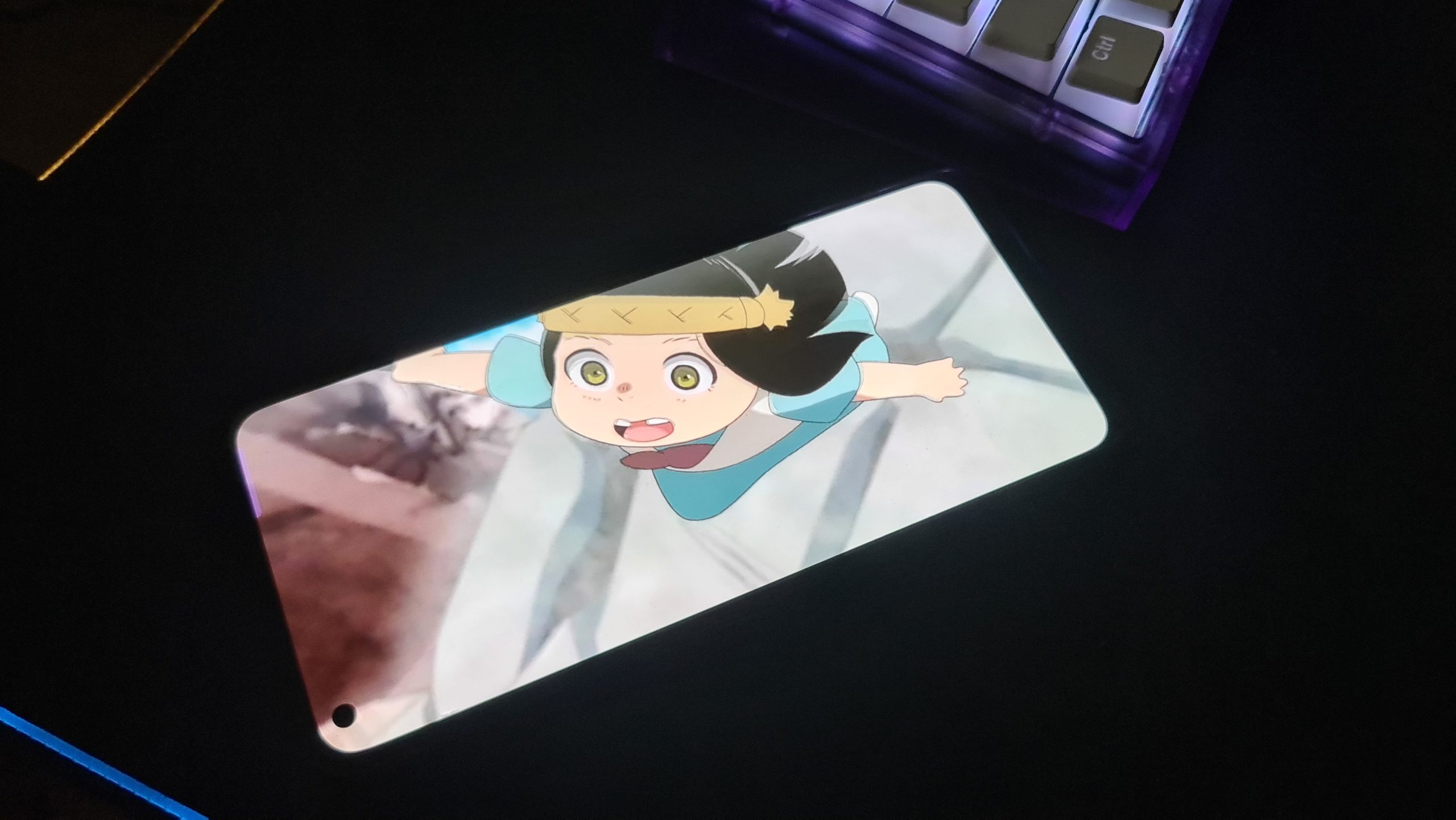 Display and Sound
Conventionally, devices with a Plus in their title tend to be larger than their vanilla counterparts. That's not the case here as the realme 9 Pro+ sports a 6.4-inch display, dwarfed by the Pro's 6.6-inch version. The latter is also capable of a 120Hz refresh rate which is higher than the Plus' 90Hz. The tables are quickly turned when you realize that only the Plus version is equipped with AMOLED.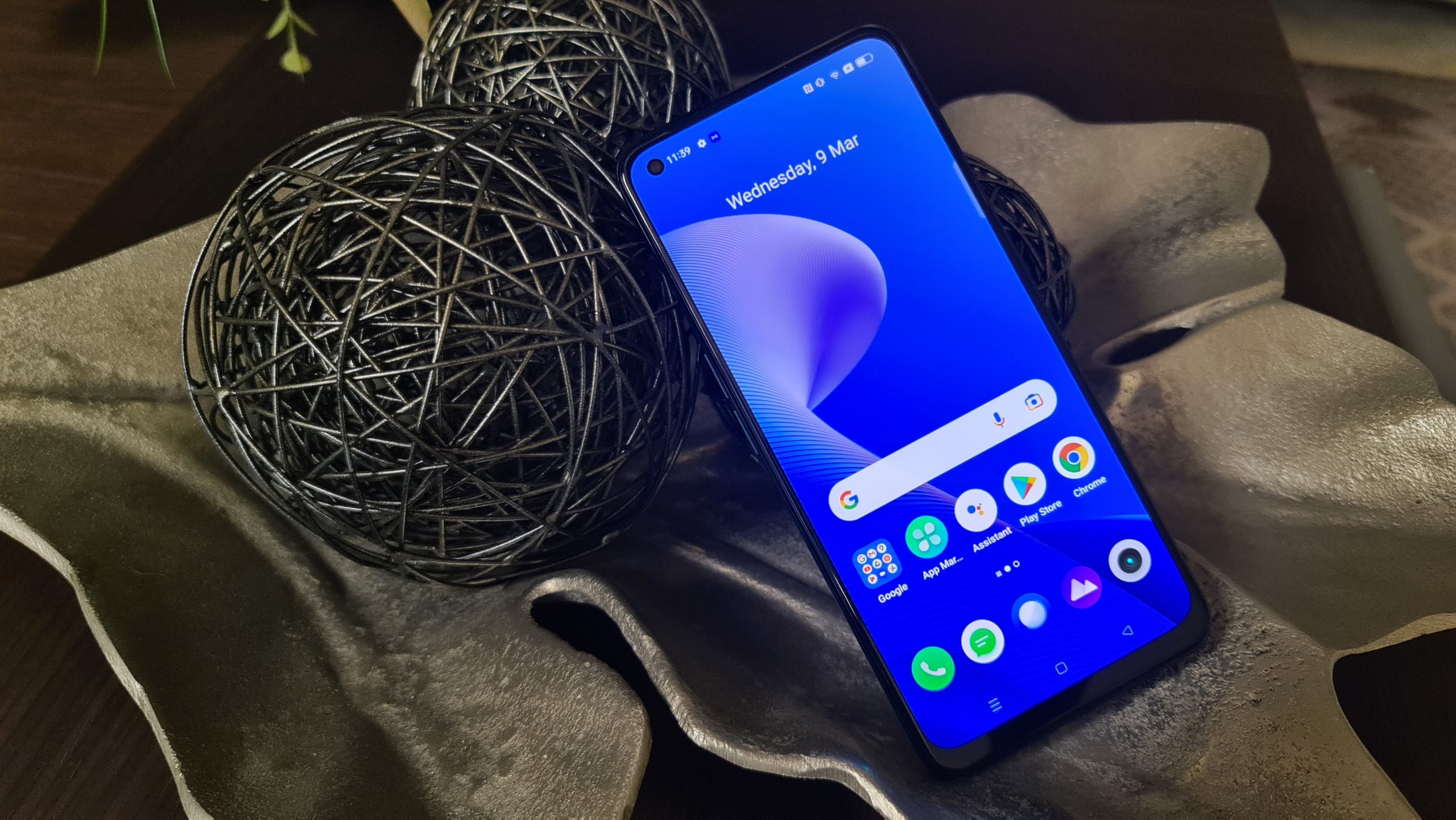 Often a screen technology found on upper-range products, the realme 9 Pro+'s AMOLED display has bright colors that pop out giving the Full HD+ display some life. The blacks are immensely dark, making content-viewing a really immersive treat. Crank up the brightness to its advertised 1000 nits maximum and outdoor use won't be an issue at all. Moving from frame to frame at 90Hz is a buttery-smooth experience even if you're coming from a 120Hz panel. In order to save battery, the adaptive software can lower this rate for tasks that are mostly static.
The Gorilla Glass 5 is a quality-of-life investment to protect the flat display at the front. Bezels are kept to a minimum with only a minute chin below the display. While some may find this symmetrically disorienting, placing the device horizontally on a stand without worrying if the holders will accidentally touch the display is an appealing characteristic to have in 2022. This also applies to people with smaller hands who hold their devices from the bottom and stretch out their thumbs to reach the edges of the screen.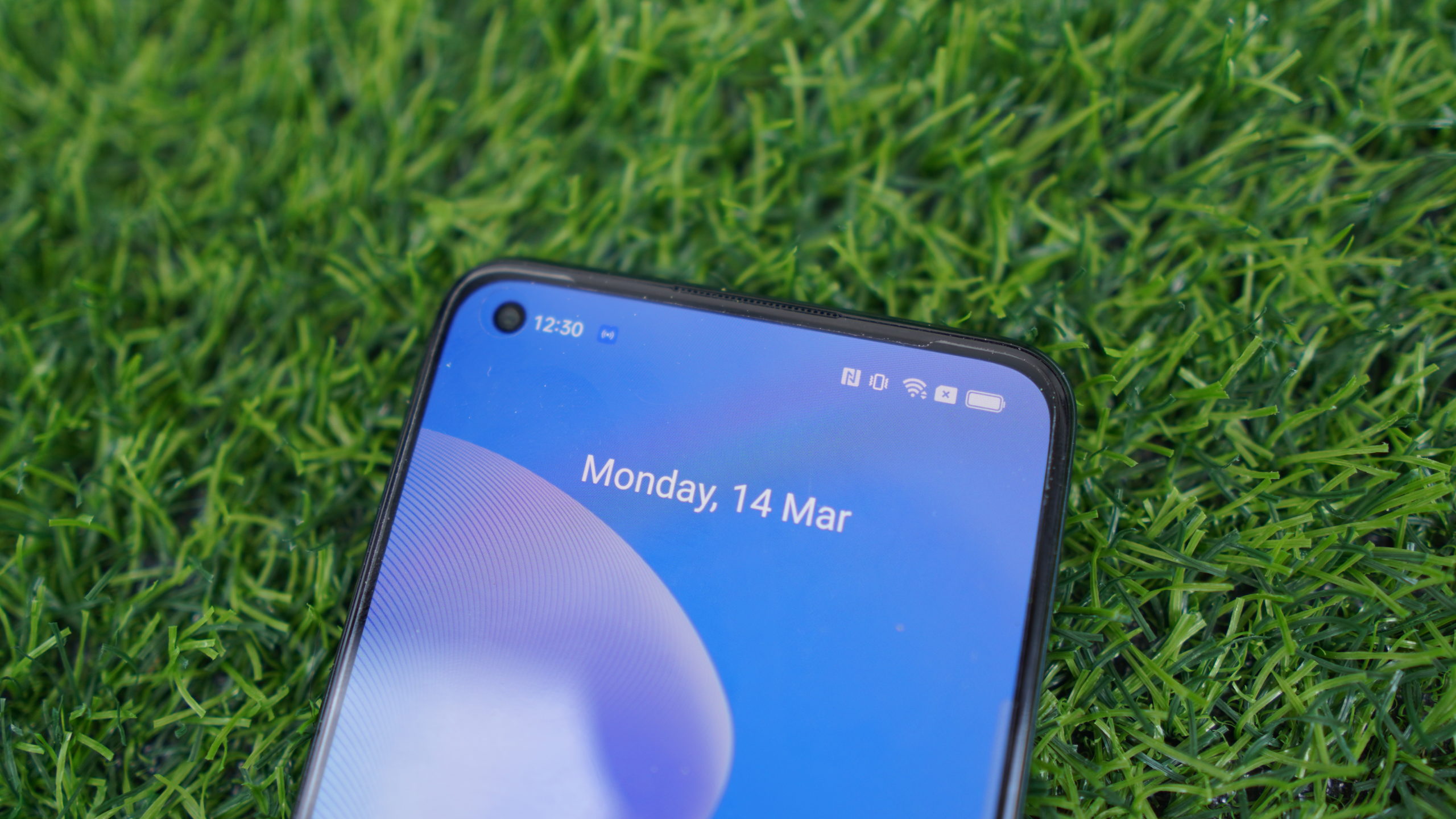 There are no notches to be found here as the realme 9 Pro+ can be found with a punch-hole cutout for the selfie camera. Instead of the center, this front shooter is located at the top left of the display which some people find to be a less intrusive spot. The center is then occupied by a tiny speaker grille which is half of this device's audio peripherals.
The other half resides at the bottom of the device giving it a dual-speaker outfit. Our testing revealed these to be plenty loud with a full sound (at least as far as mobile phone speakers go). Using this device in bed to watch some Netflix or YouTube won't have you reaching out for a pair of headphones in disgust. If you're hanging out with friends and want to share some videos as well, then there would be no issue with everyone in your group hearing the device audio.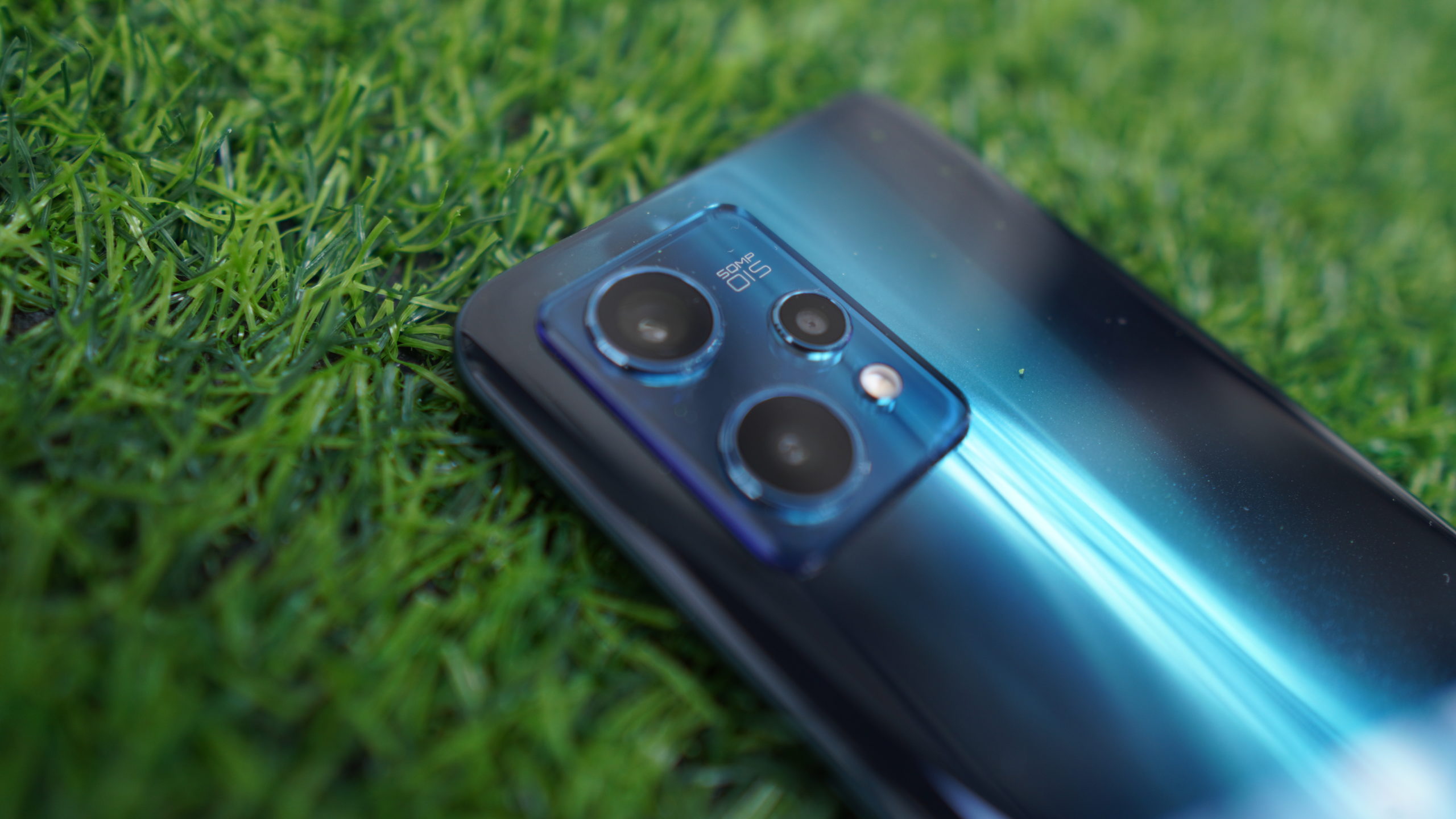 Cameras
When the realme 9 Pro+ was advertised in the Philippines and worldwide with the tagline "Capture The Light," we knew they were serious about this camera's performance. It isn't often in the midrange segment that a company anchors its marketing on the smartphone's optical performance, especially in such a tricky situation such as low-light. Here's the short of it: we were left plenty impressed.
This device marries excellent hardware with optimal software. The beefy rear camera module we mentioned earlier contains the heralded 50-megapixel Sony IMX766 sensor which was specially developed for shots in complicated scenarios. It is supported by 8-megapixel ultrawide and 2-megapixel macro lenses, with Optical Image Stabilization (OIS) on board.
We found the realme 9 Pro+ to take excellent photos in the best lighting conditions which was expected. Colors came out vibrant but not excessively overexposed. Natural is the keyword here, even compared to smartphone optics from slightly higher brackets.
This is a do-it-all camera anyone can have fun with for a quick and creative shoot. In darker areas, the smartphone's AI Noise Reduction software did its job in sharpening the images leading to reduced grain. It also maximized the potential from all light sources in the shot (without looking overblown) no matter how small. Here are some camera samples to show you what it's capable of:
Video recording capabilities cap out at 4K30 or 1080p 60FPS, which is a pleasant surprise given this smartphone's price point. With the 16-megapixel selfie camera performing to our standards as well, this could easily be a buddy for vlogging and social media afficionados.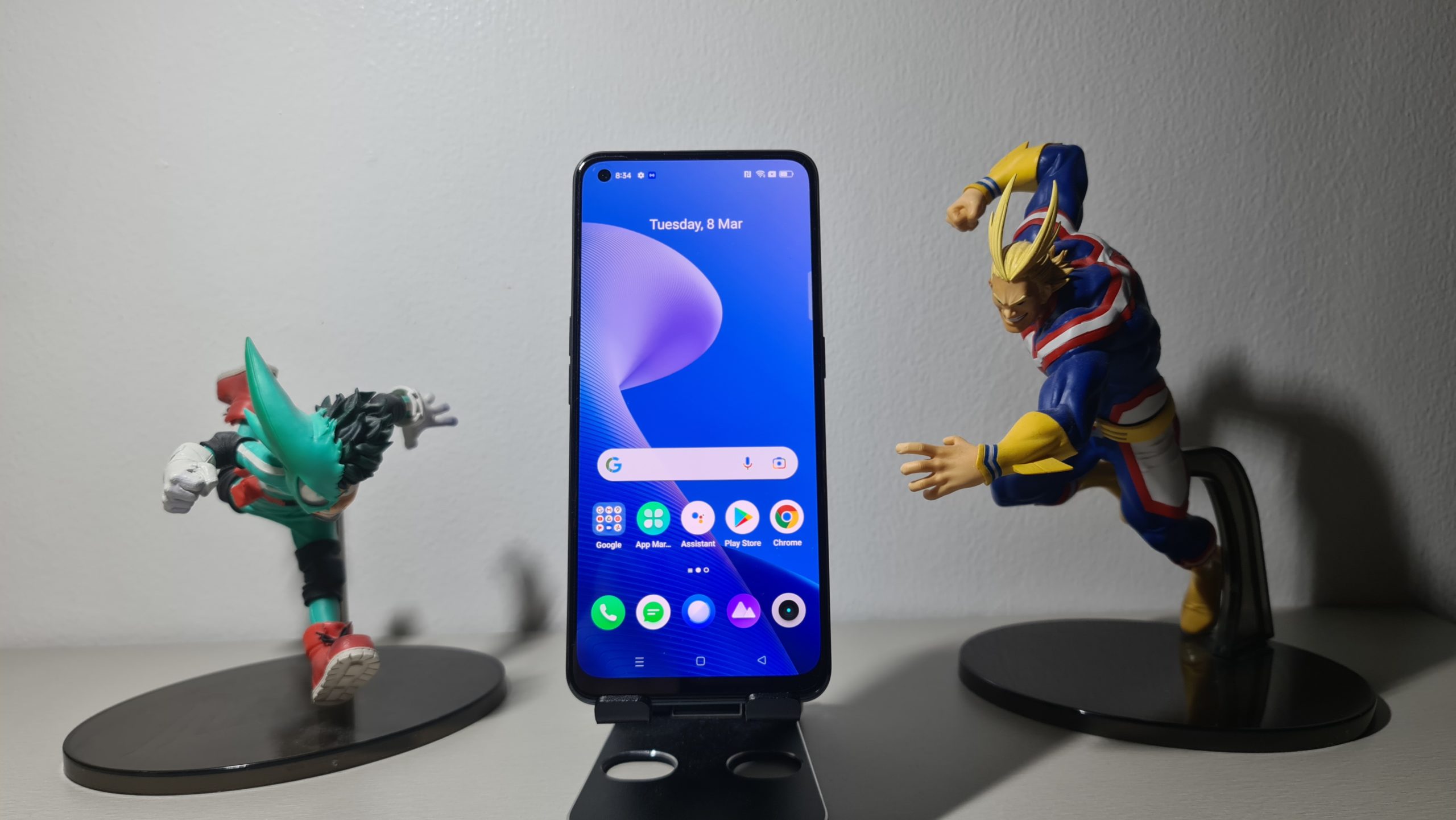 Performance, Software, and Battery
This smartphone has the MediaTek Dimensity 920 as its heart and soul. The chipset is relatively new, only being released in October 2021. While some may ask why a Snapdragon option wasn't selected, this processor just stampedes through everything while managing its power draw with a 6nm process. It's also 5G-capable for those ridiculous network speeds in supported carrier areas.
While less demanding titles like Pokemon Unite ran for prolonged periods of time without any issues, what truly left an impression was the minimal throttling of Genshin Impact on high settings. That's a program with a notorious reputation of bringing incapable hardware to its knees. Here are some benchmarks to showcase how it performs against its closest competition:
We had some time with the phone but never experienced any awkward stutters or lag. realme has successfully optimized the software to make the most of the Dimensity 920's processing power. These extra steps and attention to detail can be given credit for its smooth real-world performance which can't be said about other devices just wanting to flex on the spec sheet. Android 12 with realme UI 3 on top do make for a compatible pairing. While the device does come with some pre-installed applications, these can be removed without much hassle and aren't necessarily bloatware per se.
While having to clean the phone on the software end coming out of the box isn't an ideal scenario, the UI at its core comes off as classy and clean after some tinkering.
In terms of battery life, the realme device performed satisfactorily. The 4,500 mAh battery pack combined with some software features regulated consumption. Going down to 20% from a full charge took 12 hours and 57 minutes, while a brief 30-minute charge from 20% juiced it up to 86%. Those are fantastic numbers that every demographic will be able to enjoy in real-world use.
Wrap-up and Verdict
After some extensive testing and multiple opinions from various perspectives in the team, we've come to the conclusion in our realme 9 Pro+ review for the Philippines that it's one of the best midrange all-rounders you can buy. It has something for everyone, and possibly everything for someone who doesn't necessarily seek the cutting-edge but just solid performance all-throughout
We can say with confidence that its camera system can hang up there with the big boys, while its everyday and gaming performance aren't things to scoff at either. The AMOLED display is a winner even if it tops out at 90Hz, especially when paired with the dual-speaker system for a pleasant content-viewing experience. Just because it's a good time doesn't mean it's not a long time as the battery life will outlast a lot of other devices.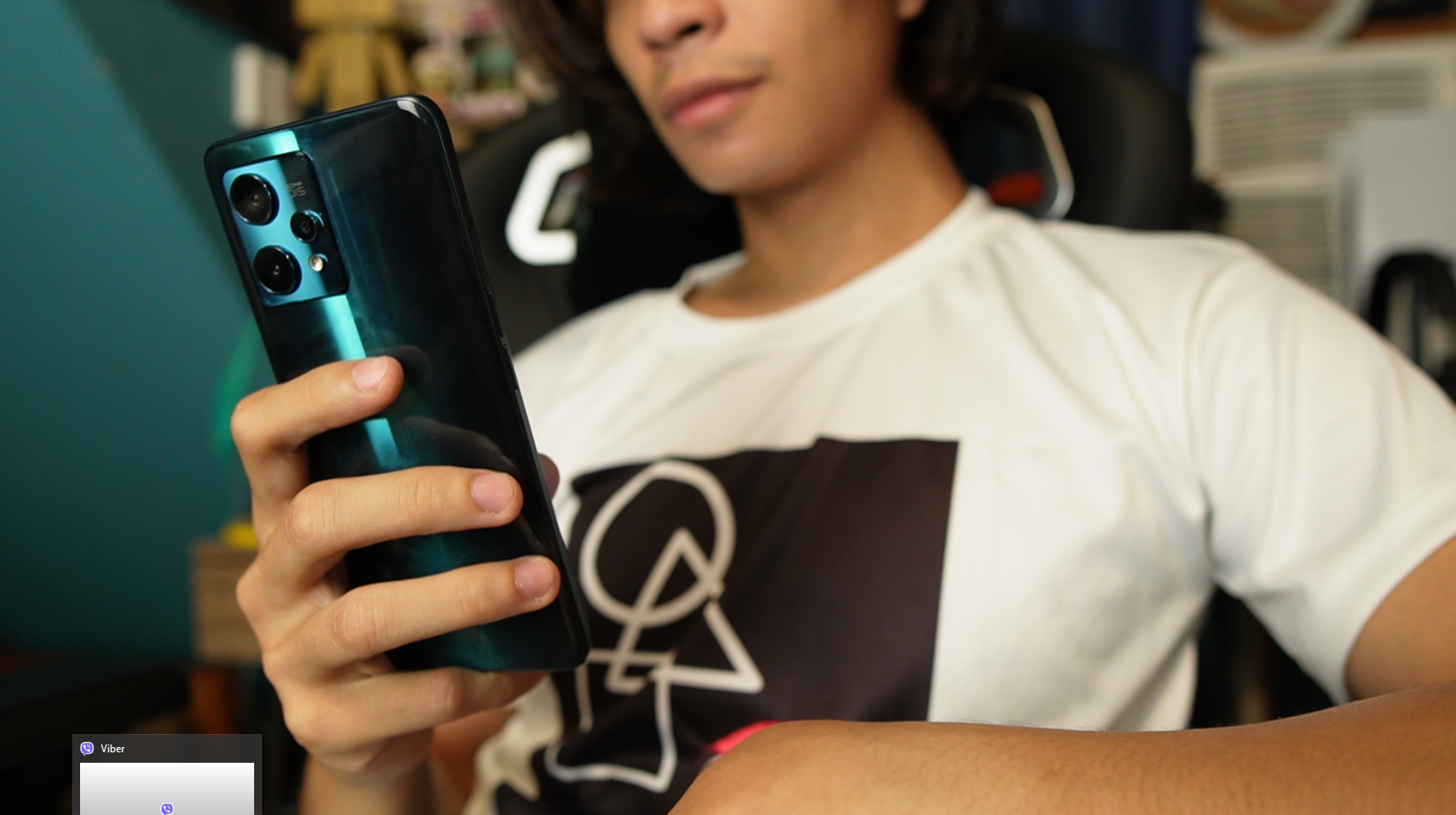 The realme 9 Pro+ has an Achilles' heel though: the lack of microSD card support. With the range-topping variant only offering 256GB of storage, power users and content creators may find themselves running out of space in a shorter period than they'd like. It's a waste considering that the camera is one of the smartphone's best features.
realme 9 Pro+ Review Philippines Price
The realme 9 Pro+ is set for a release in the Philippines very soon so be sure to keep an eye on the Shopee and Lazada pages here. The realme 9 Pro+ has a price of Php 23,990 which still falls squarely in the upper-midrange segment in 2022. If you get it on the official realme Lazada store between March 16-18, you receive a Php 2,500 discount which drops the price to Php 21,490. Another promo from March 16-20 will gift buyers a free realme Cobble Bluetooth Speaker, Cooling Back Clip Neo, and 1 year's worth of extended warranty. What a steal indeed.