A Closer Look at the new V-series Device
It's only been six months since vivo gave the people the V15 Pro; a phone that offered an all-screen experience combined with an excellent Super AMOLED panel care of pop-up selfie camera. But, if you follow release cycles, you know that the company always releases at least two of their V series devices each year and, now, the company has officially launched its newest iteration — the V17 Pro — or as I playfully call it — the NEX 3 Lite.
We've already given you guys a preview of what the vivo V17 Pro has to offer in our unboxing and hands-on article but how did the device handle being used as a daily driver and is it worth considering at its Php 21,999 price point?
Let's find out.
Undeniable Chic
I said it in the video for this device but it bears repeating in this article.
In terms of design and material they've chosen for its build, the V17 Pro has got to be my favorite V series device they've ever produced. Don't get me wrong. The V15 looked good but moving the entire camera array to the center of the device plus giving it that extremely elegant finish makes it easy on the eyes; especially in the Crystal White color variant that we have with us.
They've also finally nixxed polycarbonate plastic by going glass like most of the phones that we've been seeing in this price range. It sports an aluminum frame as well. The V17 Pro feels slightly heavier than most devices that we've been trying out so far but they've also got the ergonomics just right to make it comfortable to use.
It's not all hunky-dory though since the buttons on either side of the phone have a bit of a wobble. It's not enough to make you feel that they're going to pop out but, compared to other phones I've held recently, it feels like they could fit better or tighter in their frame cutouts. It may sound like I'm nitpicking — and maybe I am — but it's something I noticed right off the bat.
Still a Great All-Screen Experience
Just like its past iteration, the V17 Pro gives you a notch-free display and having that extra bit of uninterrupted screen real estate does make a difference.
The screen itself measures in at 6.44-inches that gives you a very slight bump up in size from the V15 Pro. The resolution is at Full HD+ or 2340 x 1080 with an aspect ratio of 20:9 (according to their packaging) and has a pixel density of 409 ppi so there's definitely a satisfying amount of sharpness with the display of this device.
You've also got a Super AMOLED panel and, as you all know, these produce some of the best colors on mobile devices. I've binged watched my share of YouTube videos and logged in a decent amount of time gaming on this device and you'll hear no complaints here in terms of picture quality but if there's one thing that puts a damper on the whole viewing experience on the V17 Pro is the lone speaker on the bottom of the phone.
It offers a decent amount of volume but the highs dominate, which prevented me from really enjoying the podcasts I listen to while passing the time in traffic or listening to vocal tracks on my playlist. Thankfully, you still have a headphone jack on this device so we recommend that you always use your favorite pair of earphones.
No Upgrade In Performance
If there's one thing that I really wish that vivo did with the V17 Pro, it's that they should have updated the processing package from their previous release. It has the same Qualcomm Snapdragon 675 processor on this device, with the same amount of RAM at 8GB, and the same amount of storage.
Don't get me wrong. It still had enough muscle for the typical suite of apps that I use on a regular basis but it would have been nice to see even an incremental upgrade on the V17 Pro to separate its performance from the V15 Pro.
Thankfully, for you mobile gamers, the vivo V17 Pro still posted great results for some of the more popular titles out there. It ran incredibly stable on the wildly popular Call of Duty mobile getting an average of 60 frames per second at 100% stability with all of the settings pushed to as high as possible. We gave an out of the box experience with PUBG Mobile but if you want to push it beyond 30 fps, you'll need to install GFX Tool. For MOBAs, we chose to try out Vainglory but, in our experience, Mobile Legends should produce the same results with HFR On at highest graphics quality.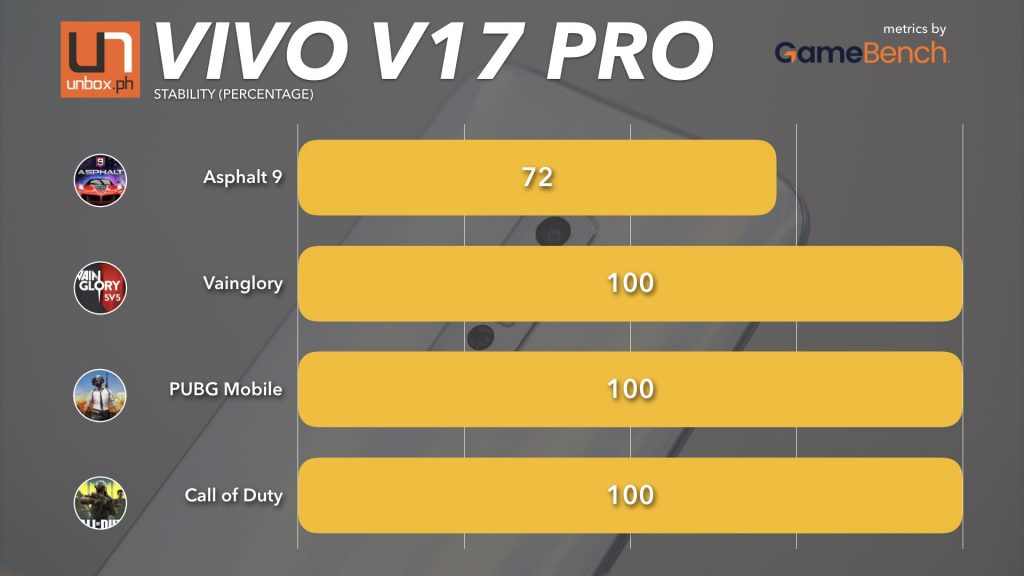 Again, we would have loved to see even a minute upgrade for the SoC but you're still getting a decent amount of computing power on this device.
Get Used to the UI Overlay
With the V17 Pro, you're getting Android Pie 9.0 out of the box with vivo's UI overlay — FunTouch OS — that has always had a touch of iOS with it.
You access the quick settings on the phone by swiping up from the bottom unlike the usual way of swiping down from the top. It's not really a big deal but it's something that you have to get used to if you are going to pick up this device.
Some inclusions that they've thrown in (that I don't remember seeing on the V15 Pro) is a system-wide Dark Mode to make browsing and reading in bed a little easier on the eyes. There's even a "Kids Mode" for parents out there that might want to limit the time or restrict the apps their children can access.
Doubling Up on the Pop-Up
The biggest upgrades to the V17 Pro are its cameras. You now have a total of 4 cameras on the back of the V17 Pro — up one from the V15 Pro — and, of course, there are now two cameras on the pop-up module for taking selfies.
The rear shooters consist of a 48-megapixel main camera at an aperture of f/1.8 that's back by a Sony IMX 582 sensor, an 8-megapixel ultra-wide camera at f/2.2, a 2-megapixel depth sensor, and another 2-megapixel shooter for macro photography, which we previously thought was a 13-megapixel telephoto camera that's available in the V17 Pro released in India.
For the front cameras, you're getting the same 32-megapixel main selfie camera plus an 8-megapixel wide-angle camera to go along with it on the VHS or cassette tape looking pop-up array. Similar to what we saw on their NEX 3.
I like that there are now more shooting options all-around. You've even got the option to get Super Macro shots now.
The resulting images are fairly decent. You get a bit of post-processing happening in the background thanks to AI scene recognition with the main shooter. I did notice, however, that highlights tend to get a little blown out but colors are pretty much on point. The wide-angle shooter on the back produces photos with a bit more contrast and, because of its lower pixel count, details can turn out a little muddy but hardly noticeable once they've been posted on social media. The same can be said about using the shooter with 2x optical zoom as well.
Night mode on the vivo V17 Pro produced photos with more contrast versus photos taken regularly and the details are a little soft when you really zoom in. It's not too bad but we've seen other devices give a bit more wow factor when using this feature.
Another new addition to this device's shooting capability is Super Macro Mode; allowing you to really get up close and personal on a subject. There's a slight learning curve to get the proper focus distance but you can get really nice details. There is a bit of post-processing happening in the background though with a bit of software-assisted bokeh that doesn't quite seem natural.
Goodbye, Instagram Pegs?
Apart from the images the camera outputs, I think it's worth talking about the camera app that vivo has on this device as well because it is a little quirky.
Usually shooting modes are accessed through an on-screen toggle, vivo adds another button to access things like wide-angle shooting, bokeh, and macro modes. It's not really a big deal but it's not as intuitive or not what I was used to.
Apart from the standard beauty mode and typical features, they also included something called "Posture." It essentially gives you several suggestions on how to pose better for photos; complete with outlines for framing and for different scenarios as well. A good addition if you don't know your angles or think you pose awkwardly for pictures.
Enough Juice for Heavy Use
Keeping the lights on for the vivo V17 Pro is a 4100mAh battery and this is an area where the company definitely improved over its last release.
For some reason, FunTouch UI doesn't really play well with our battery benchmark test but we were well into 13 hours before it finally crashed on us. In terms of actual use though, I was able to get a solid day's worth of juice out of the device with 10-percent battery life left to spare at the end of a particularly heavy workday that I had to have mobile data on for the greater part of it and streaming videos during free time. We can easily see you getting a day and a half to two days with the V17 Pro if you really had to stretch it out with moderate use though.
Thankfully, topping it up with vivo's 18w dual-engine is quite fast and it takes about an hour and a half to top it up.
Verdict: It's in for a Very Tough Fight
If you're looking at the vivo V17 Pro's spec sheet and feature set, it truly has a lot going for it and presents as a good package. The display is great, you've got an even more versatile set of shooters, it has enough under the hood for gaming and your day to day tasks, plus a good amount of lasting power.
It has two big barriers: Its price point and extremely tough competition.
The sticker price for the vivo V17 Pro is Php 21,999. While you are getting better battery life with this device and more shooting options, the lack of an upgrade on the processor side might have users flocking to the previously released V15 Pro that's gotten a price cut.
The price tag also pits the device against some really hard-hitters such as the Mi 9T Pro from Xiaomi and the Huawei Nova 5T or even the OnePlus 7 for a little extra money.
But, if the dual pop-up cameras plus the rest V17 Pro's highlights have tickled your fancy — and more importantly, if it fits your budget — it's still worth a look.